Baked Zucchini With Goat Cheese {Keto, Vegetarian, Gluten-Free}
Published on Mar 14, 2019
by
Kristina Stosek
Prep Time:

5 minutes
Cook Time:

30 minutes
Serves:

4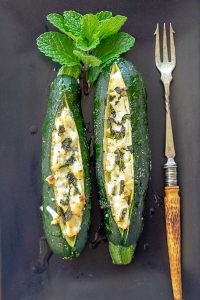 ​This post may contain affiliate links, please see our
privacy policy
for details
This healthy Baked Zucchini With Goat Cheese dish is easy to prepare, delicious, and all you need is five ingredients. The tangy and creamy goat cheese is simply flavoured with fresh mint and rich olive oil bringing out the delicate taste of the young zucchini. This recipe is acceptable for keto, vegetarian and gluten-free diets.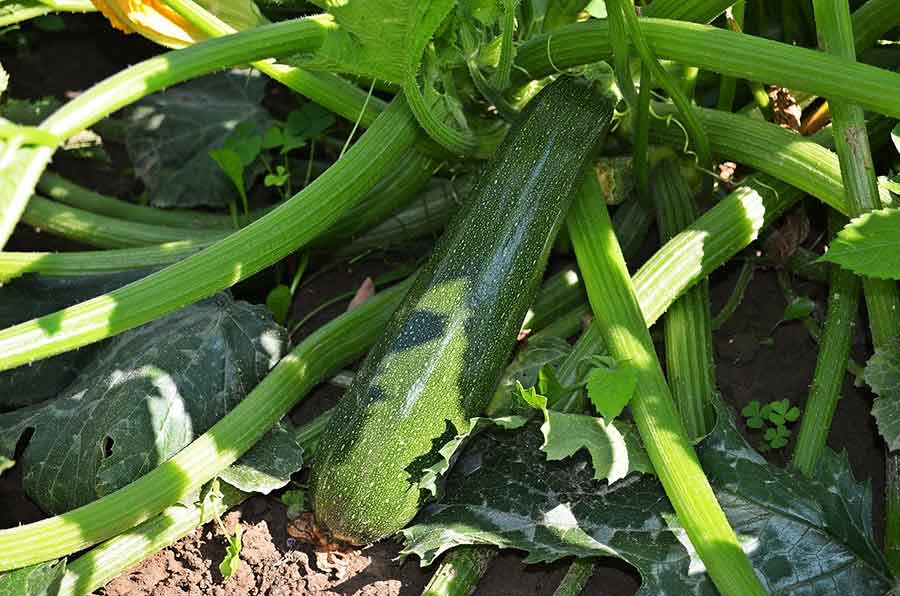 Tips for a perfectly cooked zucchini.
To keep zucchini tender but firm on the outside, the zucchini must be baked at a high temperature. However, size also matters. Using small, young and very fresh zucchini makes this dish beautiful and delicious.
Zucchini, also known as courgette, is a small vegetable shaped like a cucumber. The green-skinned variety is considered a summer squash and is best when it is firm and fresh. For someone following a low-carb and low-calorie diet, this vegetable is ideal.
The green squash, including the skin, has only about 19 calories per serving (about 1 cup sliced), fiber, vitamin C and some protein. You already love the Italian stuffed zucchini recipe, well this is more of a Greek recipe. Both are healthy and delicious.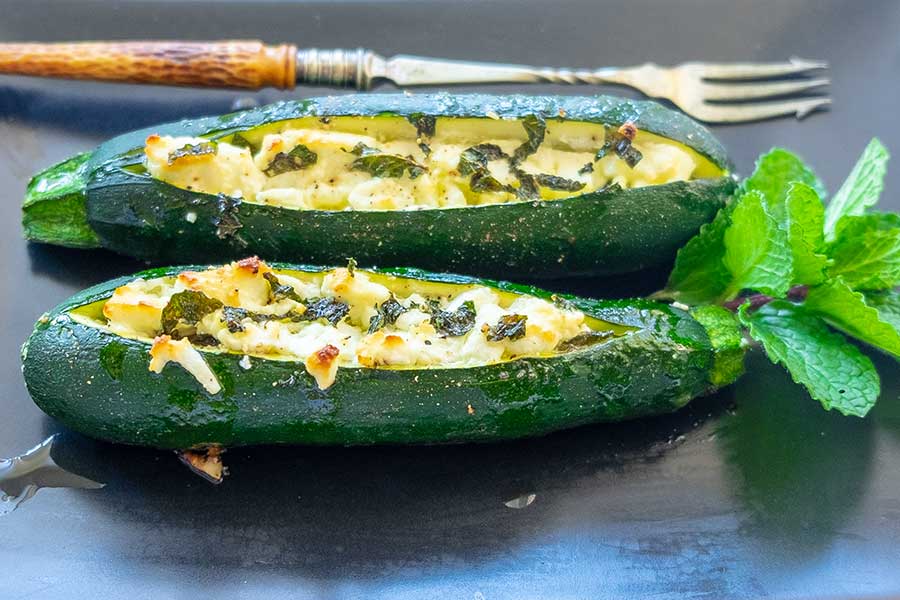 Zucchini is an excellent vegetable used in pasta sauces replacing meat and for moistness and nutrition in desserts. So a great vegetable to include in your diet.
I typically serve this baked zucchini dish as an anytime healthy snack. However, it makes for a delicious lunch by adding a simple salad.
For those of you that follow a keto diet, the total net carbs are about 4 g per serving. If you want something heartier for dinner, serve the baked zucchini with goat cheese with one of our vegetarian pasta dishes. You will love it!
Baked Zucchini With Goat Cheese {Keto, Vegetarian, Gluten-Free}
Published on Mar 14, 2019
by
Kristina Stosek
Instructions
1.

Preheat oven to 400 F and line a baking pan with parchment paper

2.

Trim the zucchini. Cut a thin slit along the length of each zucchini. Season with salt and pepper

3.

Sprinkle half the mint into the slits. Insert strips of goat cheese, and sprinkle with remaining mint. Drizzle with olive oil

4.

Place zucchini on to the prepared baking pan and loosely cover with foil paper. Bake for 10 minutes, then remove the foil and bake for 20 more minutes. Serve hot