One Bowl Zucchini Banana Flax Bread – Gluten Free
Published on Jul 05, 2022
by
Kristina Stosek
Prep Time:

10 minutes
Cook Time:

55 minutes
Serves:

1 loaf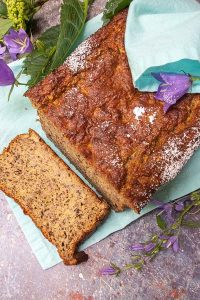 ​This post may contain affiliate links, please see our
privacy policy
for details
A healthy Gluten-Free Zucchini Banana Flax Bread made using only one bowl. The highlights of this healthy extra moist gluten-free breakfast loaf are bananas, zucchini, flaxseeds, olive oil and eggs. This zucchini banana flax bread recipe is refined sugar-free and is made using only two gluten-free flours.
Today I will talk about why we add zucchini to quick bread, the best bananas used for banana bread, why we should add flax seed to gluten-free baked goods and a list of most asked questions when baking with zucchini and bananas.
What does this zucchini banana flax bread taste like?
The bananas are not pureed in this gluten-free loaf, so you can enjoy the fresh banana flavour in every bite. The zucchini adds moistness without changing the taste. And the deliciousness comes from the spices such as cinnamon, cardamom and nutmeg.
To balance the sweetness of the bananas, the fresh lemon juice, lemon zest and vanilla tie everything together into this melt in your mouth moist zucchini banana flax bread. Check out this Gluten-Free Coconut Flour Banana Bread With Chocolate Chips for another banana bread option.
Another way to add moistness to gluten-free baked goods is with apples. Check out this healthy Gluten Free Banana Apple Muffin Recipe. This healthy muffin recipe is made with bananas, apples and walnuts.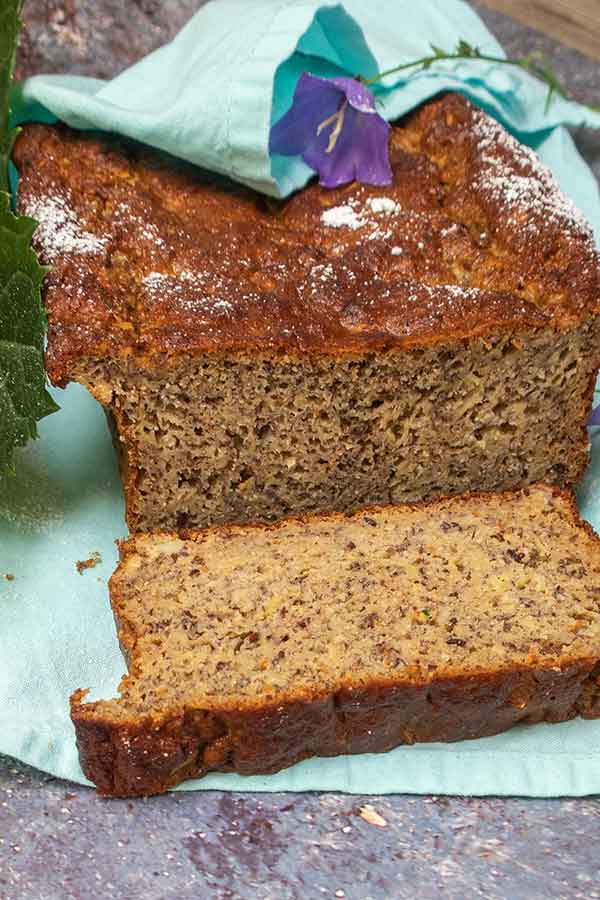 Why use flaxseed meal in gluten-free baking?
Flaxseed meal consists of ground whole flax seeds and is incredibly nutritious and naturally gluten-free. The seeds are rich in omega-3 fatty acids, fiber and protein. When the flax seeds are ground, they are even healthier because they are easier to digest, allowing your body to absorb more nutrients.
In addition, flax seeds have a delicious nutty flavour adding richness to the bread. And, because of their high healthy fat content, you can cut back on adding extra fats to your gluten-free baking and still keep your baked goods moist and delicious.
Why is zucchini so popular in gluten-free baking?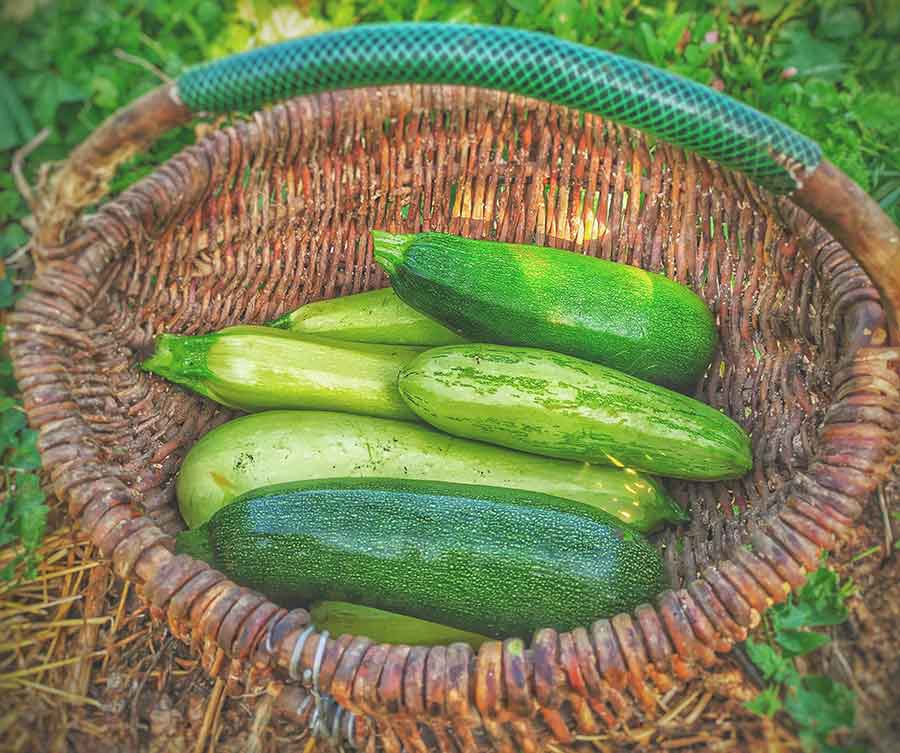 Zucchini adds moistness and a soft texture to gluten-free baking. In addition, zucchini adds bulk without adding fats and extra calories, and vitamin C.
Zucchini is low in calories, only about 19 calories per cup of sliced zucchini, is low in carbs and has zero fats. This Gluten-Free Zucchini Orange Bread is another delicious zucchini bread made with pumpkin seeds, dates and orange juice.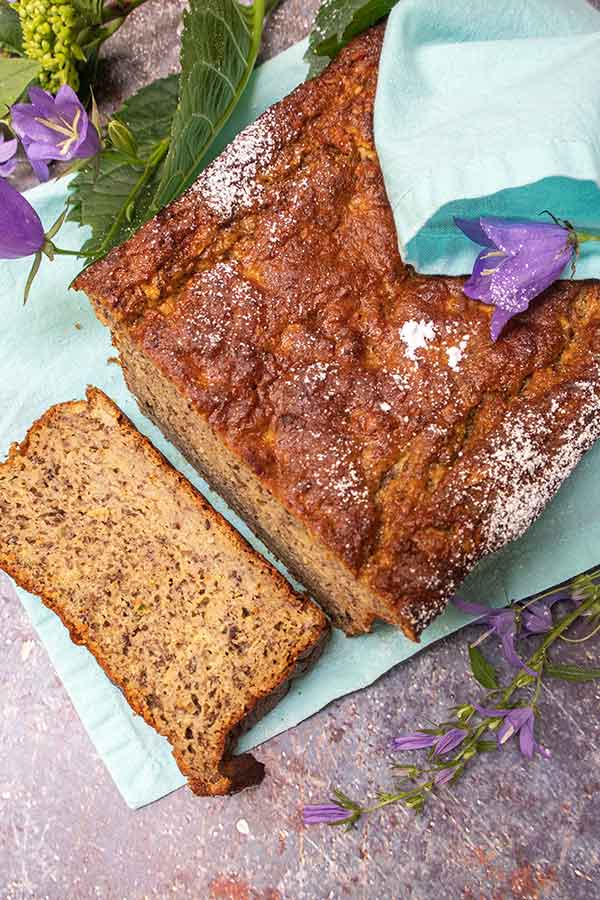 Most frequently asked question about gluten-free quick bread!
Why does my zucchini banana loaf crack on top?
Making a quick loaf like this zucchini banana bread is about briefly mixing dry with wet ingredients. To do this, when you add the dry ingredients, briefly combine the two until just mixed. To raise heavy batters such as zucchini banana bread, excessive mixing can cause it to crack on top and come out gummy.
Why is my gluten-free loaf sticky in the middle?
Gooey or sticky bread in the middle is a result of undone bread. When the bread is thoroughly baked, the internal temperature on a cake thermometer should read 200 Farenheit, NOT celsius. If the top is browning too quickly, loosely cover the bread with foil paper with the shiny side facing up.
How do you fix undercooked gluten-free quick bread?
No need to panic! Preheat the oven to 350 F, return the bread to the oven and loosely cover with foil paper shiny side up. Continue baking for 15 – 20 minutes. Even if the bread has cooled already, you can use this method.
Can you use black overripe bananas in baking?
The best bananas to use are black or at least brown/black. They are much sweeter, and the calories remain the same. This allows you to cut back on extra sweeteners, so less calories.
Is gluten-free zucchini banana bread better warm or cold?
For the best texture and a clean slice, slicing the bread completely cooled is best.
3 Steps To Make Easy One-Bowl Zucchini Banana Flax Bread Recipe
In one bowl, mash the bananas, grate the zucchini into the bananas, and mix. Add wet ingredients and spices in stages and whisk to combine.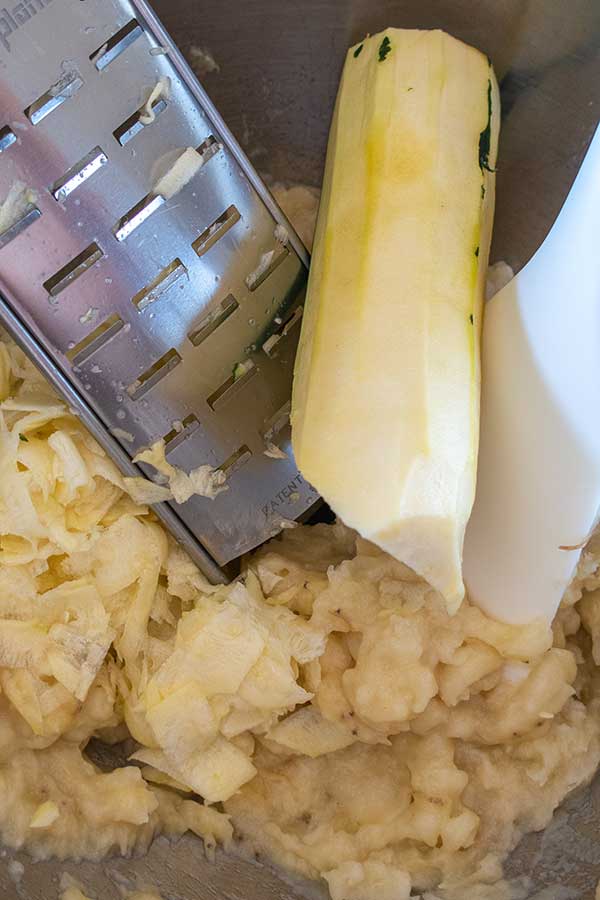 Add dry ingredients and, using a spatula, briefly mix, do not over mix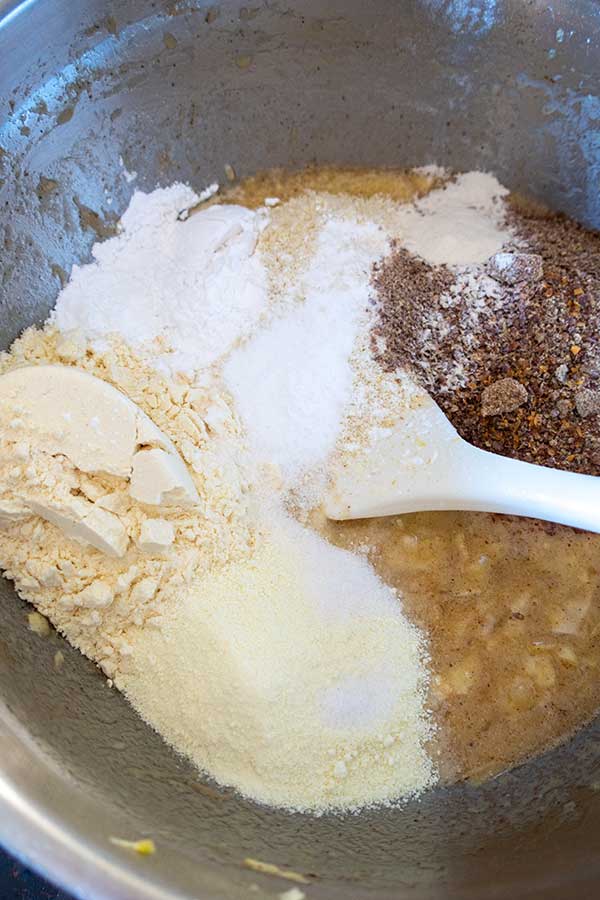 Transfer batter into prepared loaf pan and bake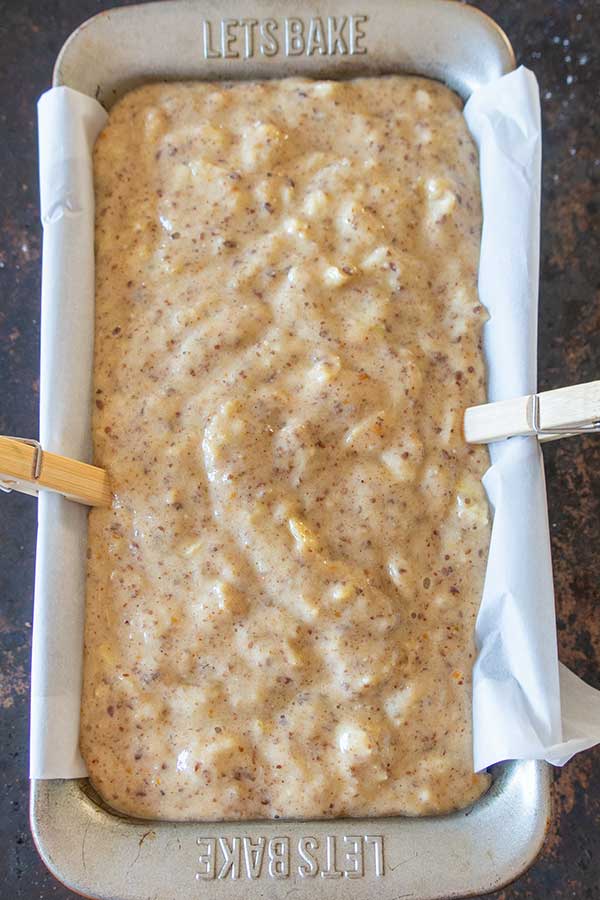 Substitutions;
Olive oil; walnut oil, avocado oil, melted butter, melted coconut oil
Honey; pure maple syrup, coconut sugar, agave, brown sugar, granulated sugar,
Baking soda; replace with 2 teaspoons of baking powder
Powdered milk; cashew powder, coconut powder, soy milk powder
Zucchini; pumpkin, sweet potato, carrots,
Lemon juice; orange juice, apple juice
Millet flour; sweet sorghum flour, certified gluten-free oat flour
Almond flour; replace 3 tablespoons of coconut flour for 1/2 cup of almond flour
And, you can always add 1 1/2 cups of mini gluten-free chocolate chips
Enjoy a slice just as is for breakfast, spread with your favourite nut butter, or add a piece of cheese and enjoy as a nutrient-packed gluten-free snack any time of the day.
I hope I answered most of your questions in this one-bowl gluten-free zucchini banana bread recipe. If not, please feel free to comment with your questions. Enjoy!
Let's Connect!
Be sure to FOLLOW US on FACEBOOK and PINTEREST.
Many thanks!
Kristina xx
One Bowl Zucchini Banana Flax Bread – Gluten Free
Published on Jul 05, 2022
by
Kristina Stosek
Instructions
1.

Preheat the oven to 425 F and spray or brush a standard loaf pan with cooking oil and line with parchment paper

2.

Mash the bananas in a large bowl using a potato masher or a fork. It's ok to have some small chunks of bananas

3.

Grate the zucchini directly into the bananas, add the honey, olive oil, cinnamon, cardamom, and nutmeg and mix to combine

4.

Add the eggs, lemon juice and vanilla and using a fork, vigorously mix to combine

5.

Add remaining dry ingredients, and using a spatula, briefly combine everything until you no longer see dry ingredients. Do not over mix; the bread will be gummy and crack on the top if the batter is mixed too long

6.

Transfer batter into prepared loaf pan and bake for 7 minutes at 425 F. Reduce oven temperature to 350 F without opening the oven door and continue baking for 40 - 45 minutes. The loaf should be dark golden brown and pass the toothpick test

7.

Cool the loaf in the pan for 10 minutes, then transfer onto a cooling rack to completely cool before slicing

8.

*see post on tips and substitutions
Leave a Comment
I just made this bread, one of the easiest recipes and the flavour and texture were excellent. Thank you!!