Gluten-Free Zucchini Orange Bread
Published on Jun 26, 2020
by
Kristina Stosek
Prep Time:

15 minutes
Cook Time:

60 minutes
Serves:

12 slices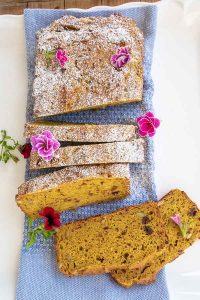 ​This post may contain affiliate links, please see our
privacy policy
for details
Today, it's all about healthy baking with this fragrant Gluten-Free Zucchini Orange Bread. This gluten-free quick bread recipe is made with fresh zucchini, pumpkin seeds, fresh orange juice, dates, eggs, flaxseed, turmeric, a splash of olive oil and only a 1/4 cup of coconut sugar. To keep this recipe simple, I used a gluten-free flour blend.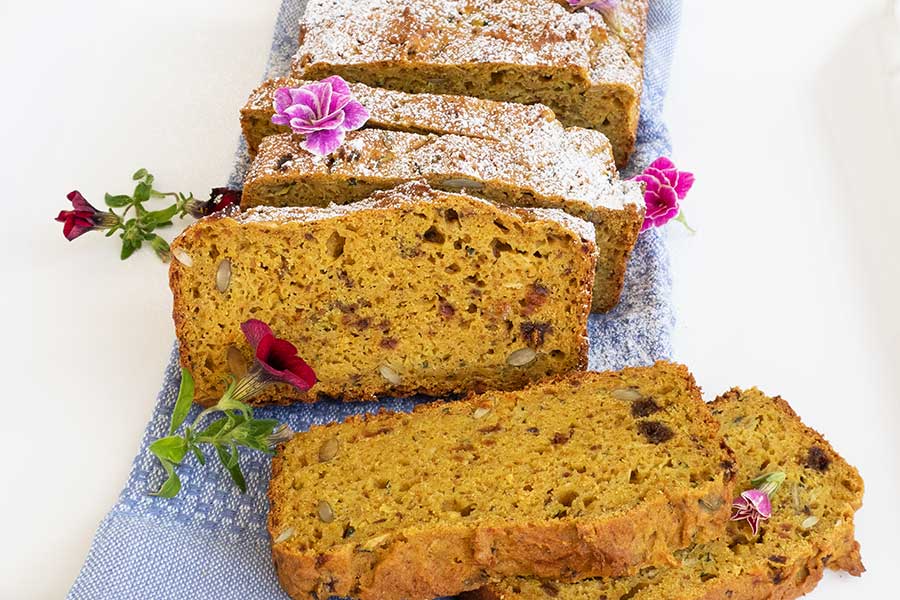 I can't tell how delicious this gluten-free zucchini orange bread turned out. The bread is not your typical sweet bread…lightly sweetened with dates, orange juice and some coconut sugar.
If you prefer a sweeter bread, add a little more coconut sugar. The bread is moist, with fresh orange flavour throughout with some crunchiness from the tasty pumpkin seeds. It is soo good!
♥
The details:
The recipe is quick to whip up. Once you grate the zucchini keeping the skin on, remove the extra moisture by placing the zucchini between some paper towels. Blend orange juice with dates until coarsely ground, creating a delicious orange flavoured date syrup. This thick syrup will add sweetness and extra flavour to the bread.
Once the date syrup is ready, add it to eggs, olive oil and a bit of coconut sugar, and whisk to combine. I also added grated orange zest giving this zucchini orange bread a stunning fresh orange flavour. Combine everything and bake.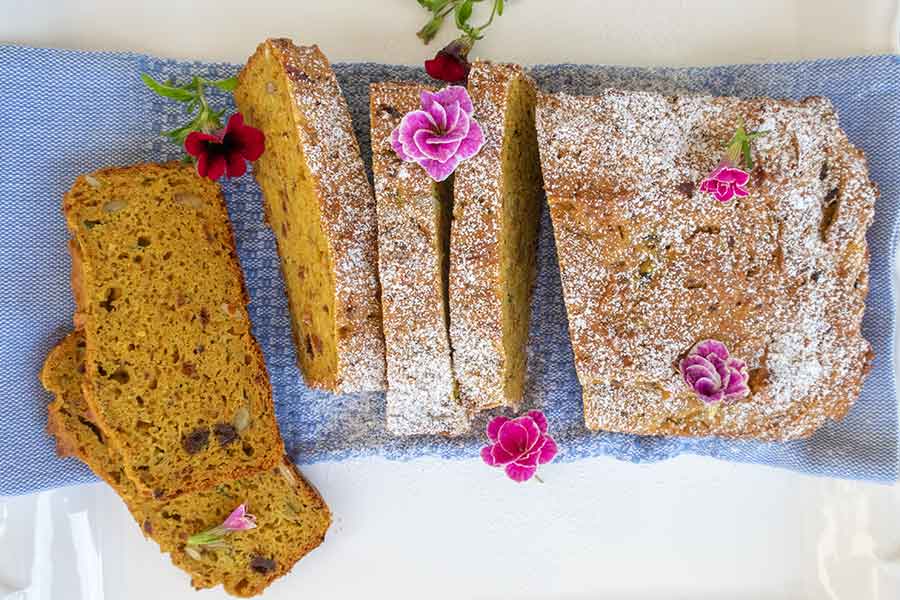 ♥
Why is this a healthier zucchini orange bread?
In this dairy-free bread recipe, the five main ingredients are zucchini, an orange, pumpkin seeds, dates and flaxseed. A combination of these five ingredients gives this bread fiber, protein, antioxidants, vitamin C and chock full of minerals.
There is only a cup and a half of flour in the entire recipe, and the sweetness comes mostly from dates and fresh orange juice. And for the fats, I used heart-healthy olive oil. So yes, I would consider this a healthier gluten-free bread recipe.
This delicious and moist gluten-free zucchini orange bread is lovely with your morning coffee, a treat with your afternoon tea or toast it and top it with a slice of cheese. Whichever way you decide to have this bread, I know you will enjoy it!
If you have an abundance of fresh seasonal zucchini, check out these gluten-free recipes made with zucchini. From savoury dishes to beautiful muffins, there may be something that will inspire you today 🙂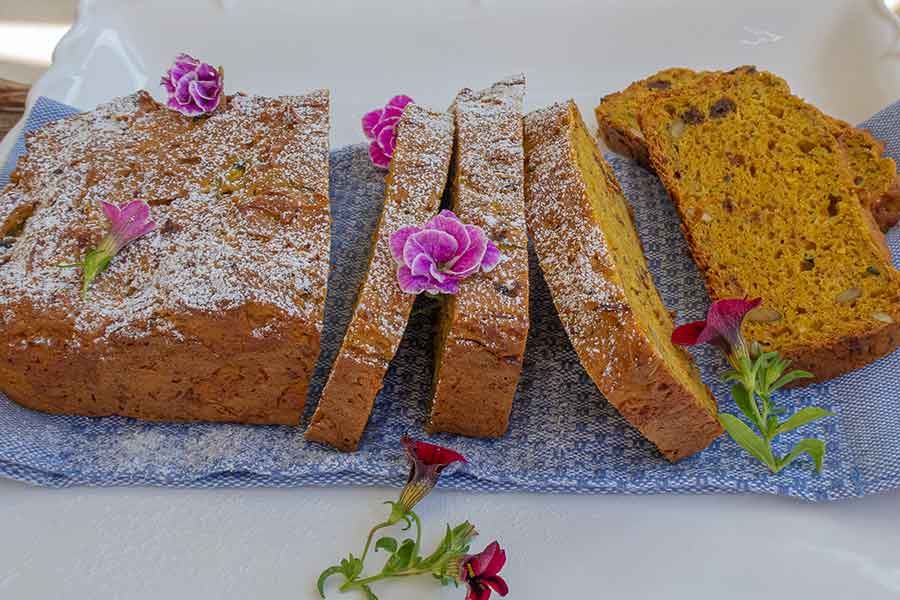 If you make this Gluten-Free Zucchini Orange Bread, please give it a rating or a comment. And don't forget to tag me on Instagram! I love looking through the photos of recipes you all have made:-) or join me on my Facebook page for the latest updates.
Gluten-Free Zucchini Orange Bread
Published on Jun 26, 2020
by
Kristina Stosek
Instructions
1.

Preheat oven to 350 F and coat 8 1/2 by 4 1/2-inch loaf pan with cooking oil

2.

Place grated zucchini between sheets of paper towel and press out excess moisture

3.

Whisk together flour, flaxseed, baking powder, turmeric and salt. Add pumpkin seeds and stir to combine

4.

Place orange juice and dates into a high-speed blender and blend until coarsely ground. Add to a bowl with eggs, olive oil and coconut sugar and whisk to combine

5.

Add wet mixture, zucchini and orange zest to dry ingredients and stir until just combined

6.

Transfer batter into the prepared loaf pan and using a spatula smooth out the top Cover loosely with foil paper and bake for 35 minutes. Remove foil and bake 25 minutes longer

7.

Cool in the pan for 10 minutes, then transfer to a cooling rack to cool completely

8.

To store, wrap in plastic wrap