Best Gluten Free Banana Apple Muffins
Prep Time
15 Minutes
Difficulty
Easy
Cook Time
35 Minutes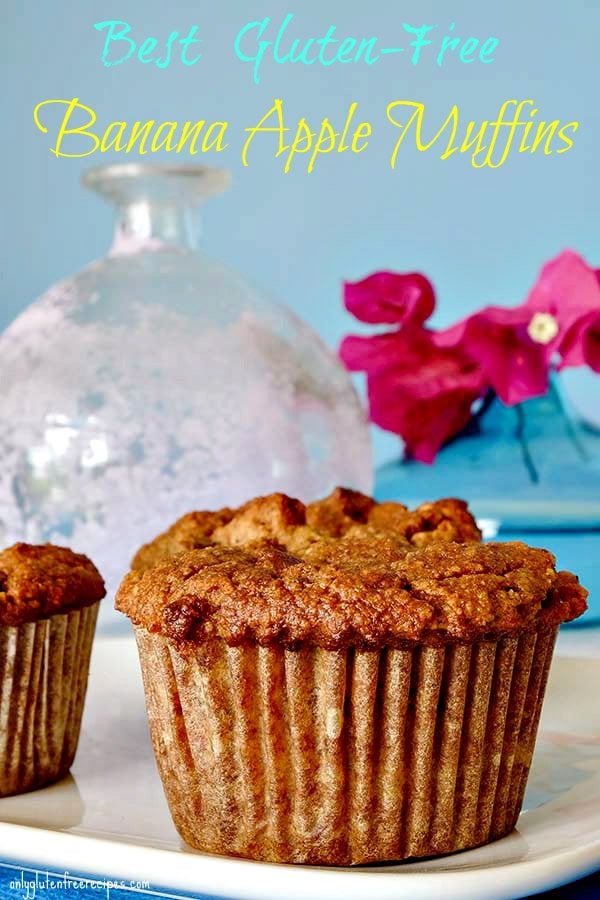 Average Rating: 5 | Rated By: 19 users
For an exceptional treat, these Gluten-Free Banana Apple Muffins with their moist, light and tender texture brimming with apples and sweetened with bananas are not to be missed. Is there anything more tantalizing than sweet muffins spiced with cinnamon? Most sweet snacks are full of sugar and butter, but this dairy-free muffin is packed with healthy fats and very little coconut sugar, making them a healthier option.
♥

The best gluten-free banana apple muffin recipe!

I can safely say that this is probably one of the best muffin recipes. This gluten-free banana apple muffin is not only incredibly delicious but has plenty of nutrient-packed ingredients. This recipe is made with two fruits, nuts, olive oil, healthy sweet sorghum flour, eggs, vanilla, cinnamon and for extra sweetness a bit of coconut sugar. So many healthy ingredients all piled up into one muffin.

This gluten-free muffin recipe is a great way to use up ripe bananas and the extra apples you may have lying around that are not as crispy as they should be. I have added walnuts to this recipe, but the nuts are optional. You can also change up the walnuts for pecans if you like.
♥

What do I love about this gluten-free muffin recipe?

I don't know about you, but typically when I bake, I use three bowls, a couple of spatulas and a mixer. The clean up is not fun. But, in this recipe, I used mostly a food processor, especially for mashing the banana and chopping the apples. If you don't have a food processor, no problem, the directions without using a food processor are in the recipe. One of the things that I love about this banana apple muffin recipe is you can freeze the muffins. I like to make a big batch and freeze them. This way, you have a breakfast or a snack on hand anytime.

I promise you these muffins will melt in your mouth and your family will never know they are gluten-free. Another one of my favourite recipes is the Grain-Free Blueberry Cinnamon Muffin
Ingredients
1 ½ cup almond flour
½ cup sweet sorghum flour
1 tsp. GF aluminum free baking powder
1 tsp. GF baking soda
2 tsp. GF ground cinnamon
¼ tsp. sea salt
1 cup roughly chopped walnuts (optional)
3 very ripe bananas
2 medium size apples, cored and quartered
½ cup fine grain coconut sugar
¼ cup extra virgin olive oil
2 tsp. pure vanilla extract
2 large eggs, room temperature (for vegan option use flax eggs)
*As an Amazon Associate and member of other affiliate programs, I earn from qualifying purchases. Please check out my sponsorship and disclosure policy page for more details
Instructions
Preheat oven to 350 F. Line a muffin pan with parchment paper liners
In a large bowl whisk first 7 ingredients (almond flour to walnuts)
In a food processor add bananas and process until creamy. Add apples and chop into small pieces. Add sugar, olive oil, vanilla and eggs and process to combine. (If you do not have a food processor, mash the bananas with a fork and grate the apples. Then use an electric mixer to combine the wet ingredients)
Add wet mixture into dry ingredients and mix to combine
Pour batter into prepared muffin pan and bake for 35 minutes. The muffins should be slightly golden and firm to touch
Cool muffins in the pan
Similar Recipes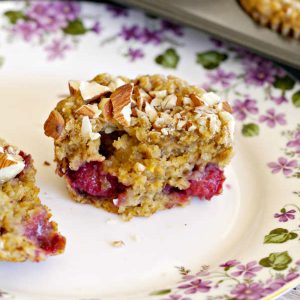 Gluten Free Oatmeal Raspberry Muffins
Gluten Free Oatmeal Raspberry Muffin… is possibly my all-time favourite muffin recipe. There is no added fat, refined sugar, dairy or eggs. The muffin is moist with a zesty flavour and subtle texture. Why serve plain oatmeal for breakfast when you can have this wholesome gluten-free oatmeal raspberry muffin. The healthy muffin is packed with […] Read More
Prep Time
30 Minutes
Difficulty
Easy
Cook Time
25 - 30 Minutes
Serves
12
Chai-Spiced Cranberry Zucchini Muffins – Gluten-Free
Most flavourful Chai-Spiced Cranberry Zucchini Muffins. I can't tell you how delicious these gluten-free muffins are. They are moist and light, flavoured with chai spices, and the cranberries add a little tart flavour, making them so good! If you are looking for a way to include healthy zucchini in your diet, adding this squash to […] Read More
Prep Time
15 Minutes
Difficulty
Easy
Cook Time
35 Minutes
Serves
12