Grain-Free Blueberry Cinnamon Muffins (Paleo, Low-Carb)
Published on Aug 30, 2018
by
Kristina Stosek
Prep Time:

10 minutes
Cook Time:

30 minutes
Serves:

12 muffins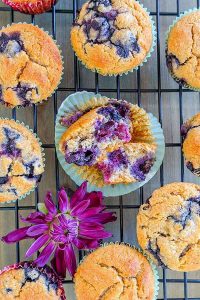 ​This post may contain affiliate links, please see our
privacy policy
for details
This is the BEST Grain-Free Blueberry Cinnamon Muffins recipe…honestly. Extra moist and soft, loaded with blueberries, a hint of cinnamon and low on carbs muffin!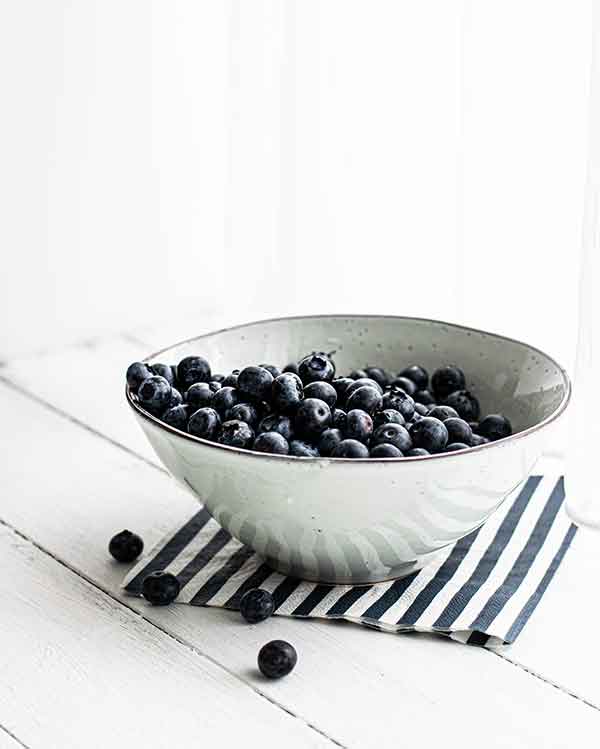 let's examine the healthy ingredients…
the flour,
In this grain-free blueberry cinnamon muffin recipe, I used only two flours. Almond flour and coconut flour. Both flours are nutritionally packed, rich in dietary fiber and low carb.
the fats,
There are only two fats added to this grain-free muffin recipe: coconut oil and cream. I used regular cream, but if you want to keep this blueberry muffin recipe dairy-free, you can use coconut cream.
the sweetener and flavour,
This healthy grain-free muffin recipe is mainly sweetened with fresh ripe blueberries. However, for added sweetness, I used a splash of pure maple syrup. For the flavour, I added cinnamon, fresh lemon juice with zest and vanilla.
The only other ingredients in this healthy paleo-friendly muffin recipe are eggs, sea salt and baking powder. And don't forget fresh ripe blueberries.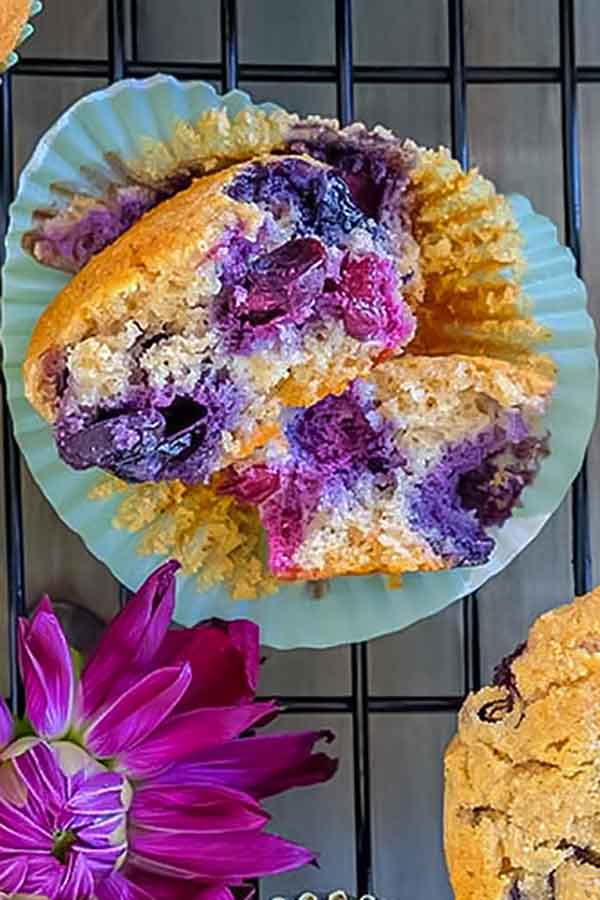 organic vs conventional blueberries…
If your budget allows it, always buy organic blueberries. As per USDA, blueberries usually make the dirty dozen. More than 50 pesticides have been detected as residue on them. Frozen blueberries have proved somewhat less contaminated.
grain-free blueberry cinnamon muffin – the details
Again, this is one of my more uncomplicated gluten-free muffin recipes. Start with mixing the dry ingredients. Then, in a separate bowl, using an electric mixer, whip up the wet ingredients.
Briefly mix dry with wet ingredients, do not over mix, or the muffin will be heavy and hard. Now, gently stir in the delicious sweet blueberries.
Once the batter is ready, please use parchment paper liners in the muffin pan. I ALWAYS use parchment paper liners because gluten-free batter seems to stick more to regular muffin liners.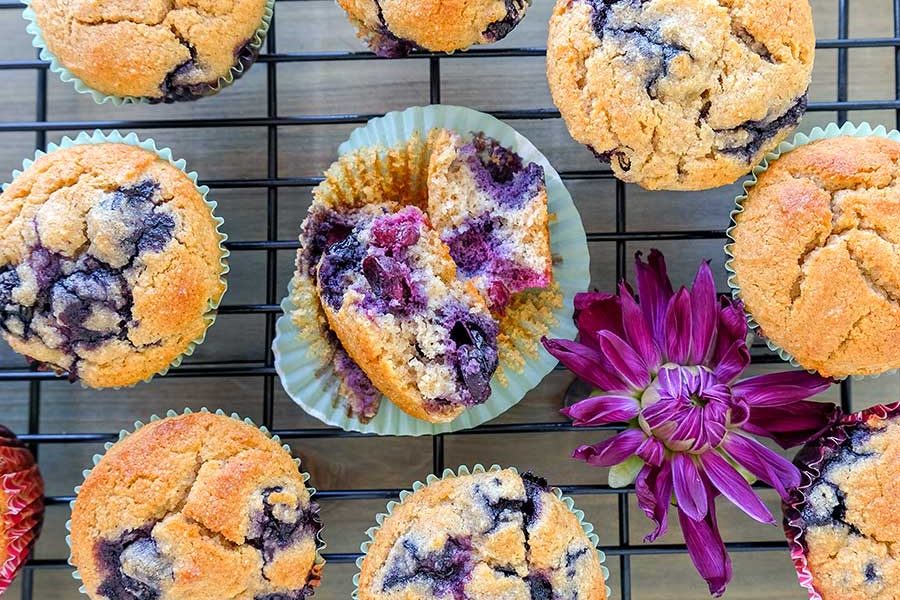 Make sure the muffins are fully baked. The tops should be firm to touch. Then cool before serving.
Each bite of this grain-free blueberry cinnamon muffin will be filled with sweet and juicy blueberries, and the muffin will have a perfect crumb. This means moist and light. Enjoy!
I promise these paleo-friendly healthy muffins will not disappoint. The best part, each muffin has only about 12 g of net carbs. A regular blueberry muffin typically has between 60 – 70 grams of carbs.
Are you looking for recipes made without grains? Check out our list of healthy cookies, soups, casseroles, bread and dessert in our delicious grain-free recipe category 🙂
Grain-Free Blueberry Cinnamon Muffins (Paleo, Low-Carb)
Published on Aug 30, 2018
by
Kristina Stosek
Instructions
1.

Preheat oven to 350 F and line a muffin pan with parchment paper liners

2.

In a medium bowl whisk together almond flour, coconut flour, baking powder, cinnamon and salt

3.

In a large bowl using an electric mixer, mix eggs, maple syrup, cream and coconut oil until creamy. Add lemon juice, lemon zest and vanilla and mix

4.

Add dry ingredients to egg mixture and using a spatula stir to combine, do not overmix. Then gently stir in blueberries

5.

Pour batter into prepared muffin pan and bake for 30 - 32 minutes, until muffin tops are golden and are firm to touch

6.

Cool in the pan for 15 minutes, then transfer onto a cooling rack to cool completely
Leave a Comment
Kristina
this muffin is so good, I love the texture super moist. Thank you I love your recipes!