Vegan Mushroom Zucchini Tetrazzini – Gluten Free
Published on Sep 15, 2018
by
Kristina Stosek
Prep Time:

10 minutes
Cook Time:

30 minutes
Serves:

4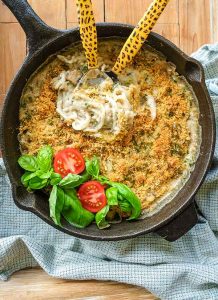 ​This post may contain affiliate links, please see our
privacy policy
for details
Hey there! I'm so excited to share this recipe for Mushroom Zucchini Tetrazzini with you. This Italian creamy pasta dish is vegan, gluten-free, hearty and healthy.
This tetrazzini meal is packed with veggies, including mushrooms and zucchini. The dish is also super flavorful because of added garlic, thyme, nutmeg and basil.
And, It's a great way to sneak extra vegetables into your diet! If you follow a plant-based diet, check out our complete list of gluten-free vegan recipes.
What is tetrazzini?
Tetrazzini is a dish that typically contains pasta, chicken, and vegetables in a cream sauce. You can make it with many different types of pasta, but it is commonly made with thin spaghetti, such as spaghettini.
This dish is named after an Italian operatic soprano, Luisa Tetrazzini, and, this is a gluten-free and vegan version of the classic tetrazzini recipe.
The mushrooms and zucchini replace the chicken in this plant-based recipe, and the dish is bound together with a creamy dairy-free sauce.
The best part, this tetrazzini is just as flavourful and satisfying as the original dish, but it's lighter and healthier.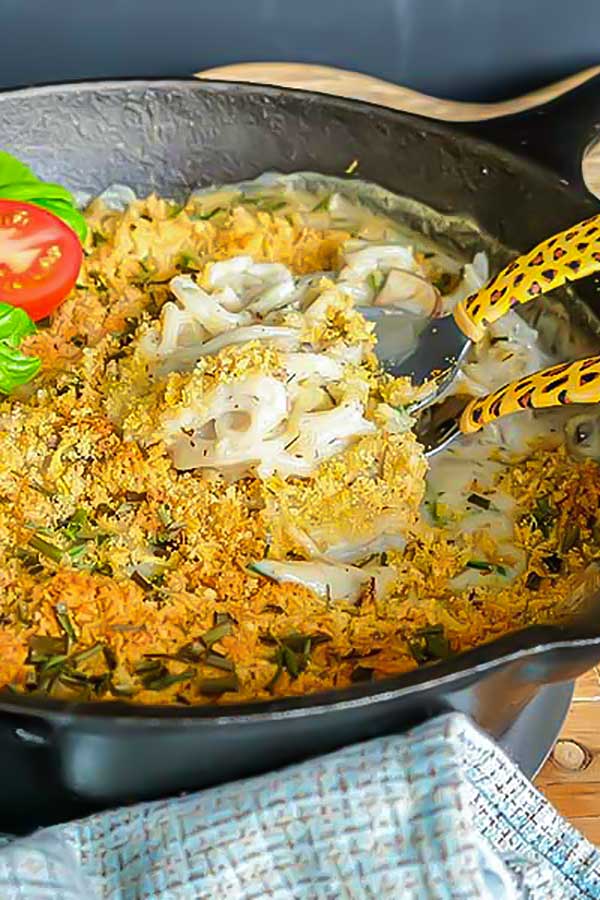 pasta recipe with healthy ingredients
This recipe is not only vegan and gluten-free but it's also packed with healthy ingredients. The mushrooms, zucchini, onions and garlic provide plenty of fiber, vitamins and minerals.
And the tetrazzini sauce is made with dairy-free milk and tapioca starch. So you can feel good about serving this meal to your family or friends who follow a plant-based diet.
Italian plant-based zucchini mushroom tetrazzini
The recipe is easy to make, too! Sauté the vegetables, cook the pasta, and then bake everything together in a casserole dish. The result is a comforting and satisfying pasta meal that everyone will love.
It's the perfect weeknight meal when you're short on time but want something healthy and delicious. Plus, it's vegan and gluten-free, so that everyone can enjoy it.
The veggie pasta is baked with a tasty, crispy topping. By adding extra zucchini to this dish, I cut back on pasta, thus cutting back on extra carbs and adding more texture and nutrition.
quick and easy vegan recipe
This quick and easy vegan recipe is perfect for a weeknight meal. It's hearty and filling but doesn't require any special ingredients. Just some simple pantry staples, and you're good to go!
Why is a plant-based diet so popular?
There are several reasons why plant-based diets are becoming more popular. For one, people are becoming more aware of the health benefits of eating plants.
Plants are a rich source of vitamins, minerals, antioxidants, and fiber, all essential for good health. Furthermore, plant-based diets have been shown to reduce the risk of chronic diseases such as heart disease, diabetes, and cancer.
For these reasons and more, it's no wonder that plant-based diets are becoming increasingly popular.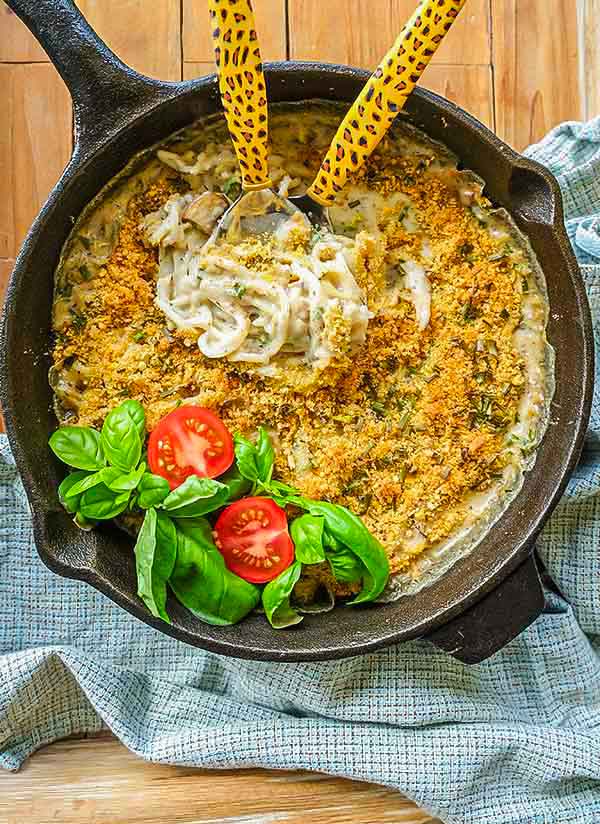 budget-friendly pasta meal
This budget-friendly pasta meal is perfect for a family on the go. By replacing meat and cheese with veggies, the meal for your family is less costly.
So if you're looking for a hearty, healthier gluten-free vegan pasta meal, look no further than this Mushroom Zucchini Tetrazzini!
I hope you enjoy this gluten-free pasta recipe. Let me know how you like it in the comments below.
Let's Connect!
Be sure to FOLLOW US on FACEBOOK and PINTEREST.
Many thanks!
Kristina xx
Vegan Mushroom Zucchini Tetrazzini – Gluten Free
Published on Sep 15, 2018
by
Kristina Stosek
Instructions
1.

2.

Bring a large pot with salted water to boil and cook pasta according to package directions.

3.

While the pasta is cooking, melt butter over medium heat in a deep oven-safe dish. I used a cast iron pan

4.

Add onions and garlic and sauté until soft. About 5 minutes

5.

Stir in thyme and mushrooms and season with salt and pepper. Cook until mushrooms are just softened. About 3 minutes

6.

Whisk together broth, milk, tapioca starch and nutmeg. Add zucchini to the pan and stir to combine. Add broth mixture and season with salt and pepper. Cook over medium heat until the sauce starts to thicken. About 5 minutes. Taste the sauce and adjust seasoning if needed.

7.

Drain the pasta and add it to the sauce. Do not rinse the pasta. Toss until the sauce coats the pasta. I like to reserve some pasta water and if the sauce is too thick I add some pasta water

8.

In a small pan heat olive oil over medium heat. Add breadcrumbs and basil and cook just to brown the breadcrumbs. About 1 minute.

9.

Remove from the heat and stir in nutritional yeast. Sprinkle over the pasta

10.

Bake for about 12 minutes until bubbly, and the top has browned. Garnish with your favourite herbs