Curried Zucchini Coconut Soup (gluten-free)
Prep Time
10 Minutes
Difficulty
Beginner
Cook Time
10 Minutes
Serves
4
Average Rating: 4.5 | Rated By: 9 users
This gluten-free plant-based Curried Zucchini Coconut Soup is made primarily with zucchini and fresh tomatoes. The creaminess comes from coconut milk, and the zucchini soup is mildly spiced with ginger, garlic, and curry powder. For added zesty flavour, a splash of fresh lime juice.
This curried zucchini coconut soup takes only about ten minutes of prep time and another ten minutes of cooking time. The zucchini soup is rich and creamy, and very satisfying.
the curried zucchini coconut soup recipe details
To start, saute the garlic in olive oil until fragrant. Then add the spices zucchini and tomatoes. Finally, briefly stir fry everything to add extra flavour and soften the veggies.
add the liquids
Add the liquids; if you are following a plant-based diet, use gluten-free tamari sauce and vegetable stock. If you are ok with using fish sauce, you can also add chicken stock.
blend the soup using a blender or food processor
Cook the soup briefly for about five minutes. Now carefully transfer the soup into a blender or food processor and add the coconut milk and lime juice.
Pulse until you reach desired consistency and season with salt if needed. Then, transfer the soup back to the pot and to reheat before serving.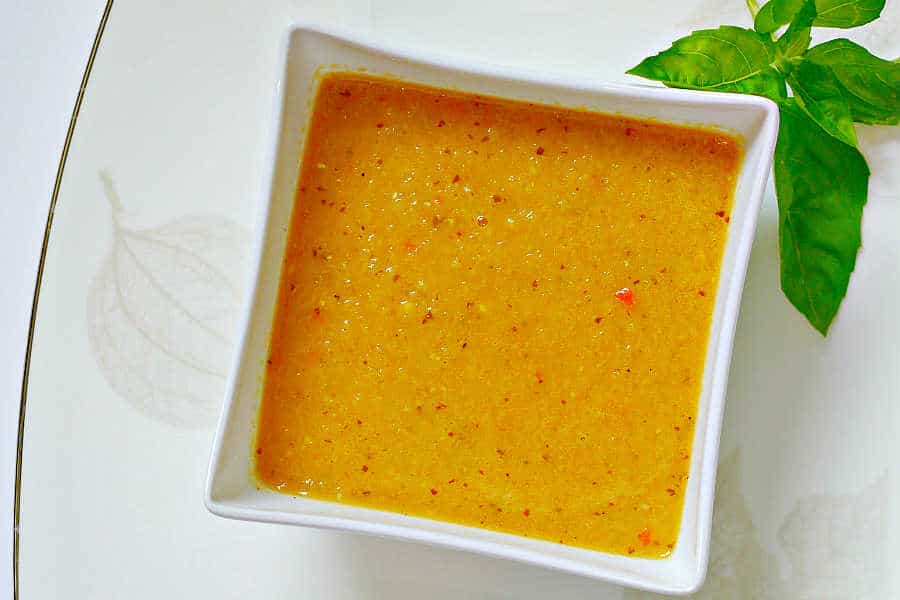 add-ins when serving
Ladle soup into bowls and add with fresh basil and extra lime juice.
This naturally gluten-free curried coconut zucchini soup is low in calories and carbs, making this healthy soup a diet-friendly recipe.
Let's Connect!
Be sure to FOLLOW US on FACEBOOK and PINTEREST.
Many thanks!
Kristina xx
Ingredients
2 medium size zucchini, peel and cut into 1-inch cubes
1 Tbsp (15 mL) extra virgin olive oil
3 garlic cloves, chopped
1 Tbsp (15 mL) minced ginger
1 Tbsp (15 mL) GF curry powder
¼ tsp (1.25 mL) GF cayenne pepper
1 large tomato, roughly chopped
1 x (13.5 oz.) can coconut milk
1 Tbsp (15 mL) fish sauce or Tamari sauce if following vegan diet
3 cups (750 mL) gluten-free broth (vegetable (vegan) or chicken)
Juice of one lime plus some for serving
Sea salt to taste
¼ (60 mL) cup chopped fresh basil (optional)
*As an Amazon Associate and member of other affiliate programs, I earn from qualifying purchases. Please check out my sponsorship and disclosure policy page for more details
Instructions
Sauté garlic over low heat in olive oil for one minute. Add ginger, curry powder and cayenne and stir to combine
Add tomato and zucchini and stir-fry for two minutes
Add broth and fish sauce and simmer for five minutes
Transfer to a blender or food processor and add coconut milk and lime juice. Blend until you reach desired consistency. Transfer back into the pot and reheat before serving. Serve with fresh basil and lime wedges
Similar Recipes
Spicy Thai Chicken Coconut Soup
A Spicy Thai Chicken Coconut Soup to warm your soul. This soup is a classic Thai recipe made with lemongrass, ginger, garlic, coconut milk, tender chicken, fresh lime juice and plenty of fresh cilantro. The fresh vegetables that make this a nutrient-dense soup are savoy cabbage, mushrooms, green onions, and bell peppers. So much healthiness […] Read More
Prep Time
10 Minutes
Difficulty
Easy
Cook Time
20 Minutes
Serves
4
Coconut Curry Lentil Soup (Vegan, Gluten-Free)
This coconut curry lentil soup is a real reviver – soothing, comforting and satisfying. A reminder of how hearty soup can be. This soup is a plant-based recipe packed with protein, nutrients and fiber. This naturally gluten-free soup is an Indian-inspired lentil dish flavoured with classic Indian spices such as curry powder, garam masala, basil, […] Read More
Prep Time
15 Minutes
Difficulty
Easy
Cook Time
35 Minutes
Serves
6
Vegan Potato and Spinach Curry Soup
A soothing vegan potato and spinach curry soup for any day of the week. Tender potatoes, fresh spinach and peas simmered in a thick creamy soup mildly flavoured with curry and fresh lime juice.     There is more to this vegan soup than just potatoes and spinach. This Indian inspired hearty soup is made […] Read More
Prep Time
15 Minutes
Difficulty
Beginner
Cook Time
25 Minutes
Serves
6