Baked Tuna Melt Jalapeño Poppers (Keto, Gluten-Free)
Prep Time
15 Minutes
Difficulty
Easy
Cook Time
15 Minutes
Serves
12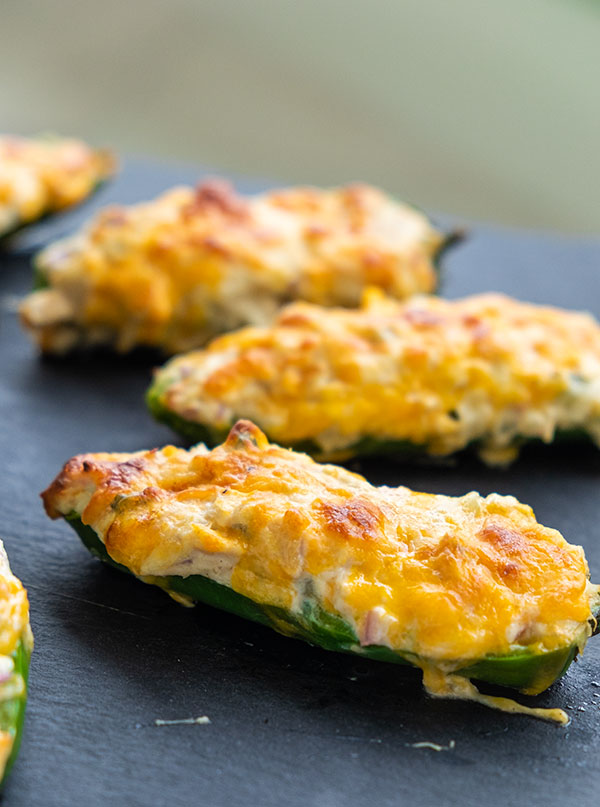 Be the first to rate this recipe.
Baked tuna melt jalapeño poppers are a perfect appetizer, especially when you are hosting a crowd. The peppers are stuffed with deliciously flavoured cheesy tuna and then baked to perfection. Jalapeños are mild to moderately spicy, so the heat from the peppers does not overpower the tasty stuffing. What I love most about this appetizer is, I can prepare the poppers in advance and just pop them in the oven when ready. Although these poppers are mostly served as appetizers, I love them as a snack. These keto poppers are high in protein, making them satisfying, but the best part, they are ever so tasty! On a side note, if you are not a fan of tuna, you can use salmon they are just as delicious  😀
Ingredients
12 medium jalapeño peppers, preferably all an even size
4 oz. cream cheese, at room temperature
6 oz. (170 g) can tuna, drained
1/4 cup finely chopped red onion
1 Tbsp. Chopped fresh dill, parsley or cilantro
1 Tbsp. Fresh lemon juice
GF Cayenne pepper, to taste (I used 1/4 tsp.), optional
1 cup shredded cheese, (I used 1/2 cup mozzarella and 1/2 cup sharp cheddar), divided
Himalayan salt to taste
Instructions
Preheat oven to 425 F and line a rimmed baking tray with foil paper
Cut off one-quarter of each pepper lengthwise. This will create little jalapeño boats ready to be stuffed. Scoop out seeds and membranes and lightly season with salt
Using a medium size bowl cream together cream cheese and tuna. Add pickles, onions, dill or herb of choice, lemon juice, horseradish, cayenne pepper and 1/2 cup of shredded cheese. Season with salt to taste. Thoroughly mix together
Stuff peppers with the mixture and place on a prepared baking tray. Top each pepper with remaining cheese and bake for 15 minutes, until the cheese starts to turn golden brown. Enjoy!
Note; you can prepare the poppers in advance and refrigerate for later. Allow extra time for baking.
Similar Recipes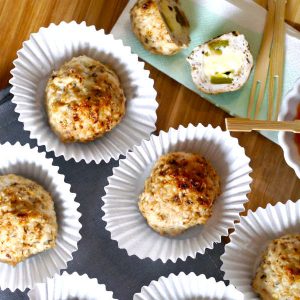 Meatballs Stuffed With Jalapeno And Mozzarella
You will love these turkey meatballs stuffed with jalapeno and mozzarella. They are tender and have a little kick to them, making them popular during sports events or entertaining. Meatballs make great appetizers at any party. With the added spices and herbs they are very tasty, but it is the jalapeno and mozzarella that truly […] Read More
Prep Time
20 Minutes
Difficulty
Moderate
Cook Time
40 Minutes
Serves
18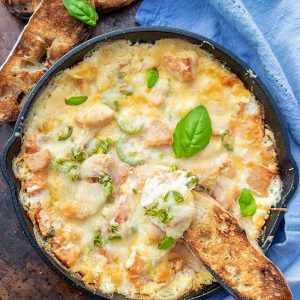 Hot Pizza Dip – (Gluten-Free, Keto)
There is pizza, and there is a hot pizza dip! Hot pizza dip is a pizza without the crust. You know, the delicious melted cheese with your favourite toppings that you get on a regular pizza except without the bread. In this recipe, I used three types of cheeses, fresh tomatoes, basil, some garlic, and […] Read More
Prep Time
10 Minutes
Difficulty
Beginner
Cook Time
30 Minutes
Serves
6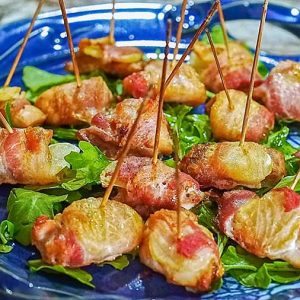 Chicken, Water Chestnut And Bacon Appetizers
The smoky flavour of bacon and the crunchiness of water chestnuts make this gluten free appetizer explosively delicious. Serve at super bowl parties or large gatherings. But don't stop there, they also make for a tasty snack Read More
Prep Time
20 Minutes
Difficulty
Easy
Cook Time
15 Minutes
Serves
16 pc