Baked Tuna Melt Jalapeño Poppers (Keto, Gluten-Free)
Published on May 25, 2019
by
Kristina Stosek
Prep Time:

15 minutes
Cook Time:

15 minutes
Serves:

12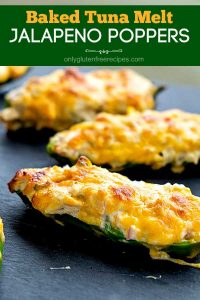 ​This post may contain affiliate links, please see our
privacy policy
for details
Baked tuna melt jalapeño poppers are a perfect appetizer, especially when hosting a crowd. The peppers are stuffed with deliciously cheesy tuna filling using two types of cheese, red onion, herbs, pickles and fresh lemon juice. And they are served hot.
Why use Jalapeño peppers for poppers?
I used jalapeños because they are mild to moderately spicy, so the heat from the peppers does not overpower the tasty stuffing. Although these poppers are mostly served as appetizers, they are delicious as a snack.
For those who are following a keto diet, the tuna melt jalapeño poppers are also keto-friendly. The tuna stuffed poppers are protein packed making them a satisfying snack.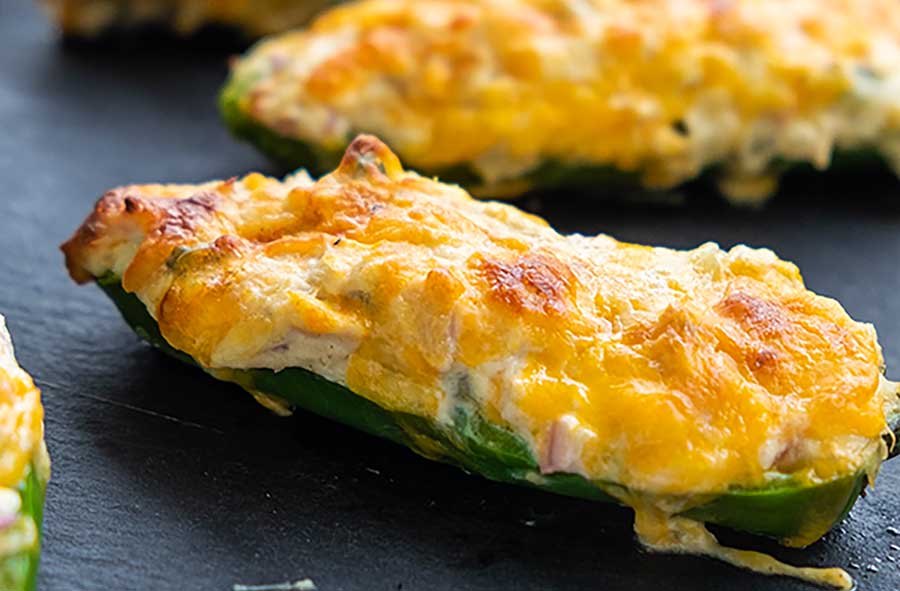 How to make Jalapeño poppers?
Jalapeño poppers are very popular as appetizers or snacks. They are super easy to make, and you can prepare them 24 hours in advance. This makes the poppers an easy appetizer, especially when entertaining a large crowd.
To make Jalapeño appetizers, there is one thing to keep in mind. The jalapeño peppers should be all the same size and relatively small since this is finger food!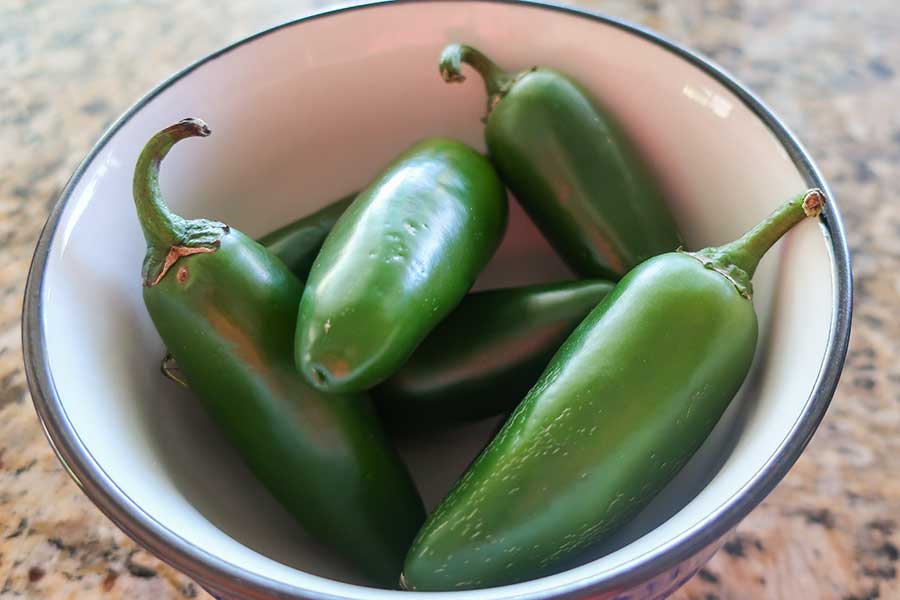 If they are too big two things happen. They may not be firm enough to hold the filling and you will have to serve them on small plates with a knife and a fork, and this is not what this appetizer is all about.
Once you prepare the Jalapeño boats for filling it is easy. Mix the filling ingredients, fill the peppers and sprinkle with extra cheese. Now, you can either refrigerate them until you are ready to bake them or bake them now. Super simple recipe!
If you are not that excited about tuna you can use salmon, they are just as delicious.
Are you entertaining a large crowd? You will find these gluten-free appetizers a big hit every time!
Let's Connect!
Be sure to FOLLOW US on FACEBOOK and PINTEREST.
Many thanks!
Kristina xx
Baked Tuna Melt Jalapeño Poppers (Keto, Gluten-Free)
Published on May 25, 2019
by
Kristina Stosek
Instructions
1.

Preheat oven to 425 F and line a rimmed baking tray with foil paper

2.

Cut off one-quarter of each pepper lengthwise. This will create little jalapeño boats ready to be stuffed. Scoop out seeds and membranes and lightly season with salt

3.

Using a medium size bowl cream together cream cheese and tuna. Add pickles, onions, dill or herb of choice, lemon juice, horseradish, cayenne pepper and 1/2 cup of shredded cheese. Season with salt to taste. Thoroughly mix together

4.

Stuff peppers with the mixture and place on a prepared baking tray. Top each pepper with remaining cheese and bake for 15 minutes, until the cheese starts to turn golden brown. Enjoy!

5.

Note; you can prepare the poppers in advance and refrigerate for later use. Allow extra time for baking.
Leave a Comment
Kristina
sounds delicious Meredith, thank you for sharing.
delicious! I have made them twice. I share with pepper wimps tho so have to tone down the cayenne way more than I want to and altho it's as hot as Cayenne but with actual chili flavor, I use Arbol chili from. mexico(Amazon). the tuna mix with pick es & red onions is great! really nice flavor. I bake them w/o the extra cheddar on top but add it 5 min under the broiler to crisp it up. absolutely the Perfect Football game food! Thank you!
Kristina
Karla, you can freeze them before you bake them. To freeze the poppers, place them on a baking sheet and freeze for 15 minutes, then store them in an airtight container.
Can these be made ahead ad frozen?
Kristina
great idea Joy, thanks for sharing
This recipe is a good variation. I cut the jalapeños in half to make 2 boats out of each.