Gluten-Free Chicken Cordon Bleu Pasta
Published on Apr 16, 2021
by
Kristina Stosek
Prep Time:

10 minutes
Cook Time:

40 minutes
Serves:

6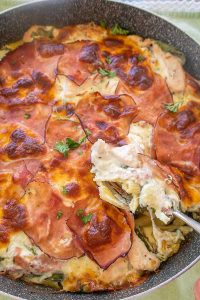 ​This post may contain affiliate links, please see our
privacy policy
for details
This super easy Gluten-Free Chicken Cordon Bleu Pasta dish is the perfect easy gluten-free dinner recipe. A chicken cordon bleu inspired recipe updated to a gluten-free pasta dish.
This dish is about gluten-free pasta mixed with rich and creamy garlic and basil sauce with tender chicken, layered with ham, Swiss or provolone cheese and creamy ricotta with spinach made in one skillet. Another recipe you may enjoy is the chicken cordon bleu meatloaf.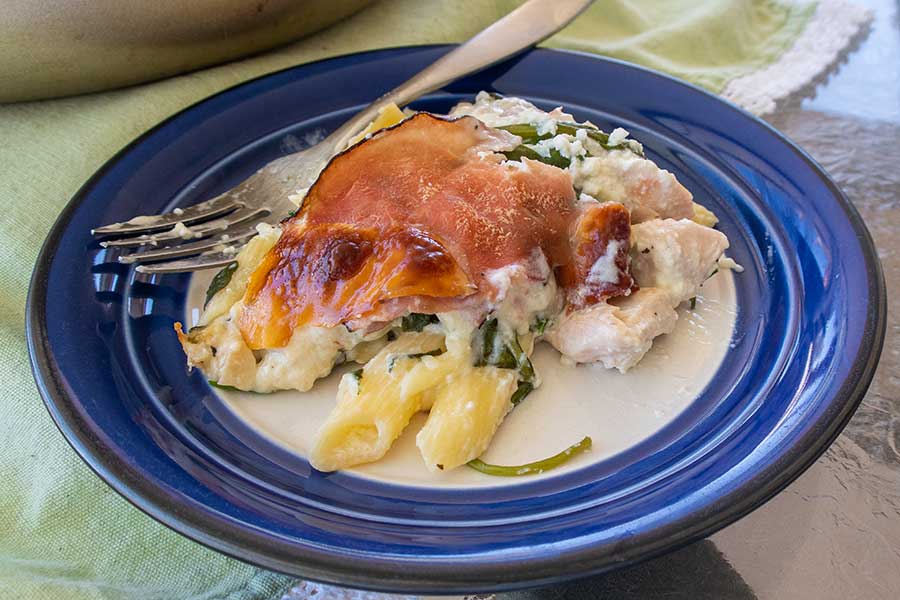 pasta is probably one of the most loved foods
In this layered skillet meal, every bite is filled with creaminess, chicken, spinach and pasta. The saltiness of ham and creaminess of two kinds of cheese with spinach create unforgettable flavours.
This chicken cordon bleu pasta dinner is easy enough to enjoy any night of the week. And it is the perfect comfort food.
Sharing the easiest pasta dish and keeping the gluten-free dinner super tasty and satisfying is what the dish is all about!
Add a rich, creamy sauce hinted with basil and garlic, chicken, cheese, ham, and creamy spinach, and you can easily serve this dish for a special occasion.
Today's inspiration came from one of our favourite chicken recipes – the chicken cordon bleu dish. However, this gluten-free pasta dinner recipe is a step above the classic chicken cordon bleu recipe.
The difference is, the pasta and fresh spinach make this French-inspired recipe a hearty one-pot meal.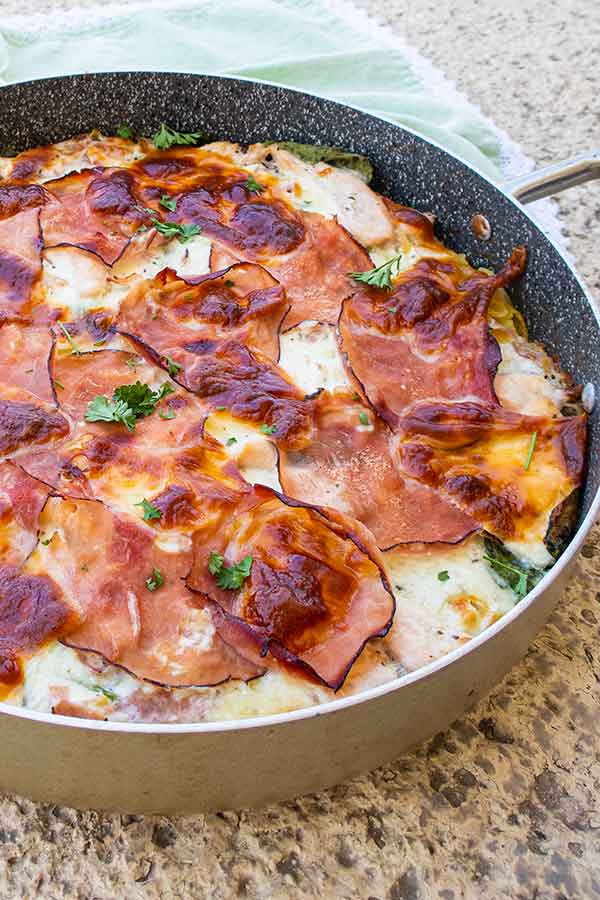 healthier chicken cordon bleu pasta recipe
As with most of my gluten-free recipes, I wanted to add extra healthiness. So I added healthy fresh baby spinach. To keep the spinach creamy, I mixed it with ricotta.
Compared to most cheeses, ricotta is a healthier choice because it contains less fat and salt. Ricotta adds creaminess without adding extra calories.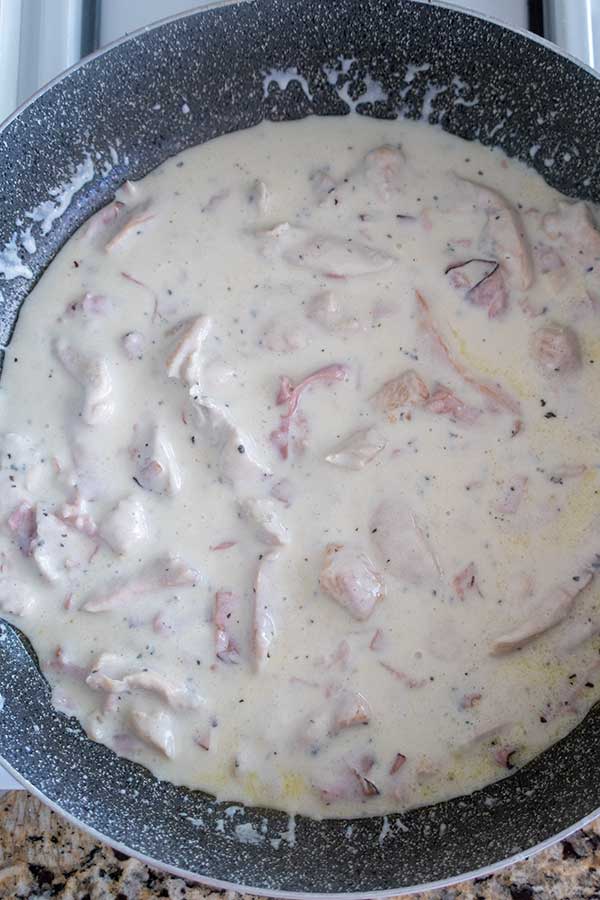 recipe details,
To start, I cooked the pasta in well salted water. It would be best if you cooked the pasta al dente, cooked but firm to the bite. I prefer to slightly undercook the pasta because it will continue cooking in the oven.
While the pasta is cooking using a large oven proof skillet, brown the chicken in olive oil or butter. The browning of the chicken is what will add flavour to the sauce.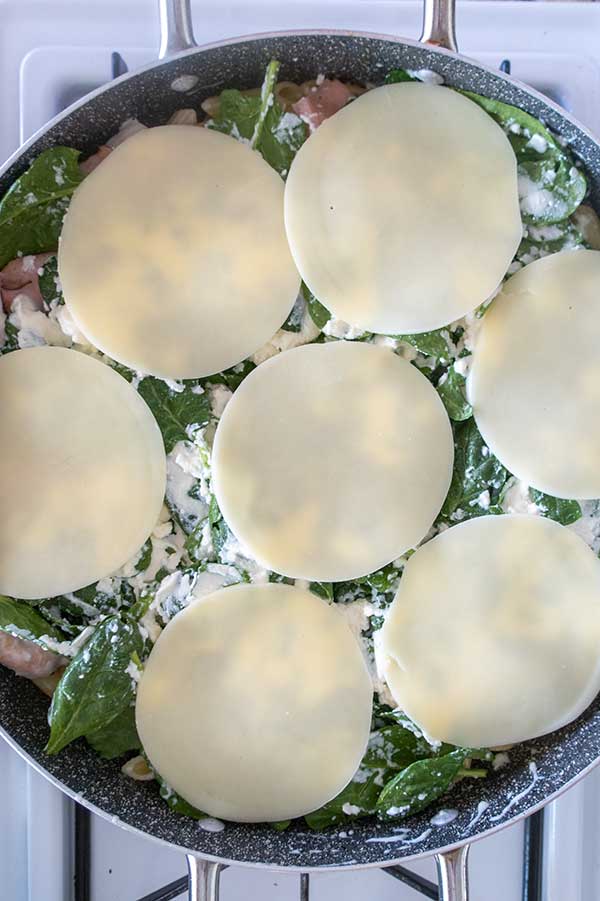 Once the chicken is browned, add the cream or milk, chicken broth, tapioca starch garlic and basil. Bring the sauce to a simmer and cook until the sauce starts to thicken.
Transfer half of the sauce with chicken to a bowl and then add the pasta to the same skillet. Mix the sauce, chicken and pasta until combined.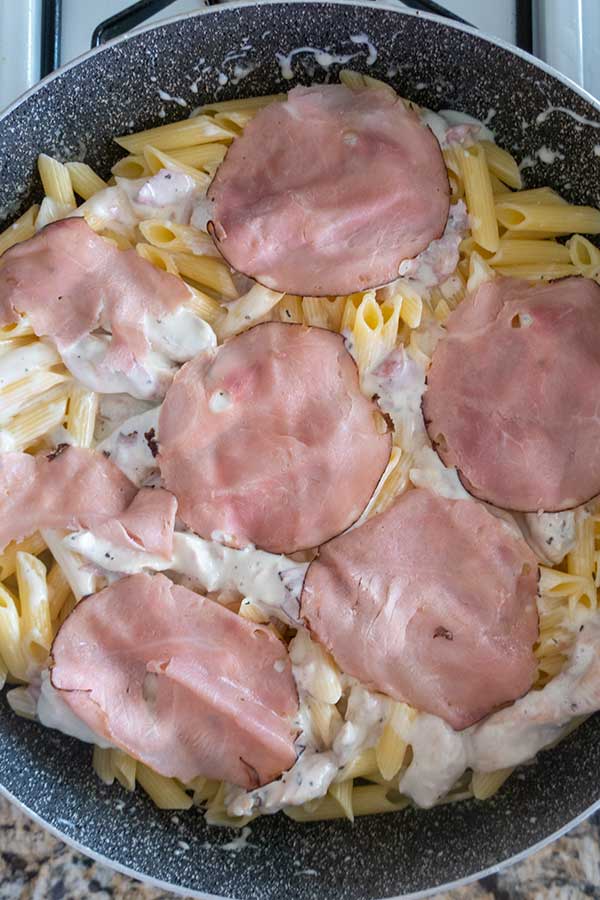 the layers,
The dish now has a layer of creamy pasta. Add a layer of ham, a mixture of spinach and ricotta, cheese slices, the remaining sauce with chicken, ham, and finish with cheese.
Pop the skillet in the oven for about thirty minutes. The cheese will become golden brown and the ham crispy.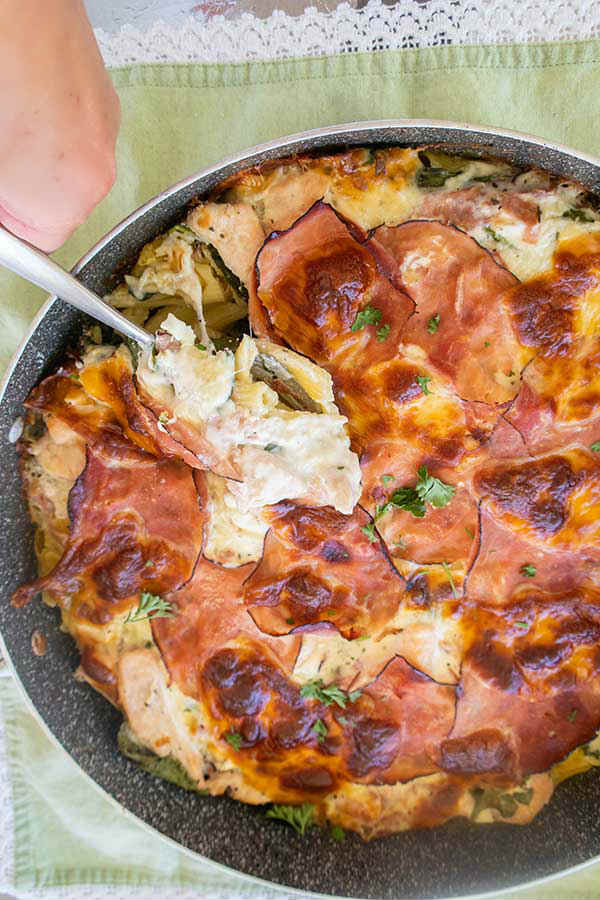 This gluten-free chicken cordon bleu pasta is a simple and delicious pasta dinner made almost in only one skillet. I cooked the pasta separately as not to take away from the flavourful creamy sauce and to keep it saucy.
To serve this gluten-free meal, spoon the pasta into bowls, and if you wish, sprinkle with hot chilli pepper flakes. This pasta dinner is simple and delicious, but even more importantly, everyone loves pasta!
If you need more pasta meals, check out our favourite gluten-free pasta recipes.
Let's Connect!
Be sure to FOLLOW US on FACEBOOK and PINTEREST.
Many thanks!
Kristina xx
Gluten-Free Chicken Cordon Bleu Pasta
Published on Apr 16, 2021
by
Kristina Stosek
Instructions
1.

2.

Cook pasta per package directions in well-salted water until al dente and drain. Do not overcook the pasta

3.

Meanwhile, using a large ovenproof deep skillet, heat olive oil/butter over medium-high heat. Add chicken pieces and season with salt and pepper. Brown chicken on all sides. Reduce heat to medium-low

4.

Whisk cream/milk, chicken broth, tapioca/arrowroot starch, garlic and basil, and season with salt and pepper. Pour the mixture into the skillet and cook until the sauce starts to thicken. Transfer half the sauce with chicken into a bowl

5.

Using the same skillet, add cooked pasta to the sauce with chicken, and mix to combine. Top the pasta with half the ham slices

6.

Mix spinach with ricotta cheese and season with salt and pepper. Spread the mixture over the ham slices. Top with 2/3 of the cheese slices and remaining sauce. Add another layer of remaining ham and finish with remaining cheese slices. The cheese should only cover some of the ham. 

7.

Bake for 25 - 30 minutes. The cheese should be golden brown and the ham slices crispy. Rest for 15 minutes before serving.
Leave a Comment
Kristina