Gluten-Free One Pot Chicken Paprikash Pasta
Published on Sep 05, 2017
by
Kristina Stosek
Prep Time:

15 minutes
Cook Time:

25 minutes
Serves:

4
​This post may contain affiliate links, please see our
privacy policy
for details
This Gluten-Free One-Pot Chicken Paprikash Pasta is the most flavourful creamy chicken pasta dish. The chicken is seasoned with spices such as marjoram, paprika and thyme, typical spices used in Hungarian cuisine. And for added creaminess, the sour cream! YUM
What is chicken paprikash?
Classic Hungarian chicken paprikash is cooked in a lightly spiced sauce with added creaminess of sour cream. This chicken dish is typically served over noodles or with rice.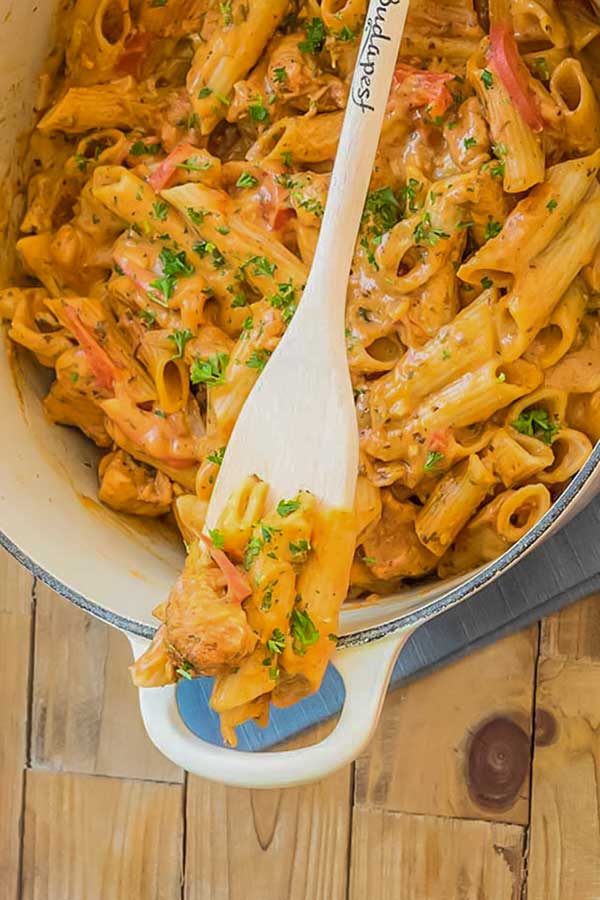 If you are looking for something meatier, one of our most downloaded recipes is the Authentic Hungarian Goulash. The next time you crave a warming hearty beef stew, try the goulash. It is a real pleaser ♥
easy one pot chicken paprikash pasta recipe
I added gluten-free pasta to make this chicken paprikash recipe into a meal. And for simplicity, the entire meal is made in one pot.
Yes, pasta and chicken paprikash all in one. The one-pot recipe makes this hearty dish into an easy weeknight family dinner.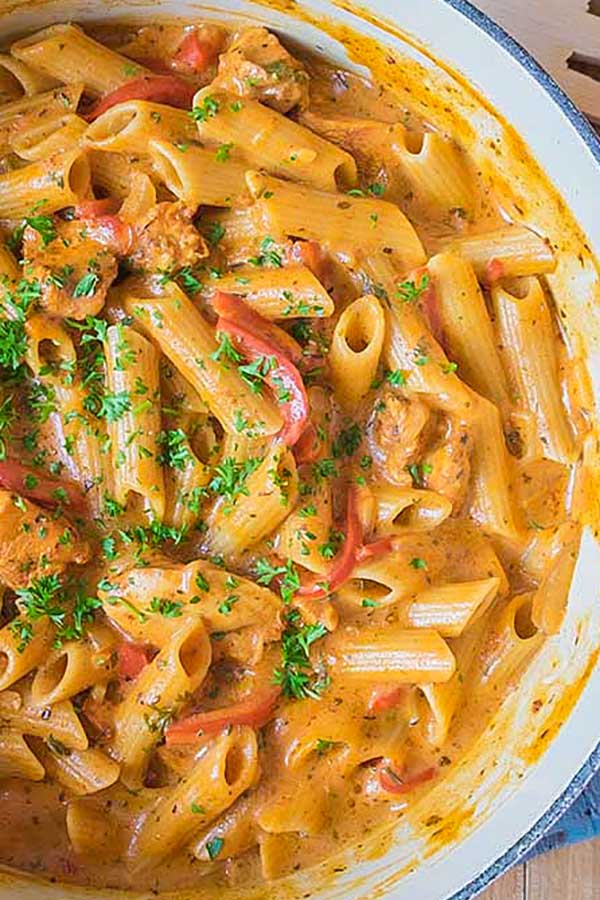 this gluten free pasta is all about the Hungarian sauce
The gluten-free penne pasta is cooked in a rich and flavourful chicken sauce. The pasta will absorb the sauce's flavours, making it an insanely delicious pasta meal.
Is chicken paprikash pasta an Italian or Hungarian recipe?
A great question! The chicken paprikash is a Hungarian recipe. By adding pasta, the recipe ended up with an Italian twist. I think of it as Hungary meets Italy, a tasty combo of flavours and textures.
chicken paprikash pasta is a 25 minute recipe
This one-pot wonder takes only 25 minutes to cook, making this an easy gluten-free weeknight meal.
The gluten-free pasta smothered with the most flavourful sauce makes this chicken dinner one to remember. Even the pickiest eater will love this pasta dish.
4 simple steps for a quick gluten-free weeknight pasta meal!
Season the chicken pieces with a combination of herbs and spices
Sauté the onions with garlic in olive oil and brown the seasoned chicken
Add chicken stock, tomato sauce and bell peppers. Cover and cook for 5 minutes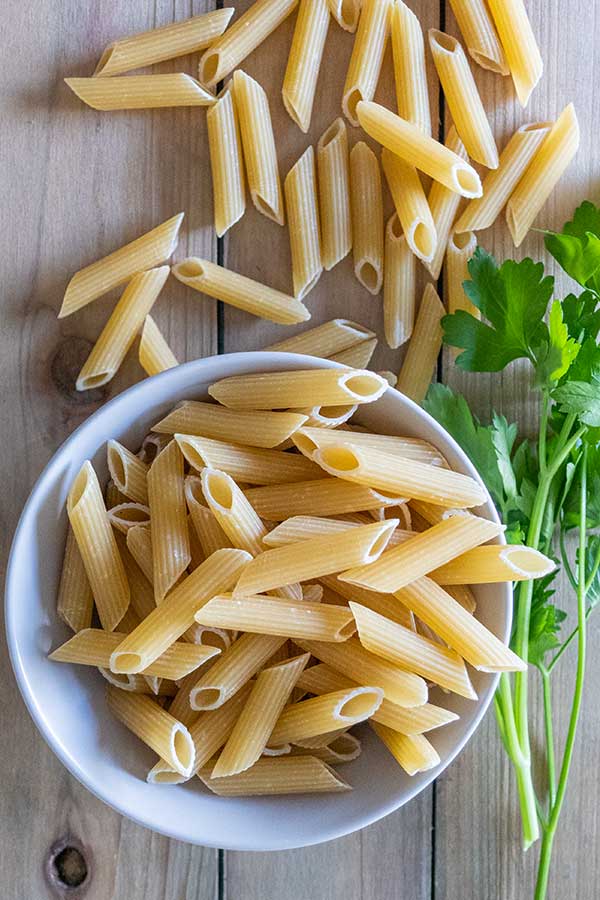 Add the gluten-free pasta and cook until al dente. Stir in the sour cream and parsley and set aside for 15 minutes.
By allowing the dish to rest, the sauce will thicken to perfection.
The chicken pasta dinner is ready to serve. Why not add a gluten-free garlic cheese flatbread?
One of the reasons this chicken paprikash pasta dish is so popular is the easy cleanup, only one pot 🙂
When cooler weather hits, there is nothing more satisfying than creamy pasta with tasty chicken. I hope you will give this gluten-free pasta dinner recipe a try. You will not be disappointed.
Let's Connect!
Be sure to FOLLOW US on FACEBOOK and PINTEREST.
Many thanks!
Kristina xx
Gluten-Free One Pot Chicken Paprikash Pasta
Published on Sep 05, 2017
by
Kristina Stosek
Instructions
1.

Mix paprika, marjoram, thyme, salt and cayenne pepper. Season the chicken with half the seasoning and set aside

2.

In a large heavy bottom pot, sauté the onions in olive oil until soft, about 5 minutes. Add chicken and garlic and cook over medium heat until the chicken starts to brown. About 5 minutes

3.

Stir in the remaining seasoning, chicken stock, tomato sauce and bell peppers. Cover and cook over medium heat for 5 minutes. Add the pasta and cook for 10 more minutes or until the penne is al dente, cooked but firm to bite.

4.

Combine sour cream with parsley and stir into the pasta. Bring to a boil and remove the pot from the heat and cover. Rest for 15 minutes, the sauce thickens and the pasta will absorb the flavours.

5.

Stir just before serving and top with fresh parsley
Leave a Comment
Kristina
This recipe was absolutely delicious!! I am always looking for good gluten free recipes. Thank you so much.
Kristina
Paver, the easiest way to reheat it is in a microwave using a glass dish. But you can also reheat it in the oven as long as the dish has a heavy lid
How would you recommend reheating this dish if you were to bring it someone else? (ie, a person who just had a baby, or something like that.)