Gluten-Free One Pot Chicken Paprikash Penne
Prep Time
15 Minutes
Difficulty
Beginner
Cook Time
25 Minutes
Serves
4
Average Rating: 4.5 | Rated By: 10 users
Chicken paprikash is a classic Hungarian dish. Traditionally the chicken is cooked in a delicious sauce with a variety of Hungarian spices such as sweet paprika, thyme, marjoram, and sometimes cayenne pepper. When chicken paprikash is served, it is topped with sour cream adding a rich and creamy flavour.
Authentic chicken paprikash is always served over pasta or rice. In this recipe, I cooked the pasta in the sauce. The penne soaks up the flavourful sauce and everything tastes incredibly tasty. Although this recipe started as a Hungarian dish, it ended up having an Italian twist.
This one-pot wonder takes only 25 minutes to cook, making this an easy gluten-free weeknight meal that even the pickiest eater will love. What I love about this recipe, is the easy cleanup, only one pot 🙂
One of our most downloaded recipes is the Authentic Hungarian Goulash. The next time you feel you need some warming hearty beef stew, try the goulash, it is a real pleaser ♥
Ingredients
1 Tbsp. GF ground paprika
1 Tbsp. GF whole marjoram
1 tsp. GF whole thyme
1 ½ tsp. sea salt
½ tsp. GF cayenne pepper flakes, optional
1 lb. skinless, boneless chicken breast, cut into bite size pieces
3 garlic cloves, chopped
2 Tbsp. extra virgin olive oil
1 medium yellow onion, finely chopped
3 cups GF chicken stock
½ cup pure tomato sauce
1 red or yellow bell pepper, thinly sliced
1 cup fat reduced sour cream
½ cup chopped fresh parsley plus some for topping
*As an Amazon Associate and member of other affiliate programs, I earn from qualifying purchases. Please check out my sponsorship and disclosure policy page for more details
Instructions
Mix paprika, marjoram, thyme, salt and cayenne pepper. Season the chicken with half the seasoning and set aside
In a large heavy bottom pot, sauté the onions in olive oil until soft, about 5 minutes. Add chicken and garlic and cook over medium heat turning often until the chicken is browned. About 5 minutes
Add the remaining seasoning, chicken stock, tomato sauce and bell peppers. Cover and cook over medium heat for 5 minutes. Add penne pasta and cook for 10 more minutes or until the penne is al dente. Cooked but firm to bite
Combine sour cream with parsley and stir into the pasta. Bring to boil, remove from the heat and cover. Rest for 15 minutes.
To serve, give it a good stir and top with extra fresh parsley
Similar Recipes
Chicken Cacciatore with Roasted Tomatoes
A crisp chill in the air is always an indication to cook comfort food. The aromas of simmering vegetables, herbs and spices are welcome any time of the year. This gluten free chicken cacciatore is a gourmet version of the classic Italian dish. When it comes to gourmet chicken cacciatore, it is all about the […] Read More
Prep Time
15 Minutes
Difficulty
Easy
Cook Time
60 Minutes
Serves
4 - 6
Chicken With Sundried Tomatoes in Cream Sauce
Creamiest Chicken With Sundried Tomatoes in the most flavourful cream sauce! Discover a simple way to cook gourmet chicken in a flavourful Asiago cream sauce. Stumbling on this amazing dish through my travels in northern Italy, I have decided to include it in my favourite dinner recipes. The tender chicken soaks up a mildly flavoured cheese […] Read More
Prep Time
10 Minutes
Difficulty
Easy
Cook Time
35 Minutes
Serves
4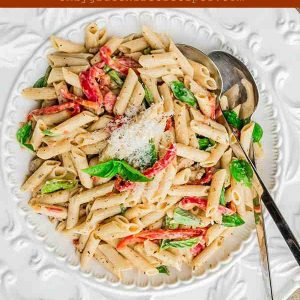 Chorizo With Basil Cream Sauce Penne – Gluten-Free
This Chorizo With Basil Cream Sauce Penne is an easy gluten-free pasta dish made in 30 minutes. The flavourful chorizo balls add spice and warmth, and the bell peppers and fresh tomatoes add freshness. But, it is the basil cream sauce that ties everything together. The sauce is made with chicken broth, cream, Parmesan cheese, […] Read More
Prep Time
10 Minutes
Difficulty
Easy
Cook Time
20 Minutes
Serves
4