Gluten Free One Pot Chicken Paprikash Penne
Prep Time
15 Minutes
Difficulty
Beginner
Cook Time
25 Minutes
Serves
4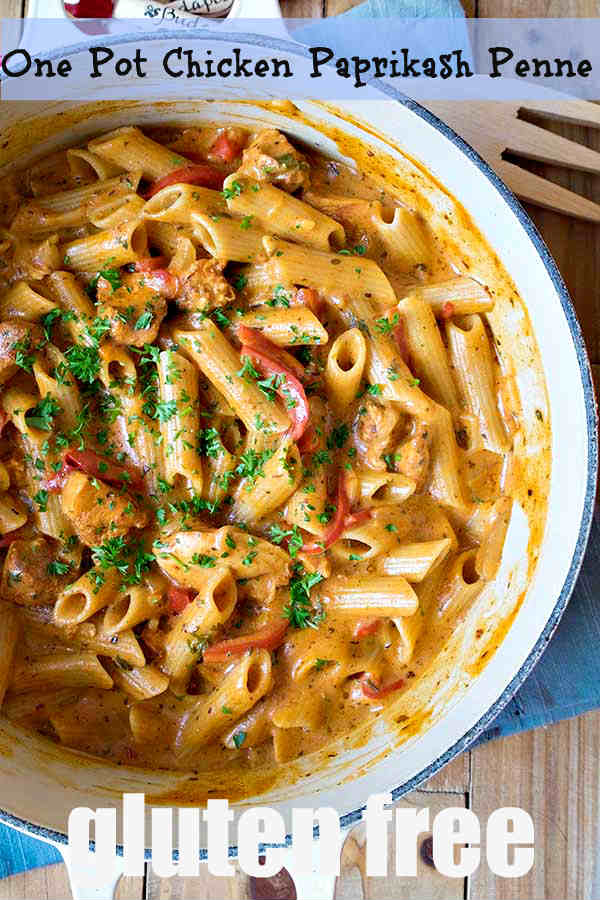 Be the first to rate this recipe.
Chicken paprikash is a classic Hungarian dish. Traditionally the chicken is cooked in a delicious sauce with a harmony of spices. Then the dish is finished with sour cream adding a rich, creamy flavour. Ordinarily, chicken paprikash is served over pasta or rice. In this recipe, I cooked the pasta in the sauce allowing the pasta soak up flavours of the amazing sauce. Although this recipe started as a Hungarian dish, it ended up Italian making it magically more delicious. This one pot wonder takes only 25 minutes to cook, making this an easy gluten free weeknight meal that even the pickiest eater will love
Ingredients
1 Tbsp. GF ground paprika
1 Tbsp. GF whole marjoram
1 tsp. GF whole thyme
1 ½ tsp. sea salt
½ tsp. GF cayenne pepper flakes, optional
1 lb. skinless, boneless chicken breast, cut into bite size pieces
3 garlic cloves, chopped
2 Tbsp. extra virgin olive oil
1 medium yellow onion, finely chopped
3 cups GF chicken stock
½ cup pure tomato sauce
1 red or yellow bell pepper, thinly sliced
½ lb. GF uncooked penne pasta
1 cup fat reduced sour cream
1 tsp. GF arrowroot or tapioca starch
½ cup chopped fresh parsley plus some for topping
Instructions
Mix paprika, marjoram, thyme, salt and cayenne pepper. Season the chicken with half the seasoning and set aside
In a large heavy bottom pot, sauté the onions in olive oil until soft, about 5 minutes. Add the chicken and garlic to the pot and cook over medium heat often turning until browned. About 5 minutes
Add the remaining seasoning, chicken stock, tomato sauce and bell pepper. Cover and cook over medium heat for 5 minutes. Add penne pasta and cook for 10 more minutes or until the penne is al dente. Cooked but firm to bite
Mix sour cream, arrowroot/tapioca starch, and parsley and add to the pot and stir. Bring to boil, remove from the heat and cover. Rest for 15 minutes.
To serve, give it a good stir and top with fresh parsley
Similar Recipes
Chicken Alla Calabrese – Gluten-Free
This gluten-free chicken recipe is made with layers of chicken, ham, tomatoes, buffalo mozzarella and tomato pepper sauce that is made from fresh ingredients. The classic Calabrese chicken dish is served with gluten-free pasta, but  parsley rice or mashed potatoes can also be served with this delicious Italian meal Read More
Prep Time
15 Minutes
Difficulty
Easy
Cook Time
40 Minutes
Serves
4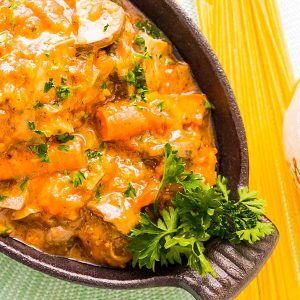 Chicken Cacciatore with Roasted Tomatoes
A crisp chill in the air is always an indication to cook comfort food. The aromas of simmering vegetables, herbs and spices are welcome any time of the year. This gluten free chicken cacciatore is a gourmet version of the classic Italian dish. When it comes to gourmet chicken cacciatore, it is all about the […] Read More
Prep Time
15 Minutes
Difficulty
Easy
Cook Time
60 Minutes
Serves
4 - 6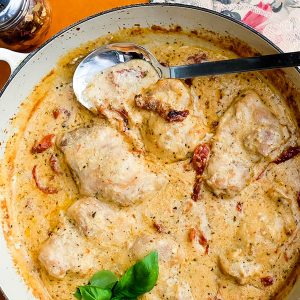 Chicken With Sundried Tomatoes in Cream Sauce
Discover a simple way to cook gourmet chicken in a flavourful Asiago cream sauce. Stumbling on this amazing dish through my travels in northern Italy, I have decided to include it in my favourite dinner recipes. The tender chicken soaks up a mildly flavoured cheese sauce infused with sundried tomatoes, and seasoned with Italian herbs, […] Read More
Prep Time
10 Minutes
Difficulty
Easy
Cook Time
35 Minutes
Serves
4