30 Minute Gluten-Free Cheese and Garlic Flatbread
Published on Feb 06, 2019
by
Kristina Stosek
Prep Time:

10 minutes
Cook Time:

20 minutes
Serves:

8-10 pc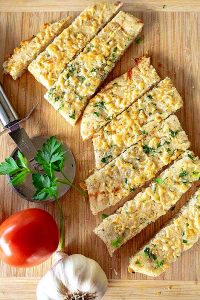 ​This post may contain affiliate links, please see our
privacy policy
for details
30 Minute Gluten-Free Cheese and Garlic Flatbread – this bread may be humble in appearance, but it is so tasty. The flatbread is lovely for scooping up dips hot and cold or an eggplant spread. My favourite is to use as a sponge for soaking up hearty stews.
What is the difference between flatbread and a pizza?
Pizza is such an iconic food that you may never have thought of it as a flatbread. But it is, of course, and it is just one of the dozens of regional flatbreads made all over Italy.
This is probably one of my simplest gluten-free cheese and garlic flatbread recipes. And yet, the gluten-free flatbread is so versatile.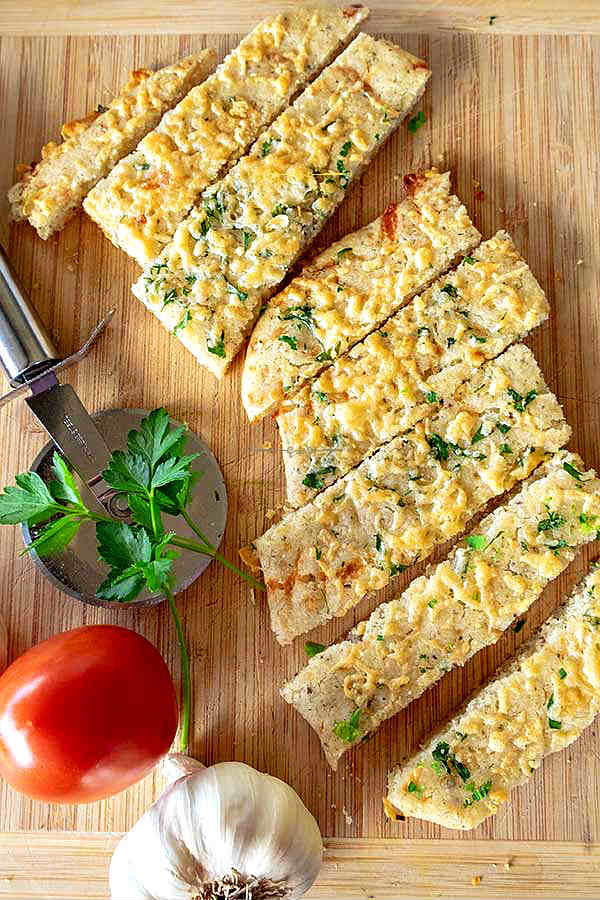 First, let me tell you about the recipe. This rustic flatbread is made with Italian herbs, fresh garlic and two different kind of cheeses. This means the bread is packed with rich flavours. The dough is leavened with baking powder rather than yeast, unlike pizza or focaccia dough, so it's a quick and easy recipe.
This gluten-free flatbread is relatively thin, so it cooks fast, which means you can bake it fresh just before dinner. There is nothing more comforting than the aroma of freshly baked bread lurking in your home.
Italian food and cheese and garlic flatbread…YUM!
If you are thinking Italian food tonight, add a side of spaghetti Bolognese, or if you want something more comforting and heartier, serve this gluten-free cheese and garlic flatbread with a soup or stew.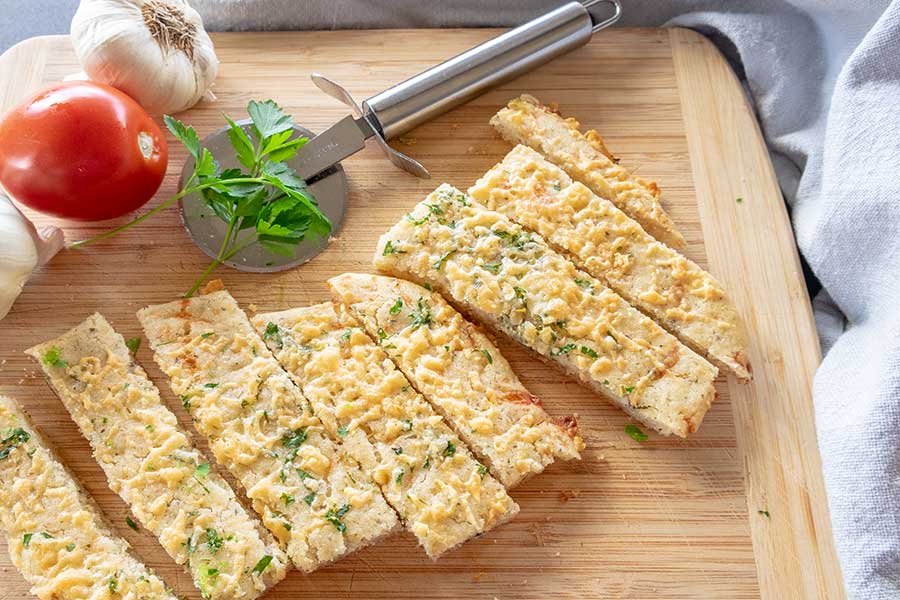 For a lazy lunch, you can make a fresh veggie sandwich. My family loves the flatbread just as a snack, it reminds them of garlic bread. And who doesn't love garlic bread?
As with all gluten-free baked bread, they are best when eaten fresh the same day. This gluten-free cheese and garlic flatbread is a bit different. The bread can be toasted, so if you have leftovers, pop them in a toaster. They toast beautifully.
Another amazing flatbread recipe is the Gluten-Free Quinoa Garlic Cheese Flatbread.
30 Minute Gluten-Free Cheese and Garlic Flatbread
Published on Feb 06, 2019
by
Kristina Stosek
Instructions
1.

Preheat oven to 450 F and line a large pizza pan or rimmed baking sheet with parchment paper

2.

In a large bowl combine dry ingredients. Stir in mozzarella cheese until combined

3.

Add water, olive oil and garlic, and mix until you form a wet dough.

4.

Spread the dough onto prepared pan, if using a rimmed baking sheet spread it into a rectangle. The dough should be about 3/4 - 1-inch thick

5.

Bake for 10 minutes, then sprinkle with fresh parsley and Parmesan cheese and bake for 10 more minutes until golden. Using a pizza cutter cut into desired shapes