Gluten Free Pizza Pie In A Skillet
Published on Mar 25, 2023
by
Kristina Stosek
Prep Time:

15 minutes
Cook Time:

20 minutes
Serves:

6
​This post may contain affiliate links, please see our
privacy policy
for details
I am super excited to share this gluten free pizza pie in a skillet recipe. This pizza is made into a pie, with a crispy, cheesy topping loaded with all your favorites such as pepperoni, onions, fresh tomatoes, mushrooms, jalapenos and plenty of cheese.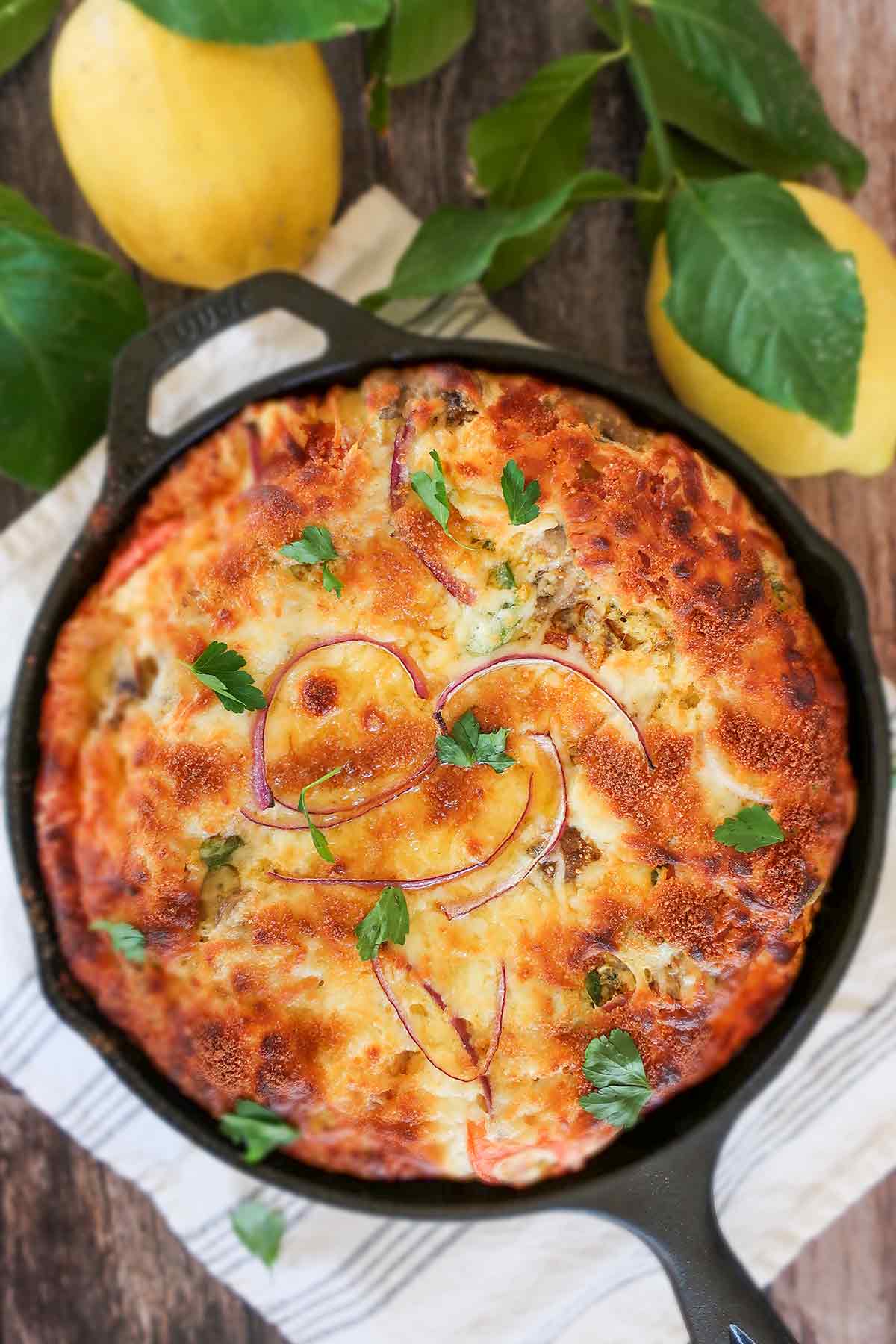 As a bonus, the pizza recipe takes only 10 minutes to whip up and 20 minutes to bake. This means you can have a nutritious meal for your family with all the deliciousness you can find in a pizza in no time.
What is a pizza pie?
I don't want to confuse you here. The term "pizza pie" is a thin crust pizza with various toppings in America commonly called a pie. This version of the pizza pie is a pie filled with all the delicious pizza toppings, topped with cheese, and baked in a skillet.
Pie crust for gluten free pizza pie
The crust for this pizza pie is a gluten free pancake-style batter baked in a cast iron skillet giving the pizza pie a crispy crust.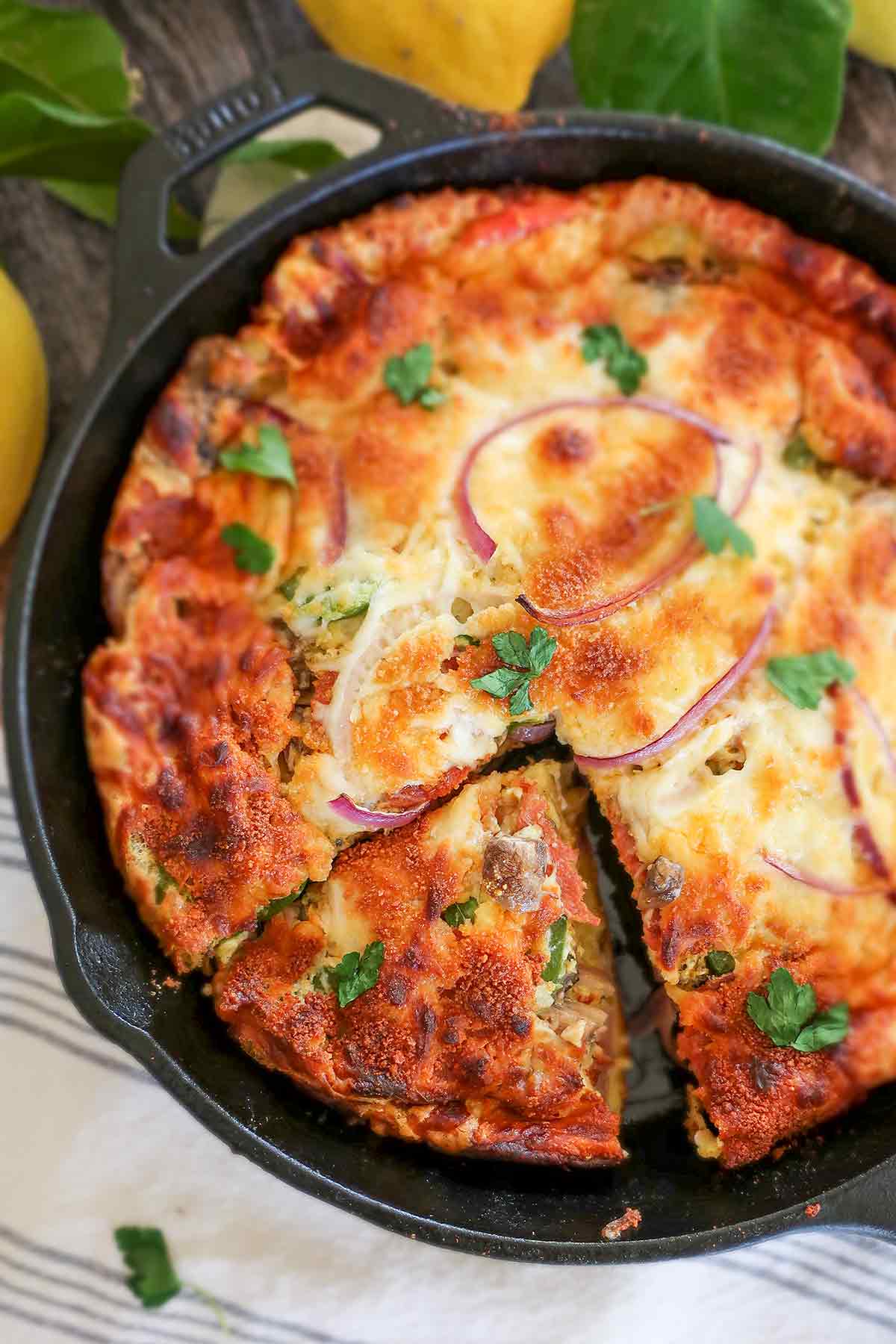 Why use a cast iron skillet for making pizza pie?
To give the pizza pie that authentic pizzeria flavor, baking the pie in a cast iron skillet will give you the best results.
Cast iron skillets are excellent for baking because they conduct heat evenly and consistently. As a result, your pizza will cook evenly, with no cold spots or burnt edges. And because the skillet retains heat so well, it will also help keep your pizza nice and hot once it's out of the oven.
Another advantage of using a cast iron skillet is that it gives your crust a crispy texture. If you've ever had trouble getting your crust to turn out crispy, this is the way to go. It is essential to first preheat the skillet before adding your batter, and remember to brush on some olive oil first.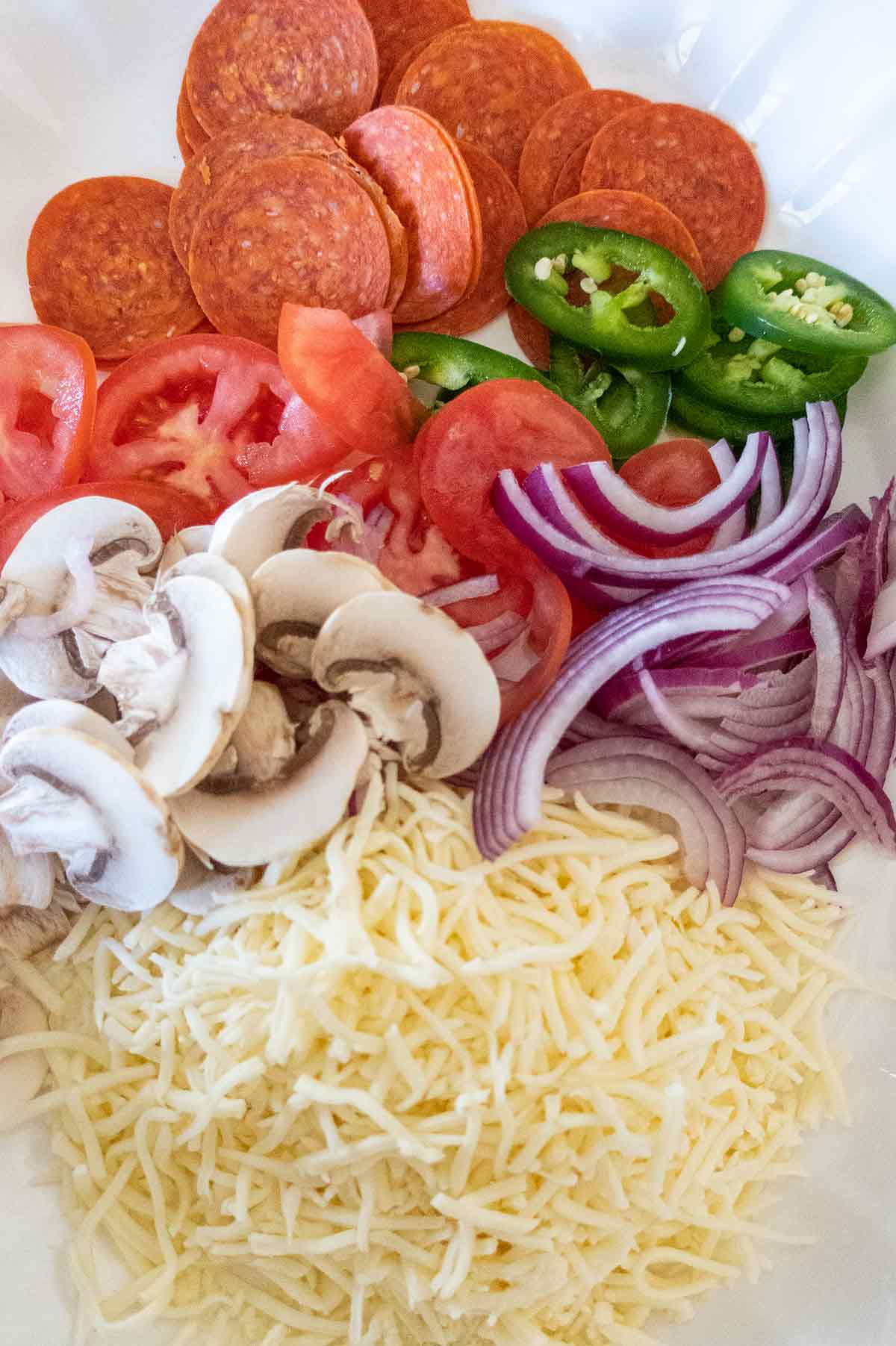 Most popular toppings for pizza pie
There are a lot of different toppings that people like to put on their pizza. Here are our favorite toppings for pizza pie:
1. Pepperoni – This is probably the most popular topping for pizza. It's a classic topping that goes well with just about anything else you might put on your pizza and goes exceptionally well in a pizza pie.
2. Sausage – Another popular meat topping for pizza pie. Sausage goes great with a lot of different cheeses and other toppings.
3. Bacon – Bacon is another popular meat topping for pizza pie. It has a nice smoky flavor that goes well with cheese and veggies. Be sure to cook the bacon first before adding it to the pizza pie.
4. Ham – Ham is another classic topping. It has a salty flavor that pairs well with different cheeses and other toppings.
5. Vegetables – Vegetables are versatile and go well with just about anything else you might put on your pizza pie.
And plenty of cheese!
Here are our 3 most popular gluten free pizza recipes for inspiration.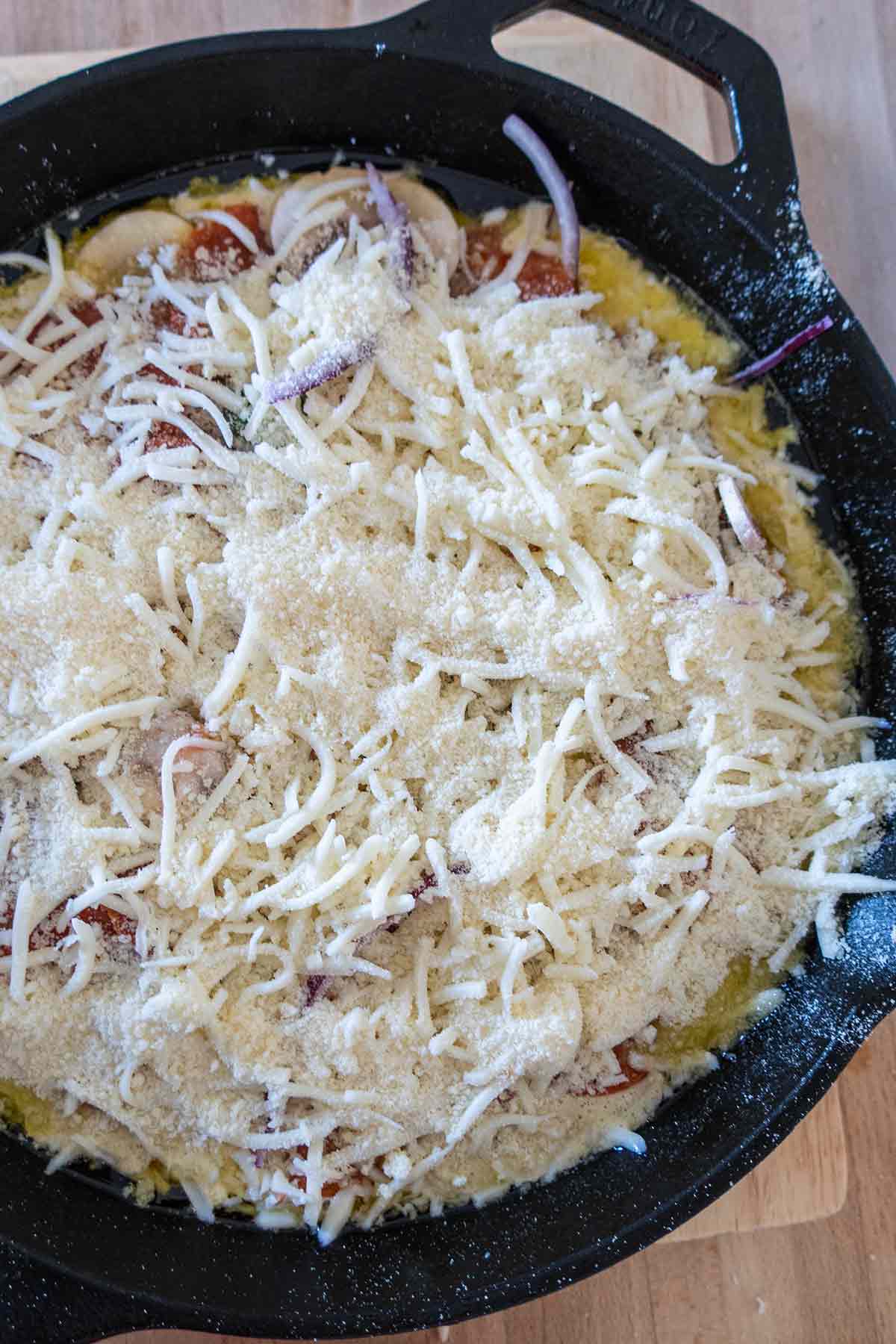 Seasoning for gluten free pizza pie
Seasoning your pizza with the right herbs can make all the difference.
You can use a traditional Italian seasoning blend or get creative and mix and match different herbs to create your unique flavor.
Some great herbs and spices for pizza include oregano, basil, garlic powder, onion powder, and red pepper flakes. Experiment until you find a combination that you love.
Are dried herbs and spices gluten free?
The quick answer is no. Find our why not all dried herbs and spices are gluten free.
Why are fresh tomatoes better than pizza sauce?
Using fresh tomatoes or a pizza sauce is a personal choice. If you prefer pizza sauce, feel free to replace the fresh tomatoes with the sauce. Here is why we prefer fresh tomatoes in a pizza pie.
1. Fresh tomatoes have more flavor and add freshness
2. They're not as acidic as pizza sauce.
3. They add texture to the pizza.
4. You can control the sweetness of your pizza with fresh tomatoes (unlike with pizza sauce).
5. They pair well with other toppings (like cheese, meats, and veggies).
6. Fresh tomatoes will not make pizza pie soggy
Best veggies for vegetarian pizza pie
Keeping this pizza pie vegetarian is also a good choice. This is a pie, so slicing the veggies thinly is essential. Here are the best choices:
Bell peppers
Mushrooms
Tomatoes
Onions
Olives
Jalapenos
Fresh spinach leaves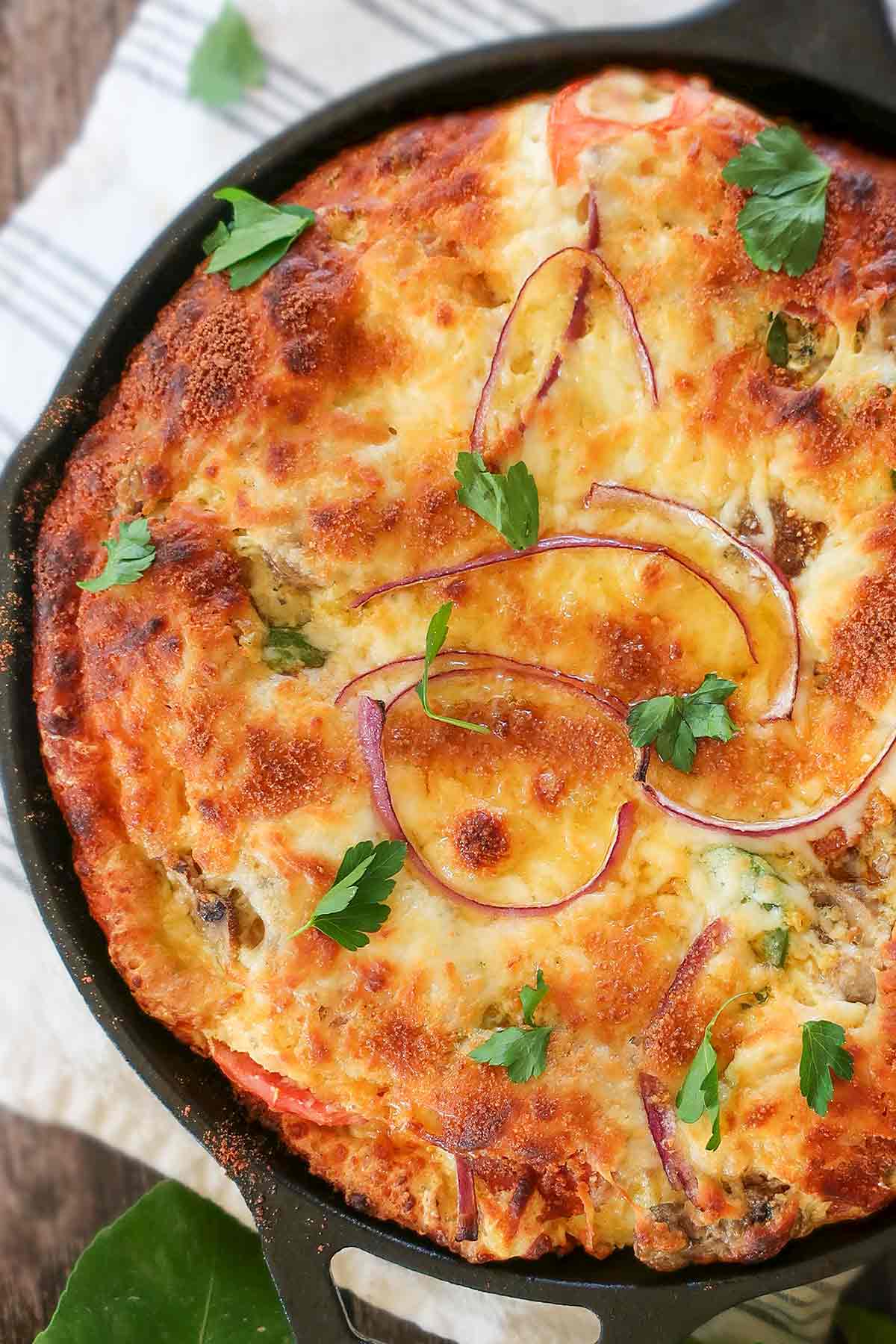 Best cheeses for making gluten free pizza pie
1. Mozzarella cheese – This is the classic cheese for making pizza pie. The cheese is creamy, melts well and gives your pie that classic flavor and texture.
2. Cheddar cheese – Cheddar has a strong flavor that goes well with all the other toppings on a pizza. Plus, it melts nicely too.
3. Parmesan cheese – This is a great cheese to use to add extra flavor to your gluten free pizza pie. Parmesan is a strong flavored cheese that can make your pizza taste even better. Plus, it adds a nice crunchy texture as well.
Here is a complete list of the best cheeses for pizza recipes.
The best temperature for baking a gluten free pizza pie and why.
To make the perfect gluten free pizza pie, you need to pay attention to the temperature. The ideal temperature for baking is between 400 and 425 degrees Fahrenheit. This allows the crust to cook evenly without burning and the cheese to melt perfectly.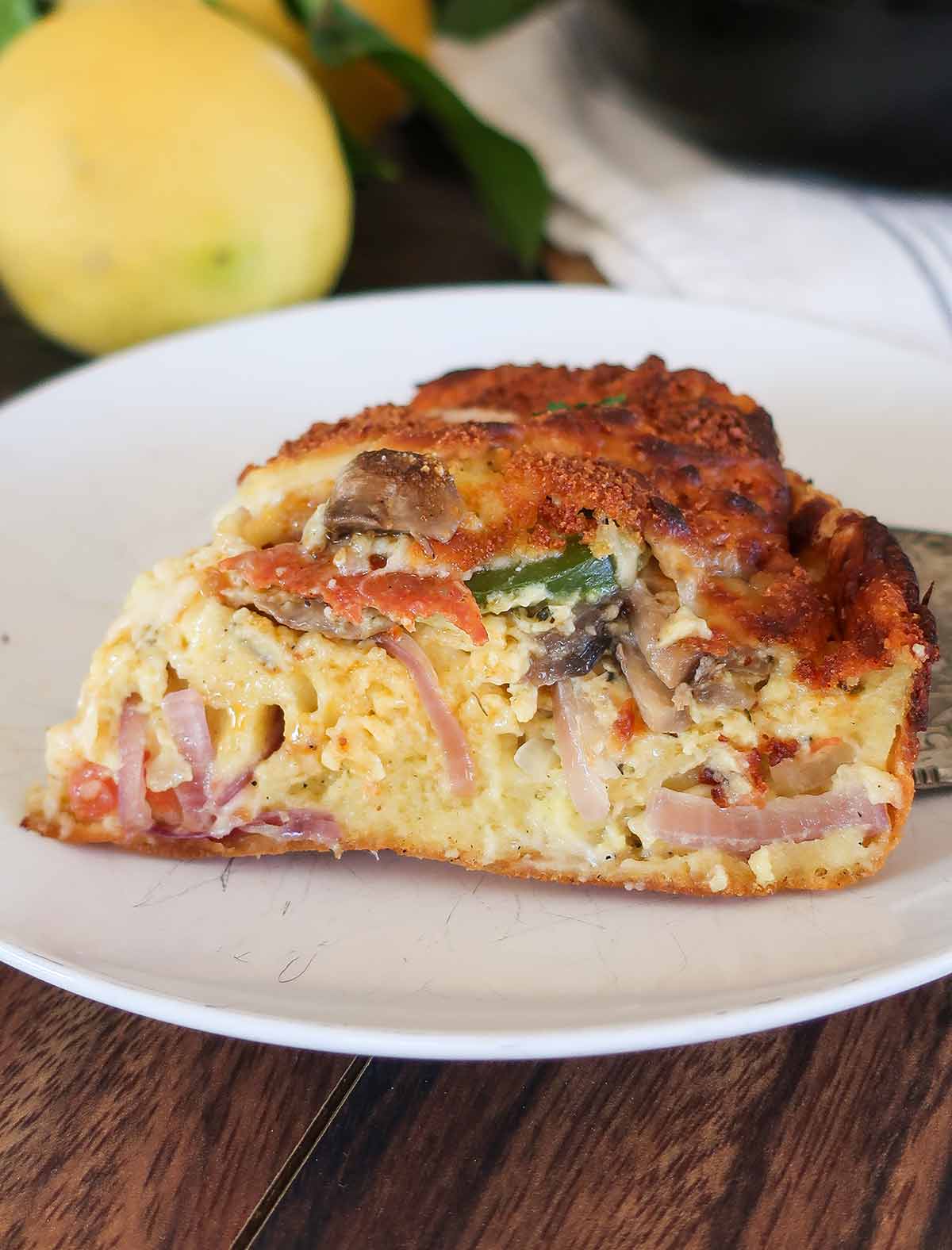 Sides to gluten free pizza pie
Pizza pie doesn't need a side as it is hearty, flavorfull and is filled with various textures. However, serving pizza pie for brunch or as a special occasion meal, adding a light green salad is your best choice.
storing
For any leftovers, place slices in a closed container and refrigerate for up to three days. When you're ready to eat, reheat individual slices in the microwave on high for 30 seconds.
summary
This gluten free pizza pie is made in a skillet, it's quick and easy to prepare and takes only 20 minutes to bake. The crust has a basic gluten free pancake batter, and the toppings can be customized to your liking. This Italian-style dish is excellent for busy weeknights because you only need 30 minutes to make a nutritious meal for your family. Enjoy!
Gluten Free Pizza Pie In A Skillet
Published on Mar 25, 2023
by
Kristina Stosek
Instructions
1.

FOR THE CRUST; place eggs, milk, flour, 1 teaspoon of herbs, salt and baking powder into a large bowl. Using a whisk, mix to combine. Set aside for 15 minutes. (this is an important step)

2.

Preheat the oven to 425 F, and while the oven is heating, place an 8-inch cast iron skillet with 2 tablespoons of olive oil in the oven

3.

Once the oven is at 425 F, carefully take the skillet out and swirl the oil around to coat the sides

4.

MAKE THE PIZZA PIE; immediately pour the batter into the hot skillet and start layering with the toppings. First, sprinkle 3/4 cup of mozzarella evenly over the batter, then layer with tomatoes, onions, remaining 1 teaspoon of herbs, mushrooms, pepperoni, jalapeno (if using), remaining mozzarella cheese and finish with parmesan cheese

5.

Place the skillet in the oven and bake for 20 minutes or until the sides are dark golden brown and crispy

6.

Allow the pizza pie to cool for 10 minutes before slicing
Leave a Comment
Made this so good even better the next day
Do you have the nutrition facts fire this
Kristina
8-inch cast iron skillet Jeff