Easy Gluten-Free Detroit-Style Pizza Recipe
Published on Nov 14, 2021
by
Kristina Stosek
Prep Time:

15 minutes
Cook Time:

17+resting minutes
Serves:

9x13-inch pizza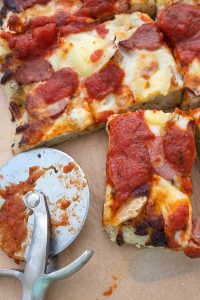 ​This post may contain affiliate links, please see our
privacy policy
for details
I am thrilled to share this Gluten-Free Detroit-Style Pan Pizza today. Crispy thick bottom crust with crunchy edges, spongy middle, overflowing with caramelized cheese and topped with fresh homemade light pizza sauce.
If you are a pizza bread lover, you will love this pizza recipe. I also added some pepperoni for extra flavour, but this is optional because it comes to the crust.
Not every pizza is created equal. Take the New York-Style Gluten-Free Pizza or the Gluten-Free Yeast Free Thin Crust Pizza. Both are amazing but very different from the gluten-free Detroit-style pizza recipe.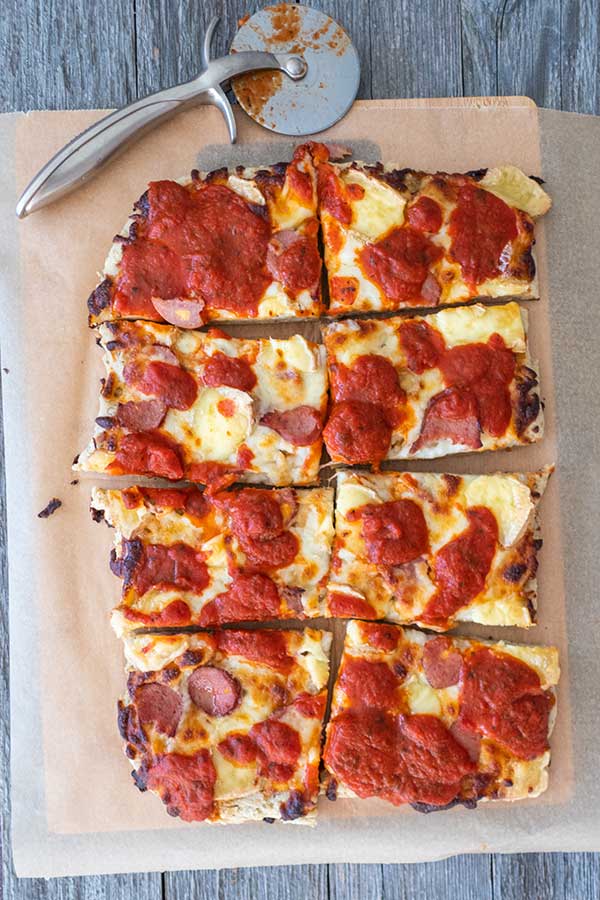 What is a Detroit-Style Pizza?
Detroit-style pizza is about the fried-like bottom, crispy sides, a lot of cheese spread out to the edges, and finished with pizza sauce. Ideally, the cheese should be fatty and creamy and will melt easily, such as the Wisconsin Brick Cheese.
The Wisconsin Brick cheese is sometimes hard to find, but you can substitute other creamy cheeses for this cheese. My go-to fatty creamy cheeses would be Mozzarella, Havarti, Provolone, Cheddar, Brie, or Camembert.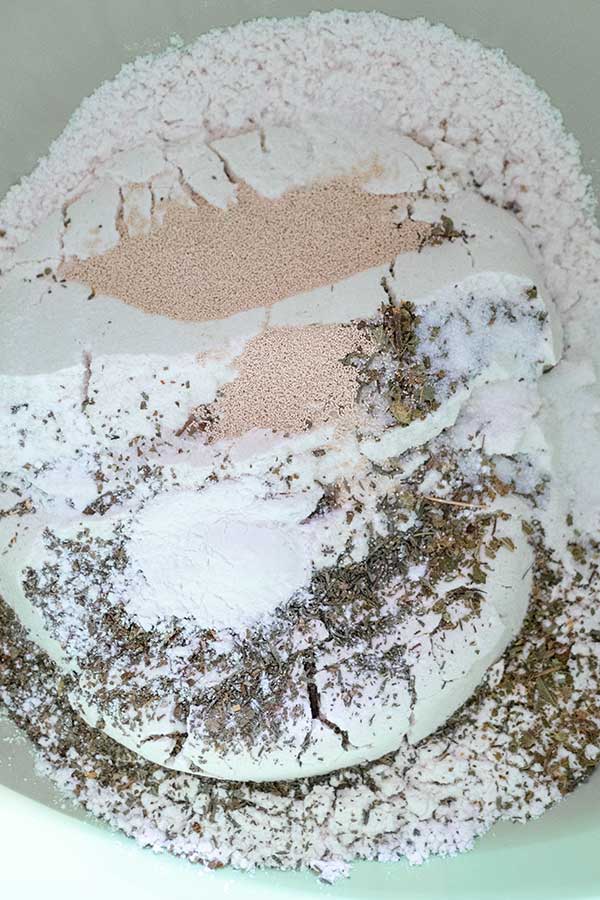 gluten free pizza dough — recipe details
The gluten-free version of Detroit-style pizza dough is very simple to put together. I used a gluten-free all-purpose flour blend to keep things simple.
Then I added yeast, baking powder, seasonings such as oregano, garlic and thyme, a splash of olive oil, a teaspoon of sweetener and water.
No kneading is needed. Just mix and rest the dough. Then, stretch it by hand into the pan.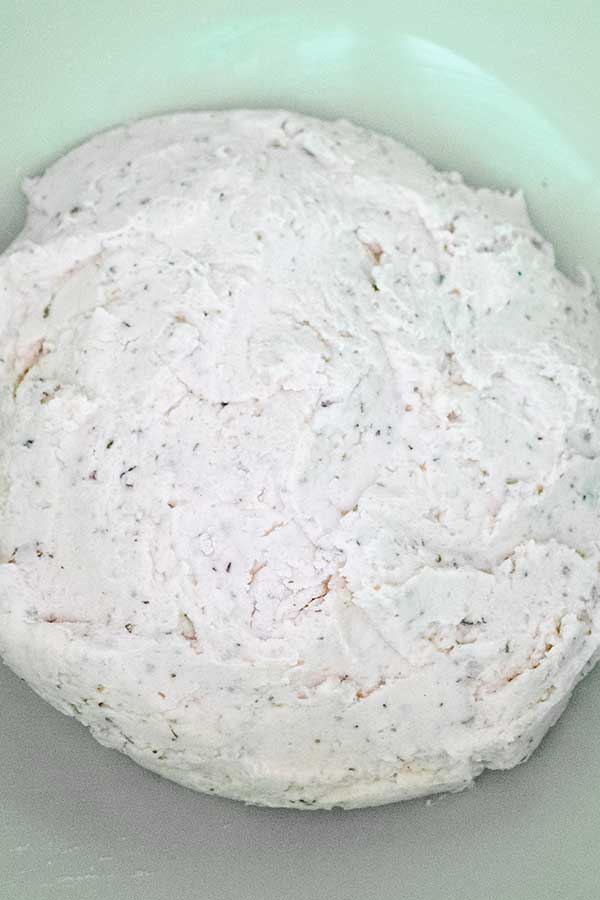 What gives this gluten-free pizza a crispy bottom.
The pizza is best baked in a Detroit-style pizza pan. This is an anodized pan with preferably dark surfaces, which increases heat conduction and helps form that crispy, bronzed crust.
But before you go out and buy a new pan, you can bake the pizza in a rimmed baking pan. I used a good quality solid rimmed baking pan, and the pizza turned out great!
Drizzling olive oil over the pan before adding the dough also adds to the crispness of the crust. Finally, and most importantly, bake the pizza on the lowest rack in the oven.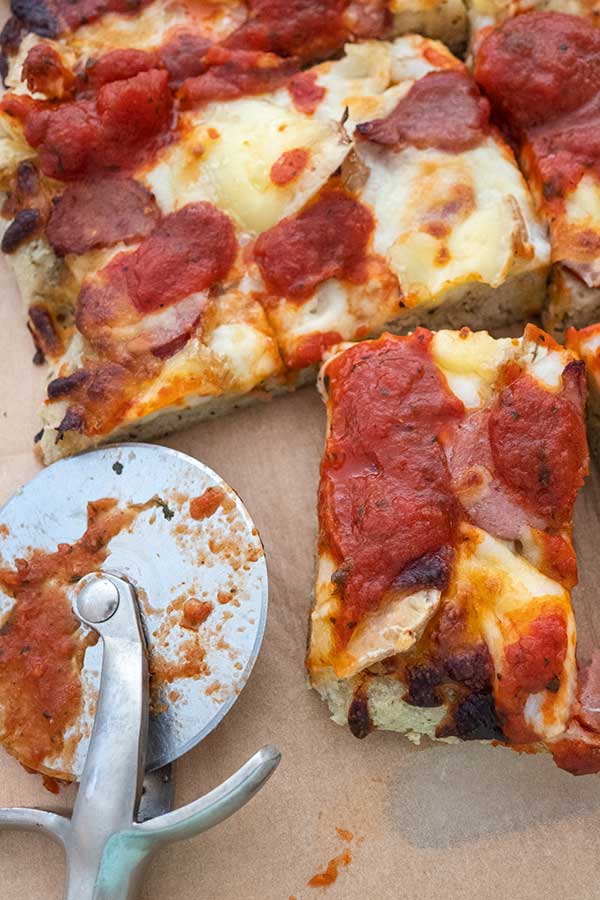 toppings for Detroit-style pizza
What makes this pizza different besides the crispy crust is the way the toppings are layered. To keep this a classic Detroit-style pizza recipe, you don't want to overload the toppings.
The two toppings that you need are creamy, rich melting cheese and a light pizza sauce. The final layer is the sauce.
I first baked the pizza without the sauce. This allows the cheese to become caramelized. Then at the very end, I dollop the sauce over the cheese and bake the pizza for a few minutes longer. It makes the Detroit-style pizza cheese topping so good!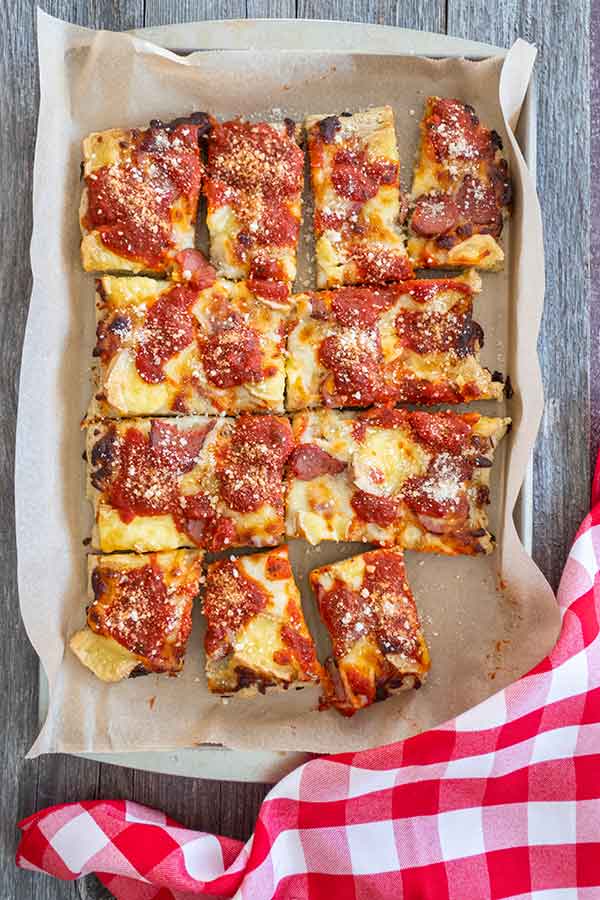 The hand-stretched, gluten-free pizza crust loaded with cheese and topped with pizza sauce is otherwise known as Detroit-style pizza. It's more like heavenly cheesy bread if you ask me. YUM!
Sometimes I like to add a sprinkle of Parmesan cheese over the pizza sauce for extra flavour and cheesiness.
This gluten-free pizza is all about crispy cheese bread, so don't overload the toppings, except for the cheese. The Detroit-style pizza also makes a tasty appetizer.
After all, who doesn't love tasty bites of cheesy, delicious bread? Just be sure to cut it into small bite-sized pieces. Enjoy!
Let's Connect!
Be sure to FOLLOW US on FACEBOOK and PINTEREST.
Many thanks!
Kristina xx
Easy Gluten-Free Detroit-Style Pizza Recipe
Published on Nov 14, 2021
by
Kristina Stosek
Instructions
1.

2.

In a large bowl, whisk together dry ingredients (flour to thyme)

3.

In a separate bowl, whisk warm water with oil and sweetener and add to dry ingredients. Using a spatula, mix to combine until you form a ball of dough. Loosely cover the bowl with plastic wrap and set it aside in a warm place for 30 minutes to rest.

4.

Drizzle two tablespoons of olive oil into a Detroit Style pizza pan or a 9x13-inch rimmed baking pan. Place the dough on the olive oil and gently stretch the dough to about 3/4-inch thickness. Loosely cover with plastic wrap and set aside in a warm place for 30 minutes

5.

6.

Meanwhile, make the sauce—heat olive oil in a small saucepan over medium heat. Add garlic and spices and stir to combine. Add crushed tomatoes and simmer for about 15 minutes, reducing some of the liquid, set aside

7.

8.

Top the dough with half the pepperoni, then cheese and finish with the remaining pepperoni. The cheese should spread out to the edges. Bake the pizza on the lowest rack in the oven for 12 minutes. Drizzle with tomato sauce and bake 3 - 5 minutes longer. The cheese should be bubbly, and the pizza crust dark brown and crispy on the bottom and around the edges.

9.

Rest the pizza in the pan for 10 minutes, then transfer to a cutting board and slice using a pizza cutter