Gluten-Free (Yeast-Free) Thin Crust Pizza
Published on Jun 15, 2020
by
Kristina Stosek
Prep Time:

15 minutes
Cook Time:

13 minutes
Serves:

14-inch pizza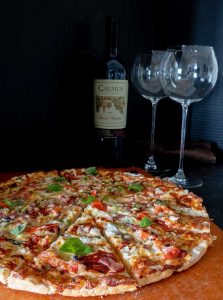 ​This post may contain affiliate links, please see our
privacy policy
for details
Enjoy a quick, easy gluten-free crust pizza with our Thin Crust Pizza recipe without yeast. Say goodbye to lengthy dough rising times or kneading, as this pizza recipe guarantees a perfectly crispy yet delightfully soft thin pizza crust reminiscent of authentic Italian bakeries.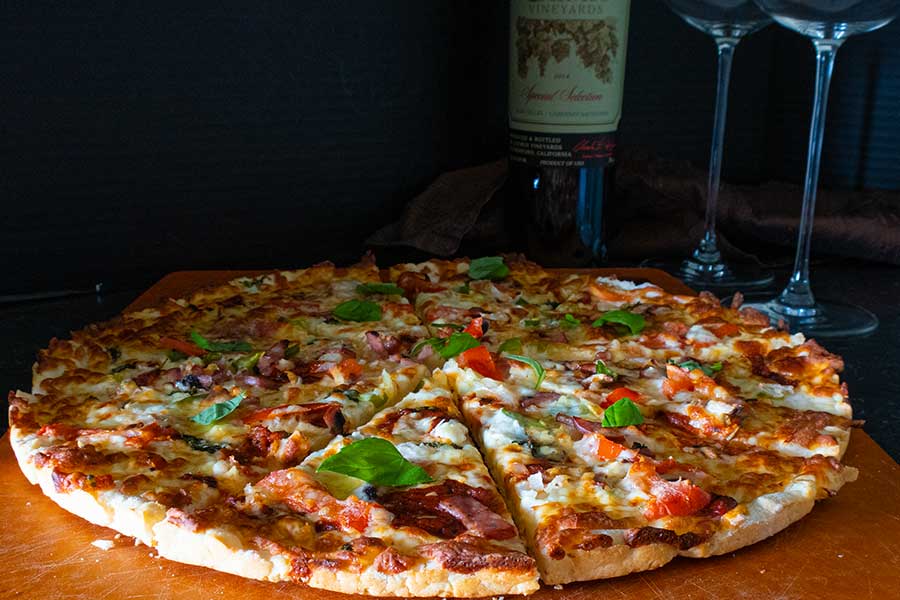 Indulge in a homemade gluten free pizza with less than seven ingredients in minutes!
The crust is thin and firm enough to hold plenty of toppings. You will love it! The gluten-free yeast-free thin crust pizza dough is so easy, all you do is mix the ingredients, chill the dough for a few minutes and roll it out.
The pizza dough is ready for the toppings. I know it sounds too good to be true, but I promise you it is a fail-proof gluten-free pizza dough recipe.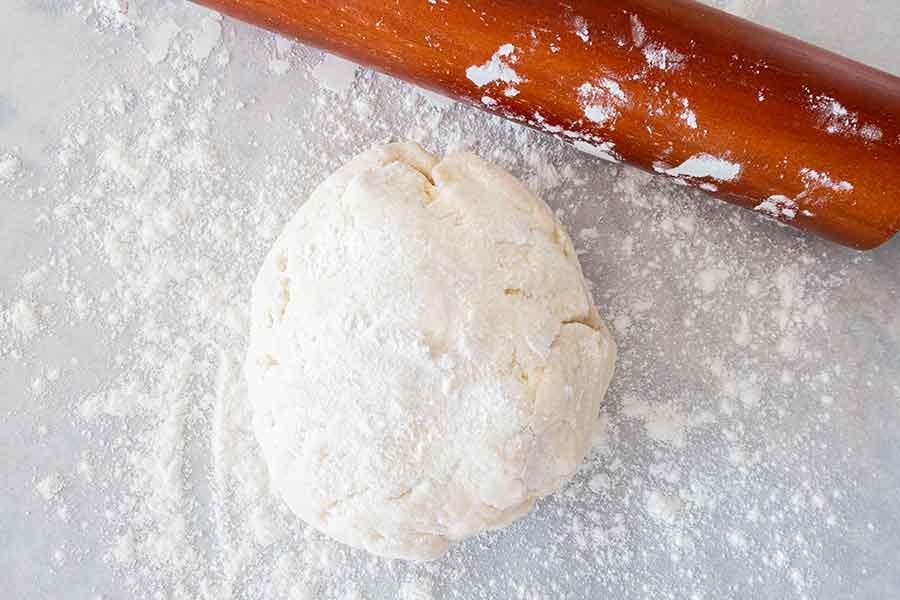 Easiest thin crust pizza dough recipe without gluten or yeast!
This gluten free, yeast-free, thin crust pizza is for one of those nights when you are tired or short on time to make dinner. The pizza would take less time to create than if you ordered in.
The best part → the ingredients to make this yeast-free, gluten free pizza dough are in almost everyone's gluten-free pantry.
You will need a gluten free measure for measure flour blend, baking powder, baking soda, milk, butter, salt, and a pinch of sweetener. I used maple syrup, but feel free to use whatever you have.
I love that you don't have to part-bake the crust. Once you roll out the dough, you can add the toppings and bake.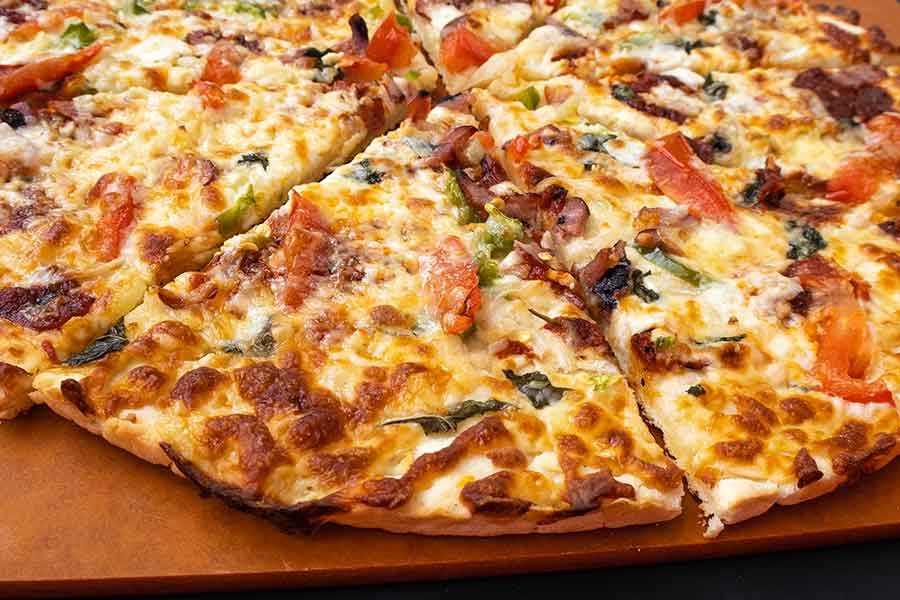 How to layer the toppings for a thin crust pizza?
Who would think that the way the toppings go on would affect the outcome of a gluten free pizza? Well, it does! The order of toppings is important to avoid a soggy pizza and keep the crust crispy.
Once you roll out the pizza dough to the desired shape, either round, rectangle, or oblong, you start with the toppings.
I made this pizza using a traditional pizza pan, but I often roll out the pizza to an oblong shape. It is much easier and gives the pizza a rustic look.
So, for the layers, you should start with the cheese. You don't need to use a lot of cheese, just enough to sprinkle over the crust lightly. By starting with cheese first, the tomato sauce will not penetrate the pizza crust and make it soggy.
The cheese also makes the toppings stick to the crust, not sliding off as you take a bite out of the pizza.
The next layer is the pizza sauce. You don't need a lot. Drizzle the sauce lightly over the cheese. If you are using onions, this would be your next topping. Then, add anything you love to your pizza.
I recommend using at most three toppings in addition to cheese and pizza sauce. Otherwise, the flavors blend, making it hard to tell what is on the pizza.
The final topping should always be cheese. Traditionally, the cheese topping is mozzarella. However, playing around with different cheeses will take the gluten-free, thin crust pizza to another level of deliciousness.
One of my favorite cheeses is good quality Buffalo mozzarella. If you have yet to try this cheese for a pizza topping, you haven't lived, seriously. This cheese is so creamy and melts beautifully into all the toppings.
The buffalo mozzarella cheese is like pouring a thick cream over the pizza. I know the cheese is pricey, so it may not be an option, but I highly recommend it, especially when you are entertaining.
Another favorite cheese of mine is the smoked gouda. This cheese adds extra smokey flavor and goes exceptionally well when using simple ingredients like fresh tomatoes and basil.
But any good melting cheese makes a great gluten free pizza. And make sure to add plenty of cheese around the edges, giving the pizza a crispier and tastier crust to every last bite.
3 Of Our Most Popular Gluten Free Pizza Dough Recipes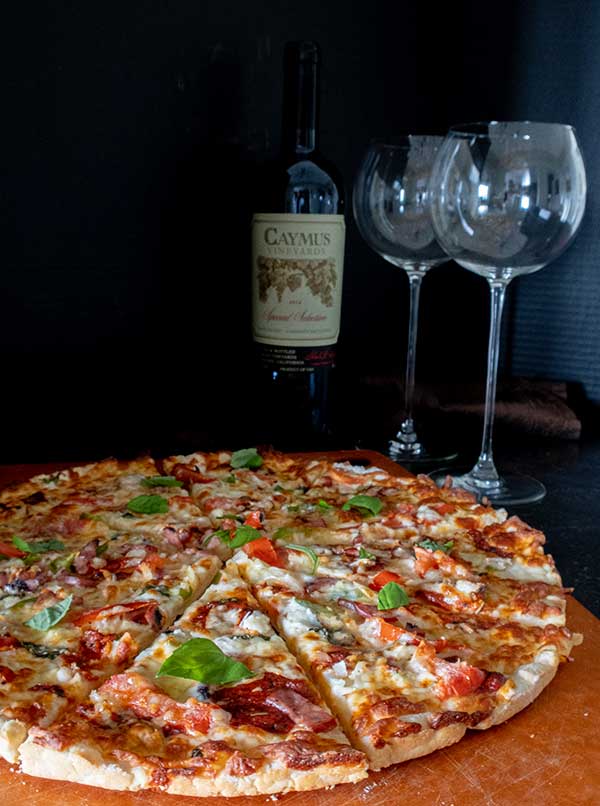 3 Most popular topping combinations for a thin crust pizza
∼ Spicy Italian Pizza
Mozzarella cheese
Pizza sauce
Onions
Calabrese spicy salami
Mushrooms
Mozzarella Cheese
∼ Vegetarian Pizza
Mozzarella cheese
Pizza sauce
Fresh basil leaves
Artichokes
Smoked Gouda
∼ Kristina's Signature Pizza
Parmesan cheese
Fresh thinly sliced tomatoes
Prosciutto
Black olives
Buffalo Mozzarella
Homemade gluten free pizza sauce ( 1 1/2 cups)
2 Tbsp. Extra virgin olive oil
2 garlic cloves, minced
2 tsp. GF dried basil
1 tsp. GF dried oregano
1/4 tsp. Red pepper flakes or to taste (optional)
1/4 tsp. Red pepper flakes or to taste (optional)
6 oz. canned pure tomato paste
6 oz. water
2 tsp. Sweetener (maple syrup, honey or coconut sugar)
3 Tbsp. Parmesan cheese
Sea salt to taste
Using a small saucepan heat olive oil over medium heat. Add garlic, basil, oregano and red pepper flakes. Cook while stirring for 30 seconds. Add tomato paste, water and sweetener. Whisk together to combine. Bring to a boil and cook for one minute. Remove from the heat stir in Parmesan and season with salt. Cool before using.
If you like pizza, you probably love Italian food. Whether you need inspiration for a recipe or an Italian classic, please check out our complete list of gluten-free pasta to desserts Italian recipes.
Let's Connect!
Be sure to FOLLOW US on FACEBOOK and PINTEREST. And don't forget to sign up for our newsletter. We always have something new and exciting for you!
Many thanks!
Kristina xx
Gluten-Free (Yeast-Free) Thin Crust Pizza
Published on Jun 15, 2020
by
Kristina Stosek
Instructions
1.

2.

Using a large mixing bowl whisk together flour, baking powder, baking soda and salt

3.

Add milk, butter and sweetener and using a spatula mix to combine. I used a stand mixer with the flat paddle attachment, it makes it much easier. Place dough back in the bowl, cover with plastic wrap and refrigerate for 15 minutes. The dough will be much easier to work with when slightly chilled

4.

Place a large piece of parchment paper on your working surface and sprinkle it with some gluten-free flour. Place the dough on the parchment paper and roll it out to desired size. I used a 14-inch pizza pan, but you can roll it into a rectangle. The dough should be about 1/4 to 1/2-inch thick

5.

Using the parchment paper slide the dough onto a pizza pan or a baking sheet. If the dough is difficult to slide off the paper you can use the parchment paper to flip the dough on to the pan

6.

The pizza dough is ready to be topped with your favourite toppings. To keep the crust extra crispy start with a cheese layer. By using cheese first, the pizza sauce will not make the crust soggy. And, always finish with cheese. Bake for 13 - 15 minutes, until the pizza crust is golden brown and the cheese has melted
Leave a Comment
Kristina
Tomasz, I have not tried the recipe with dairy-free ingredients. Maybe try vegan butter such as earth balance. It may work. Please let us know how the pizza turns out. Thank you!
hi! I was wondering if i could replace butter and milk with any coconut milk/oil or sth? Im allergic to gluten, milk, yeast, soya, eggs... :/
Kristina
Diane, thank you for pointing this out, we have removed it.
Item 4 is blank. Is it supposed to be that way
Kristina
Hi Jelena, we are working on it, thank you for your input.
Thanks for an interesting recipe. I'm gluten and yeast free, so it sounds great. Could you please add measurements in weight for international readers? Thanks in advance!
I will tell my mom to use this recipe a lot more!I love it so much!
Kristina
thank you Ethel, that is amazing. Well done!!! If you need any help just let me know please.
Hi,I am a 12 year old girl who loves to eat and cook food!I usually have to make GF foods because of my siblings allergies.This was a great recipe!!!!!!
Kristina
Hi Jojo, no, you can skip the sweetener.
PS - is the sweetener necessary? I'm trying to avoid anti-nutrients for my daughter whose gluten intolerance has her malnourished already :(
I'd love all measures in metric - this could be a global recipe!
Kristina
this dough works best when it is made fresh. If you do decide to freeze it, be sure to bring it to room temperature before using
Can this dough be made in advance and frozen?
Kristina
what a great idea, thank you for sharing
While this makes reasonably good pizza crust, the dough makes amazing gluten free biscuits! I've made many, many GF biscuits of all types, and this dough makes the best! Fluffy inside and crusty outside.
Kristina
yes it can, but bring it to room temperature before baking.
Can this recipe be made ahead and left in the refrigerator for a few hours?