New York-Style Gluten-Free Pizza
Prep Time
15 Minutes
Difficulty
Easy
Cook Time
15 Minutes
Serves
12-inch pizza
Average Rating: 5 | Rated By: 11 users
Best Ever New York Style Pizza made with a gluten-free crust. The wide slices of thin, crispy crust foldable pizza, just like the authentic New York-Style Pizza, are insanely delicious. The gluten-free pizza is topped with freshly made pizza sauce flavoured with basil, oregano, thyme and garlic, and plenty of grated mozzarella cheese.
Add extra toppings if you wish, and this will undoubtedly be one of the best gluten-free pizzas by far.
What is a New York-Style Pizza?
The famous New York-Style Pizza is a thin crispy crust pizza that is foldable, cut into large pieces, and the toppings are tomato sauce, grated mozzarella cheese, and then your favourite toppings.
The more the better, because they sink in the melted cheese. When making Italian pizza, the cheese topping goes on last. If you haven't tried a New York-Style Pizza before, you haven't lived….honestly, it is so good!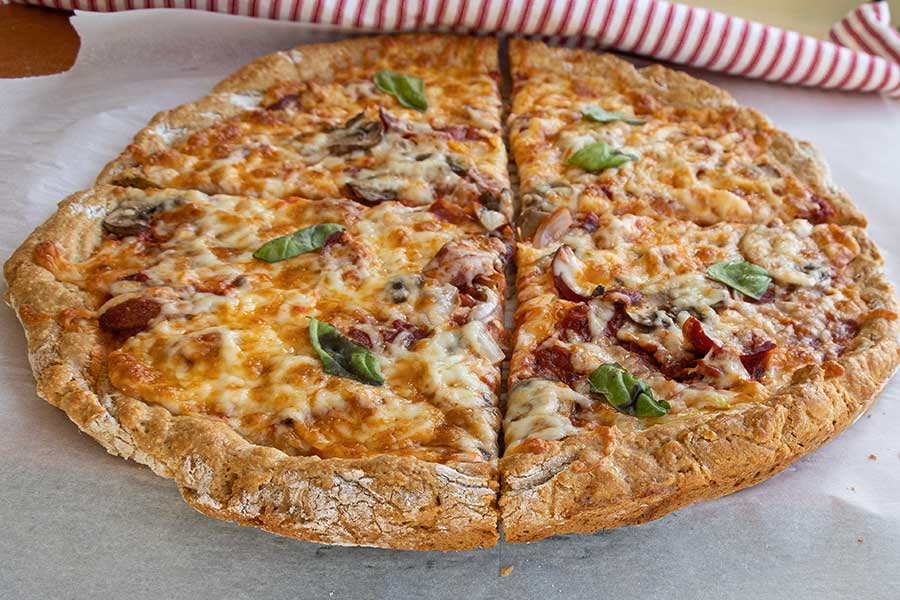 NY-Style Gluten-Free Pizza Crust,
Classic NY style pizza crust is made with a yeast dough and takes time to make. In this gluten-free pizza recipe, the dough is leavened with baking soda, and the entire pizza takes only fifteen minutes to put together and fifteen minutes to bake.
This means you can have a crispy gluten-free pizza ready to enjoy in thirty minutes. Who needs a take out?
How is this New York-Style Gluten-Free Pizza made?
I love this gluten-free pizza dough recipe because it is super easy and takes very little time. To make the gluten-free dough, first, whisk the dry ingredients. Then add the wet ingredients, and using a spatula, mix until you form a ball of dough – total time, about one minute.
The gluten-free pizza dough is soft and a bit sticky, and it needs to be rolled out. The best way to do this is between two sheets of plastic wrap and a little sprinkling of flour.
Once the dough is rolled out, the top sheet peels off easily, and the dough is transferred using the other sheet onto the pizza pan.
The NY style pizza has a slightly raised edge around the perimeter, which is made by pressing the edge towards the center until it is slightly raised.
Perforated Pizza Crisper, Segarty 12 inch Pizza Plate for Oven, Thickened Steel Round Pizza Pan with Holes, Professional Pizza Sheet →
pizza sauce, the details,
The pizza sauce flavour is essential to get the most flavourful NY-style pizza. The sauce is made with herbs, garlic, a splash of olive oil and if you like some heat, red pepper flakes. The sauce is simmered for four minutes, and it's ready. The store-bought pizza sauce doesn't come even close to this simply made NY-style gluten-free pizza sauce.
The interesting thing about New York-Style pizza is the toppings. In most pizza recipes, the final topping is typically the cheese. However, this does not apply to New York-Style pizza or Chicago style pizza. The first layer is the pizza sauce and then the mozzarella cheese.
Then, all the other toppings. Often the NY-style pizza has only the tasty pizza sauce and the grated mozzarella cheese. Today I used five toppings, the pizza sauce, cheese, onions, mushrooms and gluten-free pepperoni. The pizza turned out outstanding.
What to do with leftover pizza?
Having any leftover pizza is highly unlikely. If you have a slice or two, preheat the oven to 400 F and reheat the pizza for six minutes. The pizza will be just as delicious. If you love Italian food, check out these gluten-free Italian recipes for inspirations!
For the latest recipes and tips, please like us on Facebook or follow us on Pinterest and  Instagram.
Ingredients
5 MINUTE NY-STYLE PIZZA SAUCE RECIPE (makes 1 2/3 cups)
1 Tbsp. Extra virgin olive oil
1 garlic clove, minced or grated
1 tsp. GF basil
1/2 tsp. GF oregano
1/4 tsp. GF thyme
Red pepper flakes to taste (optional)
398 ml. (13.5 oz.) canned pure tomato sauce
1 tsp. Sweetener (honey, maple syrup or sugar)
Sea salt to taste
PIZZA CRUST
1 1/3 cup all-purpose gluten-free flour blend (one that includes xanthan gum or add 1/2 tsp.) cup4cup works exceptionally well in this recipe
1 tsp. Baking soda
1/2 tsp. Sea salt
3/4 cup thick yogurt (I recommend using Greek yogurt)
2 Tbsp. Extra virgin olive oil plus some for brushing
1 beaten egg
2 cups shredded mozzarella cheese
Optional toppings; onions, mushrooms, pepperoni, spinach, olives, bell peppers etc...
*As an Amazon Associate and member of other affiliate programs, I earn from qualifying purchases. Please check out my sponsorship and disclosure policy page for more details
Instructions
PIZZA SAUCE
Using a small saucepan, heat olive oil over medium heat. Add garlic, basil, oregano and thyme and stir to combine. Add tomato sauce and sweetener and cook over medium heat for 4 minutes, stirring as needed. Season with salt and cool
PIZZA CRUST
In a medium bowl, whisk together flour, baking soda, and salt Add yogurt and two tablespoons of olive oil. Using a spatula, mix until a ball of dough forms
Place the dough on a sheet of lightly floured plastic wrap. Sprinkle the top with flour and cover with another sheet of plastic wrap. Roll out the dough slightly larger than the pizza pan. Peel off the top sheet of plastic wrap, and using the bottom sheet, lift the dough and flip it on the pizza pan.
Peel of the plastic wrap. Create a slightly raised edge around the perimeter of the dough by pressing the outside edges towards the center to fit in the pan
Brush the dough with the egg. Spread with about 3/4 cup of pizza sauce and then mozzarella cheese. Continue to add toppings of choice
Bake for 15 minutes. The pizza crust should be golden brown and the cheese bubbling and golden.
Chefs notes; leftover pizza sauce will keep up to 5 days when refrigerated or freeze in freezer bags.
Similar Recipes
Gluten Free Pizza Crust (Vegan)
A gluten-free pizza crust that is delicious and vegan. Folks who don't eat gluten need to avoid not only the apparent sources of wheat, rye, and barley but also more obscure items such as malt and modified food starch. Thanks to all these restrictions, it can be challenging to find a good pizza crust recipe […] Read More
Prep Time
20 Minutes
Difficulty
Moderate
Cook Time
17 Minutes
Serves
2x16-inch
Gluten-Free (Yeast-Free) Thin Crust Pizza
A fresh homemade pizza in minutes with this Gluten-Free Yeast-Free Thin Crust Pizza recipe. The thin crust pizza dough is yeast free, so there is no waiting for the pizza dough to rise. The pizza crust is crispy and soft on the inside, just like a delicious pizza from an Italian bakery. The crust is […] Read More
Prep Time
15 Minutes
Difficulty
Easy
Cook Time
13 Minutes
Serves
14-inch pizza
Gluten-Free Butternut Squash Pizza Crust
A gluten-free pizza made with a butternut squash crust. A pizza crust doesn't have to be made only with grains. In today's world, a healthy approach to making pizza is adding vegetables to the crust. In this recipe, I used butternut squash, adding valuable nutrients and fibre.      How to make butternut squash pizza crust? […] Read More
Prep Time
15 Minutes
Difficulty
Easy
Cook Time
90 Minutes
Serves
12-inch pizza