Gluten-Free Butternut Squash Pizza
Prep Time
15 Minutes
Difficulty
Easy
Cook Time
90 Minutes
Serves
12-inch pizza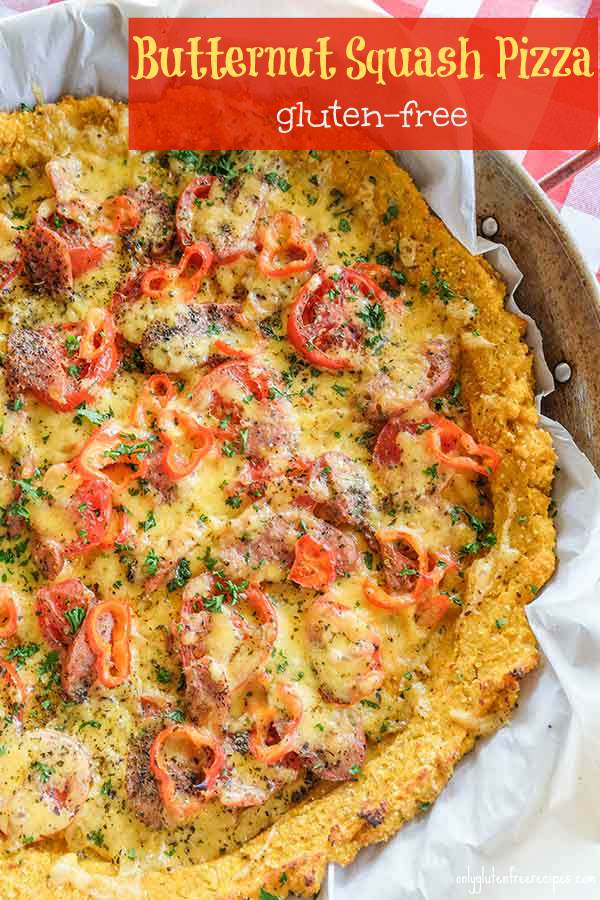 Average Rating: 4.5 | Rated By: 7 users
A gluten-free pizza crust doesn't have to be made with only flour. In today's world, a healthy approach to making pizza is adding vegetables to the crust. In this recipe I used butternut squash, adding valuable nutrients and fibre. My favourite toppings are spicy Italian Sausage, fresh tomatoes, onions, bell pepper, and cheddar cheese, all of which compliment this amazing butternut squash pizza crust. This pizza crust can hold plenty of toppings, feel free to choose your favourites
Ingredients
2 1/2 cups mashed butternut squash (1 medium squash)
2 Tbsp. extra virgin olive oil
1 tsp. dried GF oregano
3/4 tsp. pure sea salt
3 garlic cloves, minced
3 large egg whites, whisked
Suggested Toppings:
1 cup grated cheddar cheese, divided
3 Roma tomatoes, thinly sliced
1 small onion, thinly sliced
2 tsp. GF dried basil leaves or handful of fresh leaves
1/2 cup thinly sliced GF cooked Italian Sausage (I sausage)
1 small thinly sliced red or yellow bell pepper
Instructions
Preheat oven to 375 F
Cut squash in half lengthwise and scoop out the seeds. Lay cut side down in a roasting pan and fill with 1-inch of water. Cook for 50 minutes or until squash is tender. Cool and scoop out the flesh
In a large bowl combine squash, olive oil, oregano, salt, garlic, and egg whites.
Add rice flour and cornmeal and stir to combine
Spread mixture onto pizza pan lined with parchment paper, leaving the edges a bit thicker. Bake for 30 minutes at 425 F
Top pizza with 1/3 of cheddar cheese, tomatoes, onions, basil, sausage, bell pepper and top with remaining cheese. Bake for another 10 minutes
Similar Recipes
Gluten Free Pizza with Cauliflower Crust
This is a wonderful gluten free pizza recipe for those who are following paleo and low-carb diet. The cauliflower crust is nice and crispy, and the exotic toppings make the pizza especially delicious. Now you can have your pizza without the guilt of carbs. The thing about pizza you can let your own toppings shine. […] Read More
Prep Time
25 Minutes
Difficulty
Moderate
Cook Time
35 Minutes
Serves
8 servings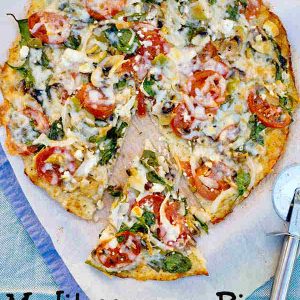 Gluten-Free Keto Mediterranean Pizza
Have you made cauliflower pizza crust and found it to be too soggy? I promise this 4 ingredient gluten-free keto pizza crust will come out crispy and delicious, just the way you like it. The topping on this pizza is lightly seasoned making this gluten-free keto Mediterranean pizza outstanding. Total carbs per slice only about […] Read More
Prep Time
15 Minutes
Difficulty
Easy
Cook Time
45 Minutes
Serves
1 large pizza (14-inch)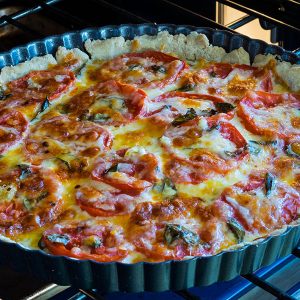 Gluten Free Tart Margherita
A gluten-free tart does not have to be complicated. Topped with fresh tomatoes, basil and buffalo mozzarella and infused with garlic olive oil, this rustic Italian tart Margherita outshines pizza any day Read More
Prep Time
20 Minutes
Difficulty
Easy
Cook Time
20 Minutes