Gluten-Free Keto Mediterranean Pizza
Prep Time
15 Minutes
Difficulty
Easy
Cook Time
45 Minutes
Serves
1 large pizza (14-inch)
Average Rating: 4.5 | Rated By: 10 users
Keto Mediterranean Pizza you will love! We love pizza, but often we want to stay away from the extra carbs, especially when following the keto diet. In this keto pizza recipe, the crust is made with cauliflower. Yes…I know who wants to eat cauliflower instead of a delicious full of carbs, crispy pizza crust that we all know and love. Well, this may surprise you. A crust made with cauliflower, and if done correctly, will be deliciously crispy, cheesy and is super low in carbs. If you made a cauliflower pizza crust in the past and found it to be too soggy, then the recipe may have been missing something, which I will talk about shortly! I promise you this 4 ingredient cauliflower pizza crust will be crispy and delicious, just the way you like it. Total net carbs per slice about 2 grams, depending on the toppings you add.
♥ How to make the crispiest keto pizza crust?
The keto crust is super easy to make. You will need only four ingredients. Cauliflower rice (grated cauliflower), mozzarella cheese, cheddar cheese and an egg. That is it! You don't have to add salt because the cheese is salty already. Sometimes I add a pinch of garlic powder or oregano for extra flavour. Now the most important step to having a crispy cauliflower pizza crust. First, you steam the cauliflower rice until tender, but not mushy, THEN, using a cheesecloth or a thin dishtowel squeeze out as much liquid as you can. This is the secret to having a crispy keto pizza crust. Now you mix the pizza ingredients with the cauliflower and spread over a pizza pan—Bake for 20 minutes. The crust is ready to be topped with your favourite toppings. Then pop it back in the oven and finish baking until the cheese is melted and bubbling. Done! Ready to eat, enjoy! For low carb recipes, check out our keto recipes.
Ingredients
PIZZA CRUST
4 cups * cauliflower rice
½ cup shredded mozzarella cheese
½ cup grated parmesan cheese
1 egg, whisked
TOPPING
2 medium ripe tomatoes, thinly sliced
½ medium yellow onion, thinly sliced
½ cup thinly sliced mushrooms
Handful of baby spinach
¼ cup sliced black olives
2 Tbsp. extra virgin olive oil
2 garlic cloves, minced
1 tsp. fresh rosemary or ¼ tsp. GF dried rosemary
½ cup shredded mozzarella cheese
*Note: to make cauliflower rice roughly grate cauliflower or use a food processor to process cauliflower florets until they resemble rice
*As an Amazon Associate and member of other affiliate programs, I earn from qualifying purchases. Please check out my sponsorship and disclosure policy page for more details
Instructions
Preheat oven to 400 F and line a 14-inch pizza pan with parchment paper
Steam cauliflower rice for about 6 minutes until tender
This next step is VERY IMPORTANT! Wrap up steamed cauliflower in a thin dishtowel or cheesecloth and squeeze out excess liquid
In a medium bowl mix together cooked cauliflower rice, cheese, and egg. I didn't add salt because the cheese has salt already. Spread the mixture onto prepared pizza pan about 1/3-inch thick and lightly press down, leaving the edges slightly thicker
Bake for 20 minutes
While the pizza crust is baking, prepare the topping. Using a medium size bowl combine all the topping ingredients except the mozzarella cheese
Evenly spread the topping over the cooked pizza crust and sprinkle with mozzarella cheese. If you prefer the pizza to be extra cheesy add extra mozzarella cheese Bake for 15 – 20 minutes until the cheese is bubbling
* Tip: double the recipe and make 2 pizza crusts. Freeze one in foil for future use. All you do is add your favourite toppings and bake at 400 F until the cheese is bubbling about 15 minutes
Similar Recipes
Gluten Free Pizza with Cauliflower Crust
This is a wonderful gluten free pizza made with cauliflower crust recipe. If you are following a paleo or low-carb diet this gluten-free pizza with cauliflower crust is for you. The cauliflower crust is delicious and super crispy, and the exotic toppings make the pizza especially delicious. You can have a gluten free pizza crust […] Read More
Prep Time
25 Minutes
Difficulty
Moderate
Cook Time
35 Minutes
Serves
8 servings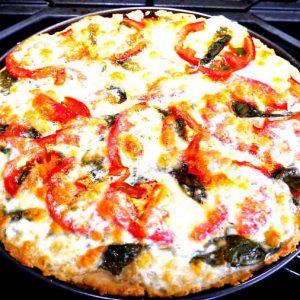 Gluten Free Margherita Pizza
Margherita pizza is everyone's favourite, all you need is fresh basil, fresh tomatoes and good quality bocconcini cheese. But if you want more than just gluten-free Margherita pizza, add few extra toppings of your choice. Some popular toppings such as spinach, mushrooms, onions, artichokes, olives, mozzarella the choices are endless. The secret to a delicious pizza […] Read More
Prep Time
10 Minutes
Difficulty
Moderate
Cook Time
15 Minutes
Gluten Free Greek Pizza Recipe
When it comes to a great pizza, it is all about the crust. After trying many different combinations of ingredients, I have finally developed the perfect gluten free pizza crust. The crust is crispy on the outside and soft on the inside. The best part is, there is no yeast and no kneading necessary. I […] Read More
Prep Time
15 Minutes
Difficulty
Easy
Cook Time
22 Minutes