Mediterranean Keto Pizza Recipe – Gluten Free
Published on Nov 12, 2017
by
Kristina Stosek
Prep Time:

15 minutes
Cook Time:

45 minutes
Serves:

1 large pizza (14-inch)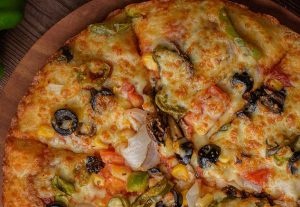 ​This post may contain affiliate links, please see our
privacy policy
for details
Keto Mediterranean Pizza you will love! We love pizza, but often we want to stay away from the extra carbs, especially when following the keto diet. In this low-carb Mediterranean pizza recipe, the crust is made with cauliflower.
Yes…I know who wants to eat cauliflower instead of a delicious full of carbs, crispy pizza crust that we all know and love.
How does Keto diet work?
You will find the answers in this "What are Ketones and How Does Ketosis Work in Your Body" blog.
This Cauliflower crust may surprise you!
A crust made with cauliflower when made correctly, will be deliciously crispy, cheesy and is super low in carbs.
However, if you made a cauliflower pizza crust in the past and found it too soggy, then the recipe may have been missing something. I will talk about it shortly!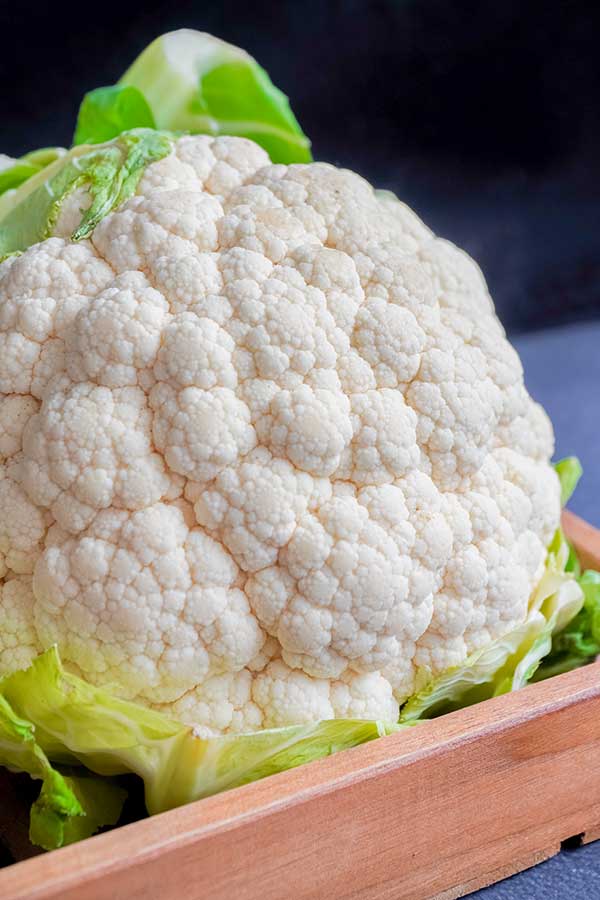 4 ingredient keto pizza crust
I promise you this 4 ingredient low-carb cauliflower pizza crust will be crispy and delicious, just the way you like it.
Total net carbs per slice are about 2 grams, depending on the toppings you add.
How to make the crispiest keto pizza crust?
The keto crust is super easy to make. You will need only 4 ingredients. Cauliflower rice (grated cauliflower), mozzarella cheese, parmesan cheese and an egg. That is it! You don't have to add salt because the cheese is salty already.
Sometimes I add a pinch of garlic powder or oregano for extra flavour.
The secret to making crispy cauliflower pizza crust!
We all love crispy pizza crust! And yes, low-carb cauliflower pizza crust can be just as crispy.
First,
Steam the cauliflower rice until tender but not mushy.
Then,
Using a cheesecloth or a thin dish towel, squeeze out as much liquid as you can. This is the secret to having a crispy cauliflower pizza crust.
Finish,
Mix the steamed cauliflower rice with mozzarella, parmesan and egg to create a dough. Spread the dough over a pizza pan and par-bake for 20 minutes. That is all there is to making a low-carb cauliflower pizza crust.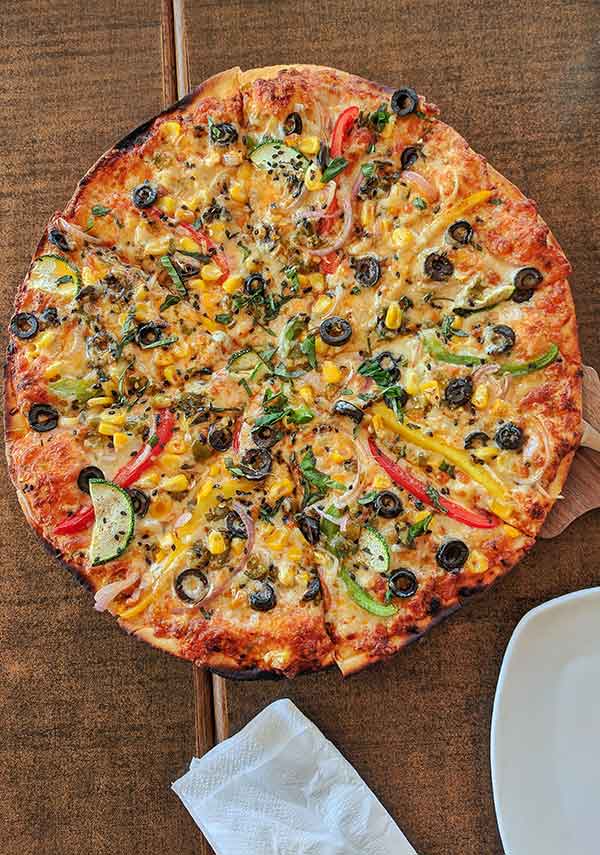 Toppings are important
The crust is ready to be topped with your favourite toppings. But, as with most pizzas, don't overload the crust with toppings.
I like to use no more than 4 toppings plus the cheese on this keto pizza crust. Otherwise, you can't taste the individual flavours and textures of the delicious toppings.
Return the pizza to the oven and finish baking until the cheese is melted and bubbling. Done, the crispy crust keto pizza is ready!
Need more low-carb recipes? Check out our great selection of keto recipes.
Let's Connect!
Be sure to FOLLOW US on FACEBOOK and PINTEREST.
Many thanks!
Kristina xx
Mediterranean Keto Pizza Recipe – Gluten Free
Published on Nov 12, 2017
by
Kristina Stosek
Instructions
1.

Preheat oven to 400 F and line a 14-inch pizza pan with parchment paper

2.

Steam cauliflower rice for about 6 minutes until tender

3.

This next step is VERY IMPORTANT! Wrap up steamed cauliflower in a thin dishtowel or cheesecloth and squeeze out excess liquid

4.

In a medium bowl mix together cooked cauliflower rice, cheese, and egg. I didn't add salt because the cheese has salt already. Spread the mixture onto prepared pizza pan about 1/3-inch thick and lightly press down, leaving the edges slightly thicker

5.

6.

While the pizza crust is baking, prepare the topping. Using a medium size bowl combine all the topping ingredients except the mozzarella cheese

7.

Evenly spread the topping over the cooked pizza crust and sprinkle with mozzarella cheese. If you prefer the pizza to be extra cheesy add extra mozzarella cheese Bake for 15 – 20 minutes until the cheese is bubbling

8.

* Tip: double the recipe and make 2 pizza crusts. Freeze one in foil for future use. All you do is add your favourite toppings and bake at 400 F until the cheese is bubbling about 15 minutes