Gluten-Free Crazy Crust Pizza
Published on Feb 28, 2021
by
Kristina Stosek
Prep Time:

10 minutes
Cook Time:

45 minutes
Serves:

6 - 8 pc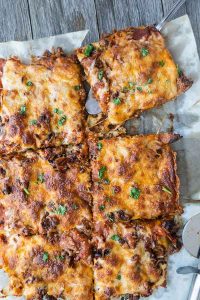 ​This post may contain affiliate links, please see our
privacy policy
for details
This gluten-free crazy crust pizza is one of our easiest pizza recipes. Soft, crispy bottom crust topped with our favourite toppings, such as ground beef, pepperoni, mushrooms, bell peppers, onions, garlic, tomato sauce, and lots of cheese!!
Crazy crust pizza has always been my favourite gluten-free pizza dough recipe when I am short on time. The dough has the consistency of pancake batter, making it one of the easiest pizza dough recipes.
No rolling or stretching out the dough, just pouring it into the baking pan and topping it with just about anything you love on your pizza.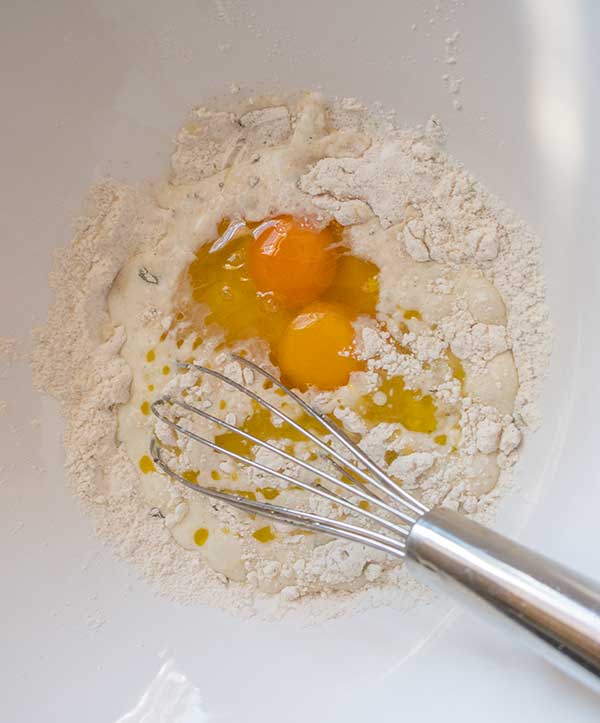 In our home, whenever the pizza craving kicks in, and I have very little time, I always make the gluten-free crazy crust pizza.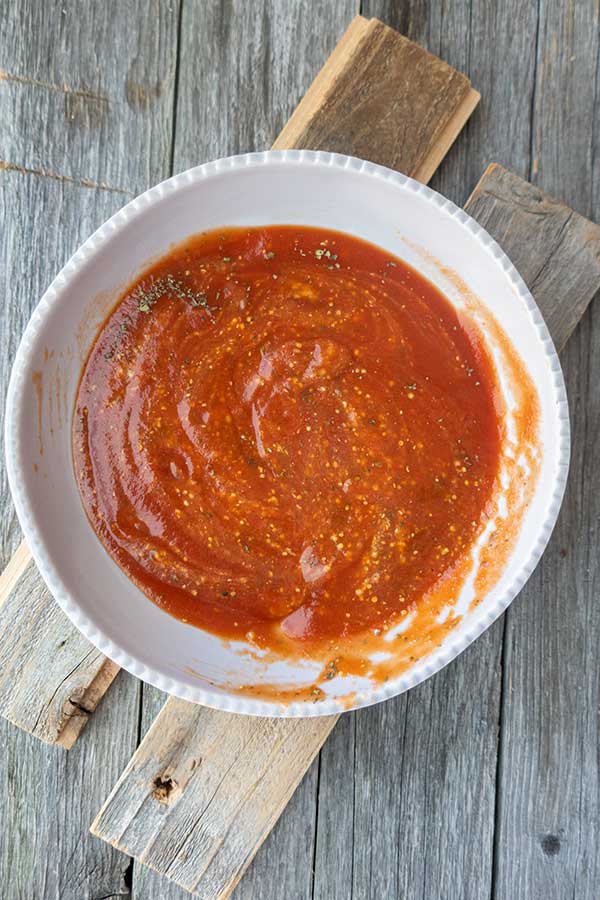 This is not a thin crust pizza, but if you prefer the pizza crust to be thinner, use a slightly bigger rimmed pan. You can even use a 14-inch rimmed pizza pan. I feel the crust is better when it is slightly thicker because it holds the toppings perfectly.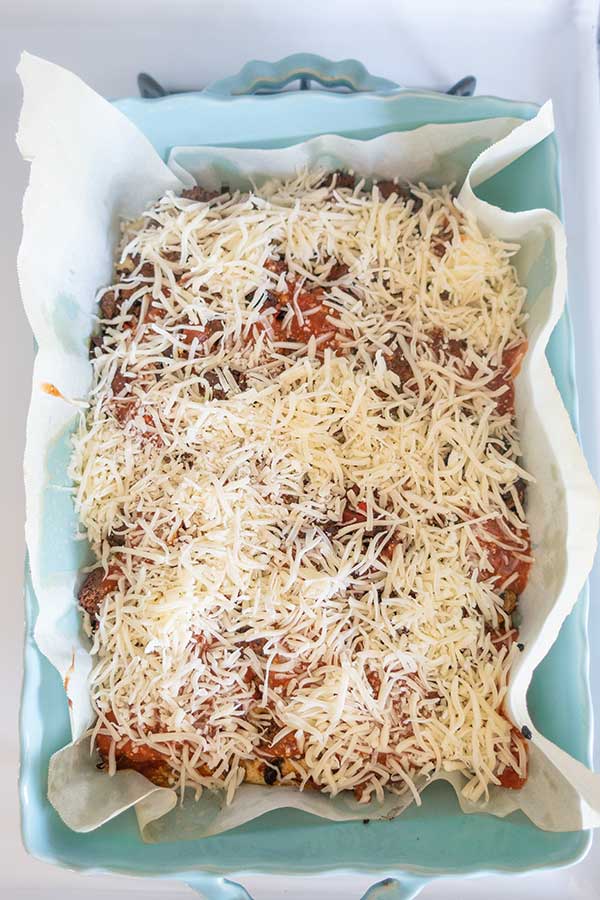 How is crazy crust pizza different?
First, the crust is made with liquid batter and not the typical pizza dough. Most of the toppings are baked in the batter, and then the pizza is finished with tomato sauce and cheese and baked a little longer until the cheese is bubbling.
The sauce adds flavour to the meat. For the cheese….well, you can't have a pizza without gooey cheese.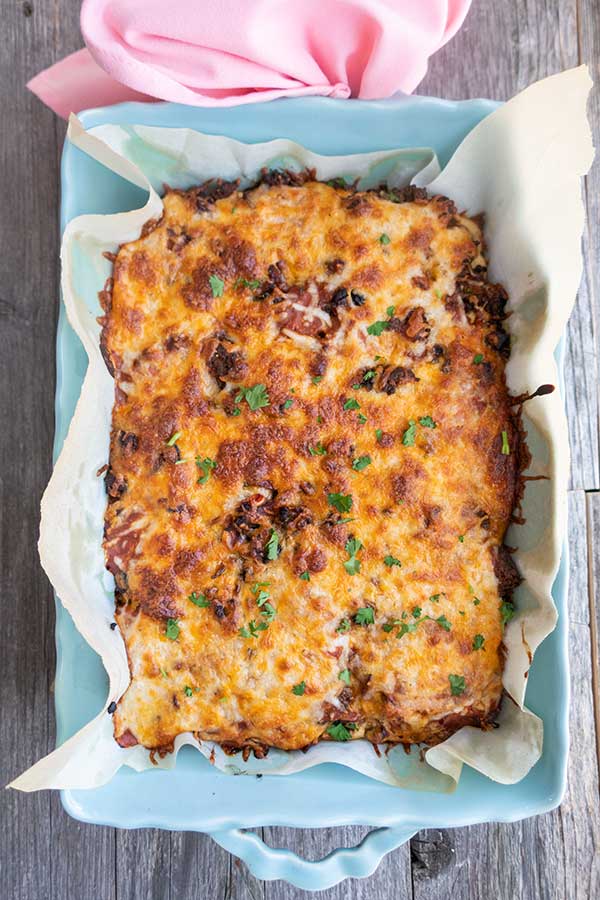 our pizza toppings,
I wanted this gluten-free crazy crust pizza to be hearty and satisfying. So I used ground beef and pepperoni for the meat. I have also added onions, bell peppers and mushrooms for freshness.
I could have used gluten-free pizza sauce, but instead, I mixed tomato sauce with mustard and basil. The sauce added exceptional flavour to this most delicious crazy crust pizza.
other pizza toppings,
There are plenty of topping choices when making a crazy crust pizza. If you are looking to make a vegetarian pizza, briefly saute vegetables such as onions, zucchini, peppers, asparagus, artichokes, spinach, mushrooms or whatever you like before adding them to the batter.
For meaty pizzas, you can use chicken, ham, bacon…the list is endless.
When it comes to crazy crust pizza, the sauce and the cheese must be added at the very end. This will give you a soft pizza crust without being soggy with a crispy bottom. Perfection, if you ask me 🙂
Whenever you crave a pizza and don't want to mess around too much with preparation, you should try the crazy crust pizza. I promise you will not be disappointed. This gluten-free pizza may even become your new favourite!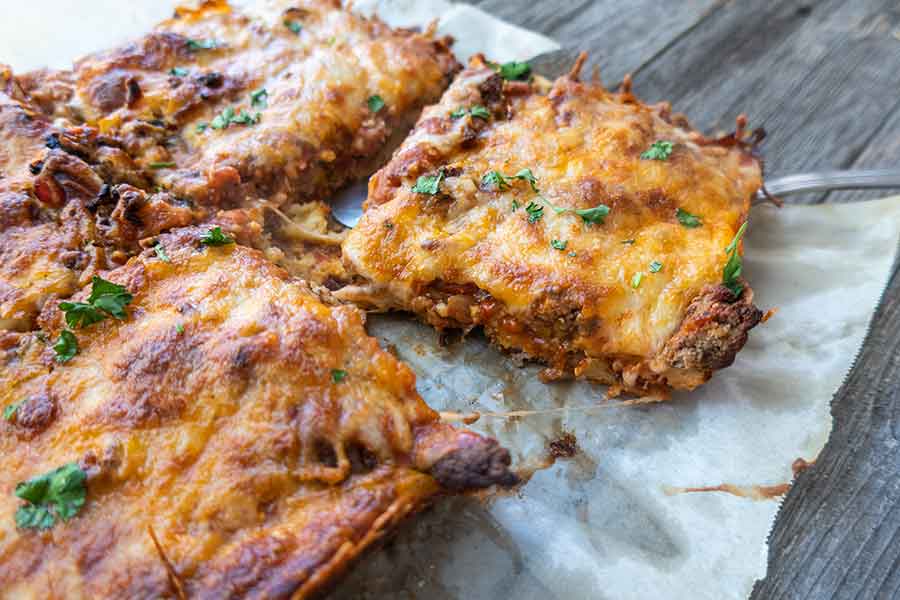 Are you looking maybe for an appetizer or finger food for a sports event? This crazy crust pizza is perfect because you can cut it into small squares. And…who doesn't love pizza?
For the latest recipes and tips, please like us on Facebook or follow us on Pinterest.
Gluten-Free Crazy Crust Pizza
Published on Feb 28, 2021
by
Kristina Stosek
Instructions
1.

Preheat oven to 400 F Line a 9 x 13-inch pan with parchment paper and brush with olive oil

2.

Heat a large non-stick skillet over medium-high heat. Add ground beef, onions and garlic and cook, breaking up the meat until the meat is lightly browned. This takes about 8 minutes. Stir in bell peppers, mushrooms, pepperoni and cook for one more minute. Remove the skillet from the stove

3.

In a medium bowl, whisk together flour, flaxseed, baking powder, oregano, salt, eggs, milk and olive oil

4.

Pour batter into prepared pan and scatter the meat mixture evenly over the top. Bake for 20 minutes

5.

In the meantime, mix tomato sauce with mustard and 1 teaspoon of basil

6.

After 20 minutes, remove the pizza from the oven, spoon the sauce mixture over the meat and sprinkle with cheese. Return the pizza into the oven and bake for 15 - 20 minutes longer, until the cheese is bubbling and has a golden colour

7.

Cut into squares or triangles and enjoy!
Leave a Comment
Kristina
I am allergic to tomatoes. Would this pizza work without the tomato sauce?
this pizza was a huge hit at our house and has become our Friday night treat.
Kristina
the flaxseed is there for fiber and nutrition. It will still work without it, enjoy!
I have this on this week's menu rotation! So excited to try it. What does the flaxseed do for the batter? I added some to my grocery pickup but it was out of stock Will it still work if I omit?
Kristina
I made this tonight for dinner and OMG - it was so good ! I added more Mushrooms instead of peperoni. We will make it again :-)
Kristina
thank you Nancy, I am always here to help if you need it.
LOVE this pizza dough, I made it for my family last night and it was the easiest gluten-free pizza I have ever made. I used different toppings, pretty much leftovers in my fridge. What a great way to feed your family with this budget friendly pizza. And they ALL loved it! Thank you, your recipes made my life so much easier :-)