Very Best Gluten-Free White Spinach Lasagna
Published on Dec 31, 2021
by
Kristina Stosek
Prep Time:

25 minutes
Cook Time:

60 minutes
Serves:

8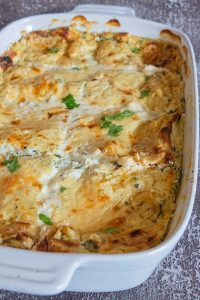 ​This post may contain affiliate links, please see our
privacy policy
for details
Creamiest Gluten-Free White Spinach Lasagna. A simple and so delicious lasagna with layers of light cheesy spinach and the best creamy white sauce infused with herbs.
3 Layers of Gluten-Free White Spinach Lasagna
This gluten-free lasagna is made up of three layers: a light and fluffy cheesy spinach, gluten-free noodles and the tastiest white sauce made with broth, milk, cheese and herbs. The sauce is what seals the deal!
This white lasagna is a perfect family dinner or great for feeding a crowd. Just make ahead and bake when ready! Then, all you need to do is add a big salad or a gluten-free garlic cheese monkey bread, or not!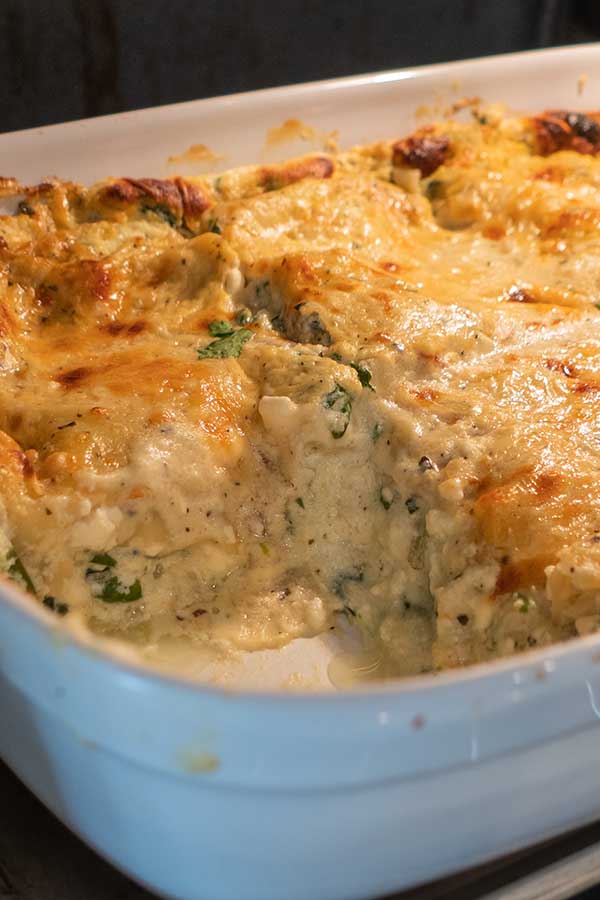 In this Italian dish, you will find step-by-step instructions that will show you how easy it is to make the very best gluten-free white spinach lasagna.
basic ingredients for gluten free white spinach lasagna
The white lasagna ingredients are basic. Ricotta cheese, spinach, eggs, broth, milk, oven-ready gluten-free lasagna pasta, tapioca starch, cream cheese and good melting cheese. You will also need basil, nutmeg, bay leaves, and lemon zest to add flavour.
If you can't have dairy, no worries because we have this delicious gluten free dairy-free lasagna recipe for you.
white spinach lasagna recipe details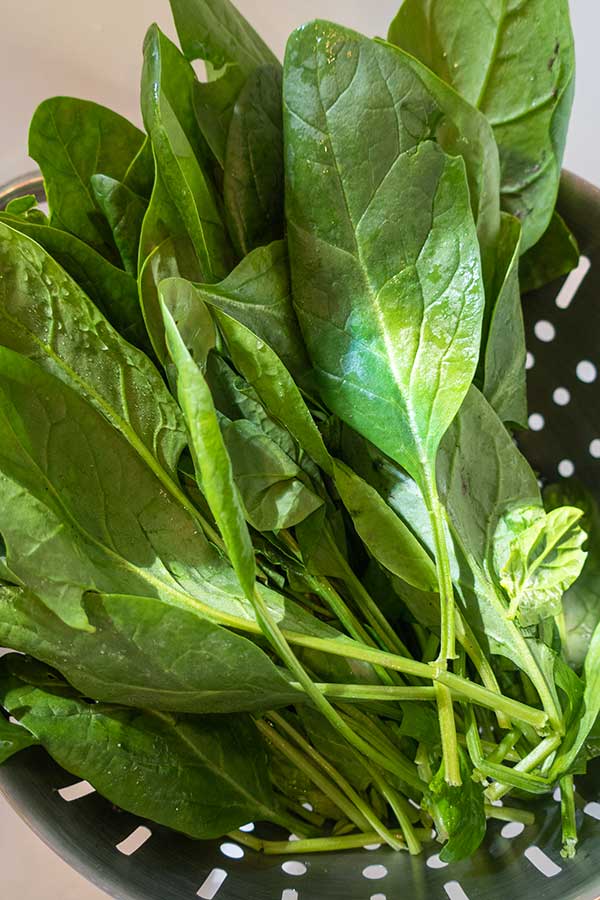 prepare the spinach
Whenever I make a lasagna being it red sauce lasagna or white sauce, I always use fresh spinach. The spinach takes about a minute to steam, so why not use fresh-tasting spinach. Once the spinach is steamed, roughly chop it and set it aside.
Can you use frozen spinach for white lasagna?
You can. However, the flavour will not be the same. If you decide to use frozen spinach, be sure to drain it well. Otherwise, the lasagna will have too much liquid. I would use two packs.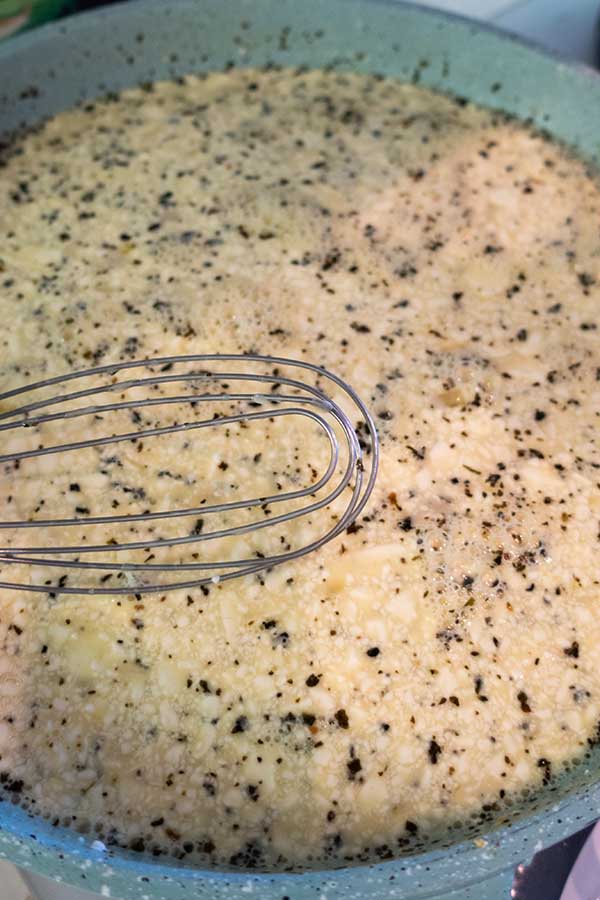 white lasagna sauce
This sauce will set this gluten-free white lasagna apart from most. I replaced part of the milk or cream with a gluten-free veggie broth to keep the sauce light and well-flavoured. I used my homemade mushroom broth.
The sauce is made by briefly simmering onions, garlic, basil, bay leaf, and nutmeg in a broth and then thickened with milk, tapioca flour and two types of cheese. Very simple and packed with flavour.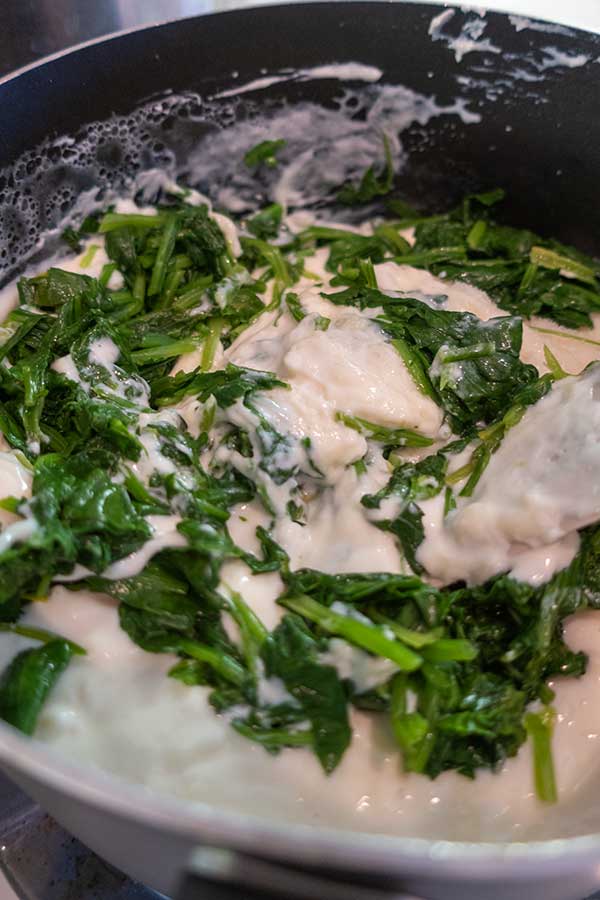 the cheesy spinach layer
This layer is made up of freshly steamed spinach, ricotta cheese, another good melting cheese like provolone or mozzarella, parmesan, lemon zest and whipped egg whites.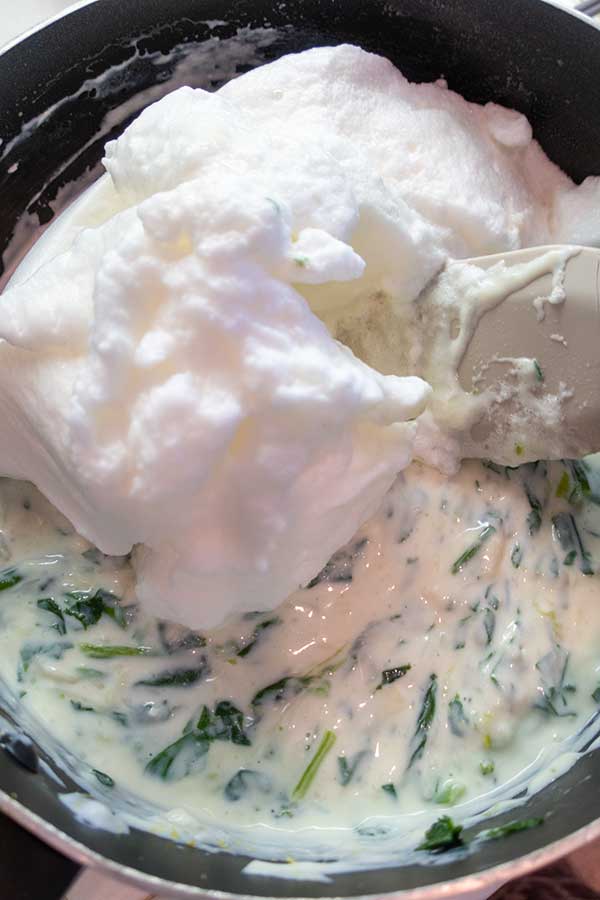 add whipped egg whites to the spinach mixture
The egg whites are what make this layer super light. There is no need to add seasoning to the spinach layer except lemon zest. The white sauce is what flavours the entire gluten-free lasagna.
the order of layers to assemble the lasagna
1/4 of the sauce
3 – 4 Lasagna noodles
1/2 spinach mixture
1/4 of the sauce
3 – 4 Lasagna noodles
1/2 Spinach layer
1/4 of the sauce
3 – 4 Lasagna noodles
1/4 of the sauce
1/4 cup parmesan cheese after 30 minutes of baking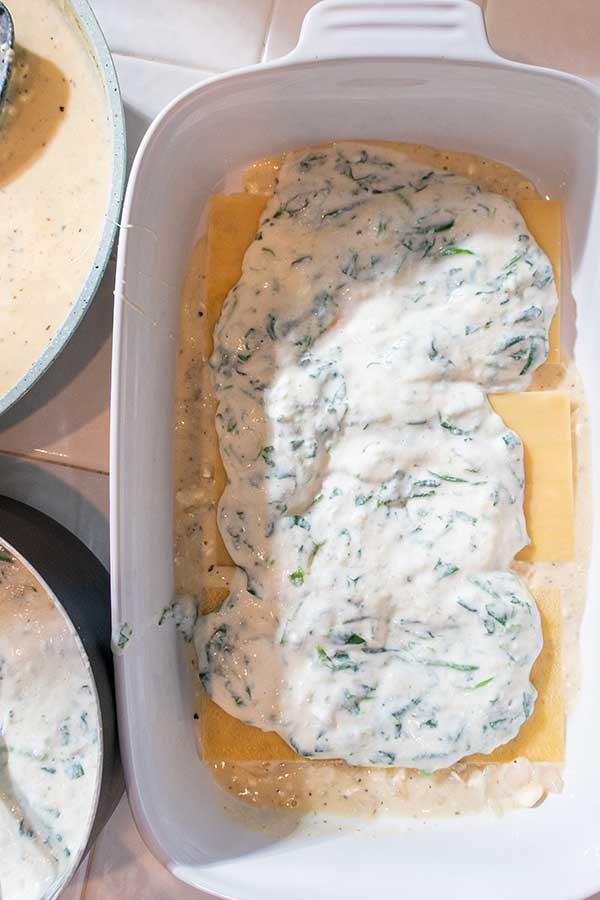 use oven ready gluten free lasagna noodles
I was able to find the gluten-free oven-ready lasagna noodles on Amazon. If you can't find these noodles, you can use regular gluten-free lasagna noodles. To get them ready, first, boil them in salted water. But only until they start to soften, not fully cooked. The noodles will continue to cook while the lasagna is baking.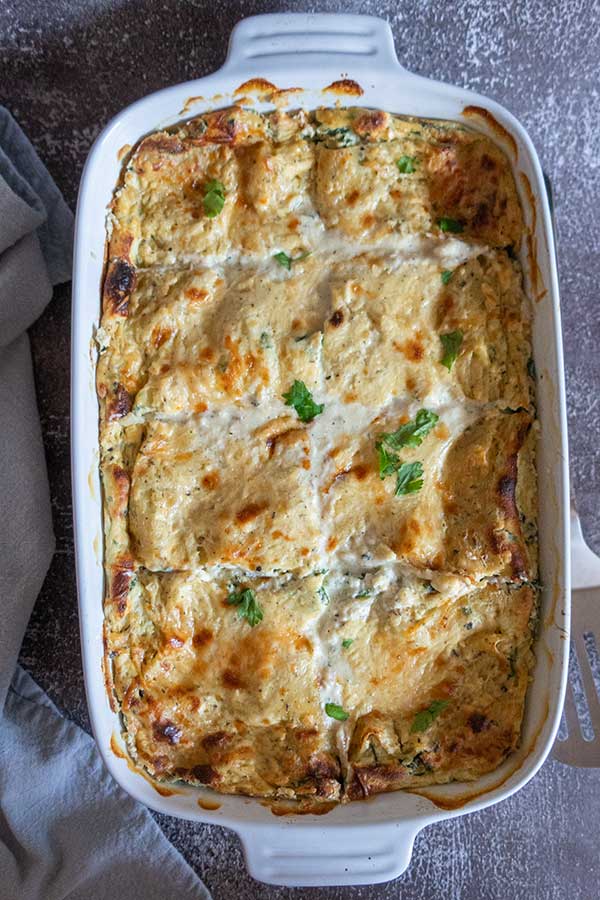 vegetables you can use in white lasagna
Some veggies that come to mind are mushrooms, zucchini, kale and other greens, squash, bell peppers and eggplant, to name a few. The veggies should be thinly sliced so that they cook to perfection in the lasagna.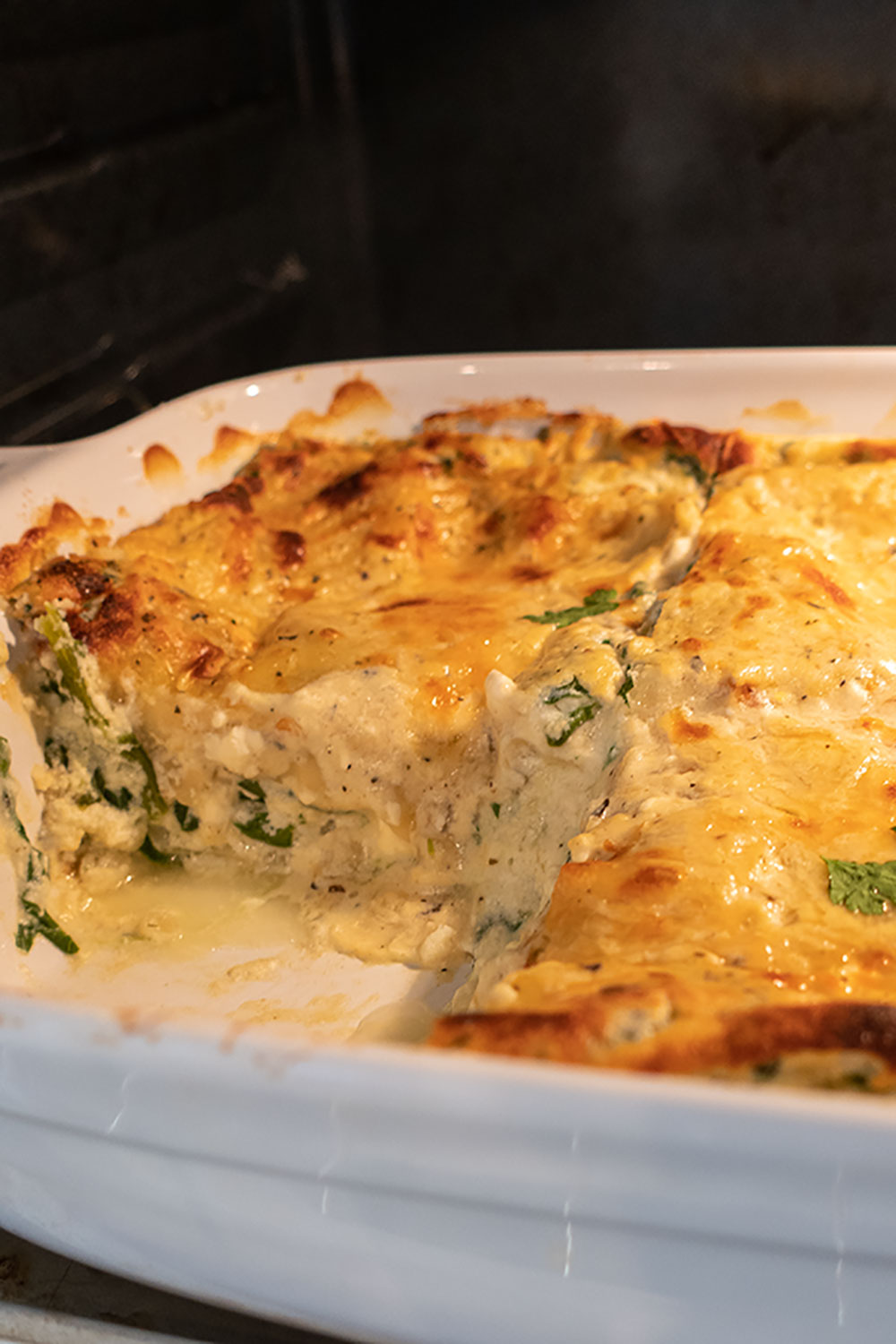 Can you freeze gluten-free white lasagna?
I often double the recipe and freeze one. You can freeze the lasagna before baking. Then, bring the lasagna to room temperature and bake.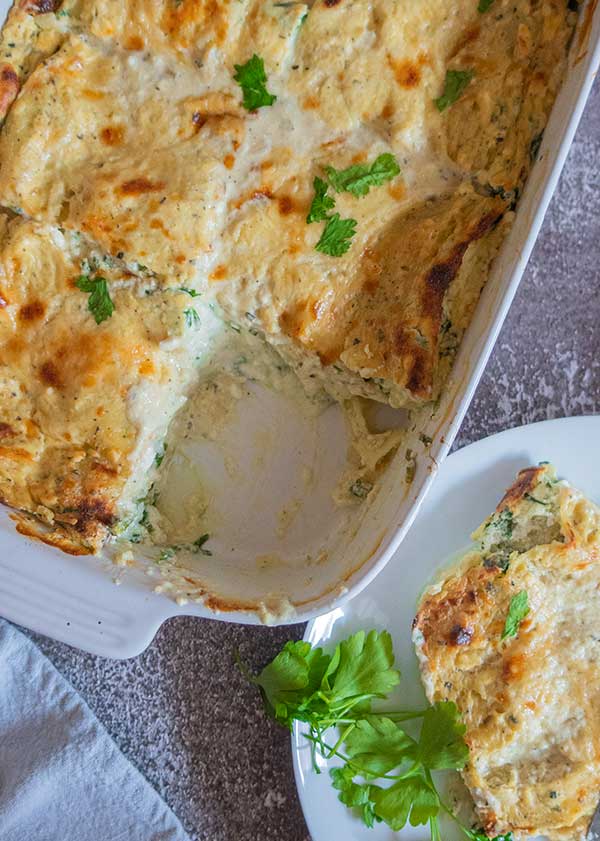 This gluten-free white spinach lasagna is my last post this year. Let's hope 2022 will be the beginning of the end to all the madness we've had to endure the past couple of years and see a return to normalcy.
Kristina xx
Very Best Gluten-Free White Spinach Lasagna
Published on Dec 31, 2021
by
Kristina Stosek
Instructions
1.

2.

In a large saucepan, sautee onions and garlic in olive oil. Stir in basil, nutmeg, bay leaf and broth—Cook over medium-high heat for 5 minutes.

3.

Remove bay leaf and add the Philadelphia cheese. Using the back of your fork, mash the cheese into the hot broth

4.

Whisk together milk, tapioca and egg yolks and while whisking, slowly pour it into the broth. Cook until the sauce starts to bubble. Remove from the heat and stir in 2 cups of cheese. Taste and season with salt and pepper as needed. Set aside

5.

6.

Steam spinach until it starts to wilt, then coarsely chop. Set aside

7.

In a small saucepan, whisk milk with tapioca and cook until the sauce thickens. About 2 minutes. Remove the saucepan from the heat and stir in 1 cup of shredded cheese, ricotta, lemon zest, 1/4 cup of parmesan and steamed spinach. Taste and season with salt and pepper as needed.

8.

Beat egg whites until soft peaks form. Then, fold the egg whites into the spinach mixture.

9.

10.

11.

Using an 8x11-inch baking dish or equivalent, spread 1/4 of the cheese sauce into the bottom of the dish, followed by 3 - 4 noodles, depending on the size and shape of your dish. The noodles should not be touching. Then 1/2 spinach mixture, 1/4 sauce, 3 - 4 noodles, remaining spinach mixture, 1/4 sauce, 3 - 4 noodles, and finish with remaining sauce.

12.

Loosely cover the lasagna with foil paper and bake for 30 minutes. Remove the foil paper, sprinkle the top with the remaining 1/4 cup parmesan cheese, and bake until the cheese is bubbling and the top is golden brown. About 20 - 30 minutes longer. 

13.

Let stand for 15 - 20 minutes before slicing
Leave a Comment
Kristina
Adrielle, by replacing the noodles with zucchini, you have reduced the starch that naturally forms from noodles and thickened the sauce. If you are not using noodle you need to reduce the sauce by about 1 1/2 cups and add about 2 extra tablespoons of tapioca starch.
Hi,maybe I'm doing something wrong but it seems like there's WAY too much sauce and the dish isn't firming up in the oven.. not sure how long to cook to see if that happens. I added some ground beef and used slices of zucchini instead of noodles.
Kristina
I am so happy that you enjoyed the lasagna Evelyn, thank you.
I made it today, the white sauce lasagna was outstanding, thank you for the recipe