Dairy-Free Lasagna – Gluten Free
Published on Jan 16, 2023
by
Kristina Stosek
Prep Time:

15 minutes
Cook Time:

60 minutes
Serves:

8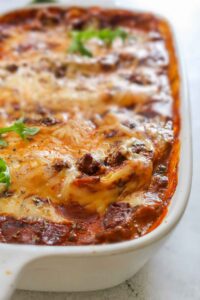 ​This post may contain affiliate links, please see our
privacy policy
for details
This creamy dairy-free lasagna dish will surprise you with how delicious a gluten free lasagna can taste even without real cheese! This Italian dish will satisfy even the pickiest taste buds with layers of rich meaty sauce, spinach, and the creamiest sauce flavored with garlic and a pinch of nutmeg.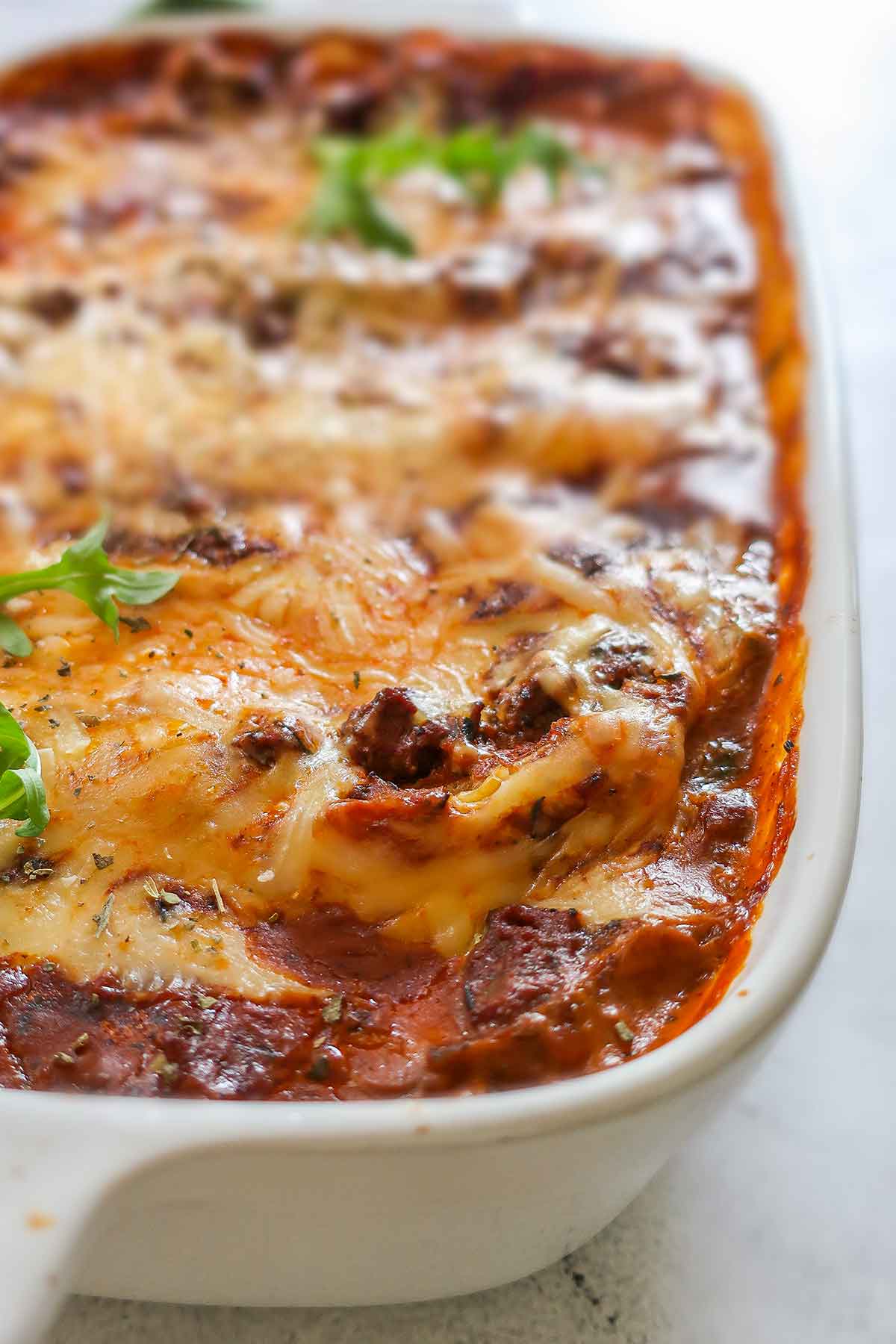 Lasagna has long been a comfort food staple for families around the world. It's hearty, delicious, and can feed a crowd. However, an Italian lasagna may not seem like an option for those with dietary restrictions such as dairy allergies or gluten sensitivity.
But don't worry – today, you will learn how to make a delicious, dairy-free lasagna that's just as tasty as the classic version and keep it gluten free.
Dairy-Free VS Lactose Intolerant.
Dairy-free products contain no milk or milk products like those used in this dairy-free lasagna recipe. However, lactose-free ingredients are made from real dairy and may still contain milk but without the lactose.
This dairy-free lasagna is a delicious and nutritious alternative to traditional lasagna that is perfect for those with lactose intolerance or other dairy allergies.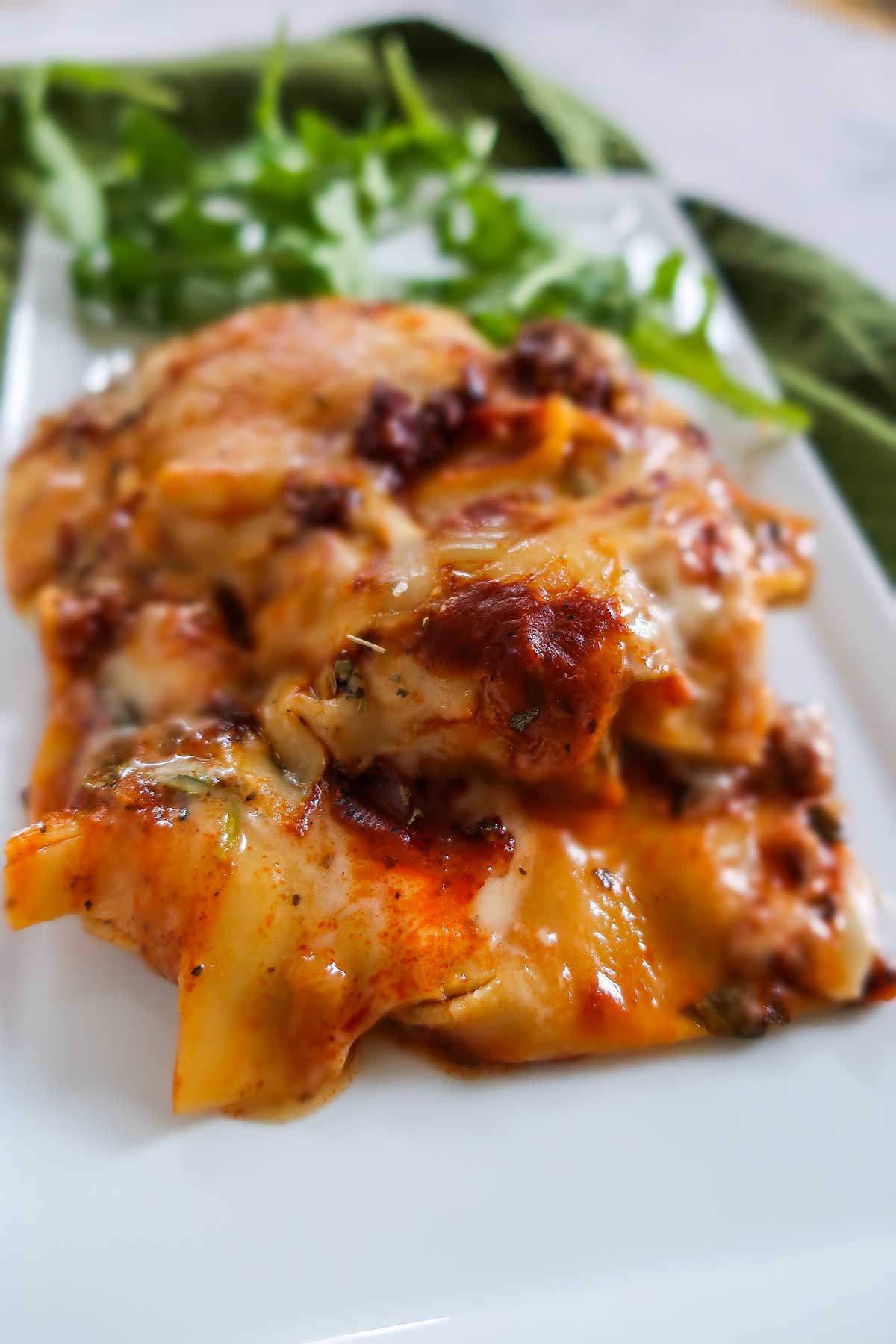 Does dairy-free lasagna taste the same as the classic version?
Many versions of dairy-free lasagna recipes don't taste anything like the ones made with real cheese. This is why it is important to choose a good melting dairy-free cheese such as the one we have used the Violife Mozzarella Shreds in this recipe. This cheese is also soy free.
Yes, it is all about the cheese, dairy-free or not.
Additionally, dairy-free cheeses often have a different flavor than their dairy counterparts. For example, they may be slightly sweeter or nuttier in taste, so you may have to experiment with different cheeses if you can't get the one we have recommended.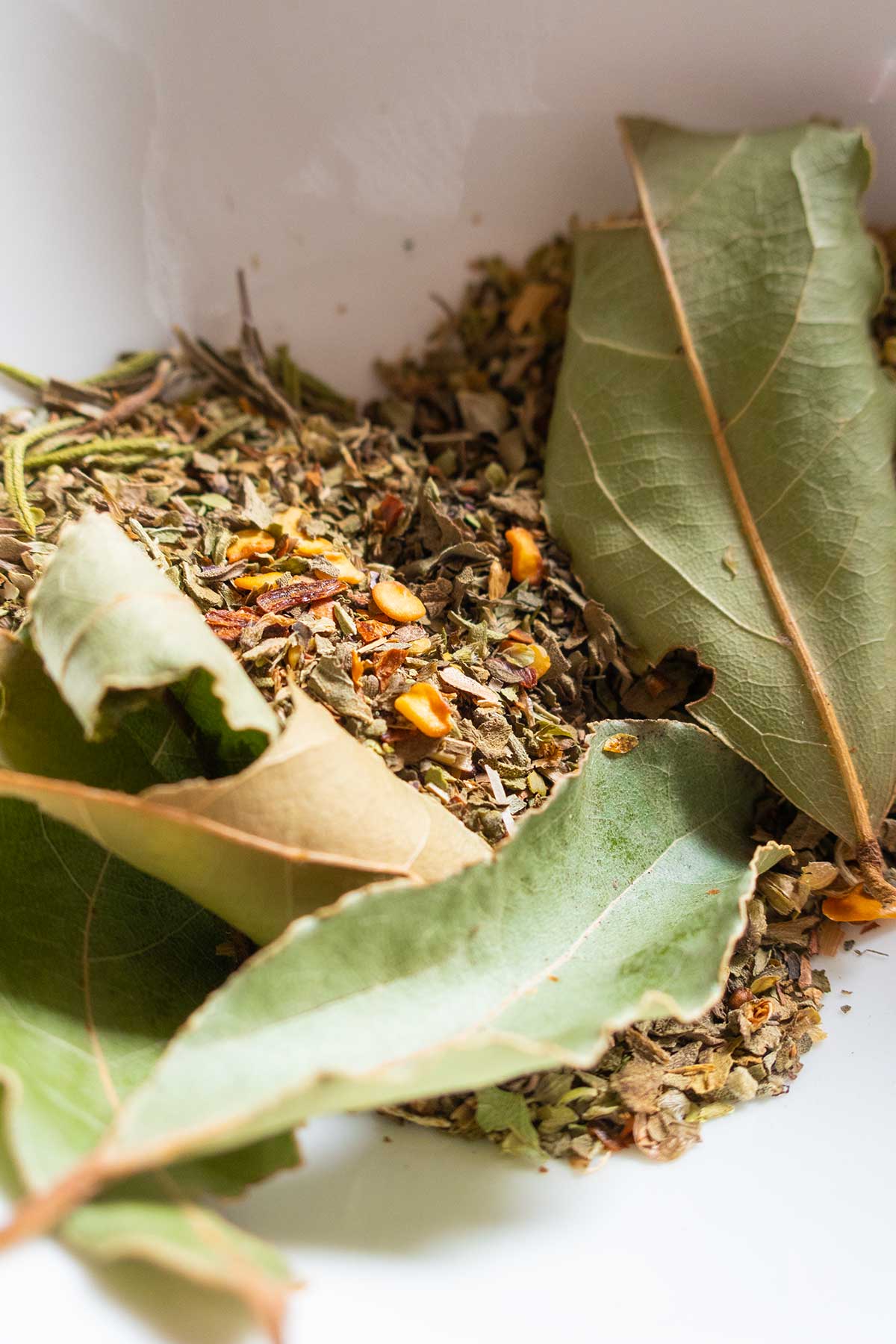 Spices for dairy-free lasagna
Since we are not using real cheese in this recipe, we must make up for flavor. To do this, we need a good blend of spices because they will turn a basic dairy-free lasagna into one that will leave you going for seconds and thirds.
The must-have spices in this dish are oregano, basil, bay leaves, rosemary, and red pepper flakes. And you don't need to add onion or garlic powder because we are using fresh onions and fresh garlic.
Check out our complete list of gluten free lasagna recipes including our famous brownie ice cream lasagna for inspiration.
Assembling dairy-free lasagna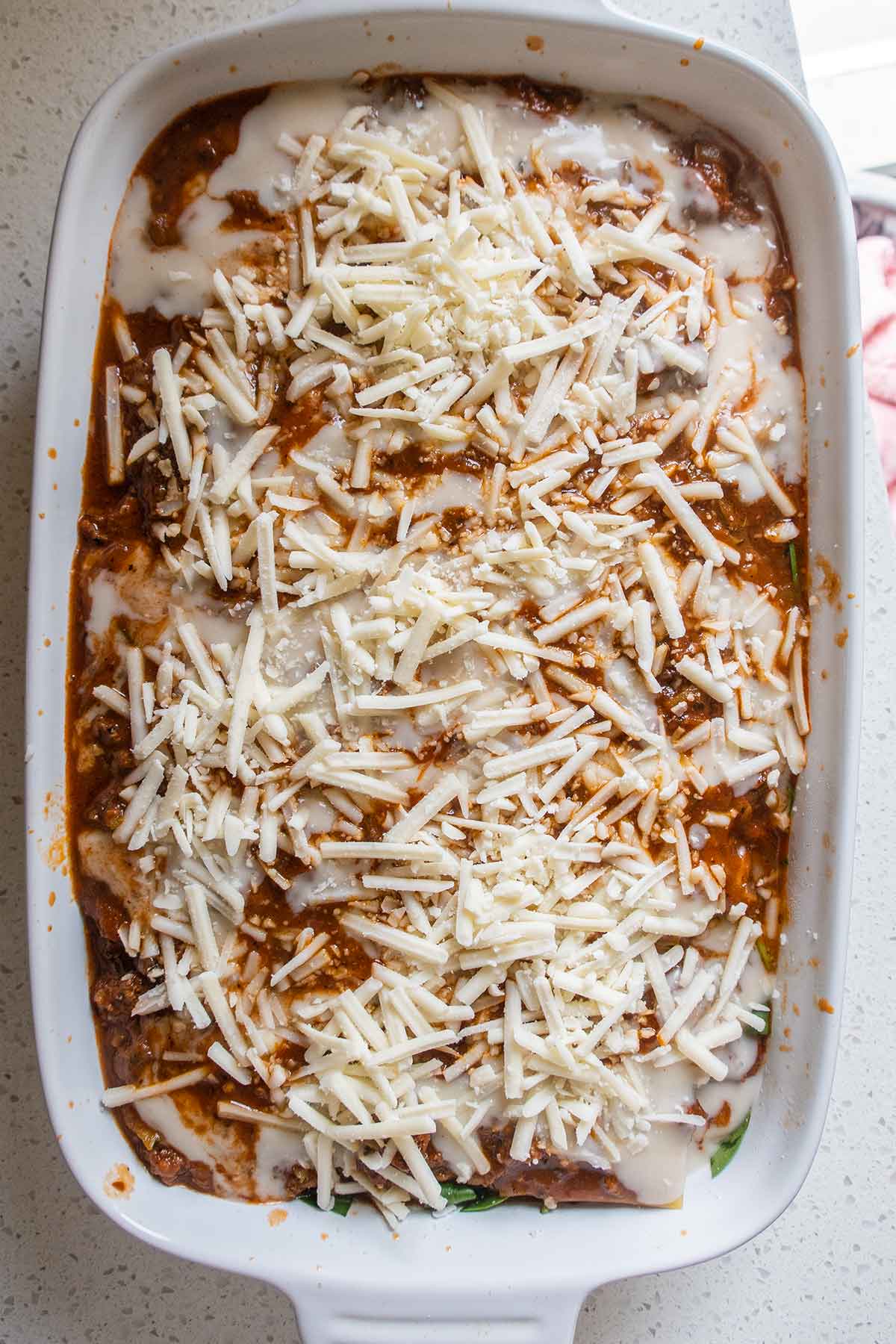 Lasagna is all about the layers. They must be in the correct order to get that creamy, meaty lasagna that will melt in your mouth!
Here are the layers:
1/2 cup meat sauce to coat the baking dish
4 lasagna noodles
1/3 of meat sauce
4 lasagna noodles
1/3 of meat sauce
fresh chopped spinach
1/2 of white sauce
1/2 of dairy-free shredded mozzarella
4 lasagna noodles
Remaining meat sauce
Remaining white sauce
Top with remaining dairy-free shredded mozzarella
What are oven-ready gluten free lasagna sheets?
Oven-ready lasagna sheets are a type of pasta that does not need to be boiled before it is baked. This makes the recipe simpler because you skip the step of first cooking the pasta.
If you choose to use pasta that needs to be boiled first, there are a couple of things to keep in mind in this dairy-free lasagna recipe.
First, don't overcook gluten free pasta. It should remain fairly firm to bite because it will continue cooking in the lasagna. If you overcook the pasta, it will give the lasagna a mushy texture.
And second, oven-ready pasta requires more liquids. So, if you are using pasta that needs to be boiled first, reduce the amount of water added to the meat sauce to 3 cups.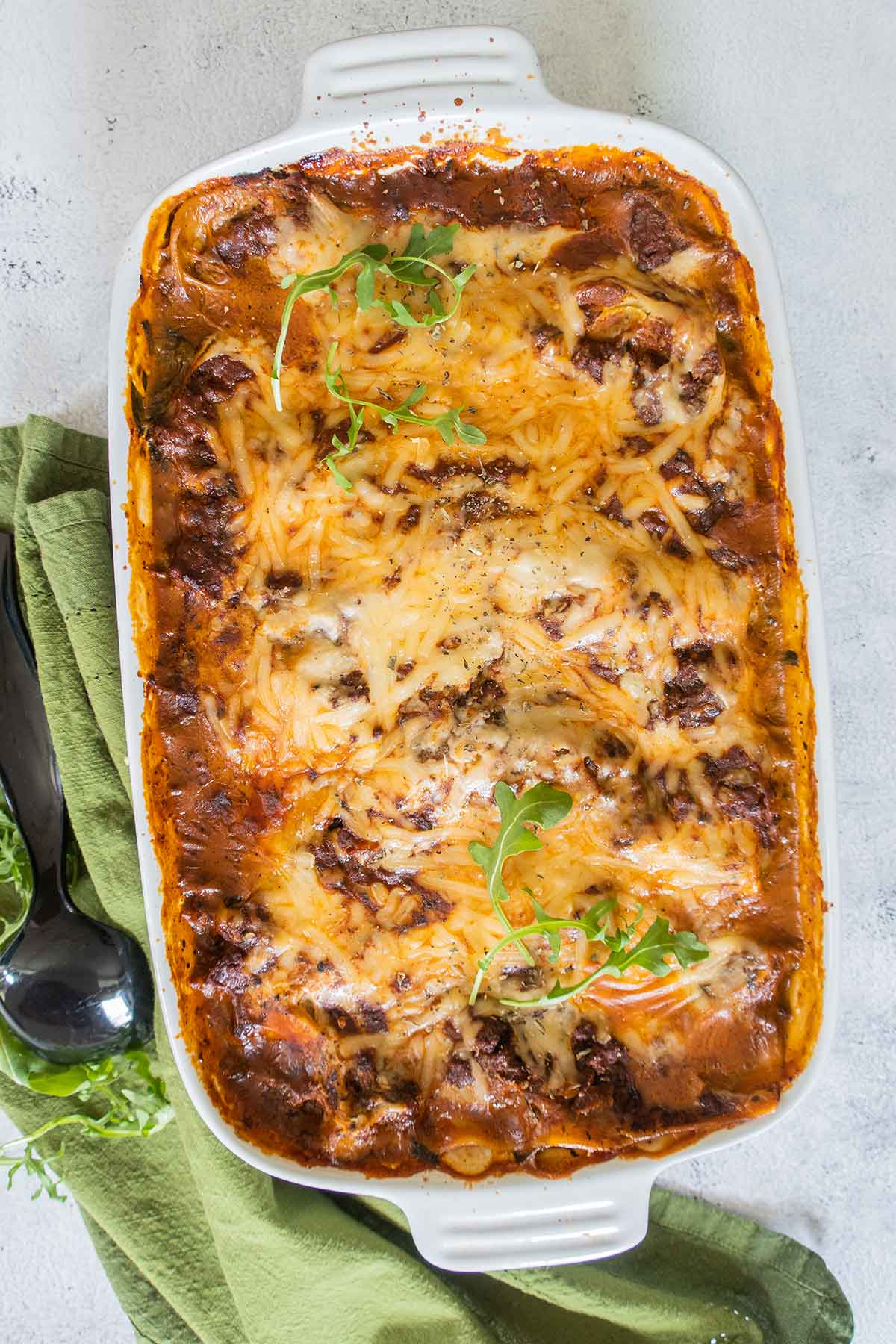 What can I substitute pasta with in gluten free lasagna?
You may want to cut back on carbs or are looking to make a grain-free lasagna. This is not a problem. You can use eggplant, zucchini, collard greens or portobello mushrooms.
To use veggies to replace pasta, slice them thinly and season with salt. Place the slices on a tray and cover them with plastic wrap for about 30 minutes. The veggies will release moisture. Dry them using a paper towel, and use them as pasta noodles. If you skip this step, the lasagna may become watery with soggy veggies throughout.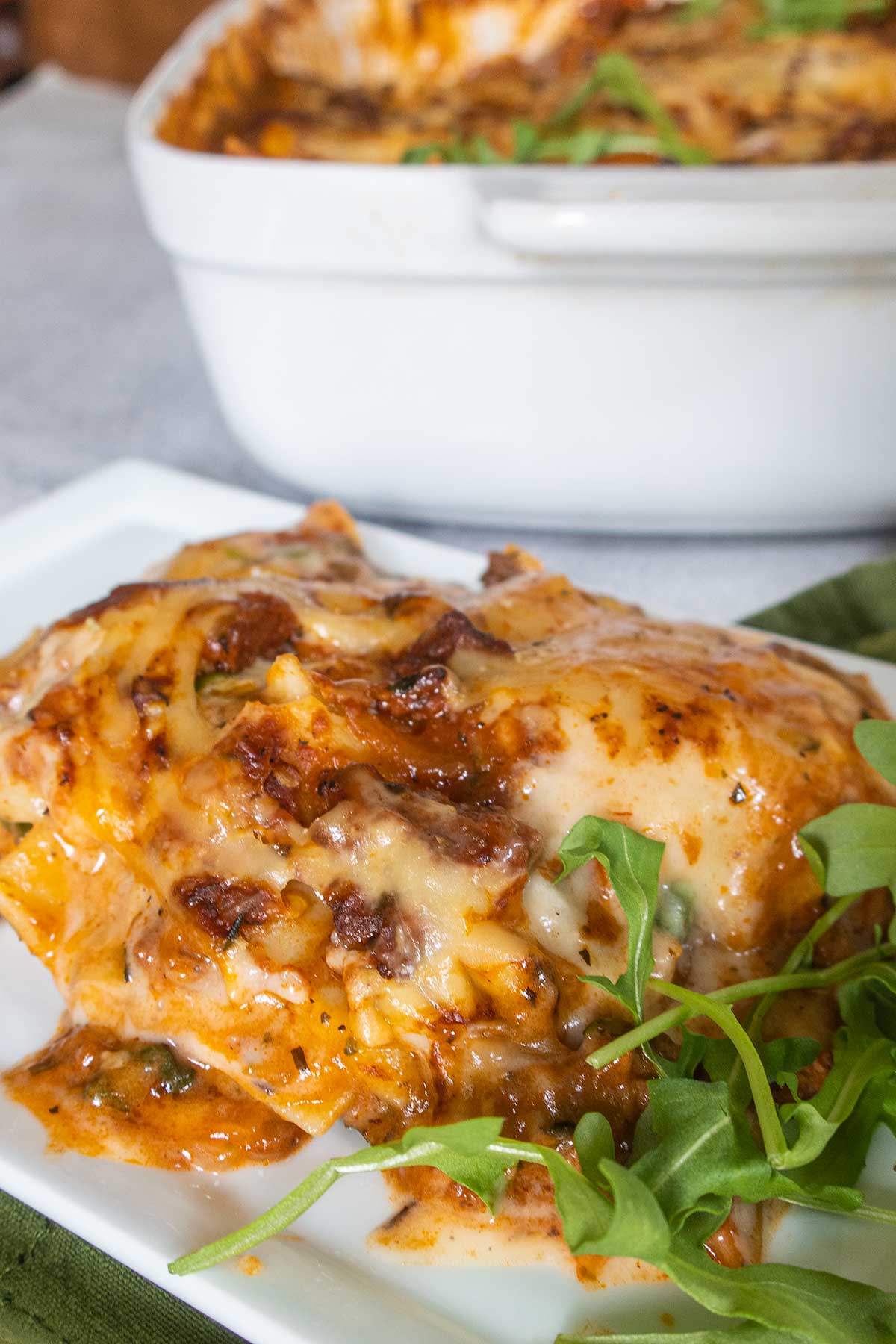 Is a dairy-free diet healthier?
There are a few health benefits of going dairy free. One is that it can help you lose weight. Dairy products are high in calories, fat and sodium, so eliminating them from your diet can lead to weight loss. Dairy-free diets have also been shown to lower blood pressure and cholesterol levels and reduce the risk of heart disease and diabetes.
What is dairy-free cheese made from?
Dairy-free cheese is made from various plant-based ingredients, including soy milk, nuts, seeds, food starch, olive extract or coconut oil. The most popular types of dairy-free cheese are made from soy milk, as it is the most similar to cow's milk in terms of texture and taste.
tools you will need to make dairy-free lasagna
2 medium size pots
cutting board
1 large sharp knife
grater
measuring cups and spoons
whisk
wooden spatula
laddle
8 x 11-inch baking dish
foil paper
Can you freeze gluten free lasagna?
Not all gluten free pasta can be frozen because it can become mushy after it has been frozen. However, you can freeze gluten free and dairy-free lasagna. Just be sure to wrap it tightly in plastic wrap or aluminum foil. To reheat, thaw the lasagna in the refrigerator overnight and then bake it in a 350 F oven until heated.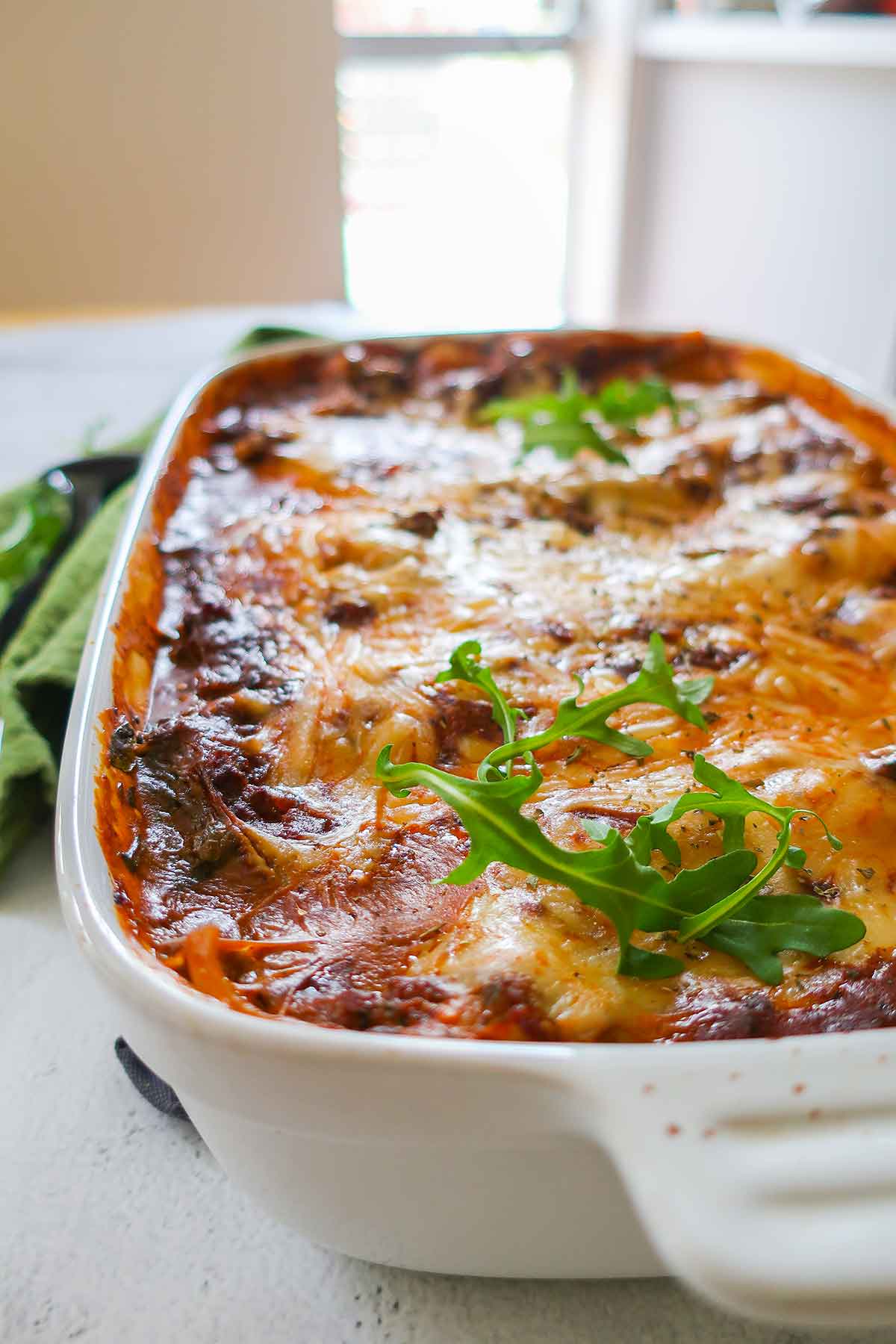 Key things to remember when making dairy-free lasagna without gluten.
First, be sure to use gluten free lasagna noodles. Second, substitute dairy-free cheese for traditional mozzarella cheese, use dairy free milk in the sauce and plenty of Italian seasoning. By following these simple tips, you can easily make a delicious, nutritious dairy-free lasagna that is also gluten free.
Let's Connect!
Be sure to FOLLOW US on FACEBOOK and PINTEREST.
Many thanks!
Kristina xx
Dairy-Free Lasagna – Gluten Free
Published on Jan 16, 2023
by
Kristina Stosek
Instructions
1.

Preheat olive oil in a large pot over medium-hot heat. When ready, add ground beef and onions and season with salt. (I used 1 teaspoon of salt). Brown the meat with onions, and break it up as it cooks. About 5 minutes

2.

Stir in oregano, basil, rosemary, red pepper flakes and bay leaves and coat the meat with the seasoning. Add zucchini, tomato paste, 4 cups of water and generously season with salt. Cover the pot, and simmer for 30 minutes. Remove the bay leaves

3.

Meanwhile, prepare the white sauce. Using a medium saucepan, whisk the milk, garlic, nutmeg, tapioca and generously season with salt. Place the saucepan over medium-low heat and cook until the sauce thickens. Set aside until ready to use

4.

5.

6.

Using an 8 x 11-inch baking casserole dish, spread about 1/2 cup of meat sauce over the bottom of the dish. Add a layer of 4 lasagna sheets, a layer of 1/3 of the meat sauce, 4 lasagna sheets, 1/3 of the meat sauce, a layer of chopped spinach, a layer of 1/2 the white sauce, 1/2 of the shredded mozzarella, 4 lasagna sheets, remaining 1/3 of meat sauce, remaining 1/2 of white sauce and sprinkle of remaining 1/2 of shredded mozzarella. Cover the dish with foil paper, with the shiny side facing out and bake for 30 minutes. Remove the foil paper and continue baking for about 15 minutes longer, until the cheese has melted and starts to turn a golden color

7.

Rest the lasagna for 20 - 30 minutes before serving
Leave a Comment
I made the lasagna yesterday and it was so flavorful and the sauce was just right. Thank you!
Hi, I didn't check back to see your response. I believe I used catelli. I am going to make it again but will bake it, then freeze it because we are taking it on a trip. I think that will help!
I made the lasagna last night, it was very tasty. But I had to let it sit extra 10 minutes, then the lasagna was ready for slicing. Overall, 5 Star!
Kristina
I am sorry to hear that Laurie, our recipes are triple tested. The only thing that I can think of that would change the consistency, is the oven-ready pasta. Just curious, which brand did you use? Thank you for your input.
I was very excited to see this recipe but think it needs some work. I gave the 3 start rating because it was so runny. The flavour was very nice but it was very runny. Even once refrigerated, it would not properly hold its shape. I did not cook the lasagne noodles before using and I used a few extra sheets but there was still too much liquid. The next time I make it, I will omit the zucchini and use mushrooms but will sauté them to reduce the moisture. I will reduce the liquid in the meat sauce to 2 cups and will increase the amount of tapioca starch. The recommended pan size was far too small, I recommend using a 9" x13" pan.