Brownie Ice Cream Lasagna – Gluten free
Published on Jul 15, 2022
by
Kristina Stosek
Prep Time:

20 minutes
Cook Time:

12 minutes
Serves:

10 slices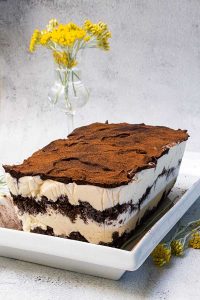 ​This post may contain affiliate links, please see our
privacy policy
for details
This Brownie Ice Cream Lasagna is gluten-free, made with homemade no churn vanilla ice cream, layered between fudgy brownie cake and topped with ganache chocolate. This frozen gluten-free dessert is what everyone is talking about this summer.
What does brownie ice cream lasagna taste like?
The best way to describe this gluten-free frozen dessert is creamy vanilla ice cream sandwiched between delicious chocolaty brownie layers topped with chocolate ganache. If you like cold desserts, check out our list of no bake or chilled gluten-free desserts.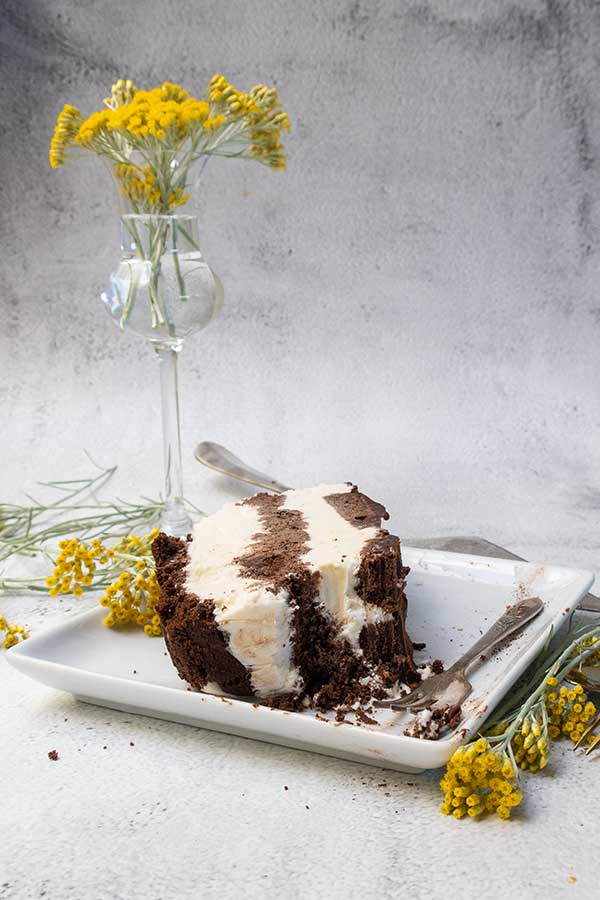 What is no churn ice cream?
It means you do not need an ice cream maker or raw eggs. Instead, you will need a mixer, three ingredients, plus flavour. I used vanilla, the most popular ice cream flavour in America.
What keeps this no-churn egg-free ice cream soft?
To keep this ice cream soft, I added whipping cream. It is the cream that will keep the ice cream softer.
Snapshot of brownie ice cream lasagna

This frozen gluten-free dessert is easy to make, is budget friendly and is made with ingredients that you probably already have in your pantry.
only 11 ingredients
Yes, this gluten-free brownie ice cream lasagna recipe is made with only 11 ingredients plus salt. You will need; a gluten-free flour blend, cocoa powder, whipping cream, condensed milk, butter, olive oil, chocolate chips, egg, sweetener (I used coconut sugar), vanilla, baking soda and salt.
Step-by-step instructions;
Make the brownie batter. This takes 5 minutes when using an electric mixer. First, be sure the butter and the egg are at room temperature.
Spread the batter on a lined rimmed baking sheet or baking pan and bake for 12 minutes. Cool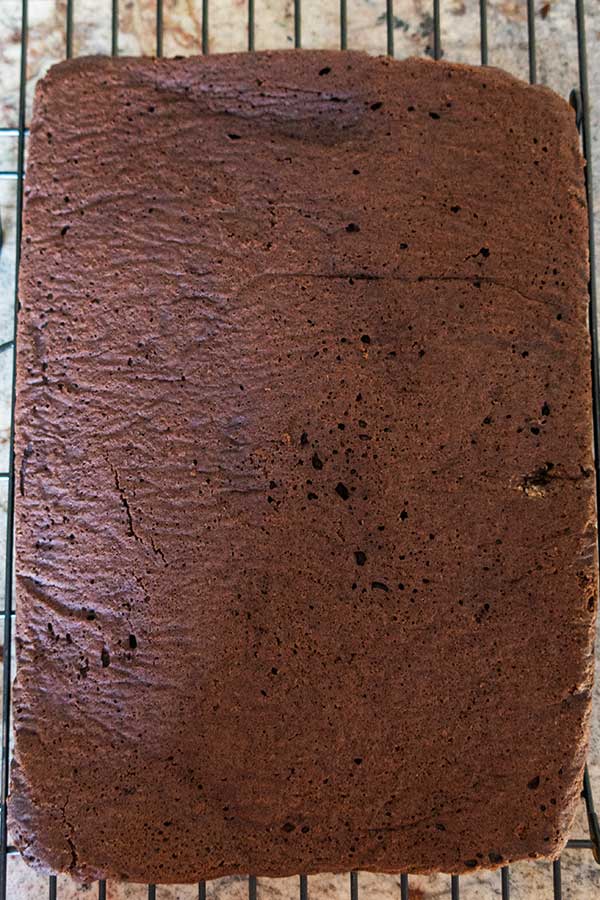 While the brownie cake is baking, make the no-churn ice cream. It is best to use an electric mixer to whip the whipping cream until you have SOFT PEAKS. Next, add condensed milk, vanilla and a pinch of salt and whisk again until everything is incorporated and has soft peaks.
By now, the brownie cake is cooled, and it's time to assemble the ice cream lasagna. First, line a standard loaf pan with plastic wrap.
Slice the cake into three even pieces. Take the first piece and crumble it with your hands to create the base of the lasagna, pressing the crumbs on the bottom of the pan.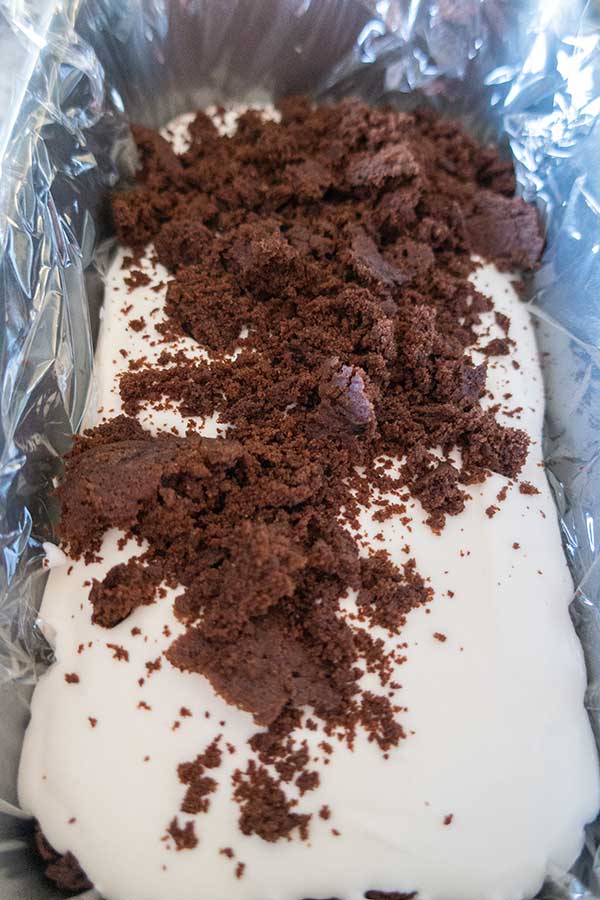 Scoop out half the ice cream and spread it evenly over the brownie crumbs. Top with a second layer of brownie crumbs, pressing them gently into the ice cream.
Finish with the ice cream and slices of the last piece of brownie. Place the ice cream lasagna in the freezer for 30 minutes. Do not cover the dessert.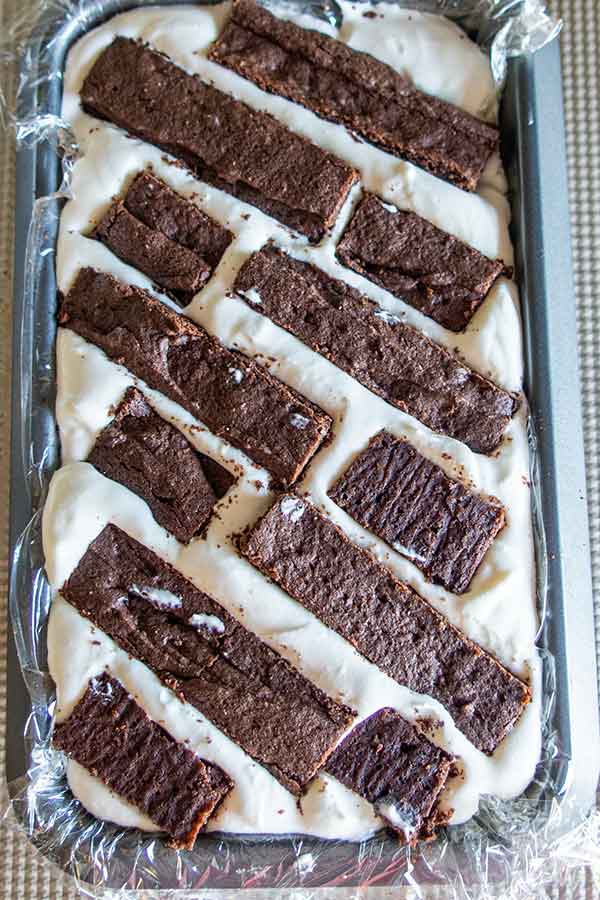 After 30 minutes in the freezer, top the cake with chocolate ganache. The ganache takes about 3 minutes to make in a double boiler or over low heat in a heavy bottom small saucepan by melting the butter with chocolate.
Place the pan in the freezer for 15 minutes without covering, then cover tightly with plastic wrap. The 15 minutes in the freezer will solidify the chocolate and will not stick to the wrap when you wrap it.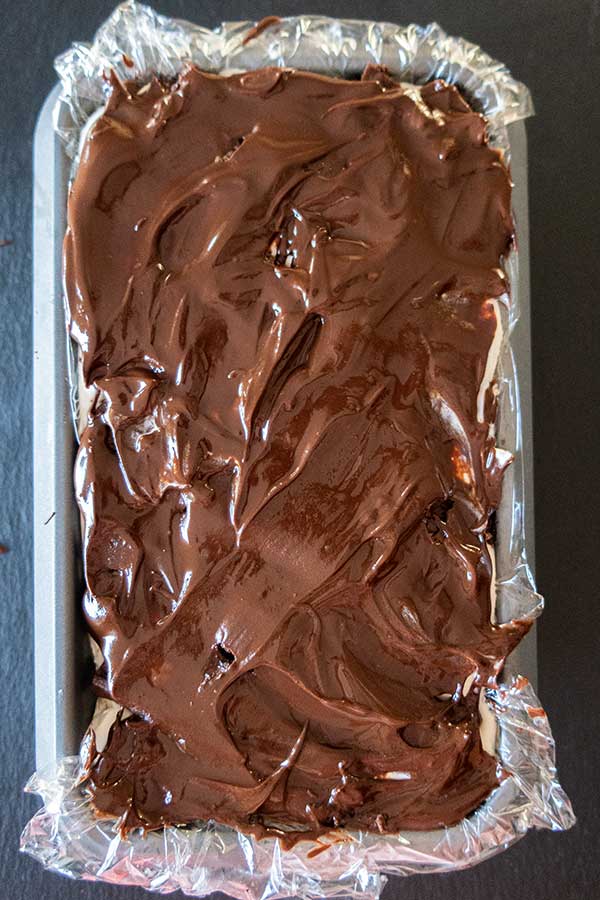 Once the brownie ice cream lasagna is frozen, the plastic incasing the frozen dessert peels off easily.
Substitutions and tips;
Egg; flax egg
Vanilla; 1/4 cup cocoa powder or 1 tablespoon of instant coffee melted in 2 teaspoons of hot milk
Coconut sugar; granulated sugar
Baking soda; 1 teaspoon baking powder
Chocolate chips; 4 oz. of chopped good quality gluten-free chocolate bar
Whipping cream; to make soft peaks use the lowest speed setting to avoid over-whipping the cream
Rimmed baking sheet; you can use same size baking pan
Leftover condensed milk; you can freeze it for future use
Standard loaf pan for the cake; you can use a round spring form pan lined with plastic wrap
The layers; you can make this dessert into 3 layers by dividing the brownie cake into 4 pieces and the ice cream into 3
At what temperature should you serve ice cream cake?
It would be best if you served the ice cream between 6 F – 10 F. To get the entire brownie ice cream lasagna dessert to this temperature, allow the ice cream to sit at room temperature for 10 – 20 minutes before serving.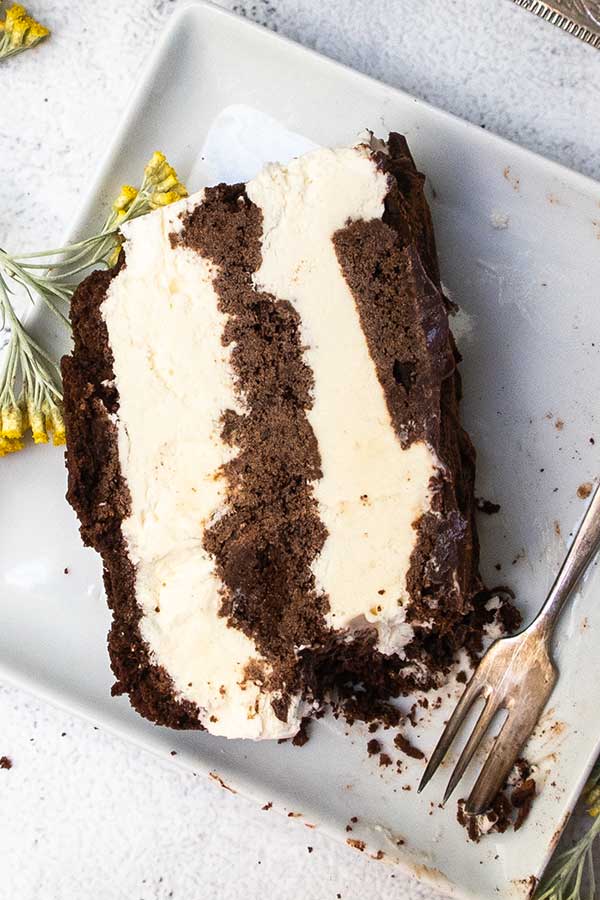 The perfect frozen summer dessert to keep in the freezer for when the temperatures are rising! A sprinkle of cocoa powder just before serving makes this frozen dessert even prettier.
I hope you give this gluten-free brownie ice cream lasagna dessert a try. The recipe is easy, but it takes a little extra time to assemble. I hope I have answered most of your questions. Feel free to comment with suggestions or questions. I always love to hear from you. Enjoy!
Let's Connect!
Be sure to FOLLOW US on FACEBOOK and PINTEREST.
Many thanks!
Kristina xx
Brownie Ice Cream Lasagna – Gluten free
Published on Jul 15, 2022
by
Kristina Stosek
Instructions
1.

2.

In a large mixing bowl, cream the butter, olive oil, sugar, and cocoa powder until fluffy. Add water, egg and vanilla and mix until combined

3.

In a separate bowl, whisk the flour, salt, and baking soda. Add to the butter mixture, and using a spatula, mix until combined

4.

Transfer the batter to the lined baking sheet, and using an offset spatula, smooth it out into an even layer. Don't worry if the top isn't completely smooth. Bake for 12 minutes

5.

Allow the cake to cool completely on the baking sheet

6.

NO CHURN VANILLA ICE CREAM

7.

In a large bowl, whip the cold cream until you get soft but not stiff peaks. I used a stand mixer on the lowest speed setting to avoid over-whipping the cream.

8.

Add the condensed milk, vanilla and salt and whisk again until combined, and you create soft peaks. About 30 seconds

9.

10.

11.

Turn the cooled cake onto your work surface, and peel away the top sheet of parchment paper

12.

Cut the cake into 3 equal pieces. Each piece should be about 4 x 3-inches

13.

Roughly crumble the first brownie piece and press a layer of the crumbs to the bottom of the loaf pan

14.

Spread half the no-churn ice cream over the crumbs and tap the pan a few times to create an even layer

15.

Place another layer of cake crumbs and gently press them into the ice cream

16.

Spread the second half of the ice cream over the cake crumbs and tap the pan a few times to create an even layer

17.

To finish, slice the last piece into 1-inch strips and press them into the ice cream layer. *see photo in the post. Freeze for 30 minutes without covering the pan

18.

19.

Using a double boiler or a heavy bottom saucepan, melt the chocolate with butter and mix until combined. Drizzle the chocolate sauce over the cake and freeze for 15 minutes without covering

20.

Once the chocolate has firmed up, cover the cake with plastic wrap and freeze for 6 hours or overnight
Leave a Comment
What a great idea, this is a perfect Birthday cake for my daughter, she loves ice cream and she loves brownies YEY!
This ice cream cake is excellent and so easy to make. I made it for my son's Birthday and all the kids loved it. This recipe is a keeper!