Gluten Free Vegan Chocolate Cake with Ganache Frosting
Published on Jun 12, 2017
by
Kristina Stosek
Prep Time:

20 minutes
Cook Time:

35 minutes
Serves:

8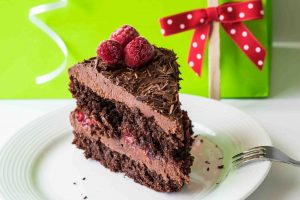 ​This post may contain affiliate links, please see our
privacy policy
for details
This gluten free vegan chocolate cake is extra chocolaty, moist and rich tasting. The ganache frosting and the fresh raspberries are the perfect finishing touch to this decadent dessert.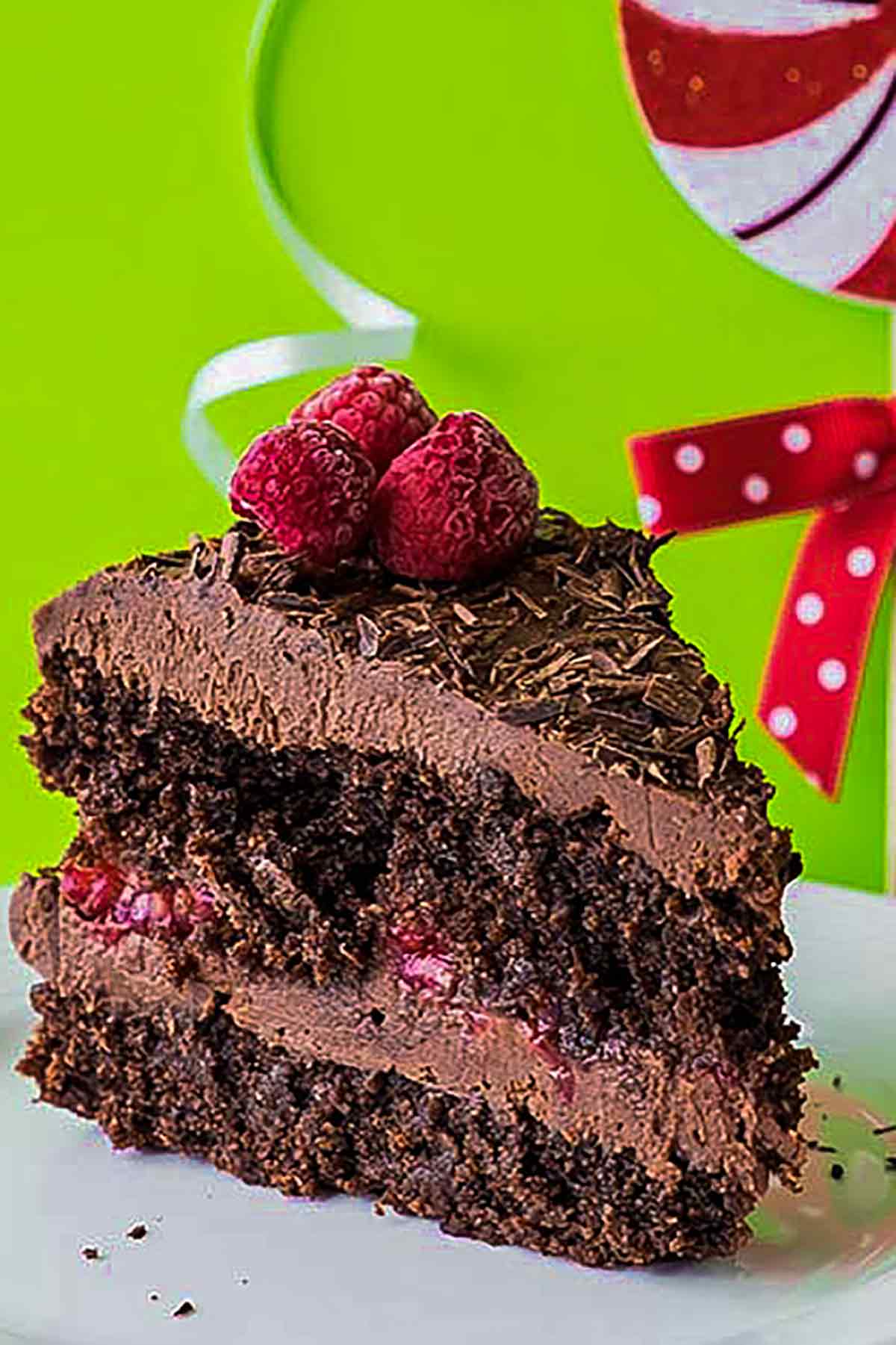 Is vegan chocolate cake better for you?
Vegan chocolate cake is delicious and a healthier option than traditional chocolate cake. This dessert is made with plant-based ingredients like almond milk, healthy olive oil, and flaxseed and is perfect for those looking to avoid dairy, gluten and eggs.
The ganache frosting is made with coconut cream and dark chocolate, making it a rich and decadent topping for this already amazing chocolate cake.
Why not check out our complete list of gluten free vegan desserts for inspiration?
best egg substitutes for gluten free cakes
There are a few different ways to make a gluten free vegan chocolate cake without using eggs. One way is to use a flax egg, which is made by mixing ground flaxseed with water and letting it sit for a few minutes to thicken.
Another option is to use a chia egg, which is made in the same way as a flax egg but with chia seeds instead of flaxseeds.
You can also use powdered egg replacer in place of eggs.
These options will work well in most gluten free cake recipes, though you may need to experiment to find the one you like best. One thing to keep in mind is, you should not replace more than 2 eggs per recipe for best results.
best fats to use in vegan cakes
A few different types of fats can be used in vegan cakes, and each has its unique benefits. Here are some of the best fats to use in vegan cakes:
Olive oil is a healthy fat that can add moisture and richness to vegan cakes. Although some might argue that olive oil has a strong flavor, it doesn't affect most baked goods. You can use light olive oil which is not as flavorful.
Vegan Butter is excellent if you want to replace butter in vegan cakes. It's easy to work with and has a neutral flavor that won't interfere with the other flavors in the cake.
Avocado oil is another healthy oil with a mild flavor that makes it perfect for gluten free vegan baking.
Coconut oil is another good option for vegan cakes. Unfortunately, it does have a mild coconut flavor which may not be suitable for some desserts.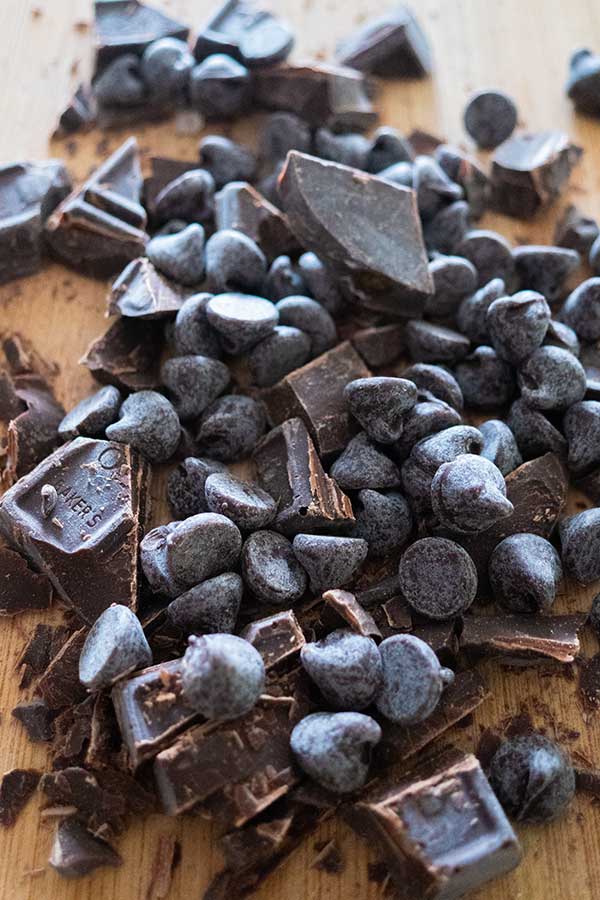 Is chocolate vegan?
The answer is that it depends on the brand. For example, some chocolates are made with milk or other animal products, while others are made with plant-based ingredients. So be sure to read the label.
What is ganache frosting?
Ganache frosting is a type of chocolate frosting made typically with chocolate, cream and icing sugar. The ratio of chocolate to cream can vary, but it generally is 1:1 or 2:1. The flavor will vary depending on the chocolate used.
You can use ganache frosting as a filling or topping for cakes, cupcakes, or other desserts.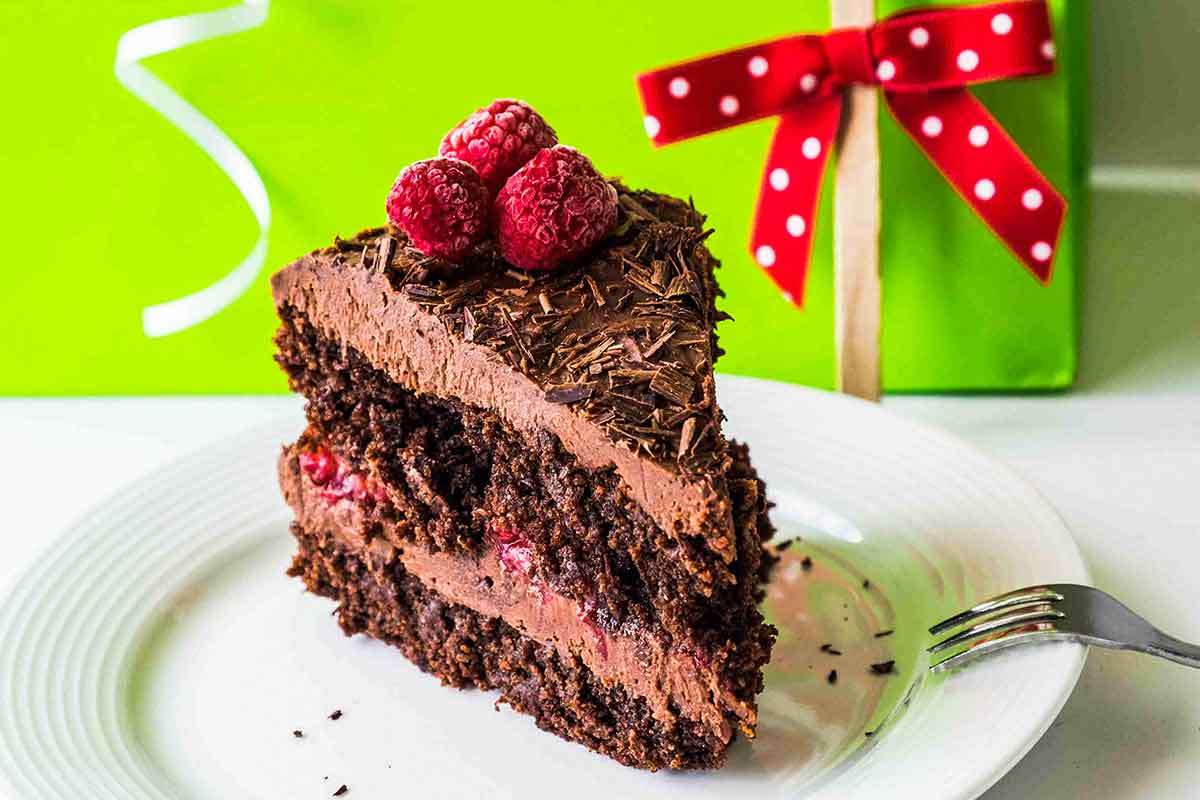 How long will Gluten Free Vegan Chocolate Cake stay fresh?
Assuming you keep the cake refrigerated and in an airtight container, it will stay fresh tasting for up to three days.
best way to store gluten free cake
There are a few things to keep in mind when storing gluten free cake:
Make sure the cake is completely cooled before wrapping or storing it. If the cake is warm, it will sweat and become moist, making it go stale quicker.

Always wrap the cake tightly in plastic or foil or store it in an airtight container to keep out any air.

Store the cake in a cool, dry place such as the fridge.

Make sure to eat the cake within a few days for the best texture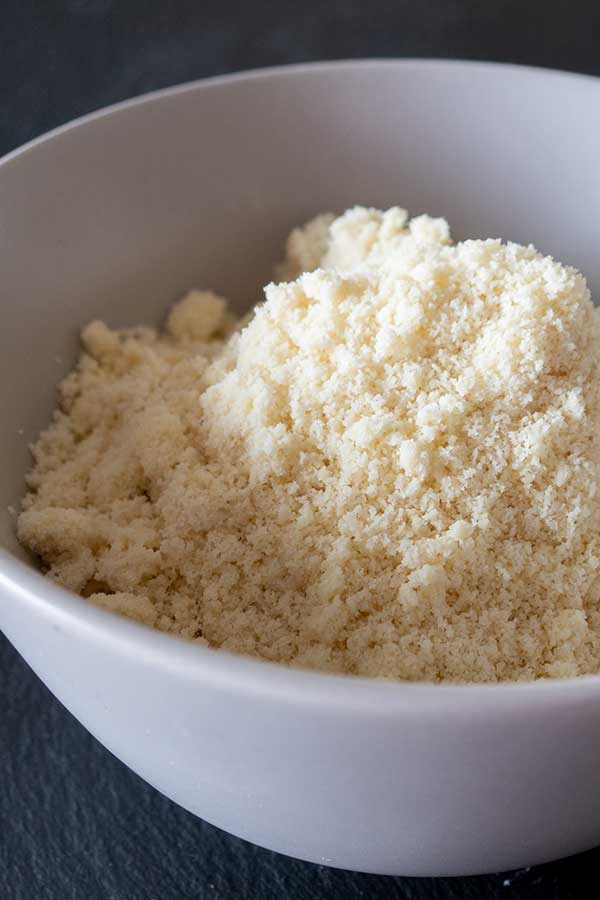 Substitute for almond flour in gluten free baking
Almond flour is often used in gluten free baking because it adds moisture. There are substitutes for almond flour in gluten free baking, but they will give you different results.
Some popular substitutes include coconut flour, buckwheat flour, rice flour, millet flour and oat or quinoa flour. These flours have different properties that make them better or worse for specific recipes.
For example, coconut flour is very absorbent, so you will need to add more liquid than the recipe requires. Coconut flour also adds a mild coconut flavor to baked goods.
Light buckwheat flour is a healthy alternative to almond flour with a rich nutty flavor. However, buckwheat flour should be used sparingly because it can make your baked goods dense and heavy.
Rice flour is the most common substitute for almond flour, however, the texture of the crumb will be dryer. In addition, you can't use it 1 to 1 to replace almond flour.
Millet flour is a healthy alternative and my personal favorite. It will give the vegan cake an acceptable texture without adding almond flour.
Finally, quinoa or certified oat flour are protein-packed alternatives to almond flour and can be used in sweet and savory recipes.
In conclusion, vegan, gluten-free cakes must use a combination of gluten-free flours for the best results. This is why you should always ask for flour replacements in a particular recipe if necessary.
Why add almond flour to gluten free cake recipe?
Almond flour is a key ingredient in this recipe that helps to make the cake moist with a tender crumb.
In addition to being gluten-free, almond flour is also high in protein and fiber. This makes it an excellent choice for those on a vegan or gluten-free diet. Furthermore, almond flour has a lower glycemic index than other types of flour, meaning it won't cause spikes in blood sugar levels.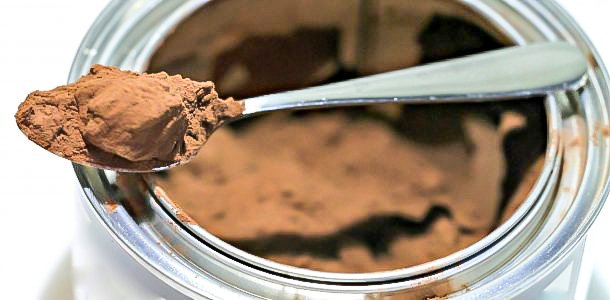 Is cocoa powder gluten free?
Yes, pure cocoa powder is gluten free. So when baking a delicious and gluten free chocolate cake, cocoa powder is a safe choice.
Best non-dairy milk for gluten free vegan cake and why?
Many types of non-dairy milk can be used in gluten free vegan chocolate cake, but almond milk is our favorite. Almond milk is a good choice for several reasons:
It is relatively low in calories and fat compared to other types of milk.

It has a high protein content, which helps to keep the cake moist.

Almond milk has a neutral taste that will not interfere with the flavors of the cake or frosting.

Almond milk is widely available and relatively inexpensive.
the takeaways
The takeaways from this recipe are simple: with the right ingredients, making a delicious and decadent chocolate cake that is vegan and gluten-free is possible. This dessert is moist, fluffy, and has a rich chocolate flavor that will satisfy anyone that loves chocolate.
Need more chocolate dessert recipes? Check out our selection of gluten-free chocolate desserts.
Gluten Free Vegan Chocolate Cake with Ganache Frosting
Published on Jun 12, 2017
by
Kristina Stosek
Instructions
1.

Preheat oven to 350 F. Spray two 8-inch round cake pans with coconut oil or brush with extra virgin olive oil. Cut out circles of parchment paper and place on the base

2.

In a large bowl whisk together flour, sugar, cocoa powder, baking powder, salt, and xanthan gum

3.

In a separate bowl beat together flax egg, milk, olive oil, lemon juice and vanilla. Make a well in the dry ingredients and add the wet mixture. Mix to combine

4.

Divide batter between two cake pans and bake for 30 minutes, or until a toothpick inserted in the middle comes out clean. Cool completely on a cooling rack before frosting

5.

GANACHE FROSTING: add coconut cream and coconut oil into a small saucepan and heat until almost boiling. Remove from the stove

6.

Place chocolate pieces into a glass bowl and pour hot coconut cream over the top. Allow the chocolate to melt, then whisk until creamy

7.

Gradually add icing sugar and using an electric mixer whisk until smooth. Refrigerate for 30 minutes. After the frosting is cooled, whisk it up again. If needed add a little more icing sugar until you reach desired consistency

8.

Frost one cake with half the frosting and scatter most of the raspberries over the frosting. Place the other cake on top and gently press down. Finish with remaining frosting, some raspberries and shaved chocolate if you wish
Leave a Comment
this is the best gluten free and vegan chocolate cake recipe I have ever tried. Thank you!