20 Minute Keto Pizza For One
Published on Oct 29, 2021
by
Kristina Stosek
Prep Time:

5 minutes
Cook Time:

15 minutes
Serves:

9-inch pizza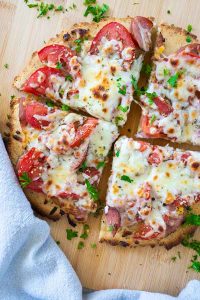 ​This post may contain affiliate links, please see our
privacy policy
for details
This Keto Pizza For One has been a long time coming. We all know how satisfying a delicious cheesy pizza is. This 20-minute keto pizza recipe is when you are short on time or have that last minute craving for Italian food and want to avoid carbs.
Seriously, every last bite of this grain-free pizza is so good. It will leave you wanting more.
I don't say this lightly when I say this keto pizza recipe, for one, is perfect. Savoury, with a touch of Italian herbs and plenty of cheese. This grain-free pizza is nothing like the Mediterranean Keto Pizza, and the recipe is super simple. The crust is just right, and yes…no cauliflower in the crust!
How to make keto pizza for one?
Start with mixing the dry ingredients, almond flour, herbs, baking soda, salt and some parmesan cheese.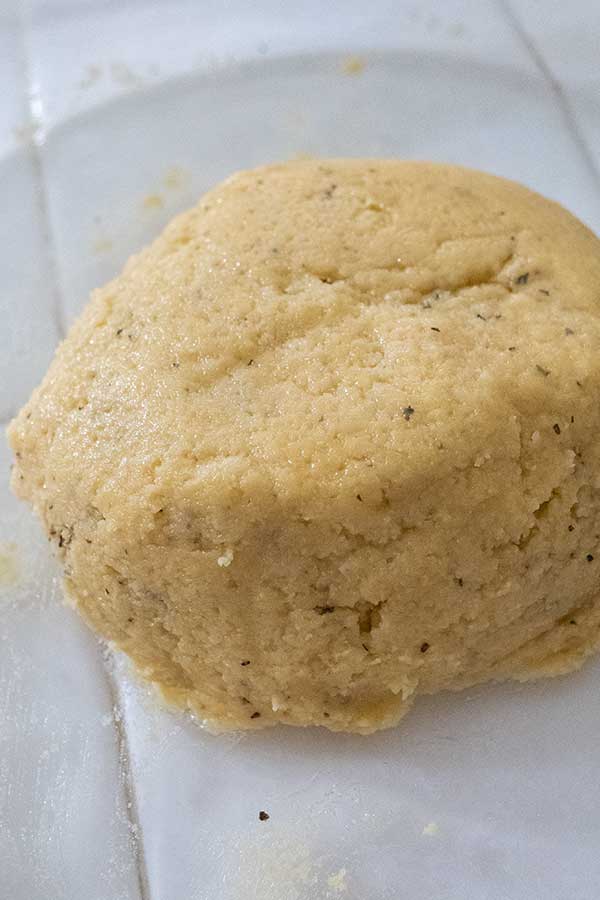 Next, add an egg, olive oil and apple cider vinegar. Mix to create a ball of dough, and you are set.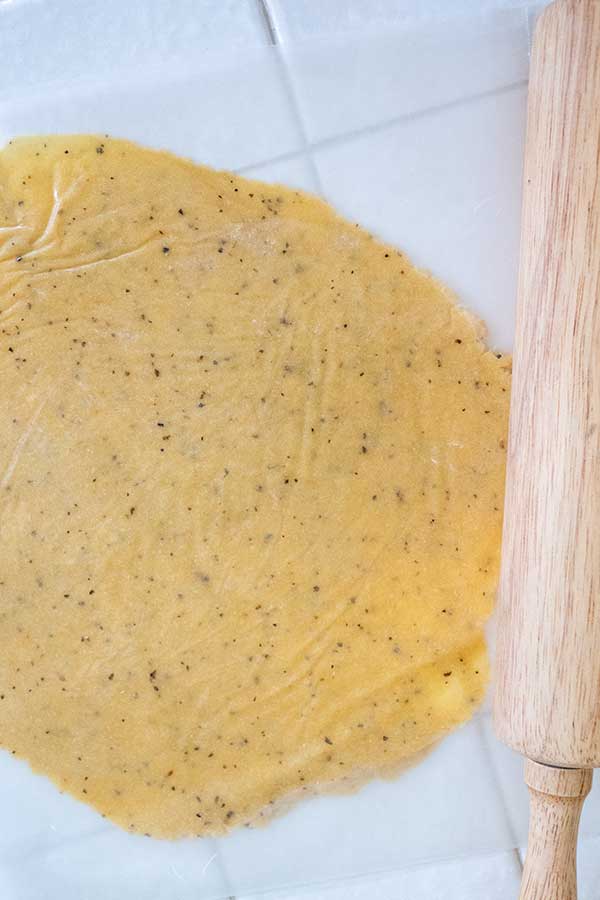 Place the dough between two sheets of parchment paper and roll it out to about a 9-inch circle or a rectangle. The shape doesn't have to look perfect. The pizza will look rustic if you don't make it too perfect.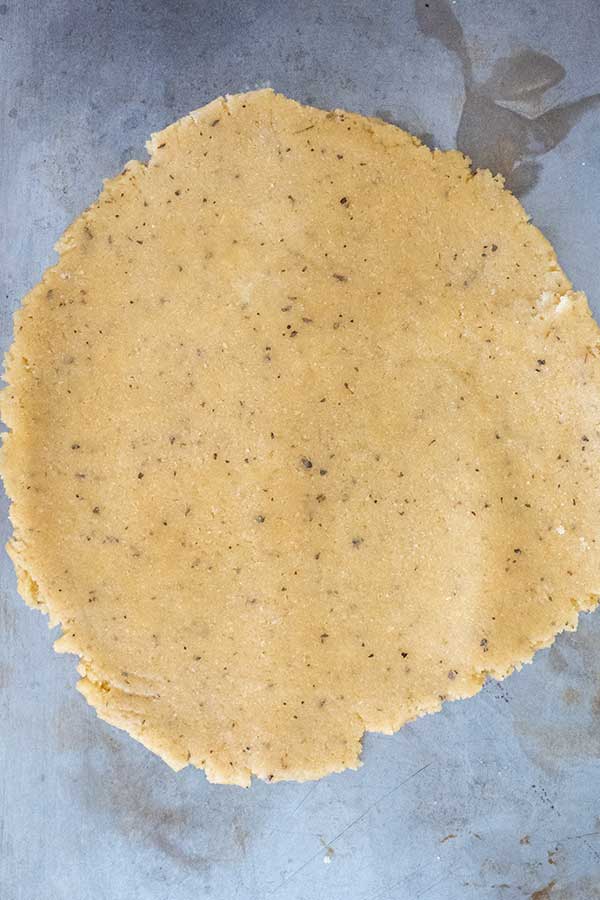 Three key steps to make keto pizza dough.
The following steps are what make this keto pizza so good. First, don't roll the pizza dough too thin. The pizza should be about nine inches in diameter. Next, use a non-stick sheet pan, and finally, the oven has to be preheated.
keto toppings for pizza
Using a fresh tomato will make all the difference in the flavour of this low-carb pizza. I do not use pizza sauce. One medium tomato has only about 3 grams of net carbs, and the freshness is unbeatable.
Thinly slice the tomato and mash it with a fork. Spread the fresh tomato mixture over the crust and sprinkle it with herbs. I like to use a sprinkle of garlic, basil, oregano and crushed red peppers. It's the seasoning that makes all the difference in the deliciousness of this low-carb pizza.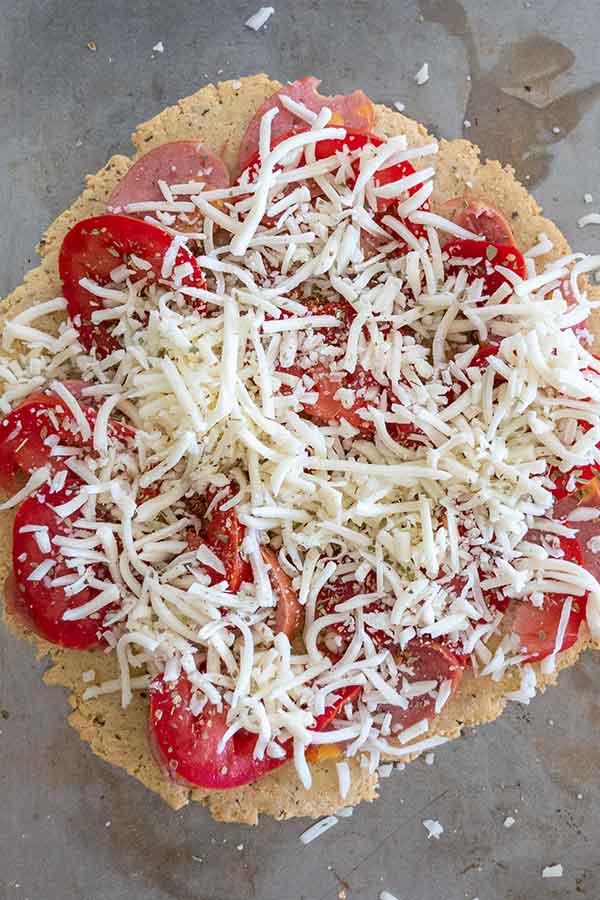 the toppings for a small pizza should be sliced thinly
Next, add either some pepperoni or ham, or if you are keeping this keto pizza vegetarian, use your favourite veggies. It is essential that the toppings are sliced thinly. If you are using pepperoni, add some slices on top of the cheese, the pepperoni will get a punch of extra flavour.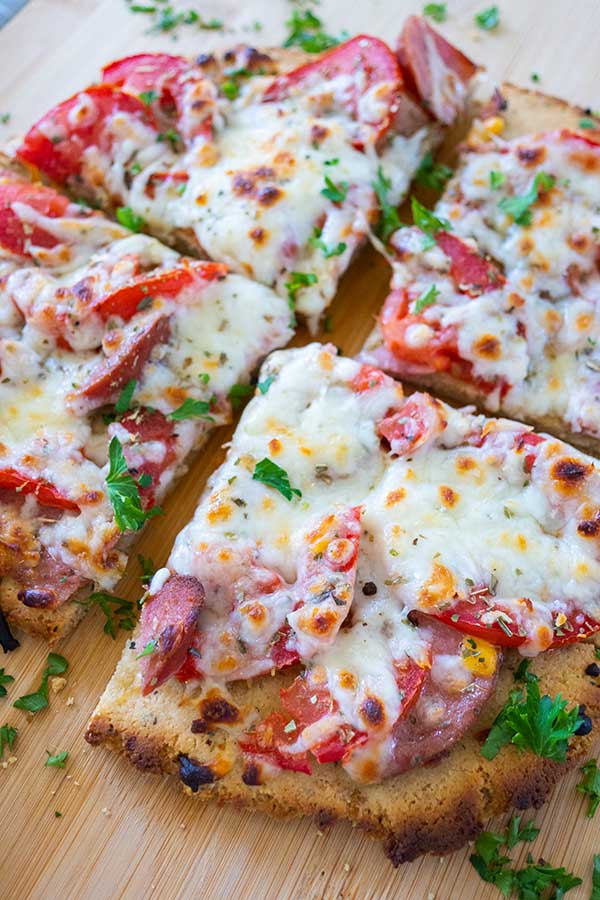 pizza for one should have a good melting cheeze
And lastly, the cheese. In this keto pizza, for one, I used only mozzarella cheese. But feel free to add your favourite good melting cheese or a blend of cheeses. And yes, at least one cup of shredded cheese.
I love cheese, so I used one and a half cups. If you want to splurge, burrata cheese is the best for cheese pizza topping. YUM!
The best part, it takes less than fifteen minutes to bake this keto pizza. If you like the cheese more golden, put the broiler on for about a minute…perfection!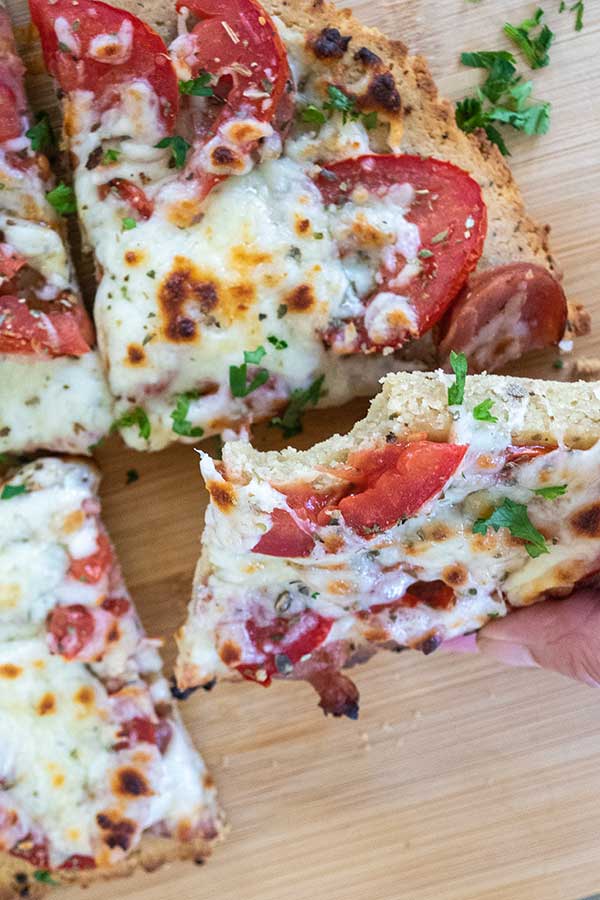 As soon as the pizza comes out of the oven, I add a sprinkle of fresh herbs such as basil or oregano. The herbs add extra freshness, and the pizza tastes as if it came from the best Italian pizzeria.
Suppose you need a large pizza, no problem. Double the recipe. This pizza is great for game day. So why not make enough for everyone. And remember, make the pizza on a sheet pan, skip the pizza pan. Slice it into squares and enjoy it hot!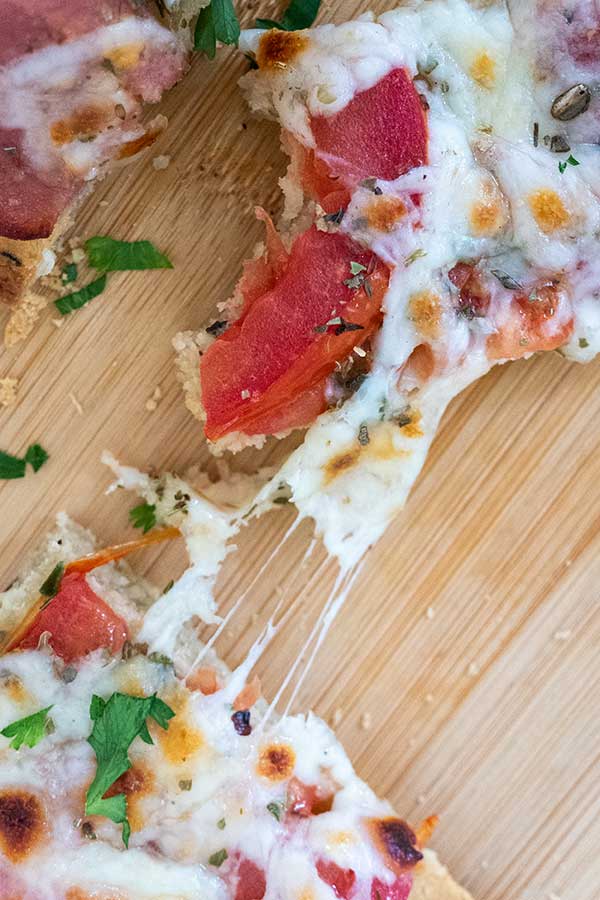 I love a good pizza and have many gluten-free pizza recipes on the blog. But when it comes to cutting back on carbs, this 20 minute keto pizza is my go-to recipe.
20 Minute Keto Pizza For One
Published on Oct 29, 2021
by
Kristina Stosek
Instructions
1.

2.

Using a medium bowl, whisk together dry ingredients (almond flour to salt)

3.

In a separate small bowl, whisk egg, olive oil and apple cider vinegar. Add to dry ingredients and mix until you form a ball of dough

4.

Roll out the dough between two sheets of parchment paper, and using one side of the paper, transfer the dough onto a sheet pan

5.

Bake for 10 minutes, then add the toppings. Continue baking until the cheese is bubbling, about 5 minutes. If you like the cheese to have a golden colour, turn on the broiler for about a minute. Keep an eye on the pizza as not to burn it.