Gluten Free Pasta Puttanesca
Published on May 29, 2023
by
Kristina Stosek
Prep Time:

3 minutes
Cook Time:

12 minutes
Serves:

6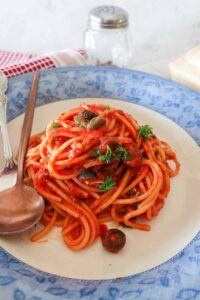 ​This post may contain affiliate links, please see our
privacy policy
for details
A luscious gluten free pasta puttanesca is classic Italian comfort food. Fresh pasta in a spicy tomato sauce with capers, olives, garlic, and anchovies saltiness is a pretty and exceptionally delicious pasta dish!
And as a bonus, this budget-friendly gluten-free pasta dish takes only 15 minutes to make from start to finish. Enjoy this tasty Italian meal at the end of a busy day, and if you have big appetites to feed, dress it up with a green salad, add a slice of gluten free garlic bread or add it to your barbeque list as a side to go with everything.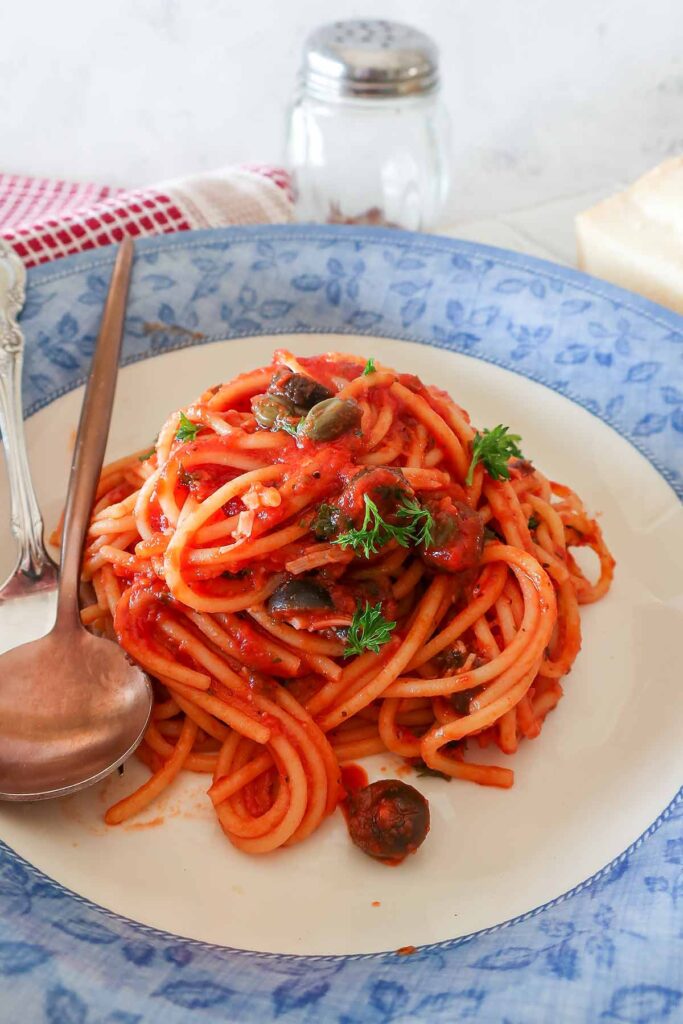 What is pasta puttanesca?
Pasta puttanesca is a classic Italian dish that originated in Naples.
It typically consists of spaghetti or another long pasta tossed in a sauce made from tomatoes, garlic, olives, capers, and anchovies. The salty umami flavor of the anchovies adds depth to the sauce without overpowering the luscious tomato sauce.
If you are looking for easy gluten free pasta dishes check out the Gluten-Free One Pot Chicken Paprikash Pasta or the Gluten Free Tomato Pasta Bake Dish.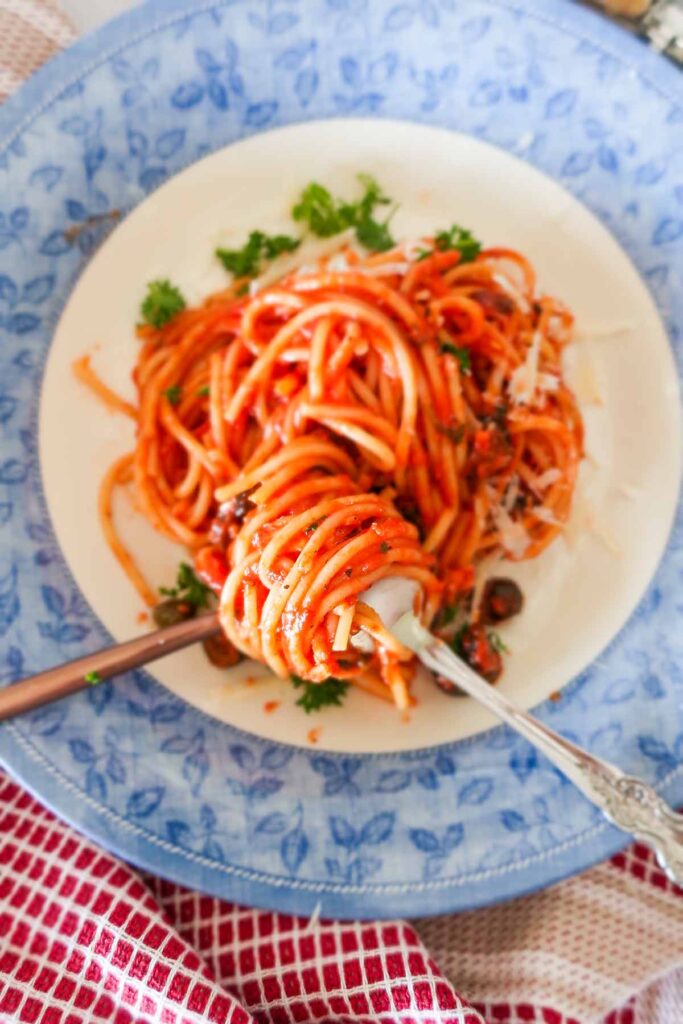 Does classic pasta puttanesca have parmesan cheese?
Traditional Italian recipe for this dish does not call for Parmesan, but many people enjoy adding it for an extra burst of flavor and creaminess.
Or, add a sprinkle of nutritional yeast flakes if you follow a plant-based diet for extra flavor and added nutrition.
What can I substitute anchovies with?
Anchovies are a key ingredient in traditional pasta puttanesca, but if you don't like them, here are a few options to help you achieve a similar savory taste.
Miso paste – 1/4 cup
Dried mushrooms – pour just enough boiling water to cover them and soak for 5 minutes before adding the mushrooms and the liquid to the garlic mixture.
Extra olives – add an additional 1/2 cup of chopped olives.
Tamari sauce – to taste.
Fish sauce – to taste.
Gluten free bacon – cook 2 strips of chopped bacon with the garlic before adding the remaining ingredients.
Anchovy paste – 1 – 3 tablespoons, to taste.
Add-ins
Would you like more flavor or texture? Add some scallops, shrimp, or flaked tuna to the sauce.
How do you know if the gluten free pasta is cooked al dente?
Cooking pasta al dente is essential for achieving the perfect texture and flavor. But how do you know if your gluten free pasta is perfectly cooked?
First, follow the cooking instructions on the package, as other types of gluten free pasta may require different cooking times.
Al dente pasta should be firm but not hard in the center. You should feel a slight resistance when biting into it, but it shouldn't be crunchy or undercooked. The outer layer of the pasta should also be tender.
If you're unsure whether your pasta is cooked al dente, check its doneness two to three minutes before the suggested cooking time on the package. Remember that the hot noodles will continue to cook when you add them to the sauce until they reach room temperature.
Why do you need to add extra salt when cooking pasta?
Salt is a key component in cooking pasta. Adding extra salt to the boiling water before adding the pasta can make all the difference.
Salt enhances the flavor of the pasta itself. Without enough salt, even the most flavorful sauce won't be able to bring out its true potential.
Adding your gluten-free pasta to unsalted water is more prone to clumping together and becoming starchy as it cooks. Adding salt to the water helps prevent sticking.
So don't be afraid to add a generous amount of salt to the water before adding the pasta.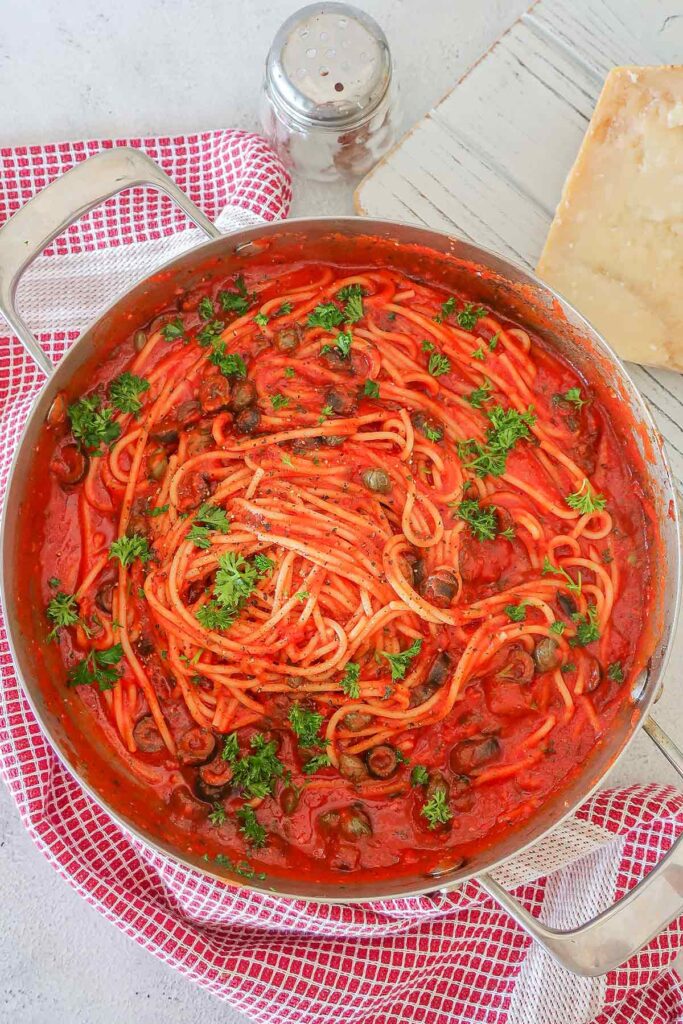 4 Easy Steps to Make Gluten Free Pasta Puttanesca
STEP ONE: First, get the pasta going. Bring a large pot, about six quarts of water, and 2 tablespoons of sea salt to a boil and add the pasta. Cook until al dente.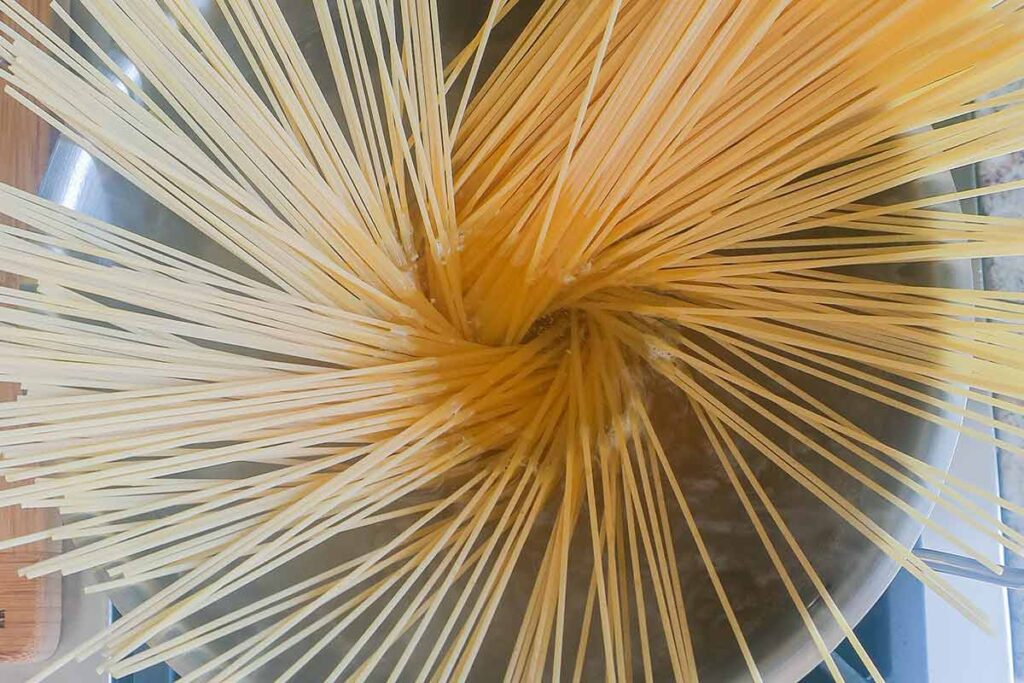 STEP TWO: While the pasta is cooking, make the base, olive oil, garlic, basil, anchovies, basil, red pepper flakes, parsley, capers, and olives. Saute for two minutes.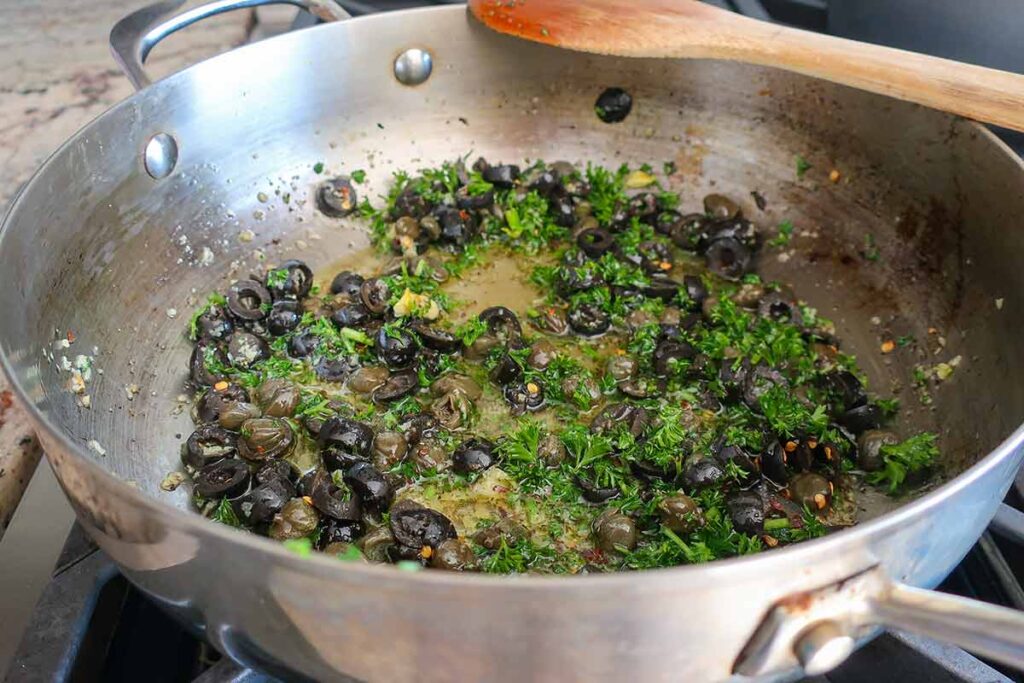 STEP THREE: To finish, add crushed tomatoes and lemon zest. Simmer two minutes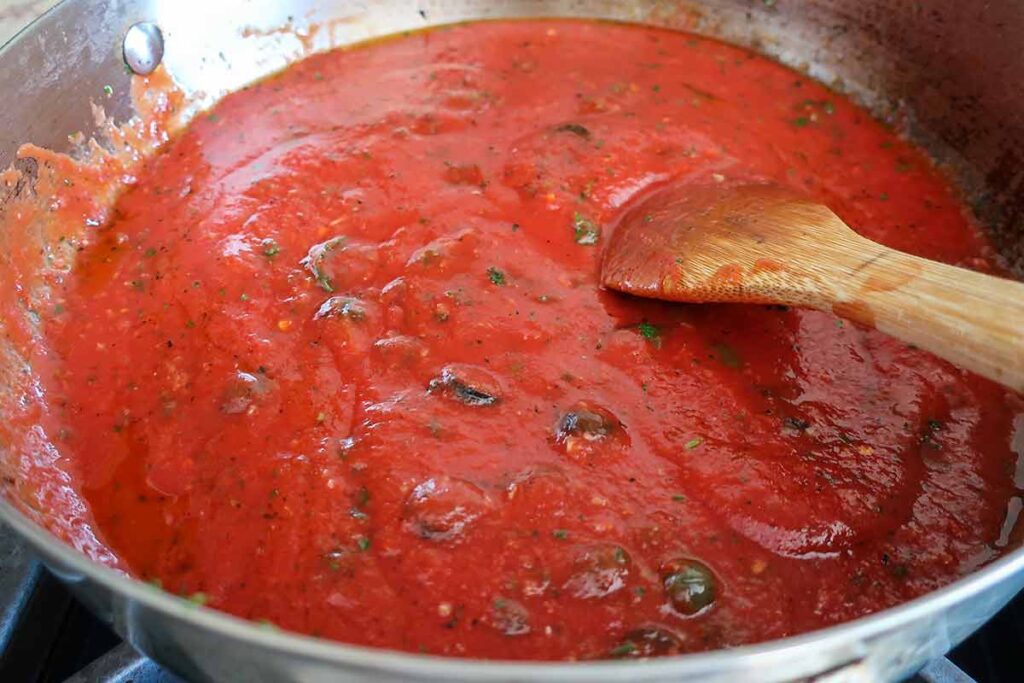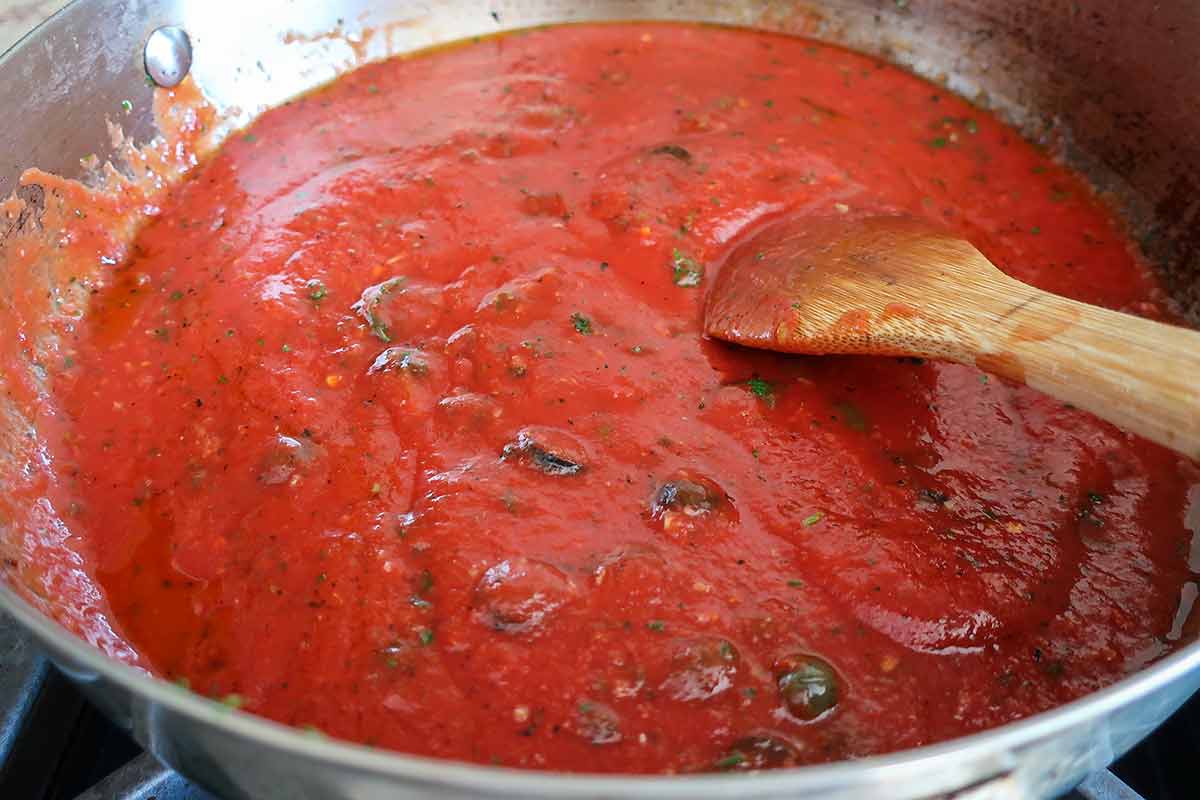 STEP FOUR: Add cooked pasta straight from the boiling water into the sauce using tongs and toss or stir to coat with the sauce. If the sauce is too thick, add some pasta water. Done!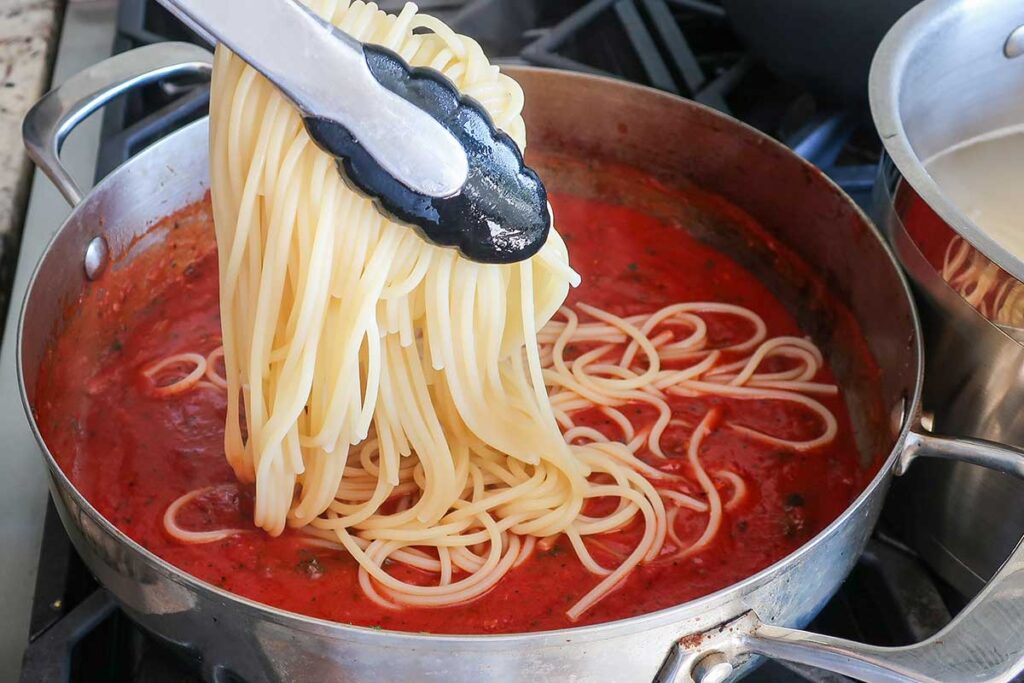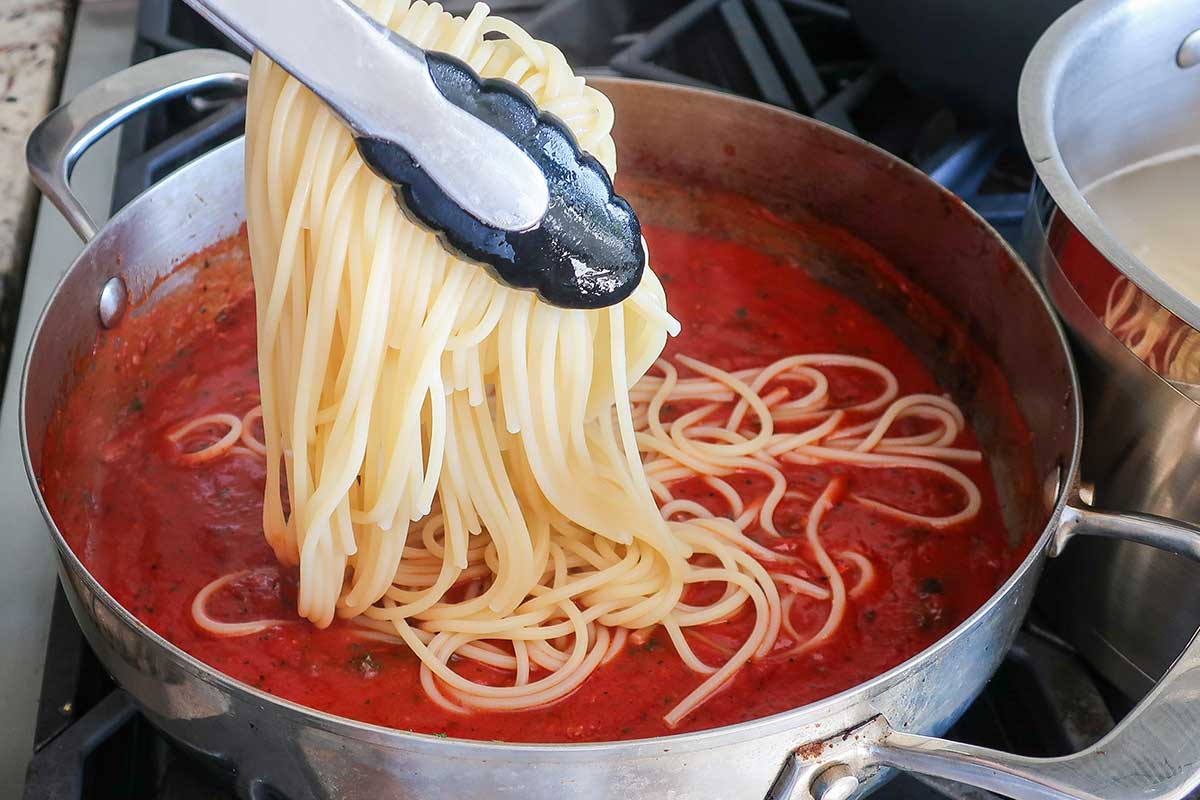 favorite sides to gluten free pasta puttanesca
Choosing the right side dish can make all the difference when serving gluten-free pasta puttanesca.
A fresh and crisp salad is always a great option to balance out the bold flavors of this Italian classic. A simple arugula or mixed greens salad with fresh lemon juice and olive oil is a perfect choice.
Grilled chicken or shrimp can be added as a side dish if you want protein. Marinate them in garlic, herbs, and lemon juice before grilling for the maximum flavor that pairs well with puttanesca sauce.
And let's remember a delicious side of gluten free garlic bread, we especially love the Garlic Cheese Monkey Bread or the Gluten-Free Homemade Italian Bread with a smear of butter.
Whatever you choose as your side dish, remember that simplicity is key, allowing gluten-free pasta puttanesca flavors to shine through!
How many ounces of dry pasta per serving?
Determining the right amount of pasta per serving can be tricky, especially if you're not used to measuring your portions. However, there is a simple rule of thumb that you can follow: two ounces (or 56 grams) of dried pasta per person.
Remember that this measurement is only an estimate and may vary depending on appetite or dietary restrictions. For example, I suggest increasing the portion to three ounces if you cook for hearty appetites.
To ensure you get the most accurate measurement possible, use a kitchen scale to weigh your portions before cooking or use a pasta measuring tool.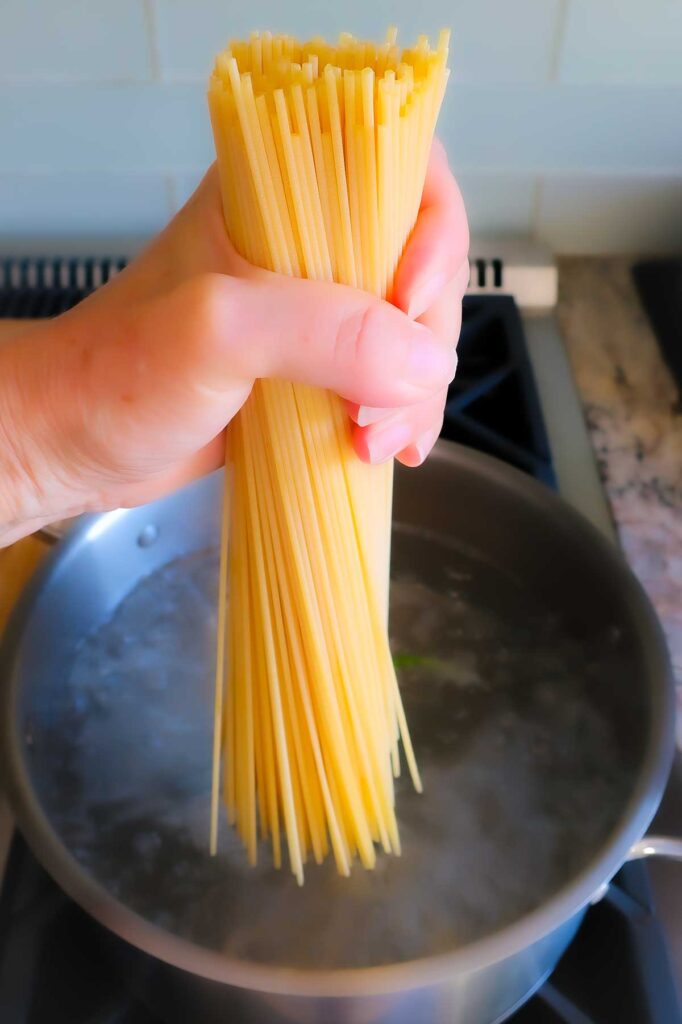 How to cook gluten free pasta so it doesn't stick together
Cooking gluten free pasta tends to stick together more than regular wheat-based pasta. Here are a few tips on how to stop the pasta from sticking.
Firstly, use a large pot and plenty of water when cooking your gluten free pasta. A good rule of thumb is to use at least six quarts of water per pound of pasta. This helps to prevent the noodles from clumping together.
Next, add salt to the boiling water before adding your pasta. Salt not only enhances the flavor but also helps to keep the noodles separate while they cook.
If you are using spaghetti or any long pasta, hold it in your hands and give it a short twist, then drop the pasta in the water. See pic above.
Stir the gluten free noodles frequently while they are cooking. This will help prevent them from sticking together and ensure that each strand cooks evenly.
If you are not adding the pasta to a sauce such as in this puttanesca recipe, once cooked, drain the pasta immediately and rinse with cold water to stop the cooking process. Be sure to shake off any excess water before serving or adding the sauce.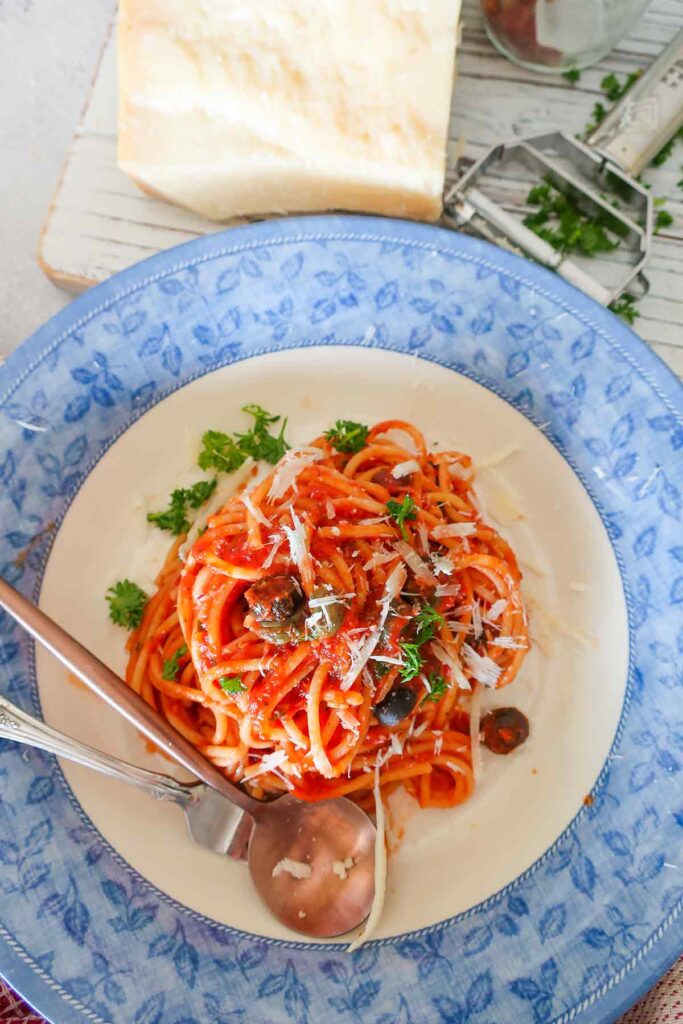 Can I prepare gluten-free pasta puttanesca in advance?
Yes, you can prepare gluten-free pasta puttanesca in advance, but it's best to store the sauce and pasta separately to prevent the pasta from getting too soft. When you're ready to eat, reheat the sauce and toss it with freshly cooked gluten-free pasta.
summary
Pasta puttanesca is a classic Italian dish that has found worldwide popularity. Its combination of salty anchovies, tangy capers, olives, garlic, and spicy chili flakes make puttanesca sauce exceptionally tasty and perfect for coating gluten free pasta.
And because of its simplicity, by using just a few basic pantry staples, you can create a budget-friendly, satisfying, and flavorful Italian meal in minutes.
Let's Connect!
Be sure to FOLLOW US on FACEBOOK or, check us out on PINTEREST. And don't forget to sign up for our newsletter. We always have something new and exciting for you!
Many thanks!
Kristina xx
Gluten Free Pasta Puttanesca
Published on May 29, 2023
by
Kristina Stosek
Instructions
1.

Bring a large pot of water to a boil and generously season with salt. Drop pasta in and cook until al dente. *see blog post for tips

2.

Heat a large skillet over medium heat and add oil, garlic, basil, anchovies, and red pepper flakes. Saute mixture until anchovies dissolve. About 2 minutes. Careful not to burn the garlic

3.

Add parsley, capers, and olives, and cook 2 more minutes

4.

Add tomatoes, lemon zest and season with salt and pepper to taste. Simmer for 2 minutes

5.

Add cooked pasta straight from the boiling water into the sauce using tongs and toss or stir to coat with the sauce. If the sauce is too thick, add some pasta water. (I always save some pasta water for leftovers) To reheat leftover pasta, stir in some pasta water and microwave until warmed through.

6.

*SEE TIPS, SUBSTITUTIONS, AND RECOMMENDATIONS IN THE BLOG POST