Gluten-Free Bread With Garlic Herb Cheese Swirl
Published on Sep 08, 2019
by
Kristina Stosek
Prep Time:

15 minutes
Cook Time:

40 minutes
Serves: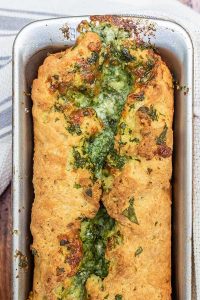 ​This post may contain affiliate links, please see our
privacy policy
for details
Gluten-Free Bread With Garlic Herb Cheese Swirl – Soft gluten-free bread with garlic herb cheese swirl for bread lovers. This recipe is special because it has a delicious buttery swirl made with herbs, garlic and cheese. Think of it as garlic bread except more flavourful because it has added herbs and cheese.
the texture
What I love about this gluten-free garlic bread is the texture, soft on the inside, with a crispy crust and this gluten-free bread will not crumble.
Gluten-free bread was probably the first thing on my list to create. I know from talking to my subscribers that they shy away from making bread, thinking it is difficult and complicated.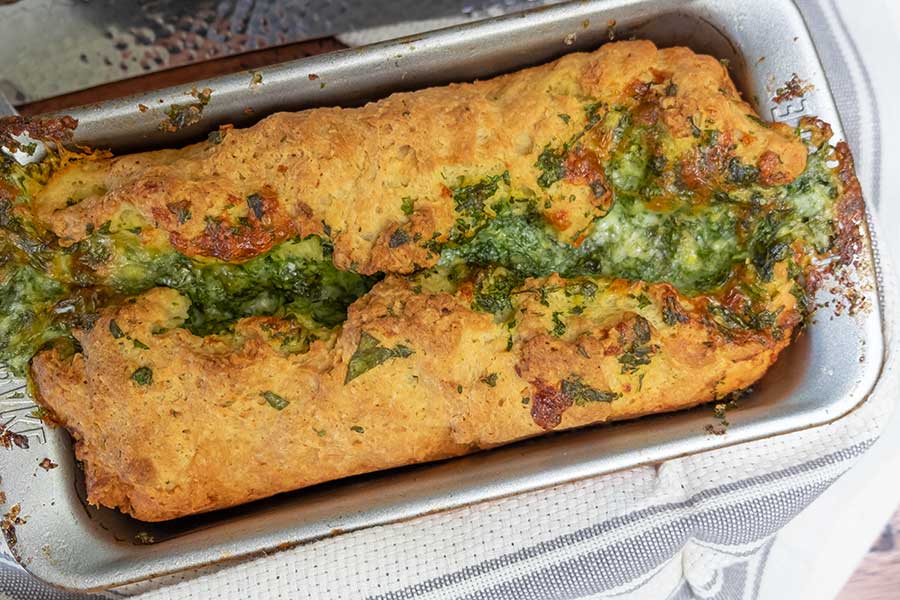 In fact, gluten-free garlic bread is probably one of the easiest recipes to make. The only hard thing is the time you have to wait to allow the bread to rise.
How to succeed on making the best gluten-free bread?
There are a few steps to remember to achieve the best results—first, the yeast. Yeast shelf life is between four to six months. Anything beyond that, your dough may not rise as much as it should.
Once you make the bread dough cover it with a dry cloth and place it in a draft-free place. I always let my dough rise in the oven. Once the dough has almost doubled in size, give it a good knead and transfer it into a bread loaf pan.
Cover the pan with a dry dishcloth and let it rise for another hour. Now you are ready to bake it to a golden brown colour.
How to proof active dry yeast?
1 package (1/4 ounce) active dry yeast
1/2 cup water
1 teaspoon sugar
Stir the yeast with warm water ideally about 110 F – 115 F. Wait for about ten minutes until the yeast starts to bubble. Now you are ready to use the yeast. If the yeast hasn't bubbled after 10 minutes, the yeast is old.
You can still use the yeast, but it will take much longer for the bread to rise and it will not rise fully.
using rapid rise yeast
Rapid rise yeast doesn't have to be proofed first, the yeast is added to dry ingredients. And, the only difference is the temperature of the water. When the yeast is added to dry ingredients the water temperature should be warmer between 125 F – 130 F.
So many gluten-free bread recipes, which one is your favourite?
There are many bread recipes, starting from simple gluten-free sandwich bread to the exquisite French baguette. We all love bread – however, we are very particular to the type of bread we like. For my family, it's definitely garlic bread!
What do you serve with garlic bread?
Garlic bread is always popular because everyone loves it. The aroma of garlic when the bread is baking is unforgettable. There are many ways this gluten-free bread can be served. One of my favourite ways of serving this bread is with Italian meals like spaghetti Bolognese.
However, this bread makes a great addition to salads, soups and stews. But, for me, I love using it for sandwiches. Because this gluten-free bread with garlic herb cheese swirl converts a simple sandwich to one that is wholesome and full of flavour.
Just add avocado, lettuce and tomatoes to make the most delicious healthy sandwich.
Are you searching for a basic bread recipe? Try this gluten-free basic white sandwich bread, it is the best sandwich bread I have made.
Let's Connect!
Be sure to FOLLOW US on FACEBOOK and PINTEREST.
Many thanks!
Kristina xx
Gluten-Free Bread With Garlic Herb Cheese Swirl
Published on Sep 08, 2019
by
Kristina Stosek
Instructions
1.

Mix butter, basil, parsley, garlic and mozzarella cheese and set aside

2.

In a large bowl whisk together flour, yeast, baking powder, xanthan gum and salt

3.

In a separate bowl whisk together warm water, olive oil, honey, apple cider vinegar and eggs

4.

Add wet mixture to dry ingredients and mix until a dough forms. The dough will be sticky

5.

Transfer dough into 9-inch loaf pan sprayed with cooking oil. Spread herb mixture over the top and using a fork swirl the mixture through the top half of the batter. Loosely cover with plastic wrap and let rise in a warm place for 45 minutes

6.

Preheat oven to 375 F. Transfer the bread to the oven and bake for 35 - 40 minutes, until the top is golden brown. Cool in the pan for 10 minutes. Using a knife loosen the edges and remove the bread onto a rack to cool
Leave a Comment
Kristina
thank you Lauri for sharing
This was very good- an easy recipe, which made a moist and tasty bread.