Gluten-Free Bread With Garlic Herb Cheese Swirl
Prep Time
15 Minutes
Difficulty
Easy
Cook Time
40 Minutes
Average Rating: 4.5 | Rated By: 6 users
Gluten-Free Bread With Garlic Herb Cheese Swirl – Soft gluten-free bread with garlic herb cheese swirl for bread lovers. This recipe is special because it has the most delicious buttery swirl made with herbs, garlic and cheese. Think of it as garlic bread except more flavourful because it has added herbs and cheese. What I love about this gluten-free bread is the texture, soft on the inside, with a crispy crust and will not crumble.
♥

What do you serve with garlic bread?
Garlic bread is always popular because everyone loves it. The aroma of garlic when the bread is baking is unforgettable. There are many ways this gluten-free bread can be served. One of my favourite ways of serving this bread is with Italian meals like spaghetti Bolognese. However, this bread makes a great addition to salads, soups and stews. But, for me, I love using it for sandwiches. Because it is so flavourful, it converts a simple sandwich to one that is wholesome and full of flavour. Just add some avocado, lettuce and tomatoes to make the most delicious healthy sandwich. 
Are you searching for a basic bread recipe? Try this gluten-free basic white sandwich bread, it is the best sandwich bread I have made.
Ingredients
1/3 cup salted butter, melted
1/2 cup chopped basil
1/2 cup chopped parsley
3 garlic cloves, grated or minced
1 cup shredded mozzarella cheese
2 cups gluten-free flour blend
1/2 cup almond flour
1 Tbsp. GF baking powder
1 1/2 tsp. Xanthan gum (if your flour blend does not include xanthan gum use 2 1/2 tsp.)
1 1/2 tsp. Himalayan salt
1 1/4 cup warm water (115 F)
1/4 cup extra virgin olive oil
2 Tbsp. Honey
2 tsp. apple cider vinegar
3 large eggs, at room temperature
*As an Amazon Associate and member of other affiliate programs, I earn from qualifying purchases. Please check out my sponsorship and disclosure policy page for more details
Instructions
Mix butter, basil, parsley, garlic and mozzarella cheese and set aside
In a large bowl whisk together flour, yeast, baking powder, xanthan gum and salt
In a separate bowl whisk together warm water, olive oil, honey, apple cider vinegar and eggs
Add wet mixture to dry ingredients and mix until a dough forms. The dough will be sticky
Transfer dough into 9-inch loaf pan sprayed with cooking oil. Spread herb mixture over the top and using a fork swirl the mixture through the top half of the batter. Loosely cover with plastic wrap and let rise in a warm place for 45 minutes
Preheat oven to 375 F. Transfer the bread to the oven and bake for 35 - 40 minutes, until the top is golden brown. Cool in the pan for 10 minutes. Using a knife loosen the edges and remove the bread onto a rack to cool
Similar Recipes
30 Minute Gluten-Free Cheese and Garlic Flatbread
30 Minute Gluten-Free Cheese and Garlic Flatbread – this bread may be humble in appearance, but it is so tasty. The flatbread is lovely for scooping up dips hot and cold or an eggplant spread. My favourite is to use as a sponge for soaking up hearty stews.  What is the difference between flatbread and […] Read More
Prep Time
10 Minutes
Difficulty
Beginner
Cook Time
20 Minutes
Serves
8-10 pc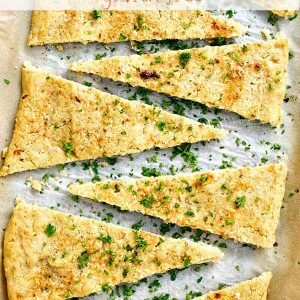 Easy Gluten Free Garlic Pizza Bread Recipe
Garlic pizza bread is a tasty addition to soups and stews or pasta. This gluten-free garlic pizza bread is crispy on the outside and soft on the inside. The flavour of garlic and Parmesan cheese make this garlic pizza bread outstanding. In this recipe, there is no added yeast, so no kneading needed. Enjoy as […] Read More
Prep Time
10 Minutes
Difficulty
Beginner
Cook Time
20 Minutes
Serves
6-8 pieces
Gluten Free Quinoa Garlic Cheese Flatbread
This is a scrumptious gluten-free version of original garlic cheese flatbread. By using quinoa instead of wheat flour we are adding protein, fiber and minerals. Just imagine a garlic cheese bread that is healthy, it does not get any better than this. Serve with soup, stew, salad or just as a snack Read More
Prep Time
10 Minutes
Difficulty
Easy
Cook Time
35 Minutes
Serves
8