Gluten-Free Ground Beef and Mushroom Casserole
Prep Time
5 Minutes
Difficulty
Beginner
Cook Time
25 Minutes
Serves
4 - 6
Average Rating: 4.5 | Rated By: 11 users
This Gluten-Free Ground Beef and Mushroom Casserole is a thirty-minute weeknight pasta dinner. The pasta is smothered with a cheesy, meaty sauce seasoned with basil and oregano. This quick and easy gluten-free Casserole is great for any night of the week because you can have it ready on the table in under thirty minutes.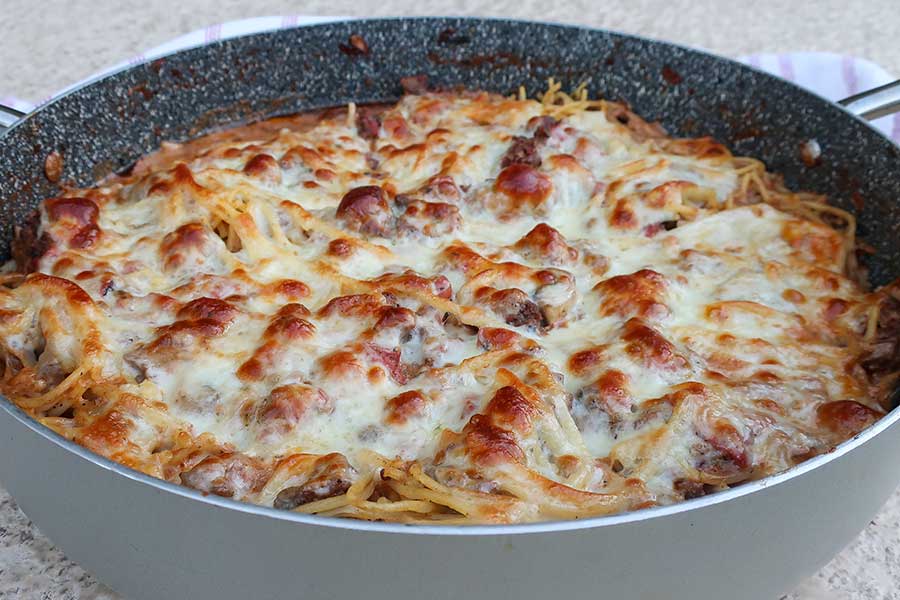 Ground beef recipes are always popular. The meat cooks quickly and is budget-friendly. Combine the ground beef with pasta, add mushrooms, herbs, tomatoes and two types of cheese, and a tasty, satisfying dinner is ready in no time.
The Casserole is very simple to make. To start, cook the pasta in salted boiling water. In this recipe, the pasta is cooked separately so that the pasta doesn't absorb the tasty sauce – everything else is cooked in one skillet.
The pasta is then swirled in the meaty, cheesy sauce and topped with provolone cheese slices. The Casserole is baked until the sauce starts to bubble, and the cheese topping is melted. The baking takes just a few minutes. There is nothing complicated about this perfect meal.
what to serve with Ground Beef and Mushroom Casserole?
There are many options whenever you serve pasta. I like to add a light green salad, this adds freshness to the hearty gluten-free pasta casserole. If you have big appetites, adding Gluten-Free Cheese and Garlic Flatbread or Gluten-Free Butter Rolls will complete the meal. Or, you can serve this Gluten-Free Ground Beef and Mushroom Casserole just as is. The best way to enjoy this gluten-free pasta dish is hot, straight out of the oven.
Cuisinart 633-30H Chef's Classic Nonstick Hard-Anodized 5-1/2-Quart Saute Pan with Helper Handle and Lid →
I love this beef and mushroom casserole because the ingredients are simple, and the pasta casserole is super easy to whip up. I used provolone cheese for the topping because I like the sharp taste of Provolone cheese.
The cheese adds more flavour and creaminess to this gluten-free pasta casserole. You can also use Provolone dolce (sweet) with a very mild flavour if that is what you prefer. If you don't want to use Provolone cheese, you can replace it with mozzarella cheese, or any good melting cheese.
Next time you are short on time, pick up some ground beef, gluten-free pasta, a can of tomatoes, mushrooms and two types of cheese—everything else you most likely have in your pantry. All you will need is thirty minutes, and dinner is ready. Enjoy!
For the latest recipes and tips, please like us on Facebook or follow us on Pinterest and  Instagram.
Ingredients
2 Tbsp. Extra virgin olive oil
1 medium onion, chopped
1 1/2 lb. lean ground beef
2 cups sliced mushrooms
1 tsp. GF oregano
GF Cayenne pepper to taste (optional)
8 oz. light cream cheese
8 oz. provolone cheese slices
Sea salt to taste
*As an Amazon Associate and member of other affiliate programs, I earn from qualifying purchases. Please check out my sponsorship and disclosure policy page for more details
Instructions
Cook pasta in salted water until al dente (cooked to be firm to the bite). Drain and rinse with water, saving 1 cup of pasta water
Preheat oven to 400 F
Meanwhile, using a large ovenproof skillet, heat olive oil over medium heat. Add onions and cook until they start to soften. Turn up the heat to high, add beef and cook, stirring and breaking up the meat until it starts to brown
Add mushrooms, basil, oregano, and cayenne pepper if using, and mix to combine. Add tomatoes, cover and cook over medium heat for 15 minutes.
Add cream cheese and stir until the cheese has melted. Remove the skillet from the heat
Add cooked pasta and reserved pasta water and gently stir to combine. Taste, and if needed, season with salt
Top with provolone cheese slices and bake for 10 minutes, until the cheese has melted and the sauce is bubbling. Serve hot
Similar Recipes
15 Minute Gluten-Free Pasta With Garlic Ricotta & Tomatoes
This Gluten-Free Pasta With Garlic, Ricotta Cheese And Fresh Tomatoes is a perfect meal on busy nights.  The simple gluten-free pasta dish takes less than 15 minutes to make, how wonderful is that? All you need is six simple ingredients that you probably already have in your pantry, plus ricotta cheese to make this delicious […] Read More
Prep Time
5 Minutes
Difficulty
Easy
Cook Time
10 Minutes
Serves
4
20 Minute Gluten-Free Tomato and Feta Pasta
An incredibly flavourful Gluten-Free Tomato and Feta Pasta dish. Using fresh tomatoes, olive oil, garlic, herbs, feta cheese and fresh parsley is what makes this Italian dish exceptional. What I love about this tomato and feta pasta is, all you need is only five fresh ingredients plus herbs and salt. The simplicity of this dish […] Read More
Prep Time
5 Minutes
Difficulty
Easy
Cook Time
15 Minutes
Serves
4
30 Minute Gluten-Free Stovetop Lasagna
Creamy 30 Minute Gluten-Free Stovetop Lasagna never tasted this good before. This Italian dish is the easiest lasagna recipe ever! Creamy and meaty sauce made with buttermilk, cheese, tomato paste, ground beef, mushrooms, onions, garlic, and spices. The sauce is super flavourful, and you don't even have to add ricotta or cottage cheese.     […] Read More
Prep Time
10 Minutes
Difficulty
Beginner
Cook Time
20 Minutes
Serves
6