Baja Chicken Kale Salad With Avocado Lime Dressing
Published on Jan 13, 2019
by
Kristina Stosek
Prep Time:

20 minutes
Cook Time:

15 minutes
Serves:

4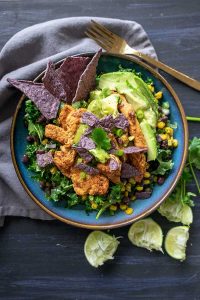 ​This post may contain affiliate links, please see our
privacy policy
for details
This Baja Chicken Kale Salad With Avocado Lime Dressing is a hearty and flavourful spring or summer dish. If you are in the search for a healthy, satisfying salad, especially when the warmer weather moves in, this Baja chicken kale salad will satisfy your craving every time.
What does Baja mean?
The best way to describe it is Tex-Mex food. This chicken kale salad will give you the satisfaction of eating Mexican food but without the extra calories and using only healthy fats.
What gives this chicken kale salad the Baja flavour?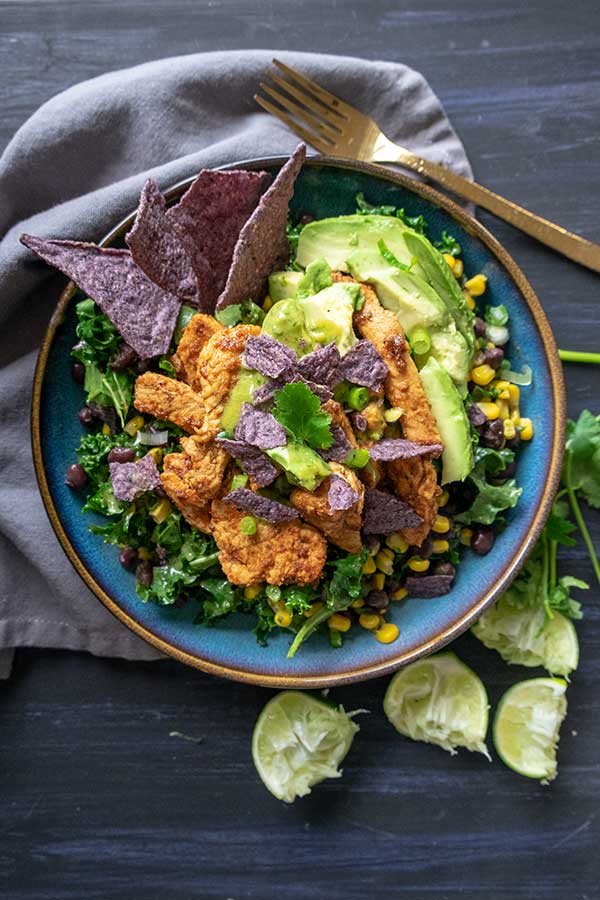 It is all about the carefully chosen spices. The chicken is flavoured with chilli, cumin and garlic and then cooked in fresh lime juice. This is what gives this salad the Baja flavour.
Which vegetables are in Baja Salad?
This lovely salad comprises baby kale, avocado, green onions, black beans and corn. A typical combination in Baja salads.
What's in avocado lime dressing?
This dressing is creamy, garlicky with a zest of fresh lime juice and a hint of sriracha for spiciness. The creaminess comes from avocado and coconut milk. For added freshness, the avocado lime dressing includes cilantro.
To make the dressing, all the ingredients are blended in a high-speed blender until rich and creamy. The dressing is sooo good. You'll want to eat it with a spoon.
How is Baja Chicken Kale Salad Made?
First, the chicken is browned, seasoned with spices and then cooked with fresh lime juice.
Then, the kale and veggies are tossed with the creamy avocado lime dressing just before assembling the salad.
Once the kale and veggies are flavoured, the salad is topped with the tasty spiced chicken and crunchy gluten-free corn chips.
The corn chips are optional. You can add as many chips or as little as you like. But I feel the chips make the salad heartier, and the crunchy chips add texture.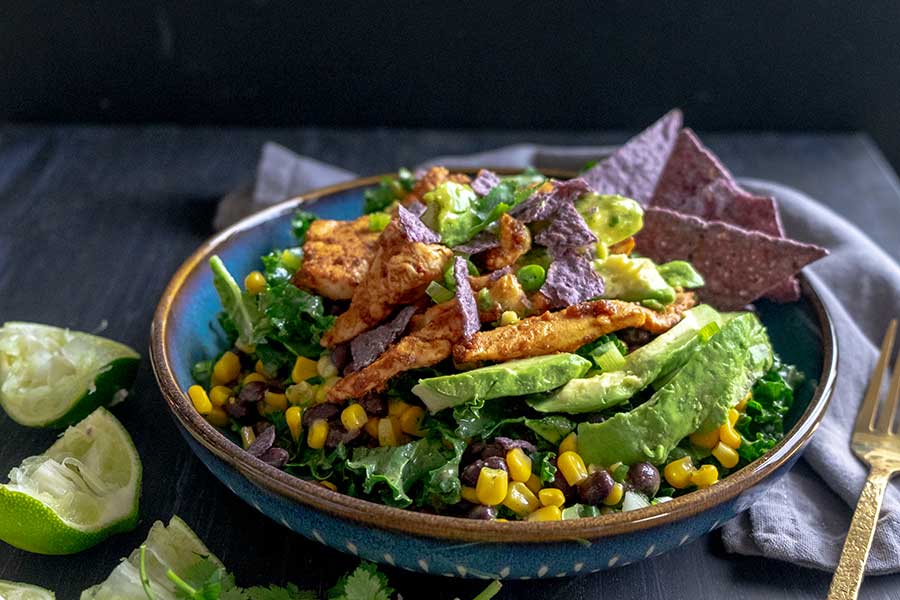 Yes, this salad tastes as good as it sounds. If you enjoy Mexican food, you will not be disappointed with this satisfying Baja chicken kale salad.
Make-ahead Baja chicken kale salad.
The best part is, you can prepare the chicken and the dressing in advance. And when ready, assemble the salad by tossing the greens with the avocado lime dressing and adding the toppings. Enjoy!
If you love Mexican food, check out our gluten-free Mexican recipes for inspiration.
Baja Chicken Kale Salad With Avocado Lime Dressing
Published on Jan 13, 2019
by
Kristina Stosek
Instructions
1.

Heat oil in a large pan over medium-high heat. Add the chicken and brown on all sides, about 3 minutes. Reduce heat to medium-low and stir in the chili powder, cumin, garlic powder, salt and pepper. Add juice of 1 lime and cook for about 10 more minutes until the chicken is cooked. Set aside

2.

To make the dressing, blend all ingredients in a high-speed blender until smooth

3.

In a large bowl combine kale, black beans, corn, green onions and avocado. Drizzle with the dressing and toss to combine. Top with chicken and tortilla chips