Honey Garlic Roasted Chicken with Basil Butter Noodles
Prep Time
15 Minutes
Difficulty
Easy
Cook Time
55 Minutes
Serves
2 - 4
Average Rating: 5 | Rated By: 4 users
Honey Garlic Roasted Chicken with Basil Butter Noodles is a meal to be remembered. The crispy chicken is topped with a caramelized honey garlic sauce that tastes better than takeout. The simply made basil butter gluten-free noodles take minutes to prepare and balance the sweet honey garlic chicken without overpowering the chicken's deliciousness.
This Asian inspired chicken recipe may sound complicated, but it is super easy to make. The honey garlic sauce is deliciously caramelized, sticky and ever so flavourful. The sweet sauce makes the crispy chicken taste sooo good!
to prepare the chicken for roasting,
First, this chicken recipe is made with halved chicken. Halved chicken is easier to season all over, and the chicken cooks faster. When making weeknight meals, sometimes we don't have the extra time to cook an entire chicken. I made this chicken recipe for two by using one half of a chicken. You can use two halves for four people.
When roasting the chicken, you want to make sure the chicken stays juicy and is fully cooked. Overcooking will make the chicken dry and tough. It is best to follow chicken cooking times and use a meat thermometer for best results. First, the chicken is rubbed with simple spices mixed with butter. The butter makes the spices stick to the chicken and will make the chicken extra crispy.
honey garlic sauce → the details,
The chicken is roasted until crispy, then basted with the thick honey garlic sauce and broiled to perfection. The sauce takes virtually 2 minutes to prepare. You will need a small saucepan, add the ingredients and bring to a boil. The sauce starts to thicken very quickly. Once the sauce has thickened, set it aside until you are ready to baste the chicken.
for the basil butter noodles,
This gluten-free noodle recipe takes two minutes to prepare once you cook the noodles. It is essential to cook the noodles in well salted water until al dente. Do not overcook the noodles, or they will become sticky and hard to toss with the basil butter. I wanted to use healthier gluten-free noodles with this honey garlic roasted chicken.
This was when I discovered a healthy gluten-free chickpea pasta. This gluten-free pasta was my personal preference, so feel free to use the gluten-free pasta you have on hand or the one you love. I wanted the pasta to be well coated with the basil butter, so I used angel hair pasta. Angel hair pasta is super thin and cooks very quickly. Because the pasta is so thin, it coats easily with the basil butter—a perfect side to honey garlic roasted chicken.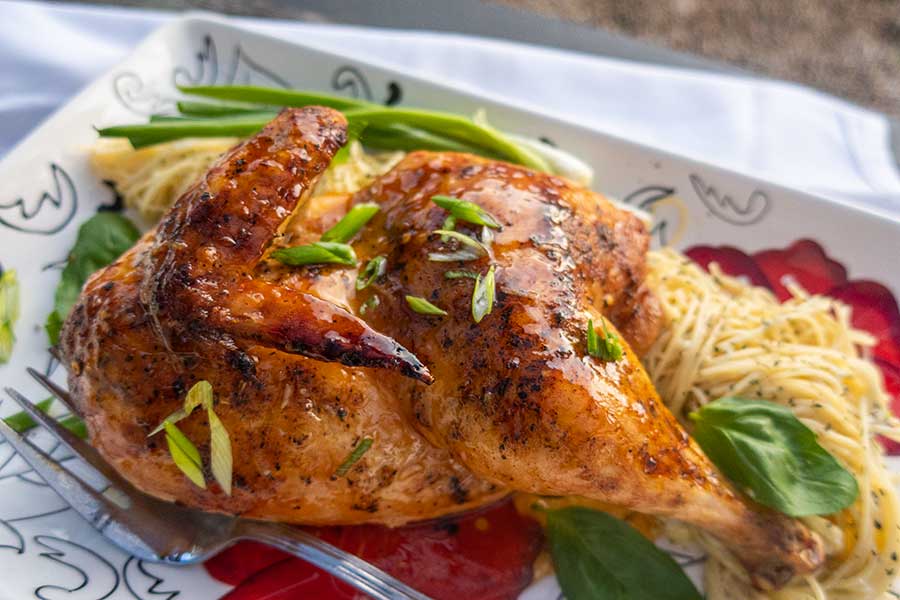 In this gluten-free chicken dinner, the Asian inspired honey garlic roasted chicken is super flavourful. This is why I wanted to balance the chicken with something milder in flavour as to compliment the chicken and not to overpower the sweet, garlicky chicken. The gluten-free noodle recipe is about light basil flavour and a little butter, making this gluten-free chicken dinner perfect.
This gluten-free chicken dinner doesn't have to be served with basil butter noodles. You can add your favourite rice dish, steamed veggies or chop the chicken into a salad. Either way, this honey garlic roasted chicken dinner will be a big hit. Enjoy!
Ingredients
 1/2 chicken, skin on (this is a recipe for 2, use two halves for 4)
CHICKEN RUB (double, if using 2 halves)
2 Tbsp. Salted butter, softened
1 tsp. GF chilli powder
1 tsp. GF dried basil
1/2 tsp. GF ground black pepper
1/4 tsp. GF ground cinnamon
1 1/2 tsp. Sea salt
HONEY GARLIC SAUCE (double for 2 halves)
1/4 cup honey
 1/4 cup coconut or brown sugar
 1 Tbsp. minced garlic (2 large cloves)
 1/4 cup GF sodium-reduced tamari sauce
1/4 cup orange juice
 2 tsp. Tapioca or arrowroot starch + 2 tbsp water 
2 Tbsp. Sliced green onions
BASIL BUTTER NOODLES
3 Tbsp. Salted butter
1 Tbsp. GF dried basil
1 garlic clove, minced
Pinch of GF red pepper flakes (optional)
Sea salt to taste
Optional topping: Fresh basil leaves
*As an Amazon Associate and member of other affiliate programs, I earn from qualifying purchases. Please check out my sponsorship and disclosure policy page for more details
Instructions
Preheat oven to 375 F and line a rimmed baking sheet with foil or parchment paper
Mix the rub ingredients in a small bowl and spread on all sides of the chicken, pressing firmly to get the rub on the chicken. If you have time, it is best to season the chicken 30 - 60 minutes before roasting
Place chicken in the oven and roast until cooked and the internal temperature is 165 F. If using half a chicken, it takes about 50 minutes, depending on the size
Meanwhile, prepare the sauce in a small saucepan over medium heat, add honey, sugar, garlic, tamari sauce and orange juice. Once the sauce starts to bubble, combine tapioca/arrowroot with water and add to the sauce. Cook while whisking until the sauce begins to thicken, about 2 minutes. Set aside
When the chicken is cooked, remove the chicken from the oven and baste it all over with honey garlic sauce. Pour any leftover sauce over the chicken. Turn the oven to broil and broil chicken until the sauce starts to caramelize—about 2 minutes. Keep an eye on the chicken while it is broiling. It can burn very quickly. 
Cover the chicken with foil and rest for 10 minutes before serving. Garnish with sliced green onions
 For the basil butter noodles, while the chicken is resting, heat a large skillet over medium heat. Add the butter, garlic, basil and a pinch of red pepper flakes, if using. Heat the butter until the garlic begins to turn golden, about 1 minute
Remove from the heat and toss the noodles with the basil butter sauce. Season with salt and pepper and serve with fresh basil leaves if you desire
Similar Recipes
Crispy Chicken a l'Orange Recipe
This Crispy Chicken a l'Orange is utterly delicious. I based this recipe on a duck a l'orange, which originated in Italy and then migrated to France. This Crispy Chicken a l'Orange Recipe is a delicious and easy way to cook chicken that will impress your family and guests. The recipe features a citrusy marinade made […] Read More
Prep Time
10 Minutes
Difficulty
Easy
Cook Time
120 Minutes
Serves
6
Easy Tequila Lime Chicken Recipe
This recipe for tequila lime chicken is perfect for entertaining or easy weeknight meals. The chicken is marinated in a zesty tequila and lime sauce, then baked until crispy and delicious. The result is juicy, flavorful chicken that will make your guests return for more. What is tequila lime chicken?   Tequila lime chicken is […] Read More
Prep Time
5 Minutes
Difficulty
Beginner
Cook Time
35 Minutes
Serves
8 pc
Roasted Orange Citrus Chicken Recipe
This orange citrus chicken dish is a wonderful combination of oranges and Italian spices. The chicken is deliciously tender and juicy, cooked in a zesty sauce. The chicken has caramelized crispy skin making this dish unforgettable. The recipe is simple to make, making this chicken dish popular. Serve with mashed potatoes, rice or pasta Read More
Prep Time
10 Minutes
Difficulty
Easy
Cook Time
50 Minutes
Serves
4