Shanghai Buckwheat Noodles (Gluten-Free, Vegan)
Published on Jul 31, 2018
by
Kristina Stosek
Prep Time:

10 minutes
Cook Time:

15 minutes
Serves:

2 - 4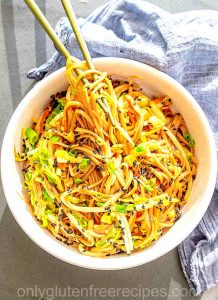 ​This post may contain affiliate links, please see our
privacy policy
for details
One of the most flavourful noodle dishes is the Shanghai Buckwheat Noodles. An easy gluten-free noodle recipe made with buckwheat noodles packed with Asian veggies and flavoured with stunning Shanghai gingery garlic sauce
When following a gluten-free diet, a delicious noodle dish is always popular. In this recipe, I used buckwheat noodles, also called soba noodles, because they have a good texture and a mildly nutty flavour.
gluten-free noodles dish with extra veggies,
The veggies such as Nappa cabbage, carrots, bean sprouts and green onions are cooked in a gingery garlic sauce and tossed with the buckwheat noodles. The recipe is super easy and makes for a perfect weeknight meal when you are short on time.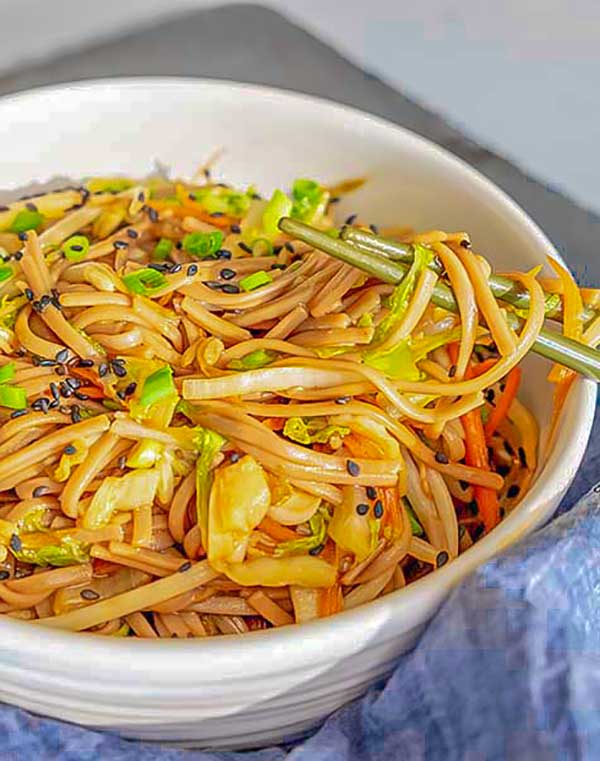 To finish these tasty noodles, I added green onions and crunchy sesame seeds. This gluten-free Shanghai buckwheat noodle dish can be served as a side with protein or as a main.
Are buckwheat noodles healthy!
Buckwheat noodles are highly nutritious with a good source of manganese, lean protein, and thiamine, lower in carbs and calories compared to rice or corn noodles. The authentic buckwheat noodles should be made only with buckwheat flour, making them naturally gluten-free.
However, many brands add wheat flour, mostly because of the cost factor. When buying buckwheat noodles, make sure the only ingredient is buckwheat flour.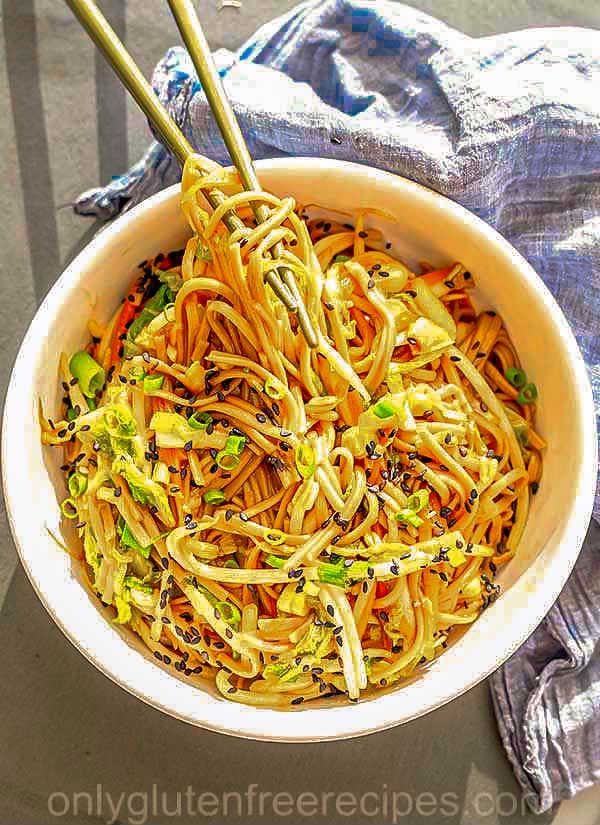 What I love about this gluten-free noodle dish, you can choose any vegetable to add as long as it is thinly sliced. Some of my favourites are bell peppers, mushrooms, zucchini, bok choy and snow peas.
If you enjoy noodle meals, check out our impressive selection of gluten-free noodle dishes. Many of our noodle recipes have ethnic flavours making them easy to replace take-out food. Enjoy!
Shanghai Buckwheat Noodles (Gluten-Free, Vegan)
Published on Jul 31, 2018
by
Kristina Stosek
Instructions
1.

Cook buckwheat noodles per package directions (about 6 minutes, do not overcook) and then refresh with water. Set aside

2.

Heat coconut oil in a wok or non-stick skillet over medium heat. Add garlic and ginger and cook until fragrant, about 30 seconds. Add cabbage, carrots and salt. Stir-fry for 5 minutes until tender but keeping the veggies crips

3.

In a small bowl whisk together sauce ingredients. Pour over the vegetables and cook until the sauce starts to thicken about 2 minutes

4.

Add buckwheat noodles and bean sprouts and toss until well coated with the sauce

5.

To serve sprinkle with green onions and sesame seeds