Gluten-Free Cottage Pie Recipe
Published on Jun 21, 2016
by
Kristina Stosek
Prep Time:

15 minutes
Cook Time:

40 minutes
Serves:

4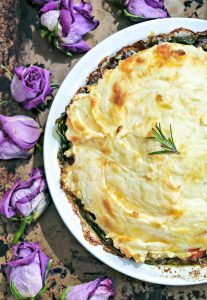 ​This post may contain affiliate links, please see our
privacy policy
for details
This Gluten-Free Cottage Pie is one of the most comforting savoury pies I know. The pie is meaty and is topped with the fluffiest creamiest cheesy potato topping. This savoury dish is also known as Shepherd's pie with a small difference.
Both pies are made with ground meat, except Shepherds pie is made with lamb, and cottage pie is made with beef.
the Gluten-Free Cottage Pie details,
Typically this savoury pie is made with classic pie crust made with butter and flour. To keep this cottage pie on the healthier side, I replaced the pie crust with healthy chard leaves, adding healthiness, keeping the recipe simpler and keeping it grain-free.
The meat mixture is made with lean ground beef, onions, carrots, peas and mushrooms. To give the meat extra flavour, I added rosemary, Worcestershire sauce, bay leaf, beef broth and plenty of fresh parsley.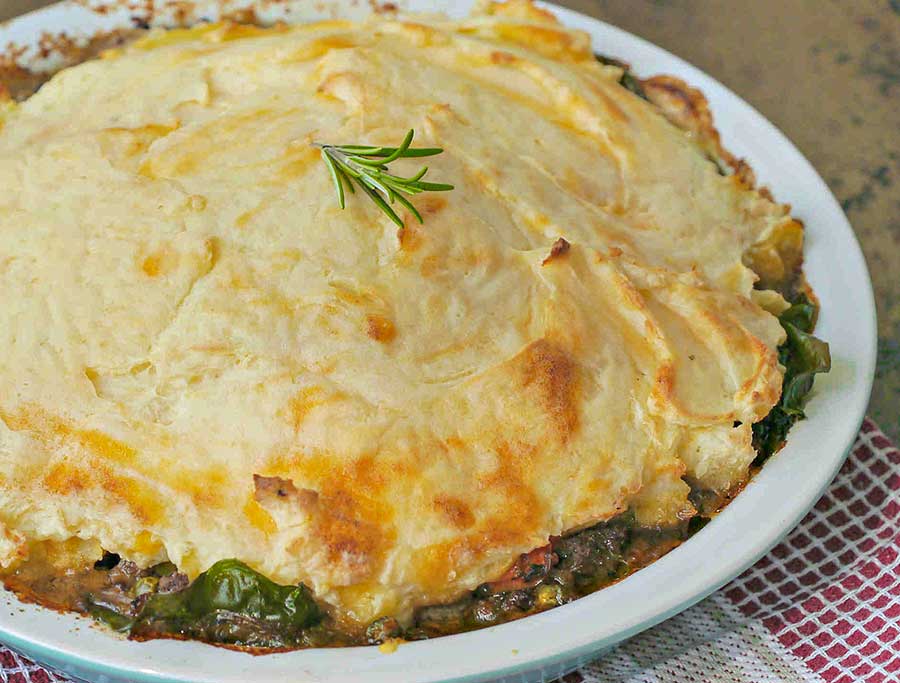 the cheesy potato topping
I wanted a little more than just mashed potatoes made with butter for the usual potato topping. So, I replaced the butter with a mix of buttermilk and cheese.
These two ingredients add a tasty twist to the classic cottage pie topping, making this savoury pie exceptionally delicious and extra fluffy.
KOOV Ceramic Pie Pan, 9 Inches Pie Plate, buy here →
I love making this gluten-free dinner recipe because you can have the pie on the table in under an hour from start to finish. And who doesn't love cheesy mashed potatoes?
The potatoes, in my opinion, set the cottage pie apart from most. This cozy savoury dish is a win-win pie in every way. Delicious, hearty, healthier and super simple to make.
This gluten-free cottage pie recipe is another dish to add to your quick and easy everyday weeknight meals. If you like savoury pies, you will love this gluten-free skillet chicken pot pie — a little more work but worth the effort. Enjoy!
Let's Connect!
Be sure to FOLLOW US on FACEBOOK and PINTEREST.
Many thanks!
Kristina xx
Gluten-Free Cottage Pie Recipe
Published on Jun 21, 2016
by
Kristina Stosek
Instructions
1.

In a large saucepan, sauté onions until softened. Add ground beef and cook until no longer pink. Stirring as needed

2.

Add rosemary, bay leaf, carrots, mushrooms, peas and ½ cup of broth, and season with salt and pepper. Cover and simmer for 20 minutes

3.

Preheat oven to 400 F and brush a pie dish with olive oil

4.

Line the pie dish with chard leaves

5.

Whisk together remaining broth with tapioca starch and add to the beef mixture. Cook until the beef mixture starts to thicken, about 1 minute. Remove bay leaf and stir in parsley. Transfer meat mixture into the prepared pie dish

6.

Cook the potatoes in salted water until soft. Drain and add buttermilk. Whip the potatoes and then stir in cheese. If the potatoes are too stiff add a little more buttermilk

7.

Top the beef mixture with mashed potatoes and place on the upper rack of your oven. Bake for 15 minutes until the potatoes start to turn a golden brown colour

8.

Cool for 15 minutes before serving