Gluten-Free Cottage Pie Recipe
Prep Time
15 Minutes
Difficulty
Easy
Cook Time
40 Minutes
Serves
4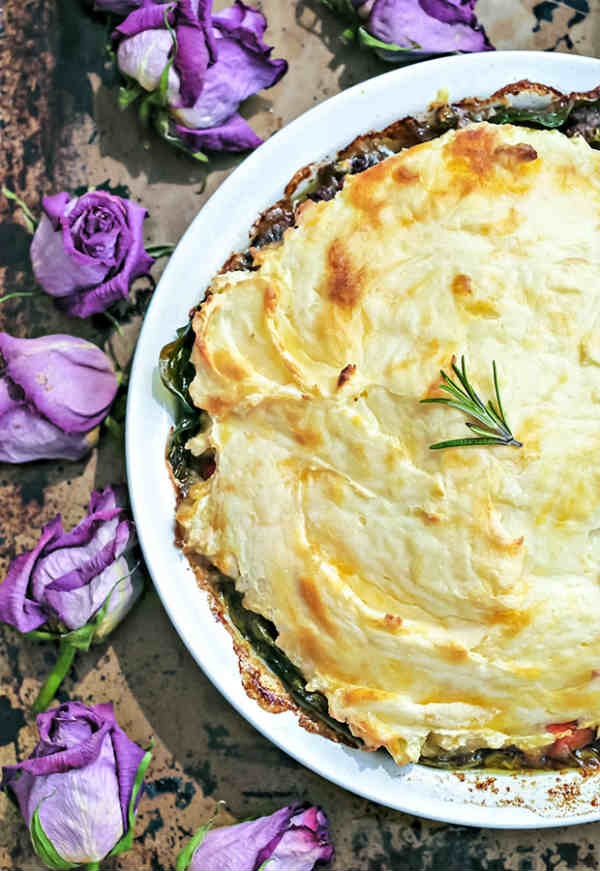 Average Rating: 5 | Rated By: 8 users
This Gluten-Free Cottage Pie is one of the most comforting savoury pies I know. Cottage pie, also known as shepherd's pie, what is the difference? The difference is the meat. Shepherds pie is made with lamb and cottage pie is made with beef. This deliciously flavoured cottage pie has fluffy, cheesy potato topping, and the entire pie takes less than an hour to make.
In this gluten-free cottage pie recipe, I replaced a traditional flour crust with Swiss chard to line the pie dish. And I also replaced butter in the potatoes I used buttermilk and cheese, adding a twist on basic cottage pie. The cottage pie is exceptionally delicious!
If you like savoury pies, you will love the gluten-free skillet chicken pot pie.
Ingredients
1 Tbsp. grape seed oil
1 medium size onion, chopped
1 lb. lean ground beef
2 tsp. fresh rosemary, finely chopped
1 GF bay leaf
2 carrots, diced
1 cup gluten free beef stock, divided
1 Tbsp. gluten free Worcestershire Sauce
Sea salt and black pepper to taste
1 cup frozen peas
½ cup sliced mushrooms
1 Tbsp. GF tapioca starch
½ cup chopped fresh parsley
2 large potatoes, peeled and quartered (I used russet potatoes)
½ cup buttermilk
1 cup grated cheddar cheese
4 large Swiss chard leaves, stems removed
Instructions
In a large saucepan, sauté onions until slightly brown. Add beef and cook while stirring until no longer pink
Add rosemary, bay leaf, carrots, mushrooms, peas and ½ cup of the stock and season with salt and pepper. Cover and simmer for 20 minutes. Remove the bay leaf
Whisk together ½ cup of stock with tapioca starch and add to the beef mixture. Cook for 1 minute. Stir in parsley and transfer to a pie dish lined with Swiss chard. Preheat oven to 400 F
Cook the potatoes in salted water until soft. Drain and add buttermilk. Whip the potatoes and then stir in cheese. If needed add a little more buttermilk
Top the beef mixture with mashed potatoes and bake on upper rack in the oven for 15 minutes or until the potatoes are golden brown
Cool the pie for 15 minutes before serving
Tip; while baking place pie on a baking tray for possible spillage
Similar Recipes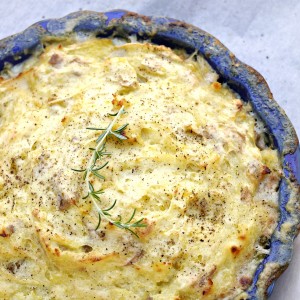 Gluten Free Chicken Pot Pie
In this gluten free chicken pot pie, you will relish the flavours of tender chicken and vegetables immersed in rich gravy and topped with the most delicious potato crust. When it comes to comfort food, chicken pot pie is on top of the list. With complex flavours, creamy gravy, lots of veggies, tender chicken and […] Read More
Prep Time
20 Minutes
Difficulty
Easy
Cook Time
45 Minutes
Serves
4 - 6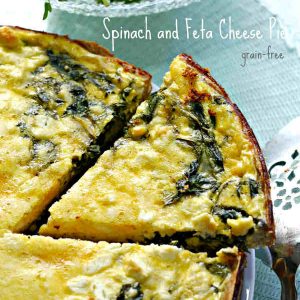 Grain-Free Spinach and Feta Cheese Pie
This grain-free spinach and feta cheese pie is one of our most popular Sunday brunch recipes. Enticingly cheesy, with custard like texture with a crust, made of sesame seeds and buckwheat. This scrumptious savoury pie is a winner! Read More
Prep Time
15 Minutes
Difficulty
Easy
Cook Time
50 Minutes
Serves
6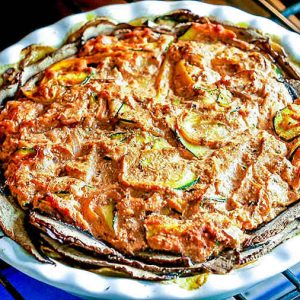 Mediterranean Vegetable Pie In A Potato Crust
There are eight vegetables in this healthy gluten-free vegetable pie. The tasty vegetarian pie has a crust made of a thin layer of potatoes and the vegetables are baked in spiced Italian sauce and creamy ricotta cheese. Because the crust is made with potatoes, this pie is completely grain-free Read More
Prep Time
20 Minutes
Difficulty
Intermediate
Cook Time
50 Minutes
Serves
6