Gluten-Free Skillet Chicken Pot Pie
Published on Feb 04, 2020
by
Kristina Stosek
Prep Time:

20 minutes
Cook Time:

55 minutes
Serves:

4 - 6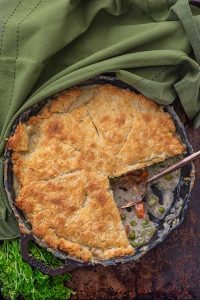 ​This post may contain affiliate links, please see our
privacy policy
for details
Get ready to feel nostalgic with this Gluten-Free Skillet Chicken Pot Pie. The savoury, hearty pie holds a special place in our home. The filling is made with chicken, carrots, peas and herbs cooked in the most delicious creamy gravy and topped with a flaky buttery crust.
Where does chicken pot pie come from?
This may surprise you, the pie originated in Greece. In this gluten-free version, I used only one skillet, making this an easier recipe in comparison to the traditional dish.
The delicious filling is cooked right in the skillet and then topped with a layer of flakey gluten-free buttery crust made from scratch. You will love it!
the gluten-free crust,
The pastry is made with basic pantry ingredients, flour, butter, milk, baking powder, salt and a sprinkle of rosemary for flavour.
To make the pastry, first, mix the dry ingredients. Then work the cold butter into the flour mixture, add milk and shape into a disk. Roll between sheets of parchment paper and top the filling with the pastry.
A simple pie pastry that is flaky and buttery in minutes, yum!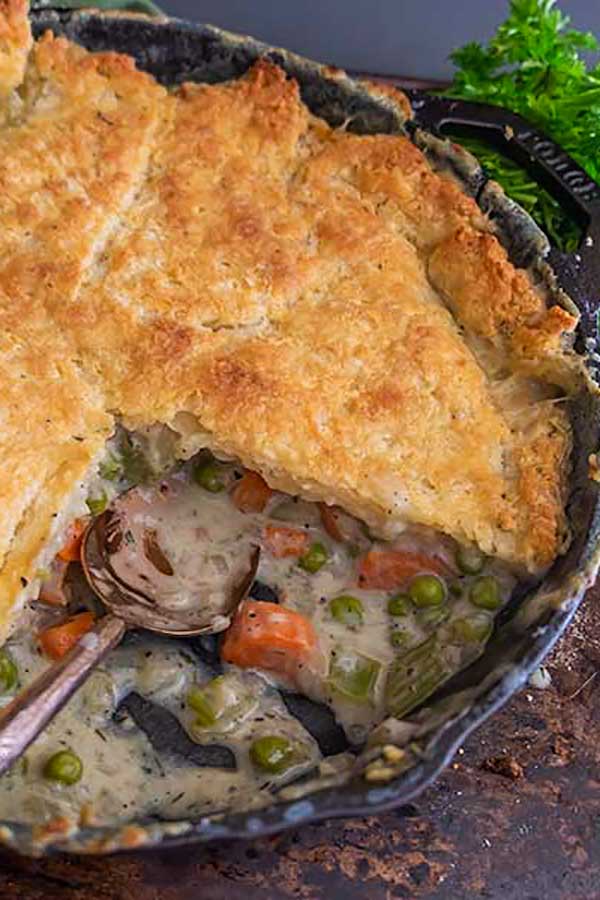 Why is comfort food so satisfying?
Comfort food such as this chicken pot pie is all about nostalgia. Food that gives you a warm and fuzzy feeling that you remember growing up, nothing is better. Typically comfort food is food that you look forward to after a stressful and hectic day.
The meal is hot, satisfying and makes you feel good. So it's no surprise that when we feel tired, sick, or lonely, we crave comfort food. In reality, there is no bad comfort food because it is food that gives you comfort.
Giving up gluten doesn't mean you have to give up your favourite comfort food. Think, warming soups, hearty casseroles, chicken pot pie, southern fried chicken, pizza not to mention pies, bread and chocolate chip cookies.
In the past, cooking seemed simpler because you didn't have to think about multiple food sensitivities.
Today, with the right ingredients, and guidance, you can bring back those foods that feel like home, such as this gluten-free skillet chicken pot pie. Enjoy!
Gluten-Free Skillet Chicken Pot Pie
Published on Feb 04, 2020
by
Kristina Stosek
Instructions
1.

Using a cast iron 10-inch skillet, sauté onions and celery in olive oil for 5 minutes

2.

Add carrots, chicken, bay leaf, thyme, rosemary, salt, pepper and chicken broth. Bring to boil, then reduce the heat to simmer and cook for 15 minutes

3.

Whisk milk/cream with tapioca/arrowroot and add to the filling with the peas. Cook over medium heat while stirring until the sauce starts to thicken. About 3 minutes

4.

5.

While the filling is cooking prepare the crust; Place flour, baking powder, salt and rosemary into a bowl and whisk to combine

6.

Using the large blade on a cheese grater, grate the butter into the flour and mix to combine. Or, cut the butter into small pieces and using a pastry knife cut into the flour. Add milk and using a spatula or your hands work the milk into the dough. Depending on your flour blend, you may need to add 4 - 6 tablespoons of flour. The dough should be moist enough to roll. DO NOT OVERWORK THE DOUGH, or the crust will become hard.

7.

Shape the dough into a disc and place between sheets of parchment paper lightly dusting each side with flour. Using a rolling pin, roll the dough into approximately 10-inch circle. Using the bottom sheet of parchment paper, carefully place the circle of dough on top of the filling. Cut six small slits in the top to allow the steam to escape and brush with cream. Place the skillet on a baking tray and bake for 30 minutes until the crust is golden

8.

Cool for 15 minutes before serving
Leave a Comment
Kristina
that is wonderful, thank you for sharing
I make this regularly because even my picky 2 year old loves it and will happily eat up every last bit on his plate. I used bob's 1 to 1 GF baking flour and it made a delicious, buttery, flaky crust. I also just used poultry seasoning I had on hand for the spices and it was perfect. Sooo good!
Delicious and easy to make!