Gluten-Free Thumbprint Cookies
Published on Dec 17, 2017
by
Kristina Stosek
Prep Time:

20 minutes
Cook Time:

15 minutes
Serves:

18 cookies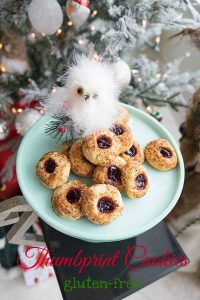 ​This post may contain affiliate links, please see our
privacy policy
for details
It is that time of year when baking is in full swing and Christmas traditions begin. Gluten-Free Thumbprint Cookies cookies are always on top of our list.
4 Things we love about thumbprint cookies!
— The thumbprint cookies are festive and pretty because they have jam in the center, and they will melt in your mouth.
— With only a few basic ingredients, you can make gluten-free thumbprint cookies that your entire family will love.
— What I love about this gluten-free cookie recipe is that you can personalize it by using a jam of your choice. I love cherry jam not only because of the deep red colour, but the jam compliments the cookie flavour.
— And, since the jam sweetened the cookie, I cut back on the sweetener.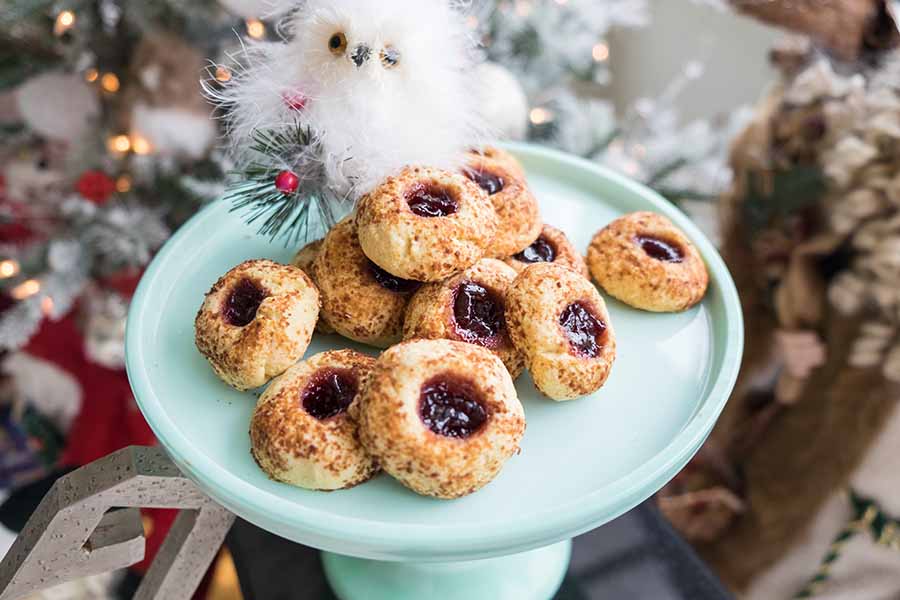 thumbprint cookies as hostess gift
During the holiday season, we visit family and friends, so a hostess gift is always appreciated. Especially when the cookies are freshly baked, gluten-free and taste this good.
This gluten-free cookie recipe is much easier to make than you may think!
thumbprint cookie recipe overview
First, mix everything, roll the dough into a ball and poke a hole in the middle using your finger. Then, all you do is fill in your favourite jam. That's it, super easy, pretty and delicious.
To make it into a hostess gift, use a small festive box, layer the bottom with pretty paper and fill it with cookies. I would also add a note that they are gluten-free.
Trust me on this. Your hostess will always appreciate freshly baked gluten-free cookies, especially during the holiday season. A freshly baked cookie beats any store-bought gluten-free cookie, and you can make them at a fraction of the cost. Enjoy and happy holidays!
I recommend doubling the recipe because the gluten-free thumbprint cookies go very fast.
Need more cookie ideas? Please check out our extensive list of gluten-free cookie recipes.
Gluten-Free Thumbprint Cookies
Published on Dec 17, 2017
by
Kristina Stosek
Instructions
1.

Preheat oven to 325 F and line a baking sheet with parchment paper

2.

In a large bowl beat butter, egg yolk, icing sugar and vanilla together until creamy

3.

Add flour and xanthan gum and using a spatula blend together until cookie dough forms

4.

Scoop the dough into about the size of a walnut and roll into a ball. Roll lightly in the coconut sugar and place on prepared baking sheet. Using your finger, poke a hole in the center of each cookie and fill with cherry jam

5.

Bake for 13 - 15 minutes until the edges start to golden. Cool on the baking sheet