Keto Mini Blueberry Cheesecakes
Published on Apr 01, 2018
by
Kristina Stosek
Prep Time:

10 minutes
Cook Time:

minutes
Serves:

8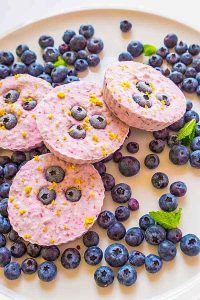 ​This post may contain affiliate links, please see our
privacy policy
for details
Delicious creamy Keto Mini Blueberry Cheesecakes…cream cheese, butter, coconut oil, fresh lemon juice, and plenty of fresh blueberries. To sweeten this keto blueberry dessert, I used erythritol.
When following the keto diet, we often skip desserts. The reason for this is, a keto (ketogenic) diet is a low-carb, moderate protein, a higher-fat diet that can help you burn fat more effectively.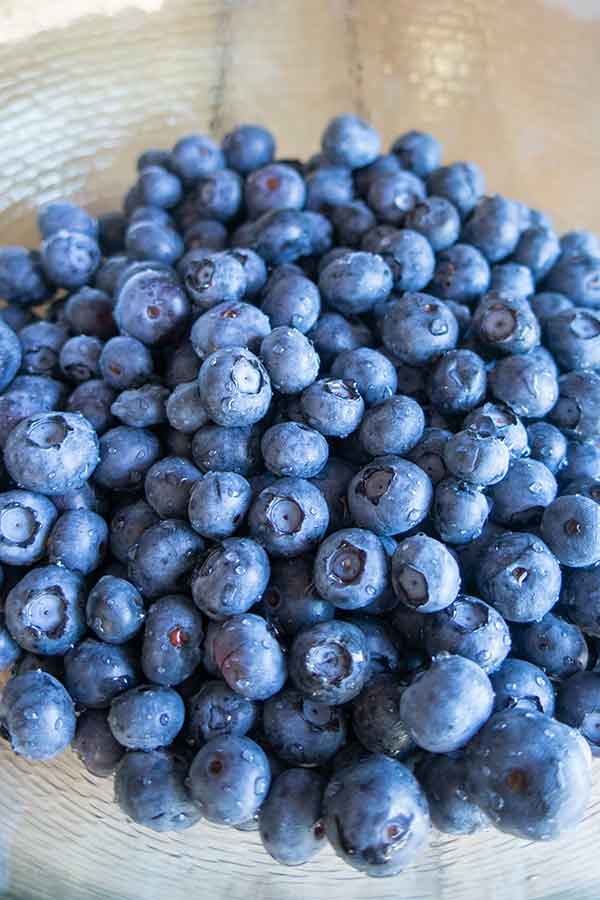 As we know, sugar is super high in carbs, and since most desserts are made with a sweetener, desserts are off-limits. It doesn't matter if you use a healthier option such as pure maple syrup or honey. The carbs and calories are still high.
what is erythritol?
Erythritol is a natural sugar alcohol, just like xylitol, and is used to replace sugar. Erythritol has zero net carbs and is often used in keto dessert recipes.
This sweetener is considered one of the healthier sugar alcohols. It's calorie-free, doesn't raise blood sugar levels and is less likely to cause digestive problems.
Let's start with the mini blueberry cheesecakes details…
This keto dessert recipe is sooo easy. You will need only six ingredients and a blender. In addition, you will not need an oven, which is always welcome during hot summer months.
First, blend the cream cheese, butter, coconut oil and erythritol. Next, using a high-speed blender, blend the blueberries until they become a blueberry sauce.
then,
Add the blueberry sauce, fresh lemon juice, and lemon zest to the creamy mixture and mix until smooth.
Spoon the blueberry cheesecake mixture into mini muffins liners or silicone moulds and press a few fresh blueberries into the cheesy mixture. I also like to add extra lemon zest as a topping.
next,
Place the mini blueberry cheesecakes in the freezer until frozen. Do you need more keto dessert ideas? Try the Keto Cream Cheese Lemon Bars or the 4-Ingredient Keto Strawberry Mousse, both are insanely good!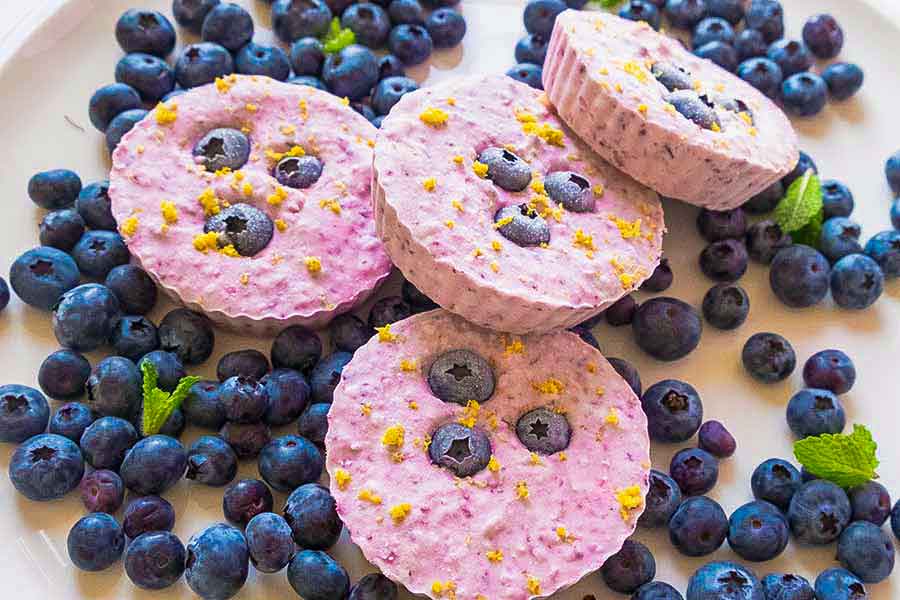 Serve the keto blueberry cheesecakes straight out of the freezer. The mini cheesecakes are heavenly!
This keto dessert is refreshingly zesty with a fresh blueberry flavour throughout—a perfect summer dessert or whenever you crave something cold and delicious. Enjoy!
Now you can enjoy a sweet blueberry dessert without worrying about the extra carbs! Total net carbs per blueberry cheesecake, about 2.25 Enjoy!
Keto Mini Blueberry Cheesecakes
Published on Apr 01, 2018
by
Kristina Stosek
Instructions
1.

Mix cream cheese, butter, coconut oil and erythritol until creamy

2.

Using a high-speed blender blend the blueberries

3.

Add blueberries, lemon juice and lemon zest to the cheese mixture and blend well

4.

Spoon into mini muffins liners or silicone moulds and lightly press fresh blueberries into the cheesecake. Top with more lemon zest if you wish. Freeze until firm, about 2 hours. Remove from the liners and store in an airtight container. Keep frozen until ready to eat. Bring to room temperature for 15 minutes before serving
Leave a Comment
Kristina
I think it should work, I have not tried to make it with frozen blueberries before
I am going to try this with frozen blueberries, what do you think?
total net carbs 2.25 per each piece
These are yummy! Can you let me know how many carbs it has?