Award Winning Gluten-Free Oatmeal Raisin Cookies
Published on Mar 02, 2018
by
Kristina Stosek
Prep Time:

20 minutes
Cook Time:

18 minutes
Serves:

24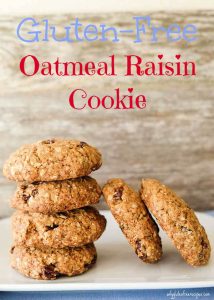 ​This post may contain affiliate links, please see our
privacy policy
for details
If you were searching for the perfect gluten-free oatmeal raisin cookie, you must try this recipe. I promise you will not be disappointed. The oatmeal raisin cookie has a good texture, is lightly hinted with cinnamon and nutmeg and is packed with raisins.
I love this gluten-free oatmeal raisin cookie because this delicious cookie is also dairy-free and refined sugar-free! Thus, making the oatmeal cookie a healthier choice to some other sweet options that kids love. Some of our other gluten-free healthier cookies you may enjoy is the Gluten-Free Healthy Morning Cookie or the Grain-Free Cassava Chocolate Chip Cookie.
what are raisins and their health benefits…
Raisins start as grapes, and then they are dried into raisins. The drying process concentrates the nutrients making raisins nutrient dens. By drying grapes, they also become sweeter, and this is why many children love raisins.
Raisins are a good source of iron, copper, potassium and vitamin B6. A quarter of cup raisins contains 108 calories, 1 gram of protein, and 1 gram of fiber. The healthiness of raisins makes them a healthier snack when compared to other sweets. And the great thing is that most children love raisins.
Why is this oatmeal raisin cookie healthy?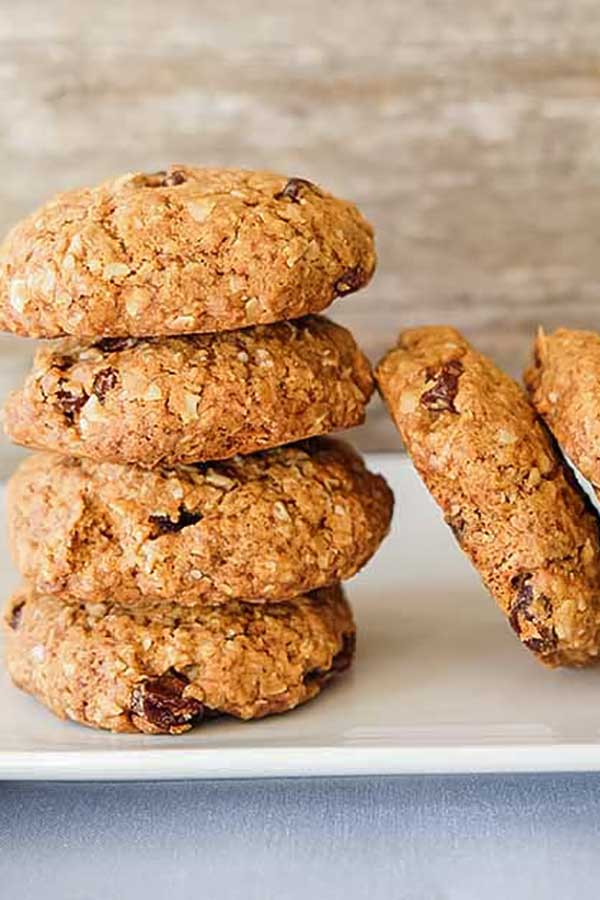 As parents, we want our children to have nutritionally balanced meals to keep them healthy with a strong immune system. And starting with more nutritious snacks that children love makes everything so much easier when feeding our kids.
This cookie is made with oatmeal, a naturally gluten-free grain packed with protein and fiber, healthy raisins, coconut oil, eggs.
As a sweetener, I used coconut sugar. Of course, we know sugar is sugar. However, coconut sugar contains the soluble fiber inulin, which is linked to a lower risk of blood sugar spikes and also has traces of minerals.
Although I created this gluten-free oatmeal raisin cookie recipe for kids, grown-ups love this cookie with coffee or as an energy boost in their busy lives.
Because this oatmeal and raisin cookie is packed with protein, it is satisfying and will give you lasting energy. Enjoy!
Award Winning Gluten-Free Oatmeal Raisin Cookies
Published on Mar 02, 2018
by
Kristina Stosek
Instructions
1.

Preheat oven to 350 F and line a baking sheet with parchment paper

2.

Place oats into a food processor and process until grainy (not fine)

3.

In a large bowl whisk together grainy oats, baking flour, raisins, coconut sugar, baking soda, baking powder, cinnamon, nutmeg, and salt

4.

In a small bowl beat coconut oil, eggs, and vanilla. Add to dry ingredients and stir until combined

5.

Using your hands roll dough into small balls, about the size of a golf ball and place on prepared baking sheet 1-inch apart. Using your hands slightly press the balls down

6.

Bake for 18 minutes. Remove from the oven and transfer to a cooling rack to cool completely