Healthy Morning Cookie – Vegan, Gluten Free
Prep Time
15 Minutes
Difficulty
Beginner
Cook Time
20 Minutes
Serves
12 - 15
Be the first to rate this recipe.
Starting your day with a Healthy Morning Cookie…packed with seeds, unsweetened coconut, oats, dried fruit, nut butter, cocoa nibs and bananas. Cocoa nibs are a great source of plant based magnesium, calcium, zinc and iron.
a healthy plant-based cookie recipe
Yes, this nutrient-protein filled cookie has it all to keep you energized.
This plant-based gluten-free cookie is a little chewy with crunchy seeds and zesty fruit throughout. The banana is all you need for sweetness, and if you prefer sweeter things, you can add a tablespoon of pure maple syrup.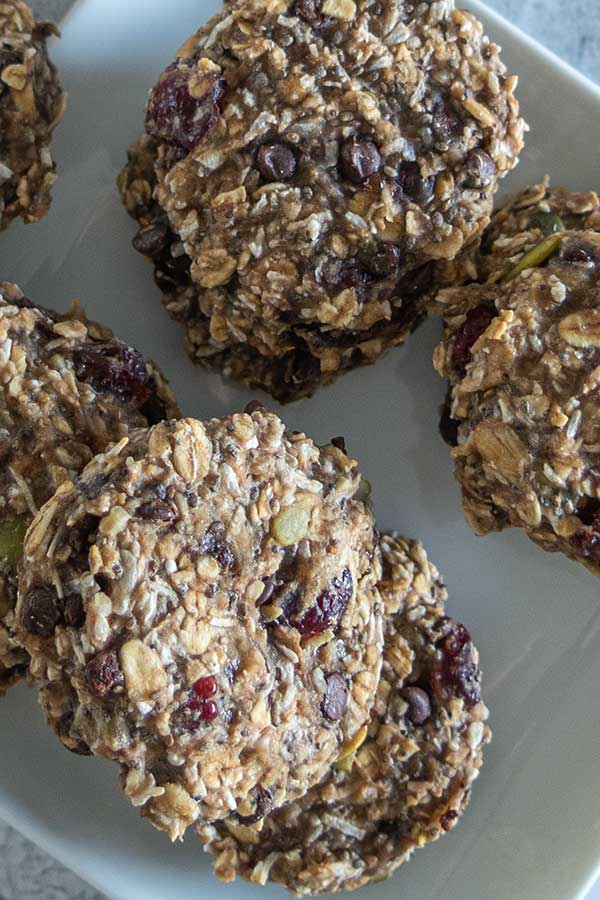 Mornings are a busy time of the day. Whether you are rushing out to work or getting your family ready for the day, breakfast can be challenging. 
make ahead gluten-free morning cookie recipe
Making a healthy breakfast in advance like this morning cookie will make breakfast time less stressful.
This gluten-free healthy cookie recipe is packed with crunchy seeds and fruit mixed with certified gluten-free oats. The cookie is sooo tasty!
A cookie is often thought of as a delicious sweet treat. This morning cookie is more than that. The fiber, protein and antioxidants in this healthy recipe make this gluten-free cookie nutrient-dense and satisfying.
These plant-based cookies are an excellent way to start your day. Another couple of cookies you may enjoy are the 5 Ingredient Keto Walnut Cookie, or the Gluten-Free Buckwheat Chocolate Chip Cookies.
what I love about this healthy morning cookie recipe is, it's so easy to make
To start, mix some of the seeds with the milk of choice. After a few minutes, it will become a gel-like mixture. This is what holds the cookie together.
Then, mash ripe bananas. A great way to use up those ripened bananas. The riper, the sweeter, yet the calories remain the same. YEY!
Now, mix everything in a bowl; you don't need a mixer. All you need is a spatula the cookie dough is quickly mixed.
If you have a cookie scoop, use it to scoop out the dough and place it on a baking sheet. The cookies can be placed fairly close together because they do not spread. I like to flatten them slightly by using a fork.
Next, bake until the bottoms are golden brown. You can make 12 larger cookies or 15 smaller cookies. Don't forget to adjust the baking time.
Banana hack of the day!
How to ripen bananas for baking?
Preheat oven to 300 F. Place bananas with peels on a lined baking sheet and bake until their peels turn black. Cool until you can handle them without burning your hands. Peel and mash.
The bananas are extra sweet, mushy and ready for your recipe. Sometimes the banans ooze during baking, so use a liner to avoid messy cleanup 🙂
more than just a healthy morning cookie
Although I created this gluten-free cookie recipe for breakfast, it makes for a great mid-day pick-me-up snack. I love it after a workout to give me that protein boost or before my tennis for extra energy. Either way, you will love how delicious this grab-and-go cookie tastes.
Having a delicious cookie that not only tastes good but is healthy and satisfying is a win-win all the way. 
I keep these gluten-free healthy morning cookies in an airtight container in the fridge. They will keep for up to seven days when refrigerated. Enjoy!
Let's Connect!
Be sure to FOLLOW US on FACEBOOK and PINTEREST.
Many thanks!
Kristina xx
Ingredients
1 Tbsp. + 1 tsp. chia seeds
2 tsp. Poppy seeds or flaxseeds
1/3 cup milk of choice (coconut, almond, cashew, rice, hemp, oat)
1/3 cup unsweetened shredded coconut (medium desiccated)
1/3 cup dried fruit (raisins, cranberries, chopped apricots, chopped apples or chopped dates)
2 Tbsp. Pumpkin seeds
1/4 tsp. Sea salt
1 cup mashed ripe bananas (about 2 ripe bananas)
2 Tbsp. Nut butter (cashew, almond, walnut)
1 Tbsp. Pure maple syrup (optional)
*As an Amazon Associate and member of other affiliate programs, I earn from qualifying purchases. Please check out my sponsorship and disclosure policy page for more details
Instructions
Preheat oven to 350 F and line a cookie sheet with parchment paper
In a small bowl, mix chia seeds and poppy seeds with milk. Soak the seeds for 30 minutes
In a large bowl, combine oats, coconut, dried fruit, cocoa nibs/chocolate chips, pumpkin seeds and salt. Add mashed bananas, gel-like seed mixture, nut butter and if using maple syrup. Using a spatula, thoroughly mix.
Using a cookie scoop or a tablespoon, scoop out dough onto the prepared cookie sheet. Using a fork, lightly press the dough down and form a cookie shape
Bake for 20 - 22 minutes. The bottom of the cookie should be golden brown
Cool on the cookie sheet for 5 minutes, then transfer onto a cooling rack to fully cool.
Note; I made 12 large cookies. If you prefer, you can make 15 smaller cookies and bake for 18 - 22 minutes
Similar Recipes
6 Ingredient Grain-Free Coconut Chocolate Chip Cookies
As cookies go, it's hard to find an easier Grain-Free Coconut Chocolate Chip Cookie recipe. The cookies are completely gratifying, filled with coconut and chocolate chips. When you combine coconut and chocolate, you can't go wrong, and we all need a chocolate fix every once in a while. Is this a cookie or an energy […] Read More
Prep Time
10 Minutes
Difficulty
Beginner
Cook Time
25 Minutes
Serves
10
Award Winning Gluten-Free Oatmeal Raisin Cookies
If you were searching for the perfect gluten-free oatmeal raisin cookie, you must try this recipe. I promise you will not be disappointed. The oatmeal raisin cookie has a good texture, is lightly hinted with cinnamon and nutmeg and is packed with raisins. I love this gluten-free oatmeal raisin cookie because this delicious cookie is […] Read More
Prep Time
20 Minutes
Difficulty
Easy
Cook Time
18 Minutes
Serves
24
Gluten-Free Chai Spiced Thumbprint Cookies
Gluten-Free Chai Spiced Thumbprint Cookies…Perfectly spiced with chai spices, coated with spiced sugar mix and finished with ginger marmalade. A festive cookie not to be missed this holiday baking. This gluten-free chai-spiced thumbprint cookie is a one-bowl recipe and so much fun to make. It is deliciously flavoured with chai spices, such as cardamom, ginger, […] Read More
Prep Time
15 Minutes
Difficulty
Easy
Cook Time
15 Minutes
Serves
18