Buckwheat Chocolate Chip Cookies – Gluten Free
Published on Jun 03, 2018
by
Kristina Stosek
Prep Time:

15 minutes
Cook Time:

15 minutes
Serves:

24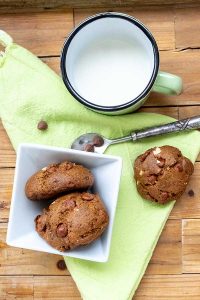 ​This post may contain affiliate links, please see our
privacy policy
for details
These Gluten-Free Buckwheat Chocolate Chip Cookies are a delicious and healthy alternative to traditional cookies. Overall, these vegan cookies are an irresistible treat that everyone will love!
How do buckwheat cookies taste?
They taste amazing! The buckwheat flour gives the cookies a nutty flavour that pairs perfectly with the chocolate chips and nuts. The cookies are soft and chewy and have a slightly crispy edge.
Are buckwheat cookies healthier?
There are a lot of reasons to eat these buckwheat cookies. For one, they're gluten-free. In addition, they are also dairy-free and egg-free and are made without refined sugar.
This means you can enjoy these buckwheat chocolate chip cookies if you have food sensitivities to dairy and eggs, are gluten intolerant, or have celiac disease.
Buckwheat is also a good source of fiber and protein, which are essential for a healthy diet.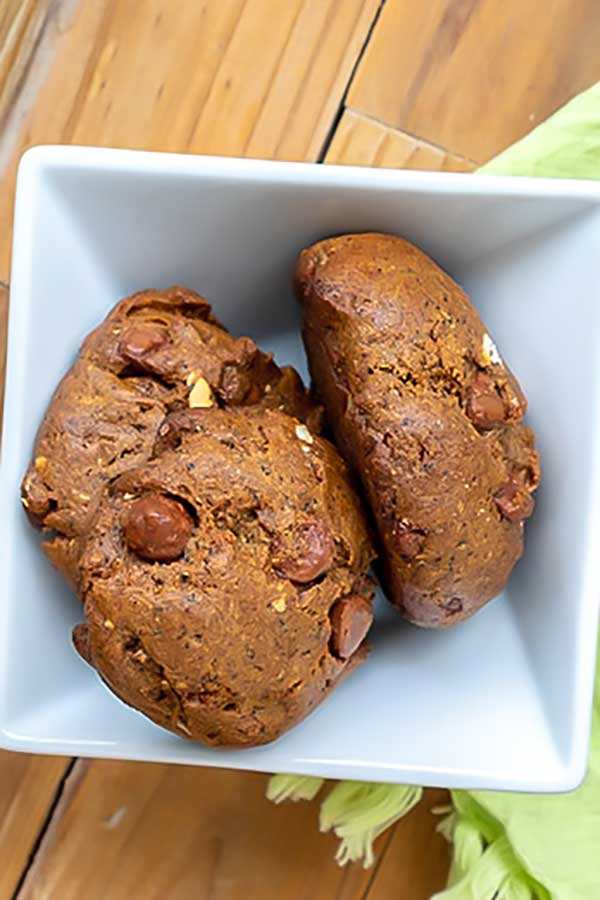 What is buckwheat?
Buckwheat is a naturally gluten-free seed high in easily digestible protein and fiber and a good source of amino acids, all of which are important for a healthy diet. Two of my favourite buckwheat recipes are the Gluten-Free Buckwheat Flax Bread, and the yummy Gluten-Free Apple Cinnamon Buckwheat Pancakes.
Is buckwheat gluten-free?
Yes, buckwheat is naturally gluten-free. It is often ground into flour you can use instead of wheat flour to make gluten-free baked goods.
Is buckwheat flour healthy?
Yes, this flour is very nutritious. It also has more vitamins, minerals and antioxidants than most grains. This is why using buckwheat flour in baking is especially important when following a plant-based diet.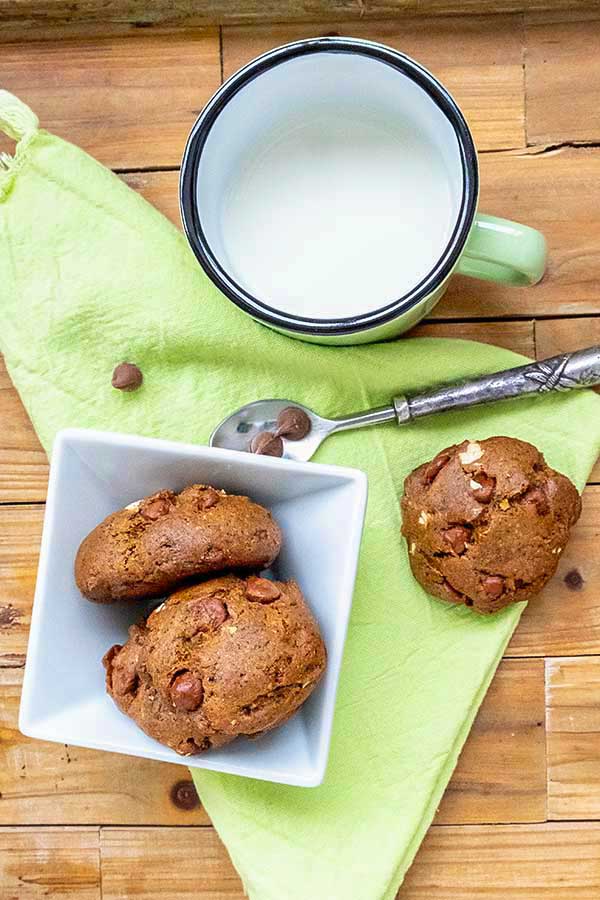 the buckwheat chocolate chip cookie recipe details
This gluten-free recipe is pretty much like most other cookie recipes. Mix the dry ingredients, cream the wet ingredients and mix them.
The only other thing to add is, the cookie dough needs to be chilled before you shape the cookies for baking. That's it!
substitutions for chocolate chips
You can substitute nuts or raisins for chocolate chips if you don't want another chocolate chip cookie recipe.
Now you can enjoy a nutritionally packed gluten-free chocolate chip cookie that you don't have to feel guilty about.
Let's Connect!
Be sure to FOLLOW US on FACEBOOK and PINTEREST.
Many thanks!
Kristina xx
Buckwheat Chocolate Chip Cookies – Gluten Free
Published on Jun 03, 2018
by
Kristina Stosek
Instructions
1.

Preheat the oven to 375 F

2.

In a medium bowl, whisk together buckwheat flour, sweet sorghum flour, tapioca starch, xanthan gum, baking soda and sea salt

3.

In a large bowl, beat the coconut oil, coconut sugar, eggs/flax eggs and vanilla until creamy. Add maple syrup and milk and mix to combine

4.

Add the dry ingredients 1/3 at a time and mix until well blended

5.

Stir in the chocolate chips and pecans or walnuts. Cover the bowl with plastic wrap and chill the dough for an hour

6.

Using a cookie scoop, drop chilled cookie dough on a baking sheet and bake for 12 - 14 minutes. Until the cookie is a deep brown colour. Cool on the baking sheet for 5 minutes, then transfer onto a cooling rack to cool