Gluten-Free Apple Cinnamon Buckwheat Pancakes
Published on Feb 28, 2014
by
Kristina Stosek
Prep Time:

10 minutes
Cook Time:

20 minutes
Serves:

8 pancakes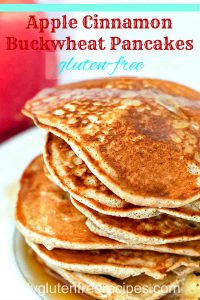 ​This post may contain affiliate links, please see our
privacy policy
for details
Bump up the flavour and texture of these Gluten-Free Apple Cinnamon Buckwheat Pancakes with a dose of nutrient packed buckwheat flour. Add some coconut flour a hint of fresh lemon juice and plenty of fresh, delicious apples and cinnamon.
What a comforting, healthy breakfast to treat you in the morning.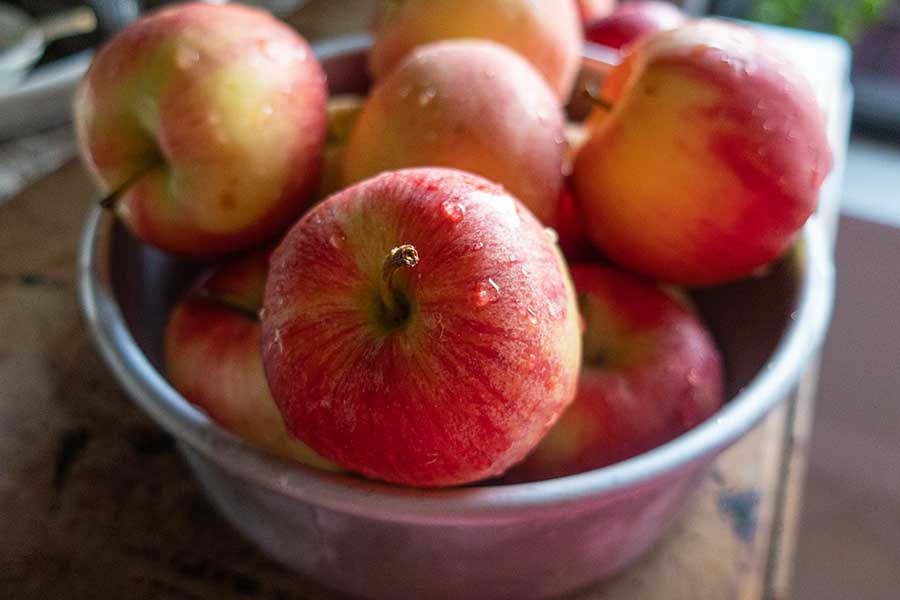 why is buckwheat so good for you?
Although named buckwheat, it is not a form of wheat or grain. Buckwheat is a naturally gluten-free seed. These tiny seeds are rich in dietary fiber and protein and multiple antioxidants.
You may think of it as a superfood. Another beautiful thing about buckwheat it is non-allergenic. When this flour is used in baking, it adds a slightly nutty flavour and a hearty texture, and it pairs beautifully with the coconut flour.
best gluten-free apple cinnamon buckwheat pancakes,
In this gluten-free buckwheat pancake recipe, there is also plenty of apples. The keep the pancakes moist and add fresh apple flavour.
Add some cinnamon, and the kids will love the pancakes even though they are made with healthy ingredients. After all, who doesn't like apples and cinnamon, a perfect combination.
And there is no need to feel guilty when it comes to these delicious pancakes, that are packed with a hefty dose of apples. To serve, you can go that extra mile and add yogurt, fresh fruit or keep it simple with pure maple syrup.
But don't stop at breakfast, the apple cinnamon buckwheat pancakes make for a wholesome snack by adding nut butter or your favourite marmalade.
For delicious apple dishes, check out our selection of gluten-free apple recipes, from breakfast to desserts, you will find something that you will love 🙂
Let's Connect!
Be sure to FOLLOW US on FACEBOOK and PINTEREST.
Many thanks!
Kristina xx
Gluten-Free Apple Cinnamon Buckwheat Pancakes
Published on Feb 28, 2014
by
Kristina Stosek
Instructions
1.

Whisk together dry ingredients (buckwheat to cinnamon)

2.

In a separate bowl using an electric mixer, whisk together wet ingredients

3.

Add apples into dry ingredients and stir to coat the apples. Add wet mixture and gently combine

4.

Using a large spoon, drop the batter onto a nonstick frying pan brushed with coconut oil. The size depends on what you prefer I make these about 3 inches in diameter

5.

Cook over medium heat for approximately 3 minutes per side