Gluten-Free Buckwheat Flax Bread
Published on Feb 13, 2021
by
Kristina Stosek
Prep Time:

10 minutes
Cook Time:

70 minutes
Serves:

12 slices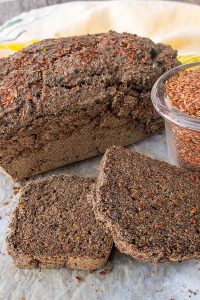 ​This post may contain affiliate links, please see our
privacy policy
for details
This healthy gluten-free buckwheat flax bread is an easy bread recipe. No yeast, no kneading and is packed with beneficial nutrients, dietary fiber and protein.
To make this buckwheat flax bread, you will need only six ingredients plus salt and water. This grain-free bread is plant-based and takes just minutes to prepare for baking.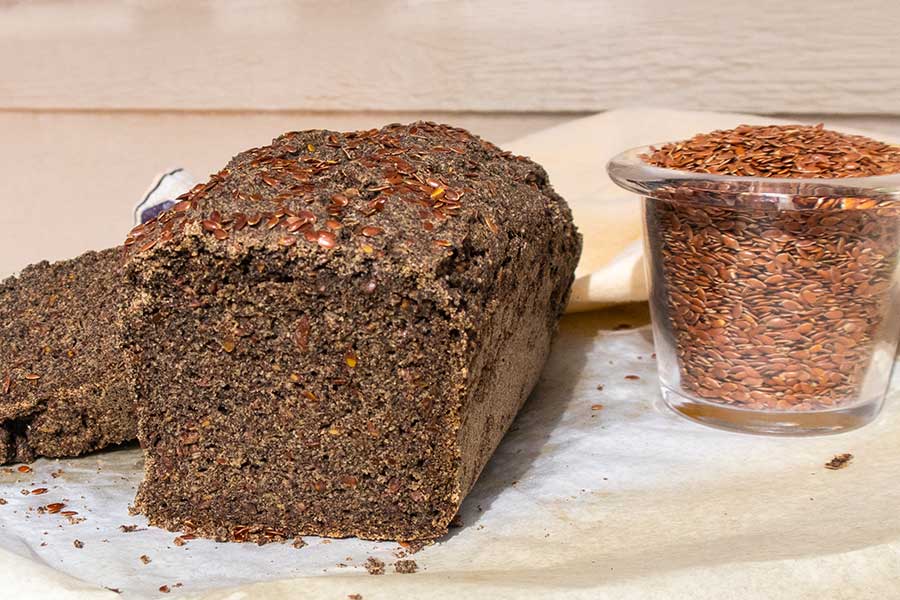 This gluten-free buckwheat flax bread is made with only healthy ingredients – buckwheat, flaxseed, psyllium, almond flour, and heart-healthy olive oil. This bread is vegan, and is made without grains, yeast or dairy.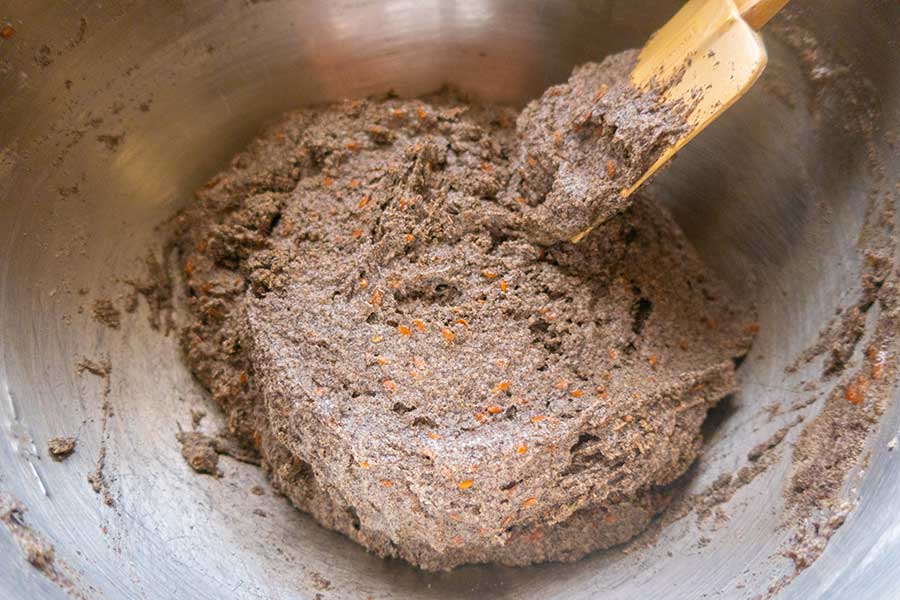 Three ingredients that make this a healthy buckwheat bread,
Buckwheat — a naturally gluten-free seed that is not related to wheat in any way. This seed contains manganese, magnesium, phosphorus, niacin, zinc, folate, vitamin B6 and dietary fiber.
Flaxseed — another ingredient in this bread recipe that is considered a superfood. This tiny seed is loaded with nutrients, dietary fiber and contains good quality protein.
Psyllium — comes from the husk of the seed of the Plantago plant and has an array of health benefits. Some studies have shown that adding psyllium to your diet will help with weight loss. When buying psyllium for baking, do not buy the metamucil brand. This brand does not work in this recipe. This is my favourite psyllium husk powder.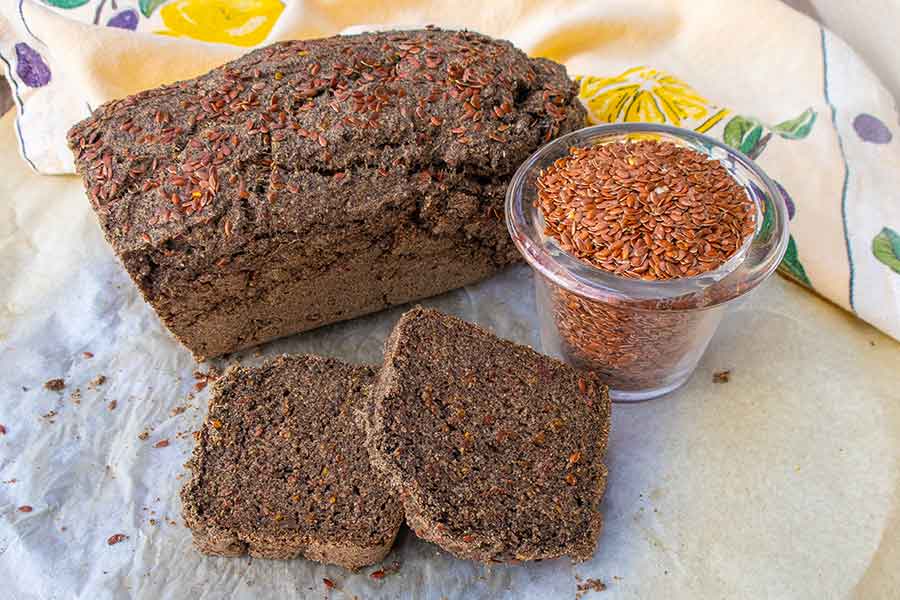 ways to enjoy buckwheat flax bread,
What I love about this bread are the flavour and texture. The bread tastes earthy and makes excellent sandwiches. The crust is firm and slightly crispy. And, the dark brown bread is hearty and satisfying.
Two of my favourite ways to enjoy this gluten-free bread are with salmon spread or avocado egg salad sandwiches. They compliment each other beautifully.
This high fiber bread is guilt-free because it is packed with so much goodness. It makes delicious sandwiches, serves as a starter, makes a great addition to salads or dip into your favourite stew or hearty soup.
I recommend storing this bread in the fridge. The grain-free plant-based bread will keep up to five days when refrigerated. If you are searching for gluten-free bread that will keep you satisfied, help you with weight loss and is healthy, look no further. Enjoy!
Gluten-Free Buckwheat Flax Bread
Published on Feb 13, 2021
by
Kristina Stosek
Instructions
1.

Mix 1/4 cup flaxseeds with 1 cup hot water and set aside for 30 minutes

2.

Preheat oven to 355 F and line an 8 x 3-inch loaf pan with parchment paper. If you are using a wider loaf pan, the bread will be flatter. I highly recommend using the 8 x 3-inch for best results.

3.

In a large bowl, whisk together buckwheat flour, almond flour, psyllium husk powder, baking powder and salt

4.

Combine flaxseed mixture with 2/3 cup water and 1/4 olive oil. Add to dry ingredients and using a spatula mix until just combined. Do not overmix the bread, or it will become dense and heavy and will not rise well

5.

Spoon the dough into the prepared loaf pan shaping the dough into a bread loaf with a round top. Do not flatten the top of the loaf, or it will become dense. Sprinkle with 1 tablespoon of flax seeds and lightly press the seeds into the dough

6.

Bake for 1 hour 10 minutes until a toothpick inserted in the center comes out clean. Cool in the pan for 10 minutes, then lift using the parchment paper and place on a cooling rack to fully cool before slicing
Leave a Comment
rich and delicious, this buckwheat bread goes so well with mashed avocado. YUM!!!
Kristina
Hi Liza, I am glad you enjoyed it. The pumpkin seeds and sesame seeds sound delicious, thank you for sharing!
Hello! Thank you very much for this absolutely delicious bread recipe! We love it very much! Only subs I did is(because I didn't have enough almond flour), I have used a half almond and a half PB flour. Also added some pumpkin and white sesame seeds. Thank you very much! Blessings!