Gluten-Free Multi-Seed Oat Flour Bread
Published on Aug 01, 2021
by
Kristina Stosek
Prep Time:

10 minutes
Cook Time:

65 minutes
Serves:

1 loaf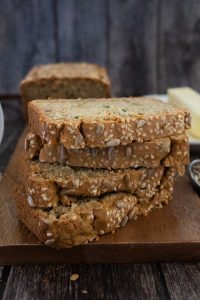 ​This post may contain affiliate links, please see our
privacy policy
for details
Gluten-Free Multi-Seed Oat Flour Bread…a light crust on the outside, super soft on the inside, with healthy seeds throughout. The best part, this bread is easy to make and pretty difficult to mess up.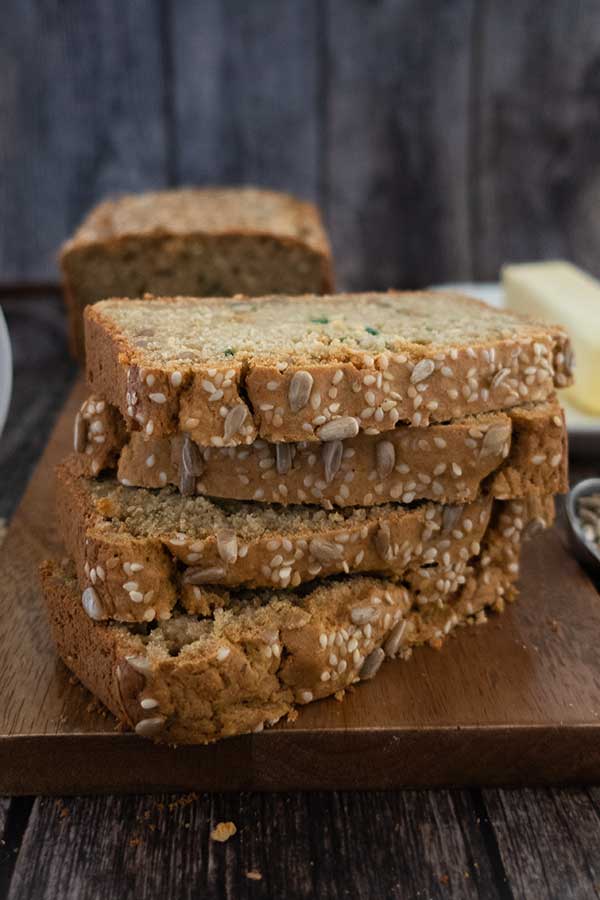 Enjoy a couple of slices when making your favourite sandwiches, or if you like sweetness, add butter and jam, or my favourite…top with your favourite soft cheese.
This multi-seed oat flour bread is perfect for weekend baking or weeknights. Because it is probably one of my simplest gluten-free bread recipes, you can't go wrong! You may also enjoy our Grain-Free Nut-Free Pumpkin Seed Bread or the Gluten-Free Buckwheat Flax Bread.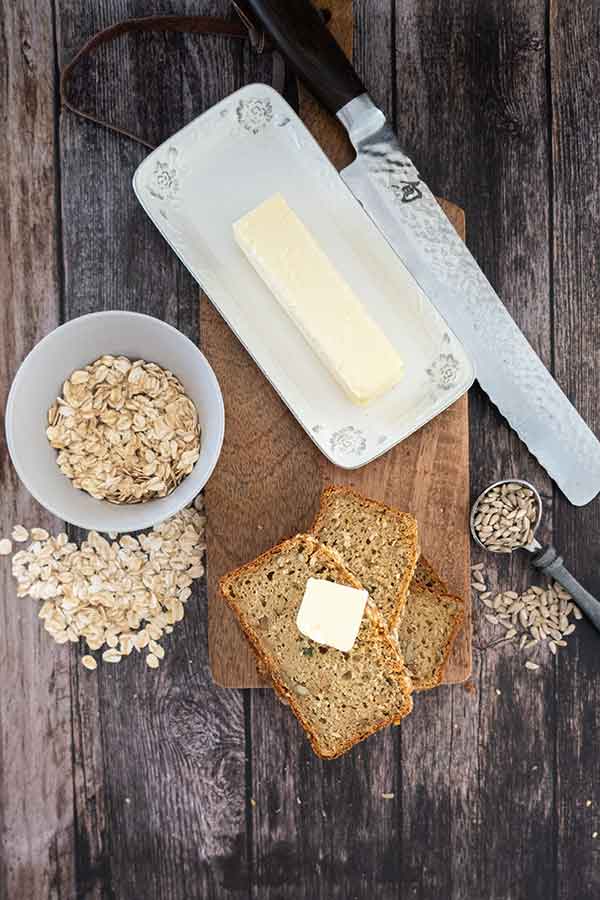 gluten-free multi-seed oat flour bread recipe details
Start with gathering your ingredients, measuring cups and spoons, 2 bowls, spatula, a whisk and a standard loaf pan.
Next, in one bowl, mix the dry ingredients with the seeds. Then, in the other bowl, whisk the wet ingredients.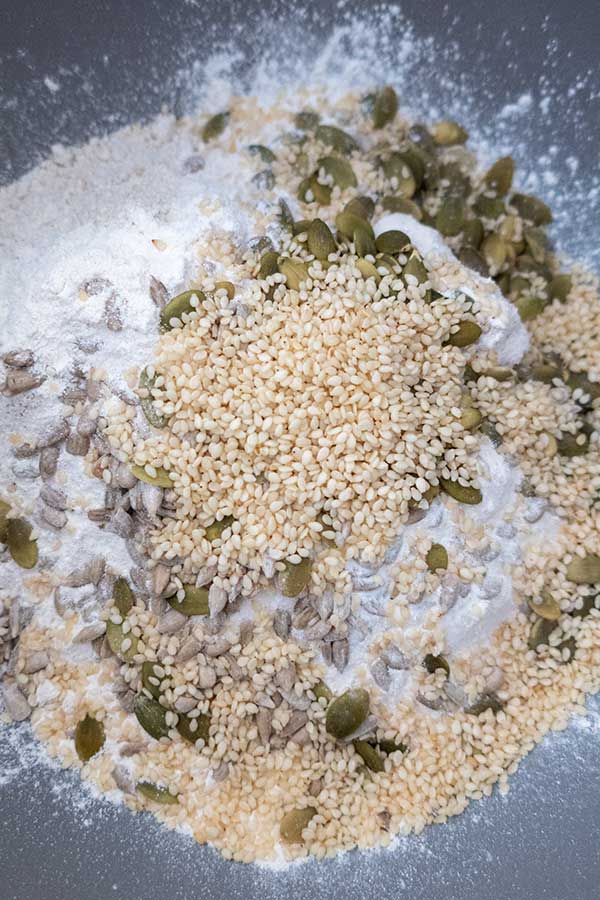 Add wet mixture to dry ingredients and mix until just combined. Do not overmix, or the bread will become dense.
Transfer the dough into a well-greased loaf pan and bake for about 65 – 70 minutes. Oat flour bread takes longer to bake, so do not underbake the bread. It should pass the toothpick test.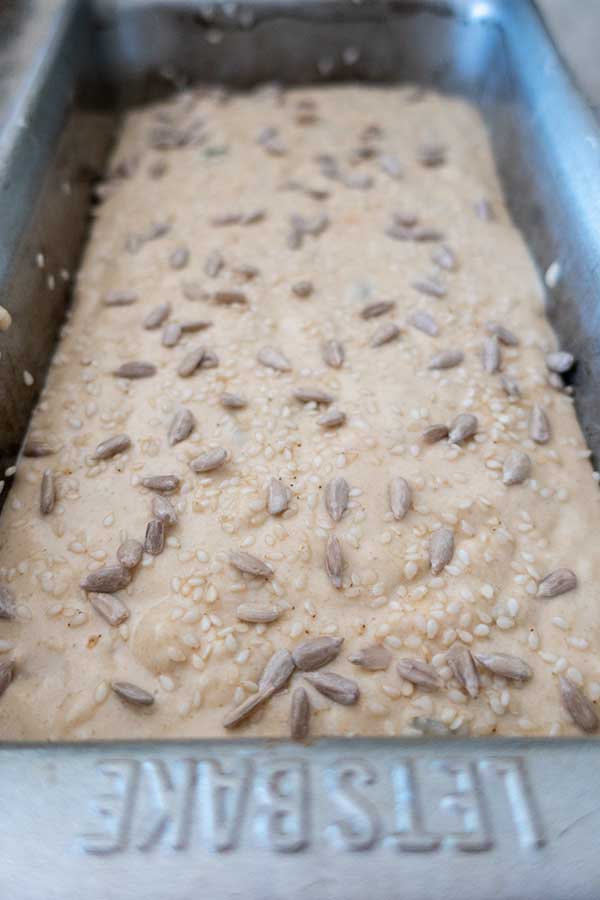 And that's it, no kneading, no waiting for the dough to rise. So when it comes to good healthy bread recipes, this is probably the one! I know many of us shy away from baking bread at home. But trust me on this, there is nothing to this gluten-free oat flour bread recipe.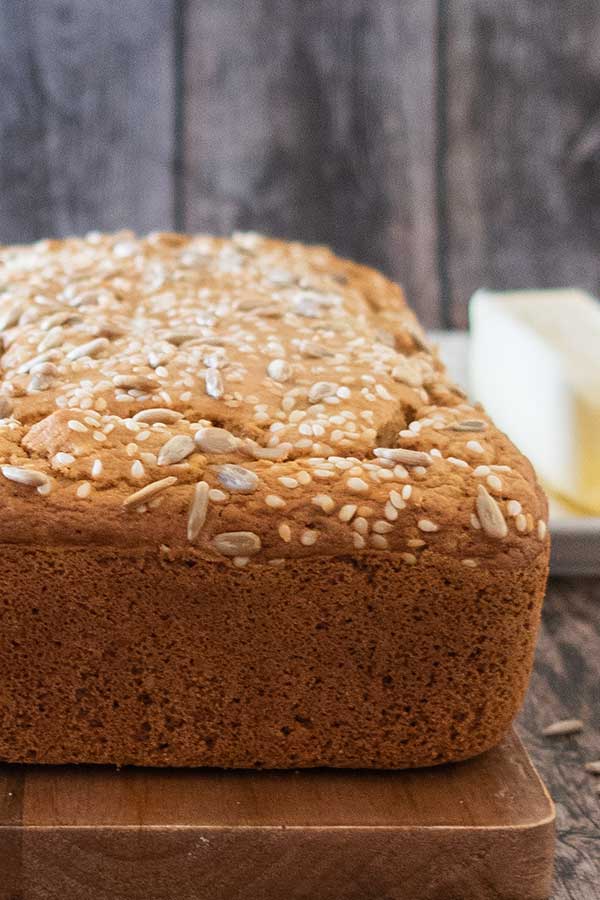 Three things to keep in mind when making this oat flour bread.
Measure the flour correctly. This means fill your measuring cup with a spoon, then level with a knife. Do no scoop the flour with the measuring cup or you will have more flour than you need, making the bread dry and heavy.
Do not overmix. This is important to keep the bread light, mix the dough until just combined.
Do not underbake the bread. When using oat flour, it takes longer to bake the bread. If you find that your bread starts browning too fast, loosely cover it with foil paper.
When you follow these three steps, you will have a perfect gluten-free multi-seed oat flour bread.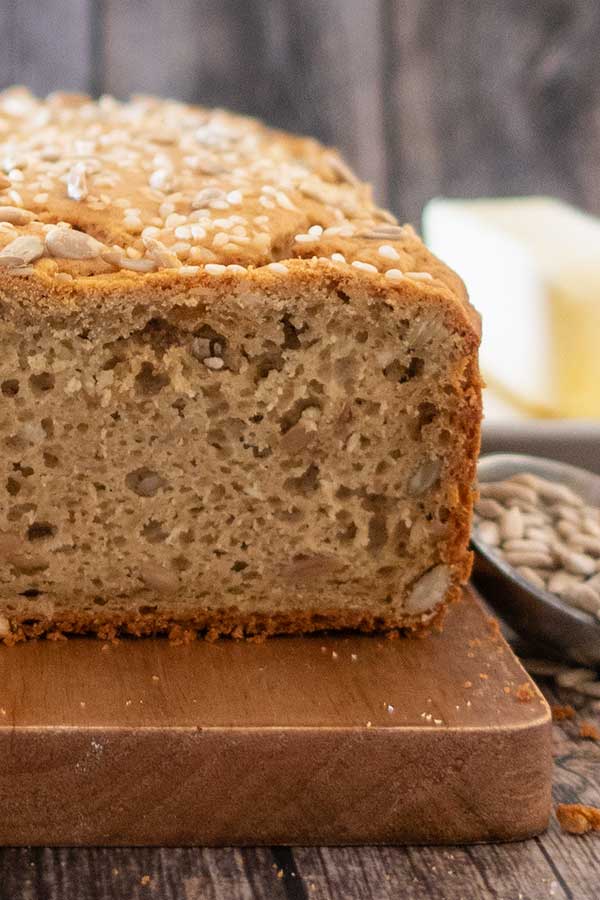 substitutions
Yes, you can choose different seeds. Or, substitute cassava flour for millet or sweet sorghum flour and maple syrup for honey.
This gluten-free bread dough recipe is my absolute favourite, and it never fails me. The secret? Buttermilk. There is something about buttermilk and oat flour. When you mix the two, they form a perfect bread dough mixture.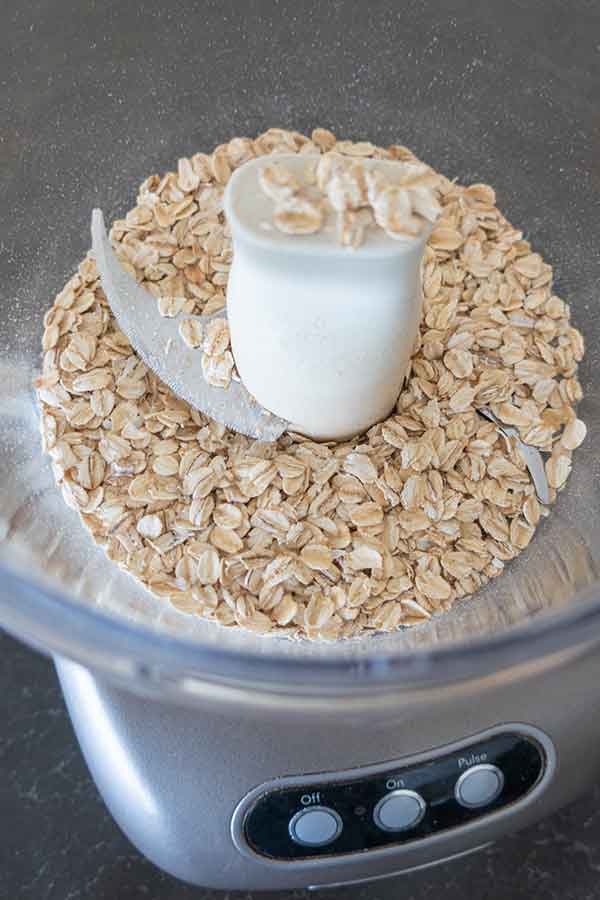 How to make oat flour?
If you don't have oat flour but have oats, don't go out and buy the flour. Oat flour is super easy to make. Add rolled oats to a food processor and process until they become a flour texture.
Is oat flour nutritious?
Oat flour is packed with antioxidants, nutrients, fiber and protein, and oats will provide you with lasting energy.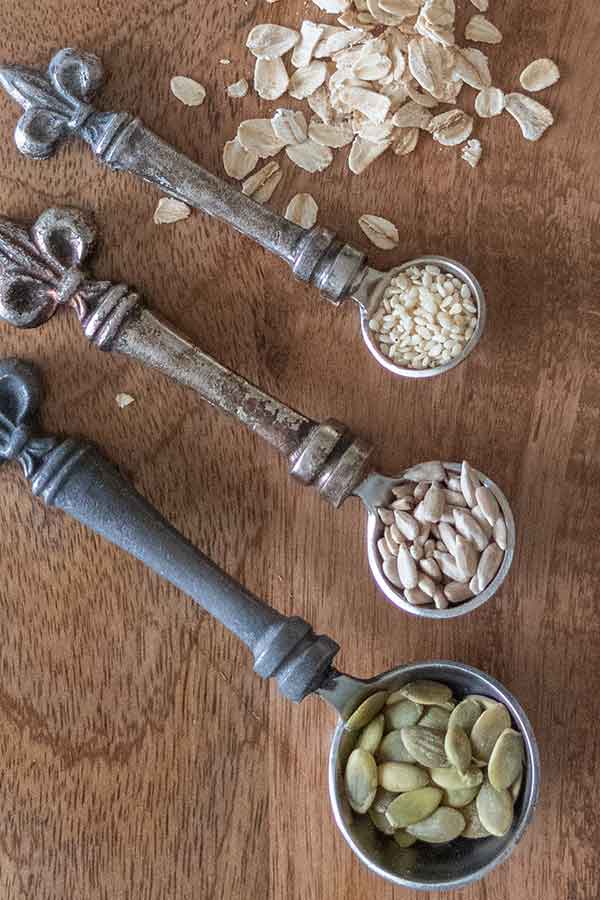 Things to know about seeds in bread recipes?
In this gluten-free bread recipe, I used pumpkin seeds, sunflower seeds and sesame seeds. These seeds add to the flavour and texture of this oat flour bread. But even more importantly, pumpkin seeds are high in antioxidants, magnesium and fiber.
Sunflower seeds are an excellent source of vitamin E, B1, B6, iron, copper and zinc.
And the super tiny sesame seeds are an excellent source of manganese and calcium, both of which help your bones grow healthy and strong.
For fats, I used heart-healthy olive oil and buttermilk. Buttermilk is lower in fat than regular milk because the fat has been removed. And most buttermilk has been fortified.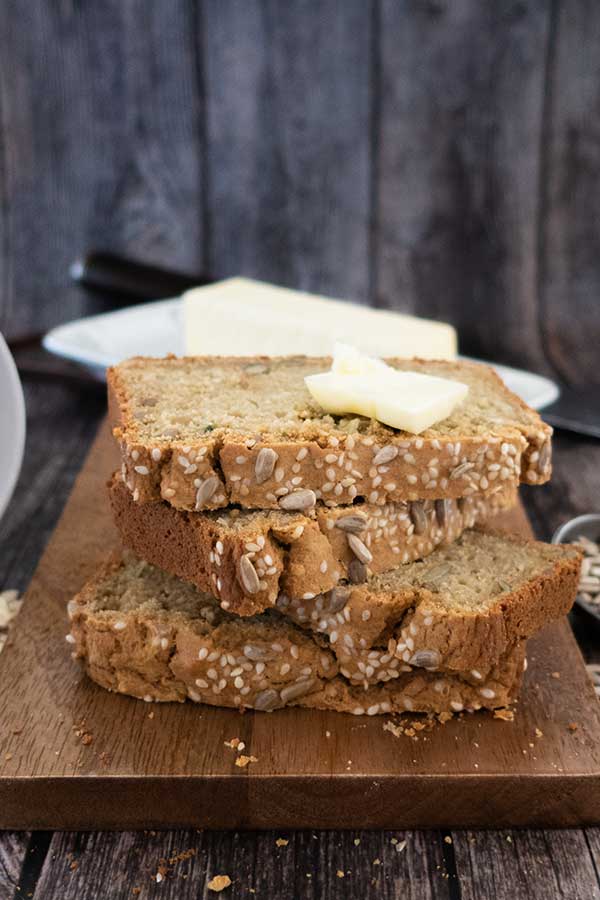 So next time you reach for a bowl of oatmeal, instead, enjoy a slice of this super-healthy multi-seed oat flour bread with your favourite topping. You will love it!
This gluten-free bread recipe is so easy to make, and with the added health benefits, there is no reason why you shouldn't give it a try.
The fresh bread aroma lingering throughout the house from the oven is so comforting, especially on quiet Sunday mornings. Enjoy!
Let's Connect!
Be sure to FOLLOW US on FACEBOOK and PINTEREST. And don't forget to sign up for our newsletter, the form is at the bottom of this page. We always have something new and exciting for you!
Many thanks!
Kristina xx
Gluten-Free Multi-Seed Oat Flour Bread
Published on Aug 01, 2021
by
Kristina Stosek
Instructions
1.

Preheat the oven to 350 F. Liberally grease an 8 x 4-inch loaf pan using butter or coconut oil. Set aside

2.

In a large bowl, combine dry ingredients (oat flour to salt)

3.

In a separate bowl, whisk buttermilk, eggs, olive oil and maple syrup

4.

Add wet mixture to dry ingredients and mix just to combine

5.

Transfer batter into prepared loaf pan and sprinkle with additional seeds

6.

Bake for 65 - 70 minutes, until the top is golden brown and the bread passes the toothpick test

7.

Cool in the pan for 5 minutes, then transfer onto a cooling rack to cool before slicing
Leave a Comment
Kristina
You can use a narrower bread pan and it will give you more height. This bread is our favorite for sandwiches!!
It's delicious. Best bread I've been able to make since my food allergy issues began. Has anyone every tried to add yeast to make it rise a bit? Mine was pretty flat.
Kristina
Pam you can use a dairy free milk with 1 teaspoon of apple cider vinegar per cup
I have to be dairy free can i use something else for the buttermilk what would you think would work
Kristina
Thank you Gretchen, I am pleased to hear that.
Tried this recipe, came out delicious. I have had trouble finding a wheat-free bread that really delivers, and this one does. Love :)