5 Ingredient Keto Walnut Cookie, Keto Walnut Recipes
Published on Sep 21, 2019
by
Kristina Stosek
Prep Time:

10 minutes
Cook Time:

20 minutes
Serves:

18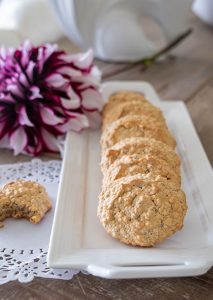 ​This post may contain affiliate links, please see our
privacy policy
for details
Just because you are following a keto diet does not mean that you can't have sweet cookies. A perfect example is this 5 Ingredient Keto Walnut Cookie recipe. Not only this keto cookie is very satisfying, but the cookie has health benefits.
This keto cookie recipe is made with only five ingredients—eggs, walnuts, vanilla, a pinch of salt, and sweetened with monk sugar. I can't think of any ingredient in this keto cookie recipe that is unhealthy.

let us examine the ingredients,
Walnut, edible seed of a drupe (stone fruit), is more than just nutritious food. The walnuts have a chock full of fiber, protein, vitamins, minerals and, most importantly, healthy fats.
A keto (ketogenic) diet is about healthy fats, sufficient protein, and low carbohydrates. The walnuts are high, mostly in polyunsaturated fats. These fats are considered healthy fats and are essential when following a keto diet.
Eggs, we all know that eggs are protein-packed, but they are also rich in vitamin D, a much needed vitamin, especially during the winter months when sunshine is scarce.
Eggs have a fair amount of vitamin A, cobalamin (B-12), iron, B-6, and a good source of complete protein. A complete protein means that an egg contains all the essential amino acids our bodies need.
Monk sugar is an extract derived from dried monk fruit. The pure form of monk sugar is 150 to 200 times sweeter than sugar and has very little after taste.
Monk sugar has zero calories and zero net carbs and is rich in powerful antioxidants. Monk sugar is often mixed with other zero-carb sweeteners such as xylitol.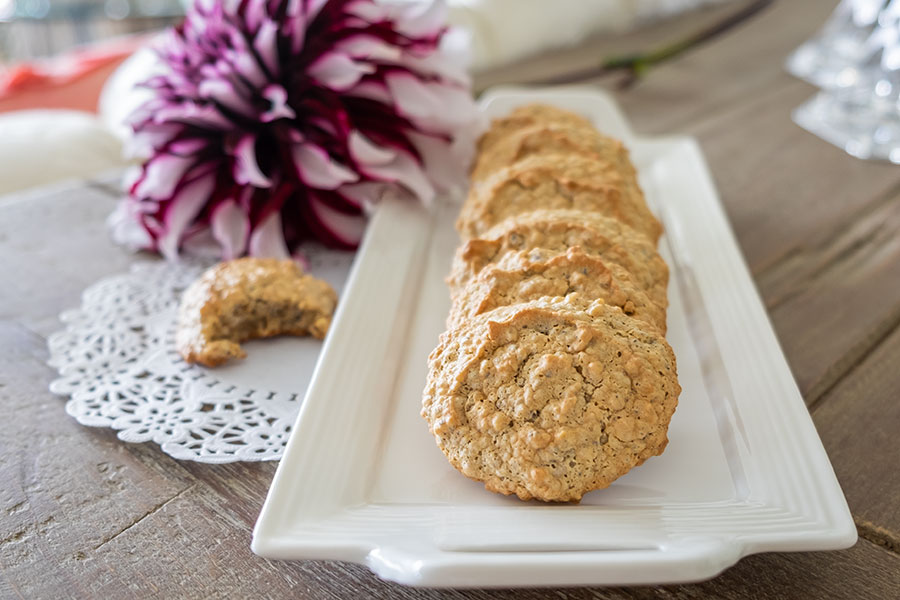 the keto walnut cookie,
This healthy cookie is probably one of the easiest cookies to make. Honestly, hands-on time is less than ten minutes. The walnut cookie has a good texture and is very tasty.
The best part, this keto recipe has only about 1 gram of net carbs per one cookie.
When following the keto diet, it is about the body burning fats instead of carbohydrates. Therefore, it is essential to eat healthy fats such as walnuts have.
Here are 3 of my favourite keto recipes!
For the latest recipes and tips, please like us on Facebook or follow us on Pinterest and Instagram.
5 Ingredient Keto Walnut Cookie, Keto Walnut Recipes
Published on Sep 21, 2019
by
Kristina Stosek
Instructions
1.

Preheat oven to 325 F and line a baking sheet with parchment paper Beat egg whites with sweetener, vanilla and salt until stiff peaks form

2.

Using a food processor pulse walnuts until finely chopped, not as fine as flour

3.

Fold walnuts in the egg whites and using a cookie scoop or a tablespoon place on prepared baking sheet about 1 inch apart.

4.

Bake for 20 - 22 minutes until golden. Remove from the oven and leave on the baking sheet for a few minutes, then transfer to a wire rack to cool.
Leave a Comment
Kristina
sorry to hear that Viv, I am not sure why they would be since there isn't any flour added.
Kristina
Hi Michelle, I am sorry I do not provide nutritional information. Here is a link that may give you information you are looking for https://happyforks.com/analyzer
Is there a link for the nutritional information for these cookies?
Kristina
thank you, I am glad you enjoyed them
These cookies are easy and delicious