Low-Carb Grain-Free Ham and Cheese Donuts
Published on May 24, 2020
by
Kristina Stosek
Prep Time:

5 minutes
Cook Time:

25 minutes
Serves:

12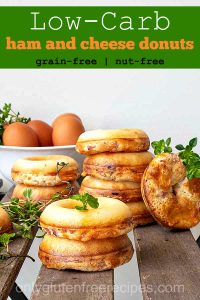 ​This post may contain affiliate links, please see our
privacy policy
for details
Savoury, Low-Carb, Grain-Free Ham and Cheese Donuts everyone is talking about. Traditionally donuts are sweet and deep-fried and naturally not that healthy. These flavourful donuts are baked and pillowy, and they toast beautifully with only about 5 net carbs per donut.
I must admit that when I started creating this gluten-free recipe, I was thinking breakfast bagel. However, the bagels turned out light and pillowy with more of a donut texture, so I decided to call them donuts.
Savoury breakfast donuts have become very popular. The donuts are satisfying, especially if you crave something savoury. What I love about these donuts is that they create irresistible sandwiches.
We especially love adding slices of fresh avocado and tomatoes and making super sandwiches for lunch. YUM!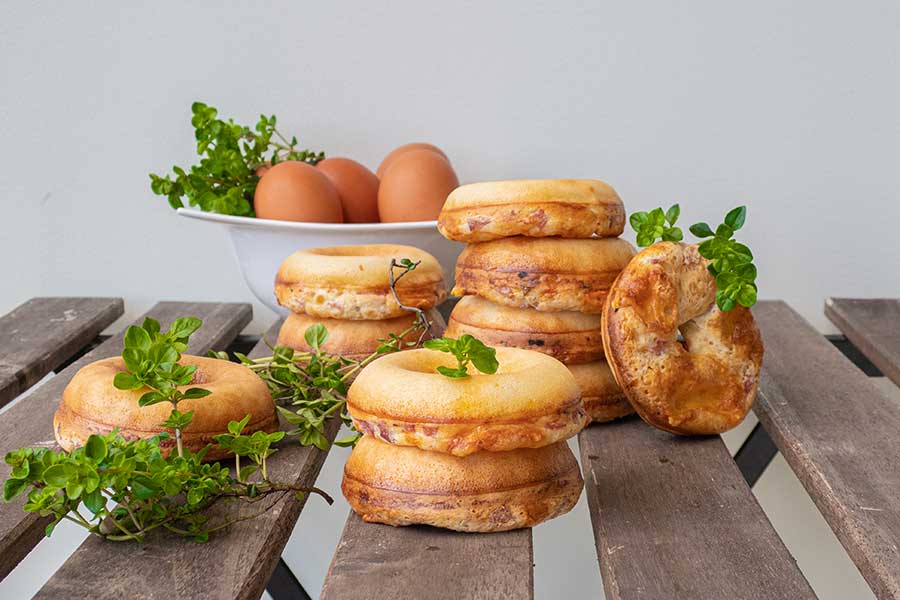 Only 6 Ingredients in these ham and cheese donuts.
That is right! I can't tell you how easy this donut recipe is. The total prep time is only five minutes. First, whisk the dry ingredients, then whisk in milk and eggs, and stir in ham and cheese.
The batter is very liquid and easily poured into the donut pan, there is no need to use a piping bag, making this for easy cleanup.
However, for this recipe, you must have a non-stick donut pan. Otherwise, you can't make these savoury donuts.
What is a donut pan?
I love using donut pans. They are similar to muffin pans, except the bottom is rounded with a stem in the center of each cup. The stem is what creates a hole in the donut. The donut pans are also used for bagels.
When using a donut pan, the donuts are baked instead of fried, producing a lower calorie fat-free donut. Baked donuts are also more economical because you don't need to use oil for deep-frying. The best part, they are super easy to make with virtually no clean up.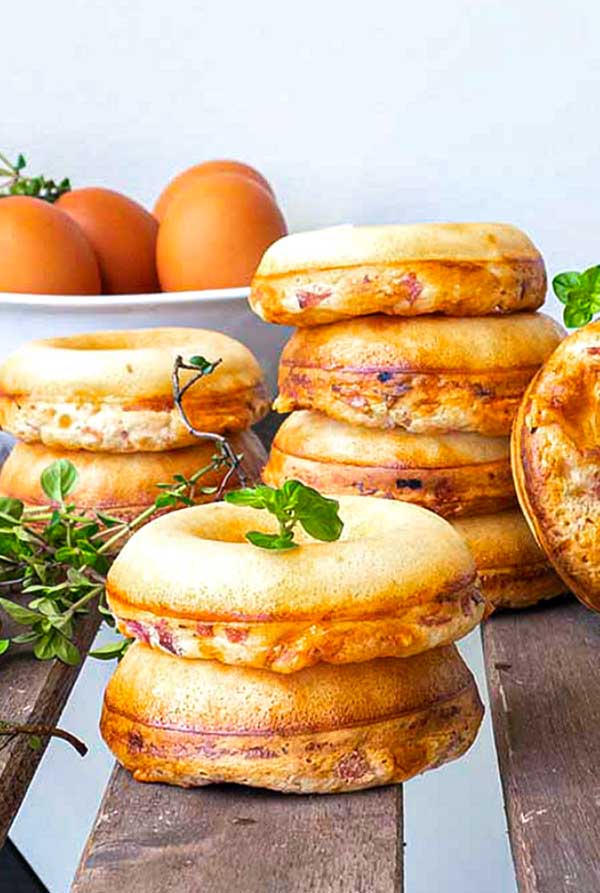 Can you use different grain-free flour?
The recipe is based on a root flour called tapioca, and this is why these donuts are grain-free. In term of texture, the one flour you can substitute for tapioca is cassava flour, but the carbs will increase since cassava flour is higher in carbs.
I did try arrowroot flour, but the donuts turned out a bit too gummy, and coconut flour or almond flour did not work.
Can you use different fillings?
Yes, absolutely. In this recipe, I used tasty black forest ham and cheddar cheese. Both the black forest ham and cheddar cheese are packed with flavour. But you can use any good melting cheese, herbs, sundried tomatoes, even thinly sliced jalapenos.
For the cheese, it is best if it is flavourful because it makes the donuts super tasty. I would not use mozzarella because it is very mild and not too flavourful. I do love smoked gouda cheese 🙂
This is my first gluten-free baked donut recipe, and I am very pleased how it turned out. I have made gluten-free bagel recipes without using the donut pan, but I find that a donut pan is a must if you want perfect donuts or bagels.
I want to thank my daughter Diana for inspiring me to make this recipe. The recipe is based on her original gluten-free cassava pancake donut with maple glaze recipe 🙂
Let's Connect!
Be sure to FOLLOW US on FACEBOOK and PINTEREST.
Many thanks!
Kristina xx
Low-Carb Grain-Free Ham and Cheese Donuts
Published on May 24, 2020
by
Kristina Stosek
Instructions
1.

2.

Using a medium bowl, combine tapioca flour, baking powder and salt

3.

Add milk and eggs and whisk together. Stir in ham and cheese. The batter will be very thin

4.

5.

Bake for 23 - 25 minutes until the donuts start to brown. Invert donuts onto a rack to cool
Leave a Comment
soooo good, this grain-free donut recipe is amazing!
Kristina
that is wonderful to hear, thank you Shawna
These low carb donuts turned out extraordinary, thank you for the recipe!