Grain-Free Cassava Chocolate Chip Cookie
Published on Jan 16, 2021
by
Kristina Stosek
Prep Time:

10 minutes
Cook Time:

10 minutes
Serves:

20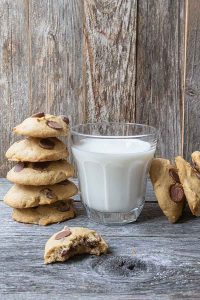 ​This post may contain affiliate links, please see our
privacy policy
for details
A little chewy, a little soft grain-free cassava chocolate chip cookies not to be missed. You will never know that these chocolate chip cookies are made without grains or nuts. The two grain-free flours that make up this healthier chocolate chip cookie are cassava and coconut flour, and they are both naturally gluten-free.
If you have a few minutes to spare, you can whip up these gluten-free cassava flour chocolate chip cookies in twenty minutes, from start to finish. I love this recipe because you can have a freshly baked chocolate chip cookie in no time. And there is nothing better than a homemade freshly baked chocolate chip cookie.
Typically in January, I don't bake too many cookies. December is my cookie month. However, we can't have a month without something sweet and and chocolaty. This is why I wanted to create a healthy-ish chocolate chip cookie.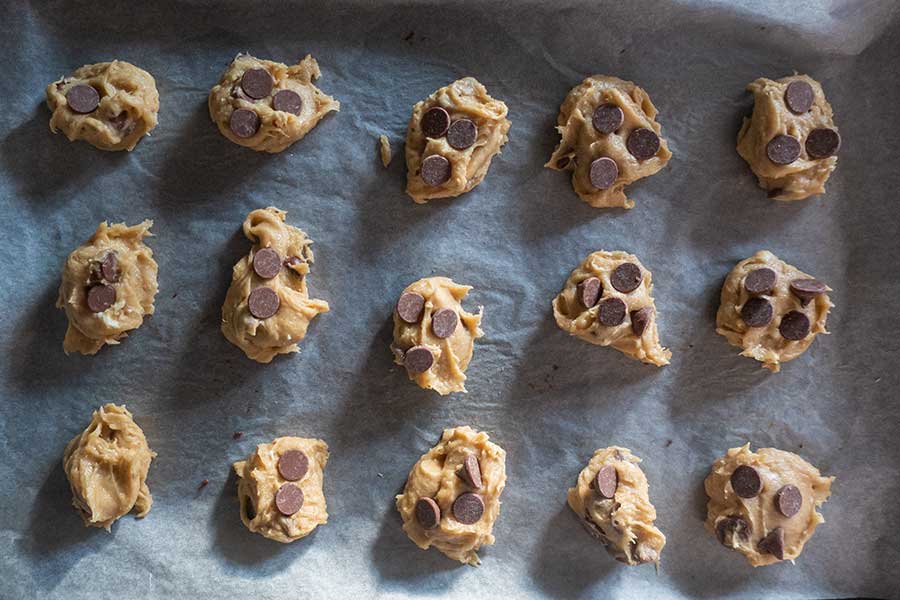 cassava flour chocolate chip cookies – the ingredients,
This healthier "January" gluten-free chocolate chip cookie has only seven ingredients. Cassava flour and coconut flour, coconut sugar, butter, vanilla, baking soda and salt. Nothing about this cookie recipe is complicated. You don't even need a mixer, and the cookies bake up in no time, only about ten minutes. All in all, you will need twenty minutes from start to finish, for delicious chocolate chip cookies to enjoy!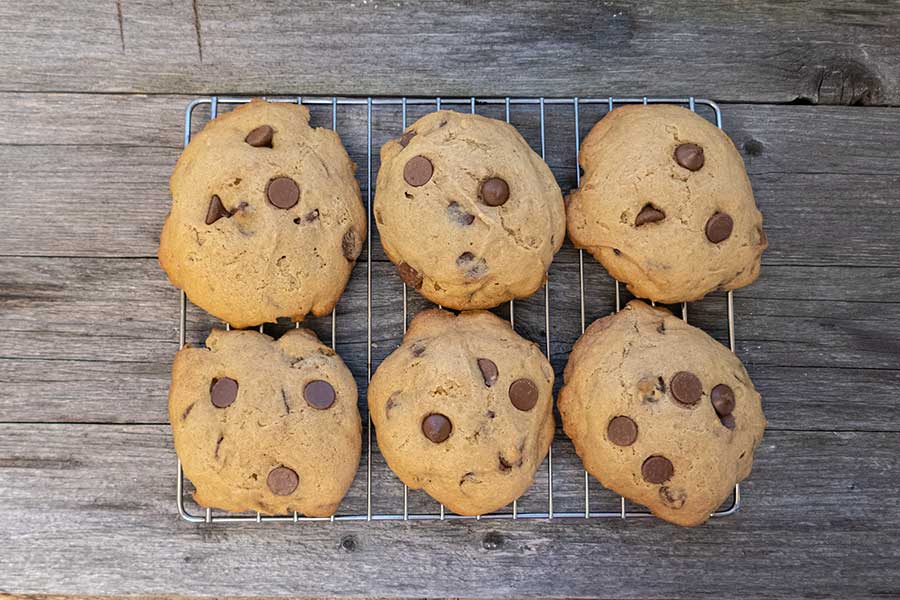 vegan option?
No problem. This gluten-free cookie is easily converted to a vegan cookie. You will need to substitute only two ingredients. For the butter, I used vegan earth balance sticks. When I first made this grain-free cookie with vegan butter, I used earth balance in the tub container. That did not work because the earth balance in the tub container has higher water content. So be sure to use the sticks.
Then come the chocolate chips. Most chocolate chips are made with dairy, so be sure to get gluten-free vegan chocolate chips. Everything else in this chocolate chip cookie recipe remains the same.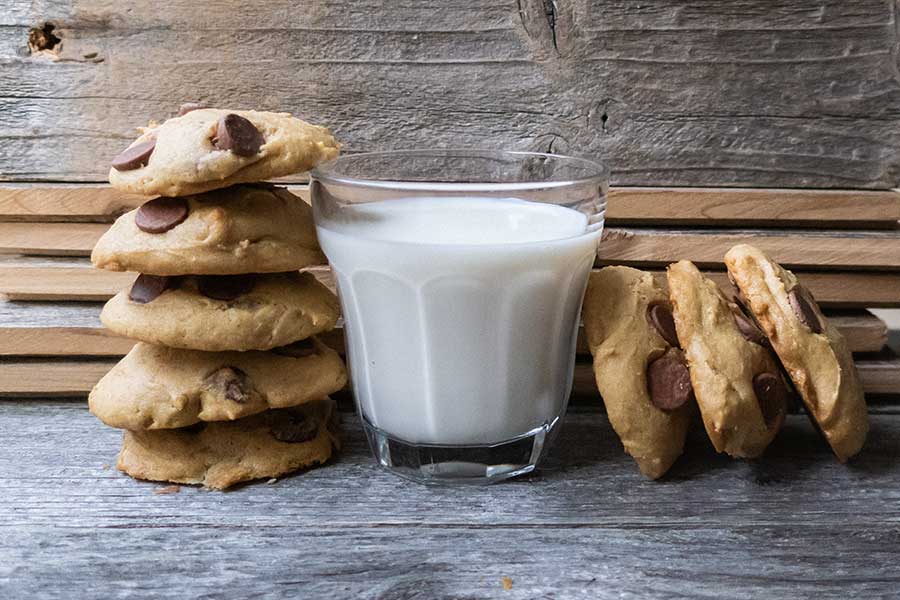 the difference between cassava flour and tapioca flour
I started to use cassava flour more often in my gluten-free recipes, because the flour works very well in gluten-free recipes and has added health benefits. Check out this Grain-Free, Nut-Free Cassava Bread. However, don't get confused with tapioca flour and cassava flour. They react differently in recipes, even though both flours come from cassava root (yuca). The difference is, cassava flour is the root peeled and dried, then ground into flour. Tapioca flour, also called starch, is only the starch extracted by washing, pulping and pressing cassava root, creating a liquid that is evaporated, leaving only the dried starch.
To summarize,
This gluten-free chocolate chip cookie is ideal for someone that follows a grain-free diet and has sensitivity to nuts. Cassava flour is a healthier option than gluten-free flour blends because it contains vitamin C and is lower in calories than most other gluten-free flours. And, coconut flour is packed with dietary fiber. The recipe has only seven ingredients and whips up in minutes. And, a little chocolate and a little sweetness in January doesn't hurt anyone 🙂
For the latest recipes and tips, please like us on Facebook or follow us on Pinterest and  Instagram.
Grain-Free Cassava Chocolate Chip Cookie
Published on Jan 16, 2021
by
Kristina Stosek
Instructions
1.

Preheat oven to 350 F and line a large cookie sheet with parchment paper

2.

In a small bowl, whisk together cassava flour, coconut flour, baking soda and salt

3.

In a medium bowl, mix butter, coconut sugar and vanilla until creamy. Add dry ingredients and mix to combine. Fold in chocolate chips

4.

Using a small spoon or cookie scoop, scoop the dough on the cookie sheet about 2 inches apart. Using the back of a spoon, lightly flatten the top of the dough

5.

Bake for 10 - 11 minutes, until the bottom edges start to turn golden. Cool cookies on the baking sheet for 10 minutes, then transfer to a cooling rack to cool
Leave a Comment
Kristina
I am sorry, I don't know how it was missed. We have revised the recipe. Thank you for letting us know
I think you've missed the sugar in the ingredients list?