Gluten-Free Rustic Bacon And Cheese Scones
Prep Time
15 Minutes
Difficulty
Easy
Cook Time
15 Minutes
Serves
12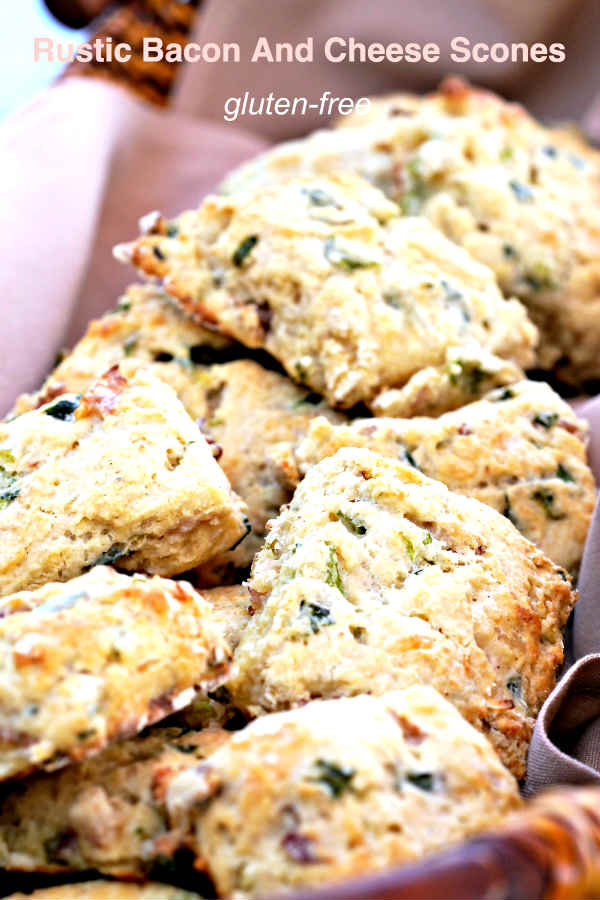 Average Rating: 5 | Rated By: 7 users
When it comes to gluten-free baking, there is nothing simpler to make than scones. Savoury scones are especially popular because they can replace bread for making sandwiches or serve the scones with hearty soups and stews.
Ingredients
6 GF bacon strips, cut into small pieces
2 bunches of green onions (spring onions), thinly sliced
2 cups grated cheddar cheese
2 cups all-purpose gluten-free baking flour blend
2 tsp. GF aluminum free baking powder
1 tsp. sea salt
½ tsp. GF ground black pepper
1 1/4 cup full-fat milk plus some for brushing or cream
Instructions
Preheat oven to 420 F
Add bacon and green onions into a pan and cook over medium heat until bacon becomes slightly crispy about 5 minutes. Cool
Mix flour, baking powder, salt and pepper in a large bowl
Stir in cheese and bacon mixture
Pour in milk and gently mix until the dough just comes together
Transfer dough on a lightly floured surface and shape into a rectangle about 1 1/2 inch in thickness. Cut scones to desired sizes
Brush top of scones with milk.
Bake for 15 - 20 minutes or until golden
Similar Recipes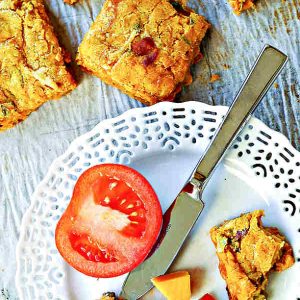 Gluten-Free Savoury Yam and Cheese Scones
These country-style savoury yam scones are tasty with that perfect scone texture. Scones are often served at brunch with cheese, jam, tomatoes, avocado or butter. These savoury yam and cheese scones are mouthwatering when served warm Read More
Prep Time
15 Minutes
Difficulty
Easy
Cook Time
25 Minutes
Serves
9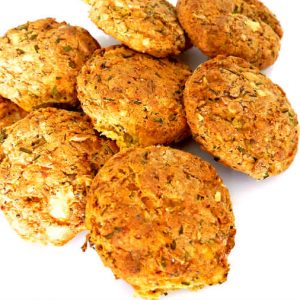 Gluten Free Cheese And Chives Scones
For breakfast, replace muffins for these delicious gluten-free cheese and chives scones. Serve these savoury scones with ham and eggs for a hearty breakfast or a snack with jam. The scones make a wonderful addition to salads, stews or hearty soups. Enjoy! Read More
Prep Time
15 Minutes
Difficulty
Easy
Cook Time
25 Minutes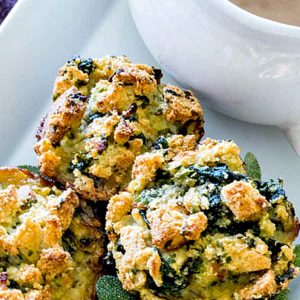 Gluten Free Apple Spinach Stuffing Muffins
Delicious stuffing can be the highlight of a meal. This stuffing is made with apples and spinach and seasoned with sage and thyme. Instead of stuffing the turkey, the stuffing is made into individual portions in a muffin pan. The crispy outside and soft inside are what makes this stuffing a winner. Serve with turkey, […] Read More
Prep Time
15 Minutes
Difficulty
Easy
Cook Time
25 Minutes
Serves
8