Gluten-Free Rustic Bacon And Cheese Scones
Prep Time
15 Minutes
Difficulty
Easy
Cook Time
15 Minutes
Serves
12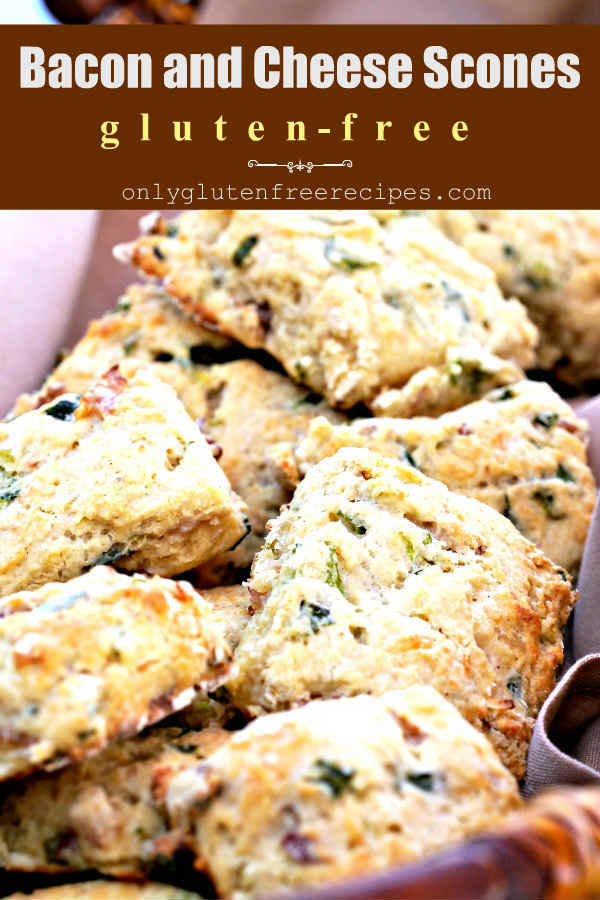 Average Rating: 5 | Rated By: 29 users
Savoury Gluten-Free Bacon and Cheese Scones are always a big hit at our house. When it comes to gluten-free baking, there is nothing simpler to make than scones. In this recipe, the three basic ingredients are bacon, cheddar cheese and green onions. The incredibly cheesy scones have just the right amount of crispy bacon, and they are mildly flavoured with fresh green onions. Honestly, the combination of these three ingredients makes the most delicious savoury scone. 
♥ Here are three steps to follow for the best gluten-free cheese scones!
First, briefly cook the bacon with the green onions. This allows for the bacon to be fully cooked before mixing it with dry ingredients. The bacon will be nice and crispy, and the green onions are flavoured with bacon

Once the bacon is cooked, combine dry ingredients, including cheese with the bacon mixture 

The third step is the most important! Add the milk and mix until the dough starts to come together. DO NOT OVERMIX, or the scones will become hard 🙁 Done! 
Now that you have the bacon and cheese scone mixture ready, roll it out to about 1 1/2 inch thickness and cut into desired shapes. The temperature of the oven is critical → and the oven has to be hot before you start baking the scones to achieve the best results! The high heat quickly bakes the scones without drying them out. 
Savoury scones are always popular because they can replace sandwich bread, or you can serve them with hearty soups and stews. I love them for brunch with savoury things such as Smoked Salmon, Asparagus and Goat Cheese Quiche or High Protein Stuffed Breakfast Peppers.
Ingredients
6 GF bacon strips, roughly chopped
2 bunches of green onions (spring onions), thinly sliced
2 cups grated cheddar cheese
2 tsp. GF aluminum free baking powder
1 tsp. Salt of choice
½ tsp. GF ground black pepper
1 1/4 cup full-fat milk or cream plus some for brushing
Instructions
Preheat oven to 420 F and line a baking sheet with parchment paper
Add bacon and green onions into a pan and cook over medium heat until bacon becomes slightly crispy about 5 minutes. Cool
Mix flour, baking powder, salt and pepper in a large bowl
Stir in cheese and bacon mixture
Pour in milk and gently mix until the dough just comes together
Transfer dough on a lightly floured surface and shape into a rectangle about 1 1/2 inch in thickness. Cut scones to desired sizes and place on prepared baking sheet
Brush top of scones with milk or cream and bake for 15 - 20 minutes or until golden
Similar Recipes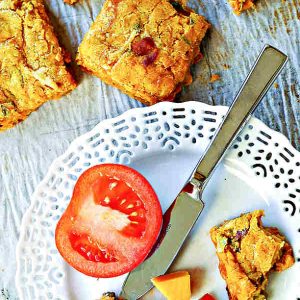 Gluten-Free Savoury Yam and Cheese Scones
These country-style savoury yam scones are tasty with that perfect scone texture. Scones are often served at brunch with cheese, jam, tomatoes, avocado or butter. These savoury yam and cheese scones are mouthwatering when served warm Read More
Prep Time
15 Minutes
Difficulty
Easy
Cook Time
25 Minutes
Serves
9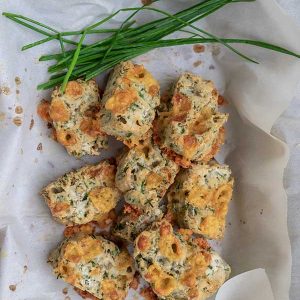 Gluten-Free Cheese And Chives Scones
Scrumptious gluten-free cheese and chives scones for any day of the week! Serve them for breakfast, brunch or a snack. The buttery scones are made with cheddar cheese and fresh tender chives, making them super tasty. Adding scones to hearty soups or stews is also a great way to serve them. This savoury snack is […] Read More
Prep Time
15 Minutes
Difficulty
Easy
Cook Time
25 Minutes
Serves
8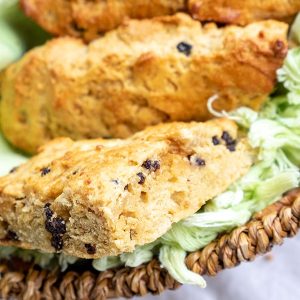 Easy Gluten-Free Currant Scone Recipe
Indulge in these gluten-free currant scones for Sunday brunch or anytime snack. The recipe comes together fast and easy, making it perfect for everyday baking. I used currants in this recipe, but you can use raisins or dried fruit of your choice. The best way to serve gluten-free scones is when they are slightly warm. […] Read More
Prep Time
15 Minutes
Difficulty
Easy
Cook Time
15 Minutes
Serves
4