Gluten Free Rustic Bacon And Cheese Scones
Published on Apr 23, 2015
by
Kristina Stosek
Prep Time:

15 minutes
Cook Time:

15 minutes
Serves:

12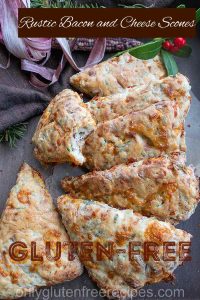 ​This post may contain affiliate links, please see our
privacy policy
for details
These Gluten-Free Rustic Bacon And Cheese Scones are hearty and filling, with a nice balance of salty and bacon smokiness. And, the scones will leave you feeling satisfied all morning long.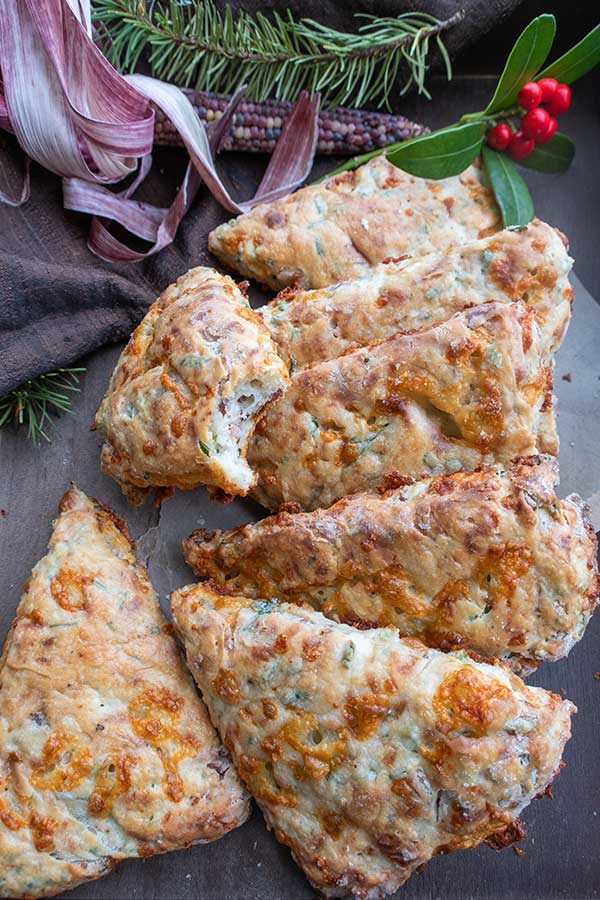 Savoury bacon and cheese scones are always a big hit at our house. When it comes to gluten free baking, there is nothing simpler to make than gluten-free scones.
The incredibly cheesy scones have just the right amount of crispy bacon and cheese and are mildly flavoured with fresh green onions. Honestly, these three ingredients make the most delicious bacon and cheese scones.
What is a gluten free scone?
When we think of scones, we thing British tea time. Authentic British scones are typically served with tea as a snack. The scones are relatively plain and are served with clotted cream and jam.
In North America, scones are often served with morning coffee, and they can be sweet or savoury scones.
The sweet scones often include berries, nuts, oats or raisins. Sometimes they are topped with a glaze, such as the popular gluten free maple oat nut scone.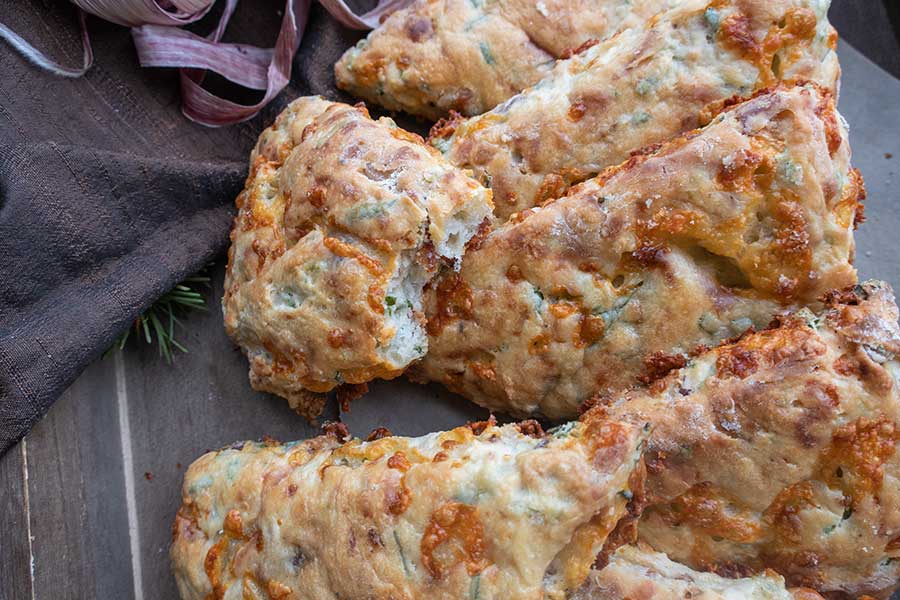 FAQs about gluten-free scones
Q: Can I use one flour to make gluten-free scones?
A: Yes! Our gluten-free scones are made using one rice-based gluten-free flour blend.
Q: What do I need to know about baking gluten-free scones?
A: For gluten-free scones, it is essential to use a light hand to mix the dough and not over-bake the scones. Our recipe is foolproof, but if you find your dough is too crumbly, you can add 1-2 tablespoons of milk or water until it comes together.
And if your scones are coming out dry or crumbly, try reducing the bake time by a minute or two.
Q: Can I make these scones ahead of time?
A: Preferably not! Gluten-free scones, like most gluten-free baked goods, are best when made fresh and are warm.
Q: How do I freshen up a gluten-free scone?
A: Place the scones on a baking sheet into a preheated oven at 350 F and bake until lightly heated. About 5 – 8 minutes
variations for savory scones
There are endless possibilities when it comes to savory scones. Add fresh herbs of choice, smoked salmon, sundried tomatoes, olives, smoked cheese or ham for variations.
However, the most popular gluten-free savory scones are made with bacon and cheese.
How to master the best texture for gluten-free scones?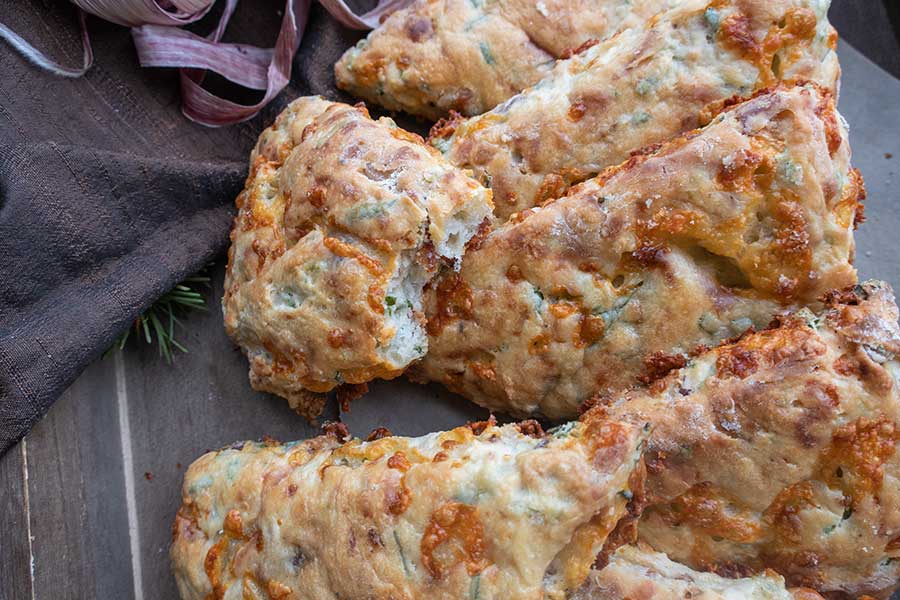 There are a few things to keep in mind when trying to achieve the perfect texture for gluten-free scones.
First, ensure that all of your ingredients are at room temperature before mixing them together. Room temperature ingredients will help to prevent your scones from being dense or crumbly.
Second, use a light hand when mixing the ingredients. Over-mixing can result in tough scones. This is probably the best advice I can offer.
Third, be careful not to over-bake the scones. They should be golden brown and just set in the center when they come out of the oven.
Follow these tips, and you'll be sure to end up with delicious, light, perfect crumb gluten-free scones!
step by step instructions for making gluten-free bacon and cheese scones
First, briefly cook the bacon with the green onions. This allows the bacon to be fully cooked before mixing it with dry ingredients. As a result, the bacon will be crispy, and the green onions will be flavoured with bacon.
Once the bacon is cooked, combine dry ingredients, including cheese, with the bacon mixture.
The third step is the most important! Add the milk and mix until the dough starts to come together. DO NOT OVERMIX, or the scones will become dense. Done!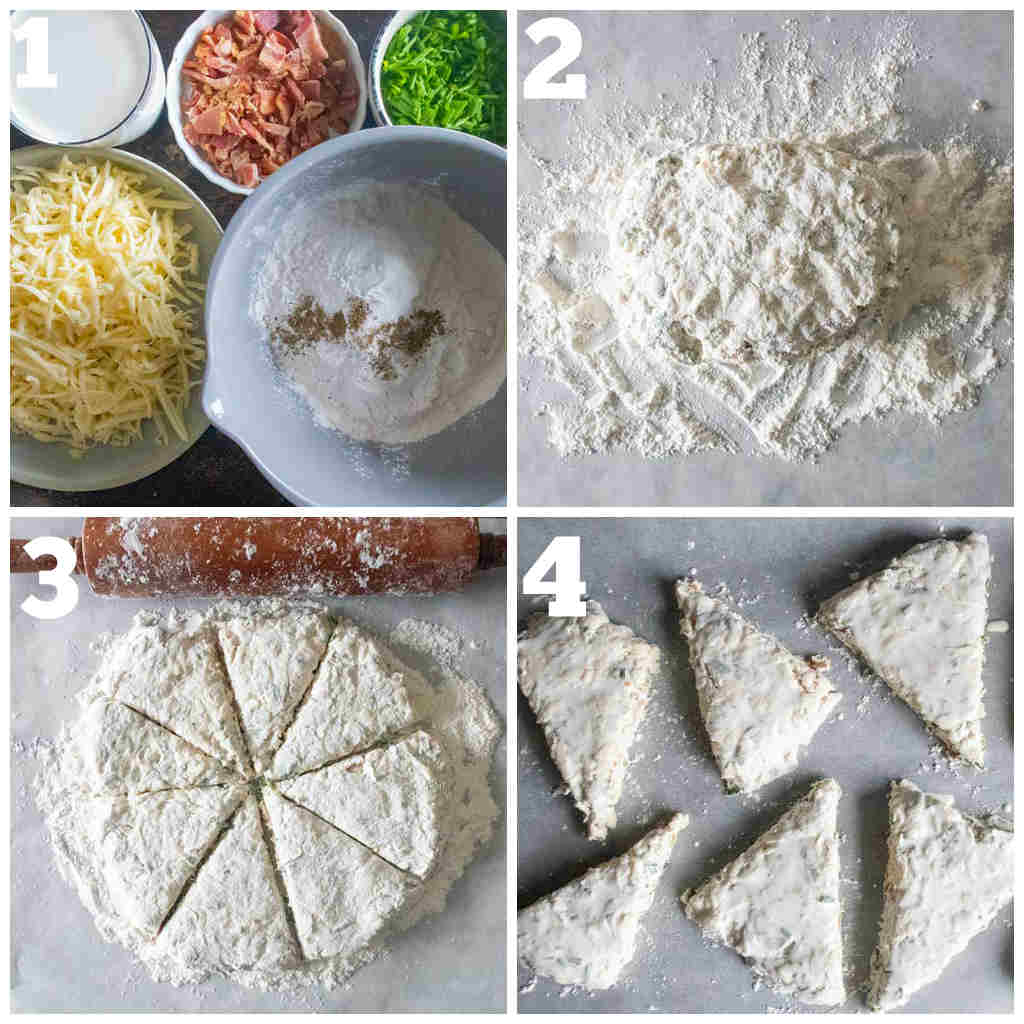 Now that you have the bacon and cheese scone mixture ready, roll it out to about 1 1/2 inch thickness, and cut into desired shapes. The oven temperature is critical!
The oven must to be hot before you start baking the scones to achieve the best results! The high heat quickly bakes them without drying the scones out.
Gluten Free savory scones are always popular because they can replace sandwich bread or serve them with hearty soups and stews. The gluten-free cheese scones make an excellent addition to brunch, especially with savory toppings such as Smoked Salmon.
If you are thinking of making a light meal, serve the gluten-free cheese scones with Smoked Salmon Asparagus and Goat Cheese Quiche or, you will love them with these High Protein Stuffed Breakfast Peppers. Need more scone recipes? Check out our list of gluten free scone recipes!
Let's Connect!
Be sure to FOLLOW US on FACEBOOK and PINTEREST. And don't forget to sign up for our newsletter, the form is at the bottom of this page. We always have something new and exciting for you!
Many thanks!
Kristina xx
Gluten Free Rustic Bacon And Cheese Scones
Published on Apr 23, 2015
by
Kristina Stosek
Instructions
1.

Preheat oven to 420 F and line a baking sheet with parchment paper

2.

Add bacon and green onions into a pan and cook over medium heat until bacon becomes slightly crispy about 5 minutes. Cool

3.

Mix flour, baking powder, salt and pepper in a large bowl

4.

Stir in cheese and bacon mixture

5.

Pour in milk and gently mix until the dough just comes together

6.

Transfer dough on a lightly floured surface and shape into a rectangle or a round disk about 1 1/2 inch in thickness. Cut scones to desired sizes and place on prepared baking sheet

7.

Brush top of scones with milk or cream and bake for 15 - 20 minutes or until golden brown
Leave a Comment
Kristina
Jackie, we are sorry that you did not enjoy the scones. As far as not enough salt, the added cheese (2 cups) and the bacon are ladened with salt. In addition, we have added 1 teaspoon of salt. The one thing we can think of as to why your scones have turned out dry is, measuring the flour. The measuring cup should be filled with a spoon and levelled with a knife. If you dip the measuring cup into the flour, you will have too much flour for this recipe making the scones dry.
If you followed the recipe and you say they were good you do both Ave taste buds they were dry and tasteless the worst scones I have ever had. Not enough salt to begin with and way too dry
Kristina
Jill, place the frozen scones in the fridge overnight first, then bake them fresh the next day
Hello. If I wanted to make and freeze these for a later date, would I bake from frozen at the same temp 420 degrees/and time? thank you
Kristina
thank you, it is always nice to hear how my recipes turn out.
They turned out better than I expected, my family loved them. Thank you!
Kristina
so happy you enjoyed them, thank you for letting us know!
These are perfect, thanks for such a great recipe!
Kristina
I am so happy to hear that you enjoyed them. Yes the bacon gives them a smoky flavour. Thank you
yes the best savoury scones..the bacon makes them sooo good.