Gluten-Free Maple Oat Nut Scones
Prep Time
15 Minutes
Difficulty
Easy
Cook Time
18 + Minutes
Serves
8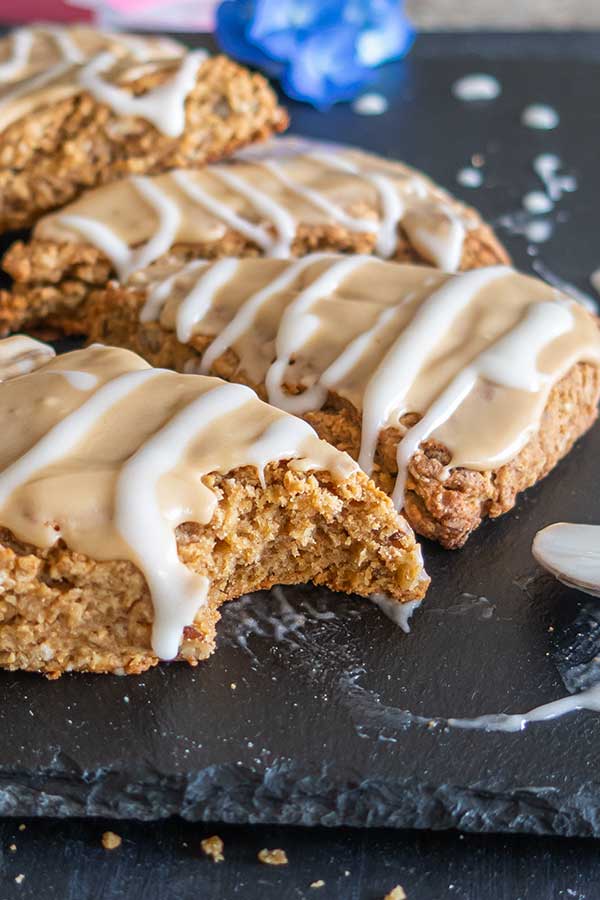 Average Rating: 5 | Rated By: 7 users
A classic Gluten-Free Maple Oat Nut Scone that tastes better than one with gluten. Honestly, this gluten-free maple oat nut scone is so so good! Sometimes you don't need a whole lot of techniques to make something special like these scones.
Do you remember when I made the gluten-free cranberry oat scones? They became a huge hit, so I just needed to do another scone recipe. Before I switched to gluten-free diet, one of my favourite sweets with my Starbucks coffee was their amazing maple oat nut scone. So I had to create a gluten-free version of the unforgettable maple oat nut scone.
Enter these gluten-free maple oat nut scones. Honestly, I can say these scones are better!! Think oats, pecans, butter and earthy, with the most delicious maple glaze. They are beyond delicious, and will remind you how delicious scones can be!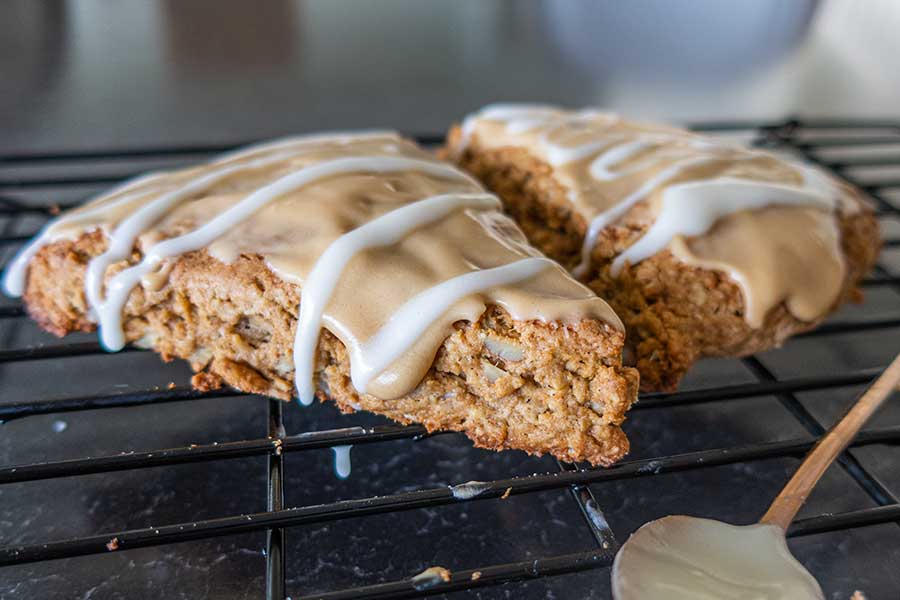 Super easy gluten-free maple oat nut scone recipe!
Another reason these gluten-free scones are perfect is that they are effortless to make. If you don't count the dough's chilling time, you can have the scones ready in just about thirty minutes.
Do you have to use cerftified gluten-free oats?
Using only certified gluten-free oats is a must if you are following a gluten-free diet. Some oats are grown too close to other grains and may be cross-contaminated with gluten. By using certified gluten-free oats, you know that there is no chance of being glutened.
I like to eat the maple oat nut scones when they are still slightly warm and drizzled with plenty of maple glaze. The scones melt in your mouth…they are out of this world, I promise you!
Scones and coffee are just too perfect. The earthy maple oat nut scone makes coffee time perfect! However, think brunch how much better it can be when you include these heavenly buttery scones.
What is pure maple extract?
To give the scones that delicious maple flavour, I added pure maple extract. Pure maple extract is made by mixing pure maple syrup with alcohol. There are no artificial flavours, dyes or corn syrup added.
If your budget allows it, always use pure maple extract. You can add it to pancake batter, apple pies, oatmeal, butternut squash, frosting and most baked goods. The maple flavour will make everything taste so much better!
If you have not made gluten-free scones before, you must try this maple oat nut scone recipe. They are perfect in every way → The texture, the crunchy bites of pecans, the buttery flavour and the incredibly delicious maple glaze.
I know that scones are probably not the healthiest food to start your day with. But, they do include plenty of protein and fiber. This scone recipe has only half a cup of coconut sugar and two tablespoons of pure maple syrup…so not too much sweetener.
try the maple oat nut scones without the glaze…
However, I won't lie, the glaze is made with powdered sugar. If you want to cut back on the sweetener, use just a small drizzle of the glaze or none at all. The gluten-free scones are so tasty that you will not miss the maple glaze. Especially if you dip them into coffee 🙂
Ingredients
1 Tbsp. Ground flaxseed
1 Tbsp. Hot water
1 2/3 cups gluten-free all-purpose flour blend with xanthan gum
1/2 cup coconut or brown sugar
1 Tbsp. GF aluminum-free baking powder
1/2 tsp. GF ground cinnamon
1/2 tsp. Sea salt
1/2 cup (1 stick) cold butter (place butter in the freezer for 15 minutes before using)
1/3 cup heavy cream, chilled
2 large eggs
2 Tbsp. Pure maple syrup
3/4 tsp. Maple extract
3/4 cup chopped pecans
GLAZE
1 cup powdered sugar
4 - 5 Tbsp. Heavy cream or dairy of choice (by using heavy cream, you use less sugar)
1/2 tsp. Maple extract
1/8 tsp. GF ground cinnamon
*As an Amazon Associate and member of other affiliate programs, I earn from qualifying purchases. Please check out my sponsorship and disclosure policy page for more details
Instructions
Combine flaxseed and water, and set aside
In a large bowl, whisk together, oats, flour, sugar, baking powder, cinnamon and salt
Using a large blade on a box grater, grate the butter into the dry ingredients. Using your fingers blend everything until it feels like coarse meal
In a separate bowl, whisk together cream, eggs, maple syrup, maple extract and flaxseed mixture. Add to dry ingredients and stir until barely mixed. Add pecans and stir until a ball of dough forms
Transfer dough onto a lightly floured parchment paper and using lightly floured hands form an 8-inch round disk. Refrigerate the dough for 30 minutes
Preheat oven to 400 F
Cut the dough into 8 wedges, leaving one inch in between each piece. Bake for 20 minutes until golden brown. Place on a wire rack to partially cool before spreading the glaze over top
For the glaze; Combine powdered sugar with cream until smooth. You can adjust the amount of cream or sugar for desired consistency. Transfer about 1/3 of the glaze into a small bowl. Add maple extract to the remaining glaze and mix to combine.
Spread the maple glaze over tops of scones, then drizzle with the white glaze
Similar Recipes
Scones With Currants – Easy Gluten-Free Recipe
Indulge in these gluten-free currant scones for Sunday brunch or anytime snack. The recipe comes together fast and easy, making it perfect for everyday baking. When it comes to baking, gluten-free recipes can be tricky to master. However, with this recipe for gluten-free currant scones, you'll get all the flavour of traditional scones without the […] Read More
Prep Time
15 Minutes
Difficulty
Easy
Cook Time
15 Minutes
Serves
4
Gluten-Free Pumpkin Cranberry Scones With Nutmeg Glaze
These gluten-free pumpkin cranberry scones are soft, buttery, filled with cranberries and finished with the most delicious nutmeg glaze.  These pumpkin cranberry scones are undoubtedly my favourite fall snack, especially during pumpkin season 🙂 I love making scone recipes because there is nothing complicated about them. In this recipe, I used a pie dish to bake […] Read More
Prep Time
10 Minutes
Difficulty
Easy
Cook Time
25 Minutes
Serves
6
Gluten Free Rustic Bacon And Cheese Scones
These Gluten-Free Rustic Bacon And Cheese Scones are hearty and filling, with a nice balance of salty and bacon smokiness. And, the scones will leave you feeling satisfied all morning long. Savoury bacon and cheese scones are always a big hit at our house. When it comes to gluten free baking, there is nothing simpler […] Read More
Prep Time
15 Minutes
Difficulty
Easy
Cook Time
15 Minutes
Serves
12