Gluten-Free Cranberry Oat Scones
Published on May 07, 2020
by
Kristina Stosek
Prep Time:

15 minutes
Cook Time:

18 minutes
Serves:

8
​This post may contain affiliate links, please see our
privacy policy
for details
If you love scones, you will cherish these Gluten-Free Cranberry Oat Scones. They are buttery, lightly sweetened, spiced with nutmeg and cinnamon and filled with slightly tart cranberries. The mix of ingredients in these scones creates a better scone than the one you would get from a bakery.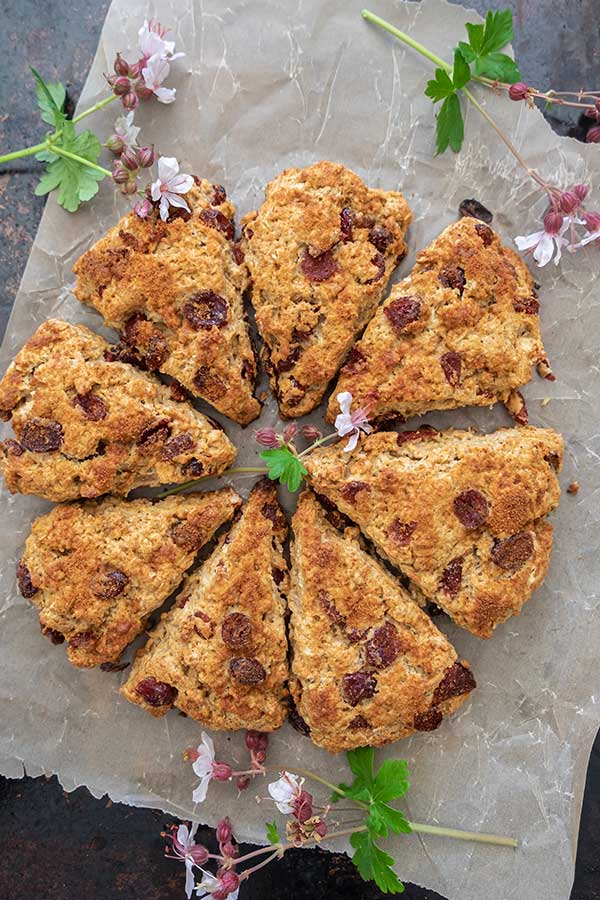 Everyone must have at least one scone recipe they love. This gluten-free cranberry oat scone is the recipe for me. The texture is so perfect, not dry or one that crumbles. It is buttery, sort of flaky and light.
Are oats gluten free?
This is an excellent question. There have been many discussions about oats, whether they are gluten free or not. The quick answer, YES! The oats are safe for most people that are gluten intolerant or have celiac disease. BUT, the problem with oats is contamination.
Many manufacturers process oats in facilities where they also process wheat. Thus cross-contamination may happen. When purchasing oats or oat flour, please make sure the label says certified gluten free. One study concluded that eating certified gluten free oats in moderation will not induce an immune response like wheat, barley or rye.
Oats are a great source of nutrients that are often lacking in the gluten-free diet, such as iron and fiber. In conclusion, including certified gluten free oats in your diet in moderation will promote good health.
the very best gluten-free oat scones…
The gluten-free scones are always best when slightly warm right out of the oven. I can't describe how delicious they are. They have a perfect scone texture, and the cranberries add just the right amount of zesty-sweet flavour.
These mega delicious gluten-free oat scones are made with oats, making them wholesome with a rustic flair. It's like having a bowl of oatmeal for breakfast except better and more satisfying.
Most scones are made just with flour, so there isn't a great amount of nutrient-packed ingredients. In addition to oats I have also added flaxseed, a seed rich in omega 3 fats, fiber and protein. So all in all, this scone is a healthier choice than most, and it tastes delicious!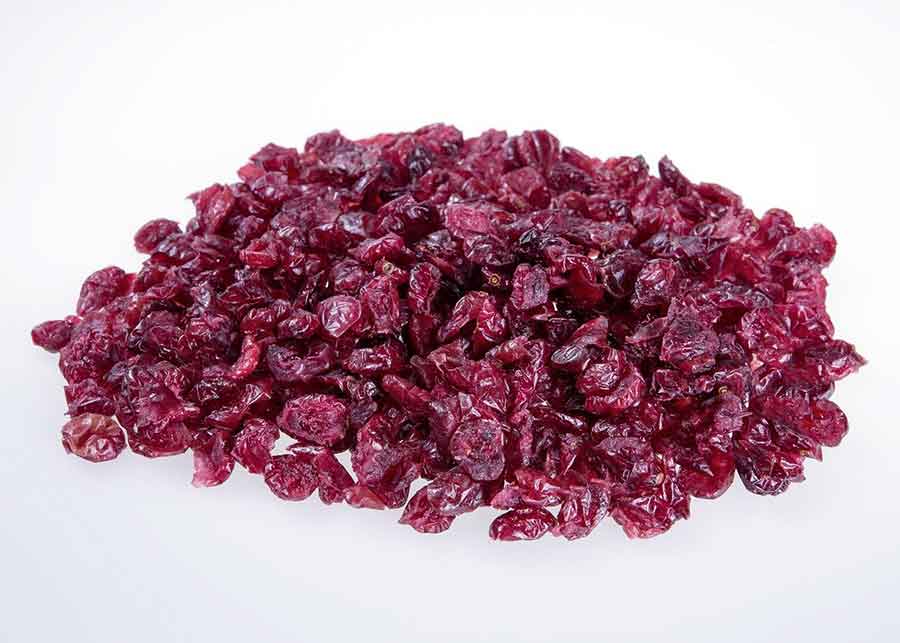 5 tips to for best cranberry oat scones…
The butter must be super chilled. To achieve this, place the butter in the freezer for 10 minutes before use.
The butter should be grated on a box grater. Do not try to crumble it with your fingers into small pieces. By grating the butter, you will have even-sized chunks of butter, and they will mix well with the other ingredients.
Do not overwork the dough. If you overwork the dough with your hands, the butter will start melting from the heat of your hands, making the scone texture hard and dry. The butter must melt in the oven to achieve the perfect, slightly crumbly scone texture.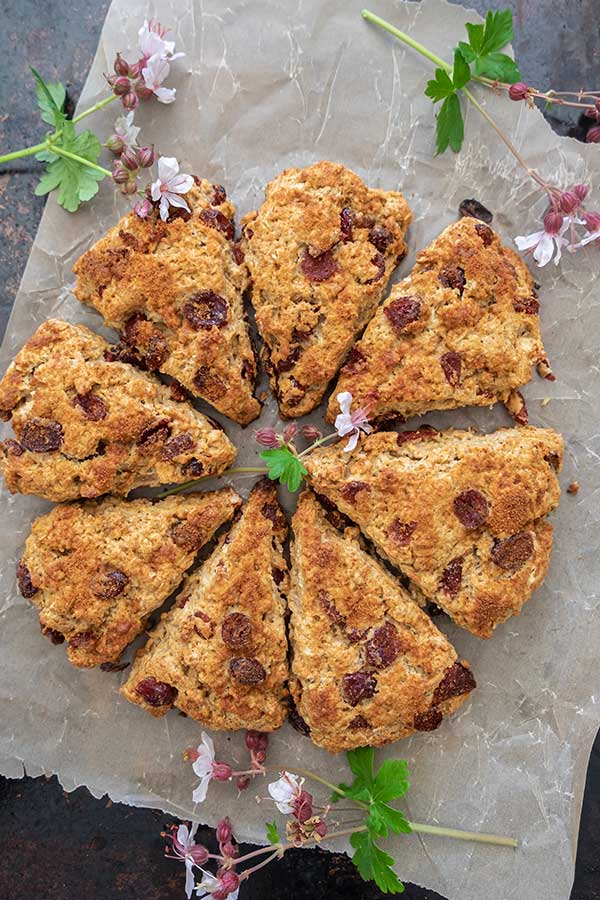 The scones should be placed in the freezer for 10 minutes before baking. By doing this, the texture of the scones will be flakier and lighter.
The dough should be sliced into even pieces leaving one inch space in between each piece. This is done for two reasons. The scones will bake evenly, and you allow for any spreading of the scones.
Following these five steps, you will have the best scones, and this may become your favourite scone recipe.
Are you looking for a savoury gluten-free scone recipe? Please check out our most downloaded recipe, the gluten-free rustic bacon and cheese scone.
Let's Connect!
Be sure to FOLLOW US on FACEBOOK and PINTEREST. And don't forget to sign up for our newsletter, the form is at the bottom of this page. We always have something new and exciting for you!
Many thanks!
Kristina xx
Gluten-Free Cranberry Oat Scones
Published on May 07, 2020
by
Kristina Stosek
Instructions
1.

2.

Mix oats, flour, 1/3 cup of coconut sugar, baking powder, flaxseed, salt, nutmeg and cinnamon

3.

Using a box grater, grate the butter into the dry ingredients. Using a spatula combine everything until it resembles coarse pebbles. Stir in cranberries

4.

Whisk the cream with the eggs and add to dry ingredients. Stir until combined.

5.

Dust your hands with flour and form the dough into an 8-inch round disk on a baking sheet coated with cooking oil. Place the dough with the baking sheet in the freezer for 10 minutes

6.

Cut the dough using a pastry scraper or a sharp knife dipped in oil into 8 equal wedges, leaving one inch space between each wedge. Sprinkle with coconut sugar and bake for 17 - 19 minutes until golden brown
Leave a Comment
Kristina
thank you Roberta, I am thrilled you enjoyed them
very good scone recipe, I will definitely make these scones again. Thank you
Kristina
That's wonderful to hear Sarah, thank you!
my family is enjoying these oat scones every Sunday, they have become our Sunday brunch treat. Thank you