Gluten-Free Chicken Enchilada Casserole
Prep Time
15 Minutes
Difficulty
Easy
Cook Time
35 Minutes
Serves
6-8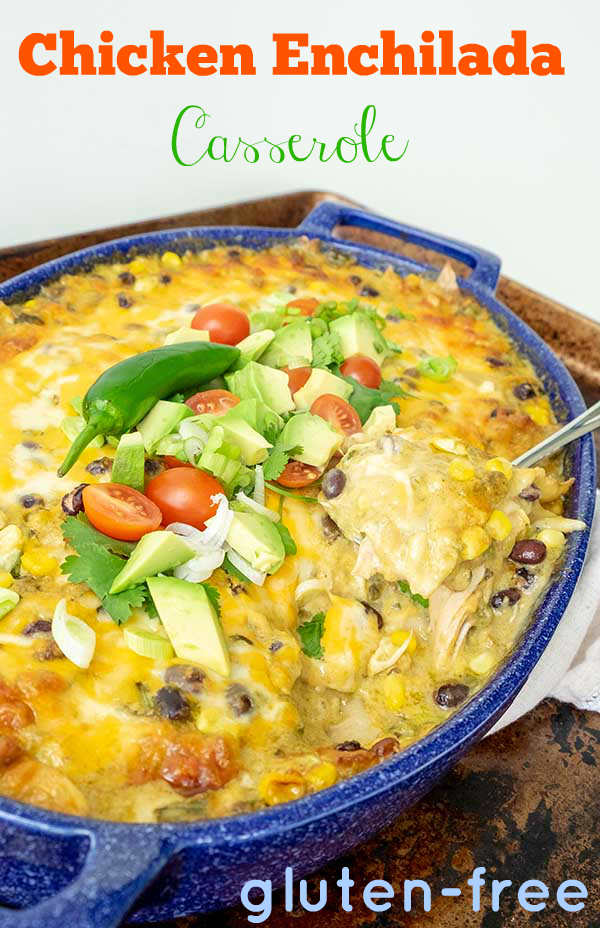 Average Rating: 5 | Rated By: 8 users
For a lazy night at home let me show you how to make an easy Gluten-Free Chicken Enchilada Casserole. This is a Mexican-style way to use leftovers such as chicken or any leftover meat. I have used turkey and pork before, and the casserole turned out just as delicious.
Typically chicken enchilada is an assembly of various ingredients and then rolled in a corn tortilla. So a lot of mess and extra time. In this gluten-free chicken enchilada casserole, there is very little work, and the result is a lasagna type casserole with chicken or any leftover meat you have. The casserole is baked with tortillas and the tastiest sauce, spiced with Mexican spices and enchilada sauce! The cheese, which there is plenty of, ties everything together beautifully. You will love it. I would like to include my homemade gluten-free enchilada sauce below, should you decide to make it from scratch. If not you can always buy one in a jar. 
♥

Homemade gluten-free enchilada sauce in minutes!
Adding a freshly made enchilada sauce adds so much fresh flavour to Mexican dishes. The sauce takes only 35 minutes to make and can be made in advance. I always have homemade enchilada sauce on hand for last minute meals like this gluten-free chicken enchilada casserole.
Gluten-free chicken enchilada sauce recipe.
Ingredients:
3 large poblano peppers

1 Tbsp. extra virgin olive oil

1 large yellow onion, thinly sliced

4 garlic cloves, roughly chopped

1 – 2 jalapeno peppers, stem, seeds removed and thinly sliced

1 Tbsp. GF ground cumin

1 tsp. GF chili powder

2 cups GF vegetable or chicken broth. You can also use water

2 tsp. apple cider vinegar

Sea salt to taste
Directions:
Preheat oven to 400 F and line a baking sheet with parchment paper

Place poblano peppers on the prepared baking sheet and roast for 25 minutes. Remove from the oven cover with a dishcloth for 15 minutes. Remove stems, skin and seeds and roughly chop. Set aside

While the peppers are roasting, heat olive oil over medium-low heat. Add onions and garlic and cook for 5 minutes

Stir in jalapenos, cumin, chili powder and roasted poblano peppers. Add broth and apple cider vinegar and season with salt. Cook for 5 more minutes. Allow the sauce to cool slightly

Blend sauce in batches in a high-speed blender until you reach desired consistency. Pour into glass jars and refrigerate up to a month or freeze up to 3 months.
Need more recipes with a bit of spice? Check out our gluten-free Mexican dinners.
Ingredients
1 cup sour cream
1 (13.5 oz.) can black beans, rinse and drain
1 cup frozen corn kernels
8 green onions, (spring), thinly sliced
3 cups shredded cheese (mozzarella, cheddar, Monterey jack) I used a mixture of all three, but you can use any one or two kinds of cheese, divided
4 cups shredded cooked chicken (rotisserie chicken works well)
4 (8-inch) gluten-free rice tortillas ( you can use GF corn tortilla if you wish), cut into about 2-inch wide strips. I find corn tortilla overpowers the sauce with corn flavour
Optional toppings; avocado, tomatoes, cilantro, sliced green onions, salsa
*As an Amazon Associate and member of other affiliate programs, I earn from qualifying purchases. Please check out my sponsorship and disclosure policy page for more details
Instructions
Preheat oven to 375 F and spray a 9x13-inch baking dish with cooking spray
In a large bowl mix enchilada sauce, sour cream, black beans, corn, green onions and 2 cups of cheese
Place 1/3 of the tortilla strips in the bottom of the baking dish. Add 1/3 of the enchilada sauce and 1/2 the chicken. Repeat the layers (tortilla, sauce, chicken). Top with remaining tortilla strips and enchilada sauce
Bake for 15 minutes, then sprinkle the the with remaining cheese. Bake for 20 more minutes until the cheese is bubbling. Cool for 10 minutes before serving
Add your favourite toppings
Similar Recipes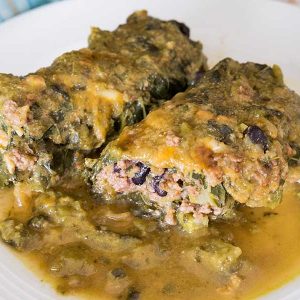 Beef and Black Bean Enchilada Kale Rolls
A tasty Mexican dish with added twist of kale. In this enchilada recipe, I replaced the usual flour tortilla with kale. Kale rolls are stuffed with beef, black beans, cheese, sour cream and spices and baked to perfection in our gluten free green enchilada sauce. When you feel like Mexican food, try this scrumptious, healthy […] Read More
Prep Time
15 Minutes
Difficulty
Easy
Cook Time
45 Minutes
Serves
4
Gluten-Free Chicken Enchilada
The right blend of spices and fresh vegetables makes a tasty, creamy and gluten-free chicken enchilada. Enjoy! Read More
Prep Time
10 Minutes
Difficulty
Easy
Cook Time
30 Minutes
Serves
4
Gluten Free Tex-Mex Squash Casserole
Not only is this the easiest and quickest squash casserole, but it's healthy and scrumptious. The tender, delicate squash is baked with onions, tomatoes and jalapeno in a cheesy sauce flavoured with Mexican spices. I highly recommend making this warming dish, packed with loads of A, B6 & C vitamins. Serve with a light salad […] Read More
Prep Time
15 Minutes
Difficulty
Easy
Cook Time
35 Minutes
Serves
6