Chai-Spiced Cranberry Zucchini Muffins – Gluten-Free
Published on Sep 10, 2019
by
Kristina Stosek
Prep Time:

15 minutes
Cook Time:

35 minutes
Serves:

12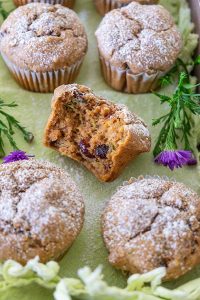 ​This post may contain affiliate links, please see our
privacy policy
for details
Most flavourful Chai-Spiced Cranberry Zucchini Muffins. I can't tell you how delicious these gluten-free muffins are. They are moist and light, flavoured with chai spices, and the cranberries add a little tart flavour, making them so good!
If you are looking for a way to include healthy zucchini in your diet, adding this squash to muffin recipes is probably the easiest way.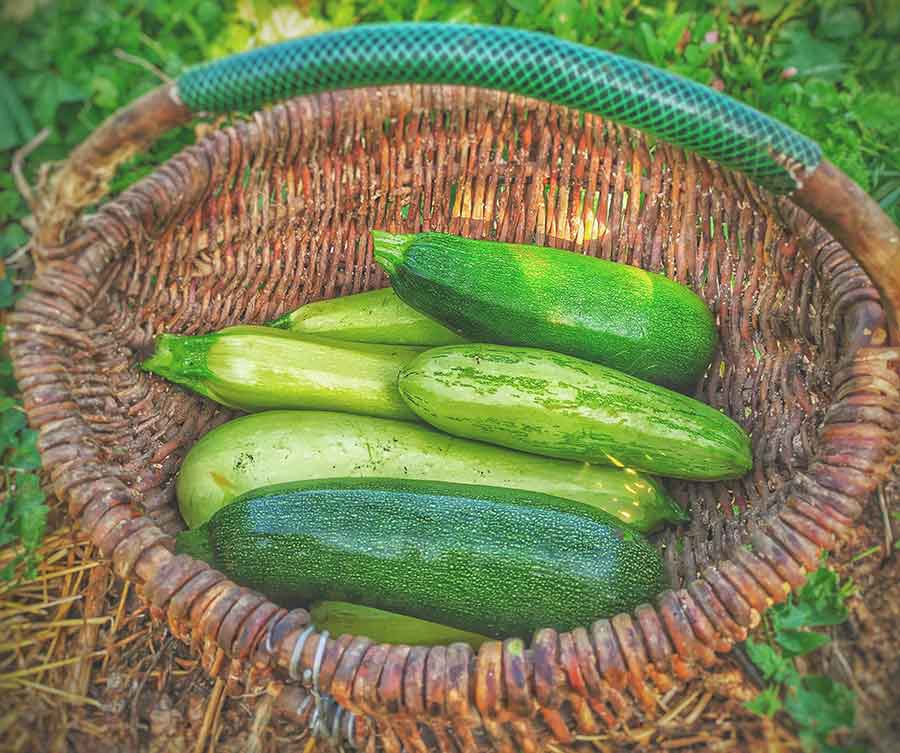 Zucchini is a fruit and is an excellent source of manganese and vitamin C. This mild tasting squash is also a great source of dietary fiber and is super low in calories.
Zucchini adds moisture to baked goods, making gluten-free muffins super moist with a perfect crumb.
How to choose fresh zucchini?
Choose zucchini no longer than eight inches long and not more than two inches in diameter.
Zucchini that has scratches, cuts or blemishes is not fresh, so try and find a smooth, bright coloured and firm one.
super moist zucchini muffins…
Adding heart healthy olive oil for fats and zucchini is what makes these gluten-free zucchini muffins extra moist. You can't tell that these gluten-free muffins are made with zucchini, because all you taste is a moist, chai flavoured muffin with a zing from the cranberries.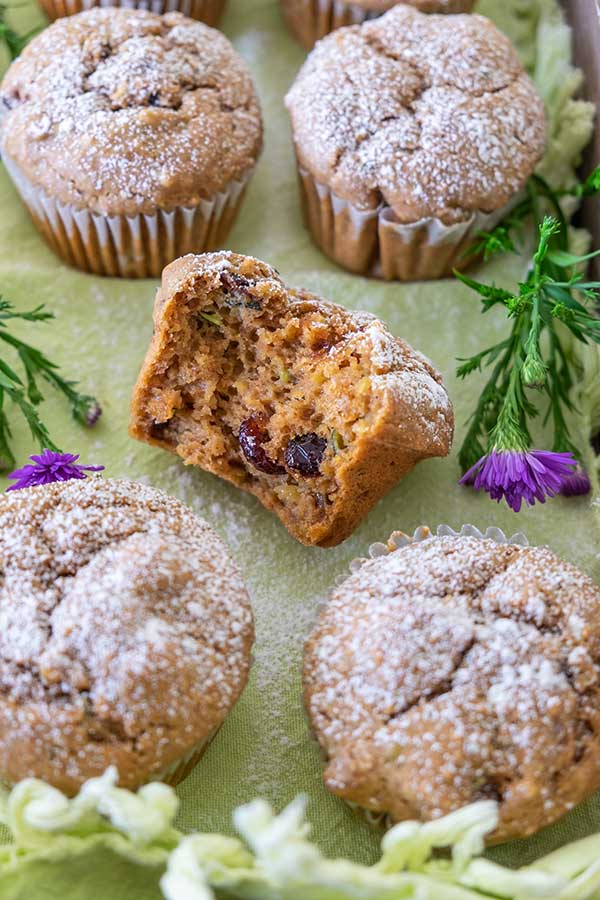 This cranberry zucchini muffin recipe is one of my healthier gluten-free muffin recipes. The best part, kids love them too! I have also included a gluten-free, vegan option for those that follow a plant-based diet.
If you are looking for paleo, keto, vegan, or dairy-free muffin recipes, check out our endless list of gluten-free muffin recipes.
For the latest recipes and tips, please like us on Facebook or follow us on Pinterest and Instagram.
Chai-Spiced Cranberry Zucchini Muffins – Gluten-Free
Published on Sep 10, 2019
by
Kristina Stosek
Instructions
1.

Preheat oven to 350 F. Spray a muffin pan with cooking oil or line with parchment paper liners. Always use parchment paper liners in gluten-free baking to avoid sticking

2.

In a large bowl combine flour, baking powder, cinnamon, cardamom, nutmeg and salt

3.

In a separate bowl whisk together eggs and coconut sugar. Whisk in milk, olive oil, ginger, and vanilla.

4.

Add wet mixture, zucchini and cranberries into dry ingredients and stir to combine

5.

Evenly fill the prepared muffin pan with batter and bake for 35 - 40 minutes, until golden and firm to touch. Cool in the muffin pan for 10 minutes then transfer onto a cooling rack to fully cool