Chai-Spiced Cranberry Zucchini Muffins – Gluten-Free
Prep Time
15 Minutes
Difficulty
Easy
Cook Time
35 Minutes
Serves
12
Average Rating: 5 | Rated By: 4 users
Most flavourful Chai-Spiced Cranberry Zucchini Muffins. I can't tell you how delicious these gluten-free muffins are. They are moist and light, flavoured with chai spices, and the cranberries add a little tart flavour, making them so good! I used olive oil for fats and zucchini to keep them moist. You can't tell that they are made with zucchini, because all you taste is moist, chai flavoured muffins with a zing from the cranberries. This cranberry zucchini muffin recipe is definitely on the healthier side. The best part, kids love them too! I have also included a gluten-free vegan option.
If you are looking for paleo, keto, vegan, or dairy-free muffin recipes check out our endless list of muffin recipes here->
Ingredients
1/4 cup arrowroot flour/starch
1/4 cup almond flour
2 tsp. GF baking powder
2 tsp. GF ground cinnamon
1⁄2 tsp. GF ground cardamom
1⁄2 tsp. GF ground nutmeg
1/4 tsp. Fine Himalayan salt
2 large eggs
1 cup coconut sugar
3/4 cup whole milk
1/2 cup extra virgin olive oil
1 Tbsp. Grated fresh ginger
1 tsp. Pure vanilla extract
2 cups grated fresh zucchini with skin (I used a food processor)
Note; For vegan option use non-dairy milk and flax eggs
Check out our pantry for gluten-free ingredients
*As an Amazon Associate and member of other affiliate programs, I earn from qualifying purchases. Please check out my sponsorship and disclosure policy page for more details
Instructions
Preheat oven to 350 F Spray a muffin pan with cooking oil or line with parchment paper liners. Always use parchment paper liners in gluten-free baking to avoid sticking
In a large bowl combine flour, baking powder, cinnamon, cardamom, nutmeg and salt
In a separate bowl whisk together eggs and coconut sugar. Whisk in milk, olive oil, ginger, and vanilla.
Add wet mixture, zucchini and cranberries into dry ingredients and stir to combine
Evenly fill the prepared muffin pan with batter and bake for 35 - 40 minutes, until golden and firm to touch. Cool in the muffin pan for 10 minutes then transfer onto a rack to cool
Similar Recipes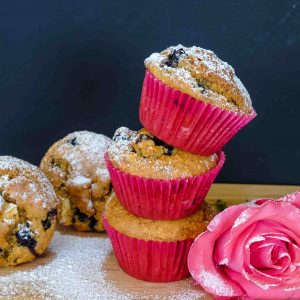 Best Gluten Free Blueberry Apple Muffins
You can never have enough healthy muffin recipes. Muffins are delightful for breakfast or anytime snack. In this award winning gluten free healthy muffin recipe, the blueberries combined with apples make a tasty combination adding moisture and the right texture. These mouthwatering muffins are high in protein, fiber, and antioxidants and are vegan. Last time […] Read More
Prep Time
15 Minutes
Difficulty
Easy
Cook Time
35 Minutes
Gluten-Free Chocolate Chip Zucchini Muffins
This is a Gluten-Free Chocolate Chip Zucchini Muffin that tastes better than one from a bakery. In this chocolate chip zucchini muffin, there is plenty of chocolate and chocolate flavour. I should have called this gluten-free muffin double chocolate muffin 🙂 The muffin batter is made with pure cocoa powder, which adds that fresh chocolate […] Read More
Prep Time
10 Minutes
Difficulty
Easy
Cook Time
35 Minutes
Serves
12 muffins
Grain-Free Blueberry Cinnamon Muffins (Paleo, Low-Carb)
This is the BEST Grain-Free Blueberry Cinnamon Muffins recipe…honestly. Extra moist and soft, loaded with blueberries, a hint of cinnamon and low on carbs muffin! let's examine the healthy ingredients… the flour, In this grain-free blueberry cinnamon muffin recipe, I used only two flours. Almond flour and coconut flour. Both flours are nutritionally packed, […] Read More
Prep Time
10 Minutes
Difficulty
Easy
Cook Time
30 Minutes
Serves
12 muffins