Gluten-Free Olive Oil Zucchini Bread With Chocolate Chips (Dairy-Free)
Published on Aug 30, 2021
by
Kristina Stosek
Prep Time:

15 minutes
Cook Time:

45 minutes
Serves:

1 loaf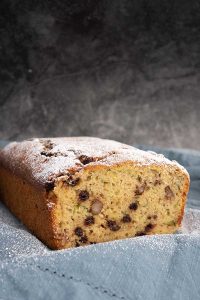 ​This post may contain affiliate links, please see our
privacy policy
for details
Starting this week with this Gluten-Free Olive Oil Chocolate Chip Zucchini Bread. With summer zucchini, heart-healthy olive oil, pure maple syrup, chocolate chips, walnuts and a scent of cardamom, this is sure to become your favourite zucchini bread.
Zucchini bread is superb for breakfast, a snack or for that sweet evening craving. Anytime is a zucchini bread time 🙂 Check out this One Bowl Zucchini Banana Flax Bread recipe!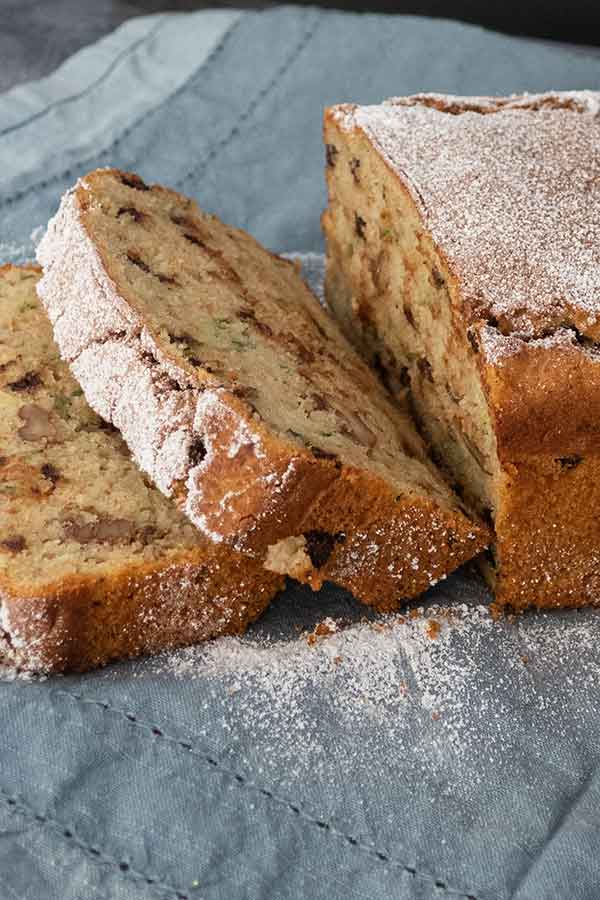 So delicious, no fuss and super quick to mix up. It's the perfect gluten-free olive oil zucchini bread to bake up this week.
Here are the highlights of this gluten-free olive oil zucchini bread…
First thing, when baking with zucchini, the first step is to remove extra moisture from this summer squash. Zucchini is considered a summer squash because the rind is tender and edible, making it a perfect fruit for baking. So yes, zucchini is a fruit that looks like a vegetable.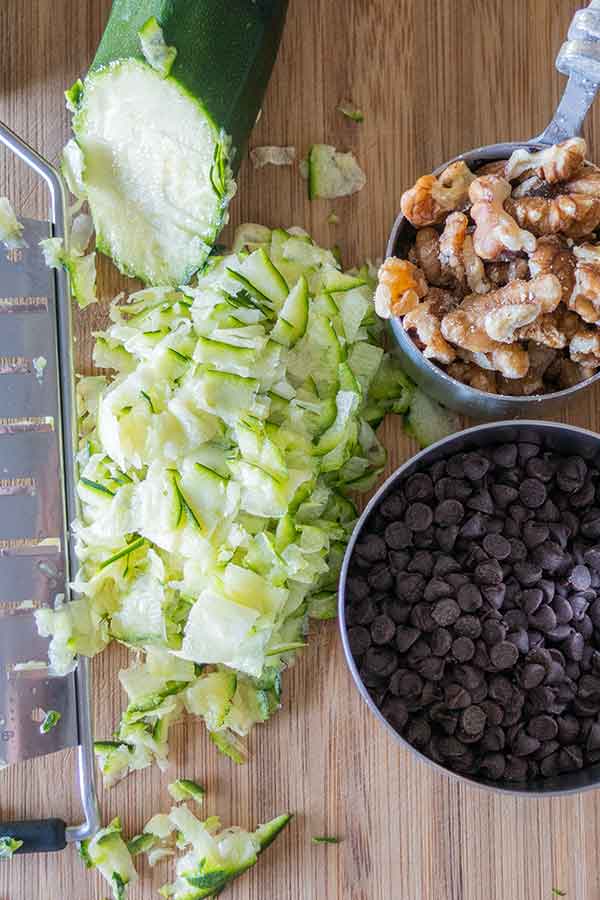 To remove extra moisture from the zucchini, shred it first, then ring the zucchini to squeeze out all the excess water. The drier the zucchini, the lighter your bread will be.
zucchini bread easy steps to follow…
Using an electric mixer, mix the wet ingredients until fluffy. This is the eggs, olive oil, maple syrup, dairy-free milk and vanilla.
follow with the dry ingredients…
To the same bowl, add the flours, baking powder, cardamom and salt. Using a spatula mix to combine.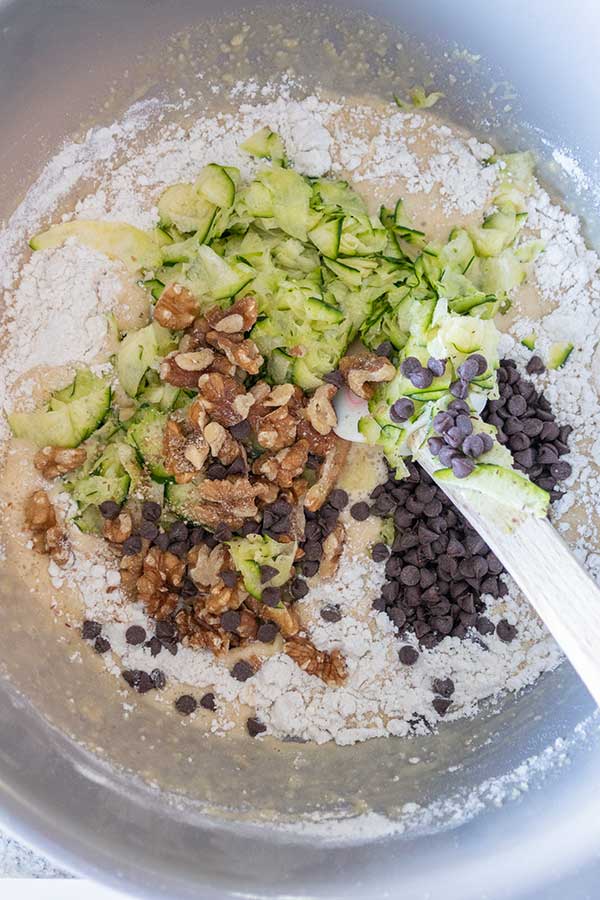 the final touch…
Stir in shredded zucchini, chocolate chips and walnuts. That's it, the bread so easy that even novice bakers can't mess it up.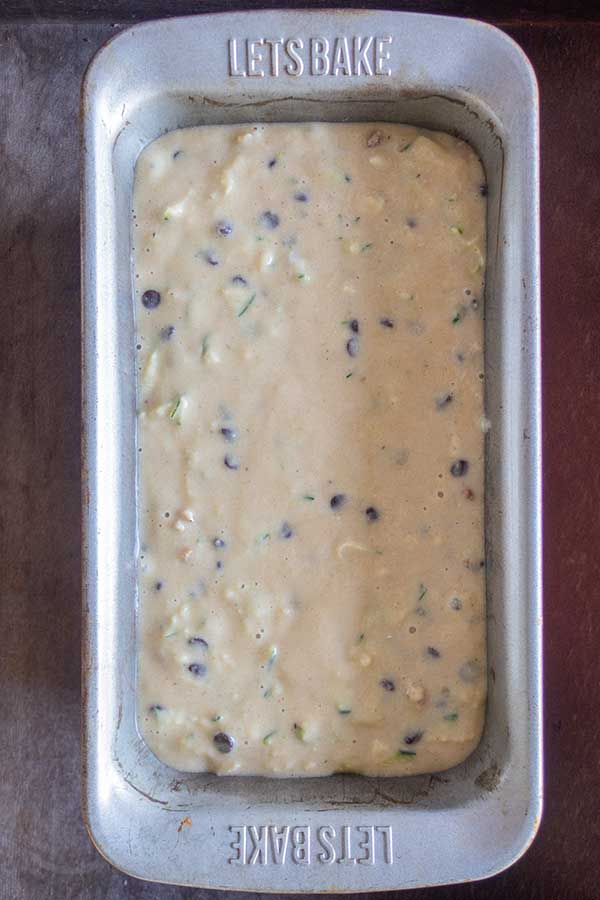 is zucchini healthy?
If you ask me, anything fresh from the garden is healthy! However, zucchini is a favourite of mine because it is low in calories and high in fiber. Fiber plays an essential part in digestion. Also, the tender summer squash is packed with vitamins, especially vitamin C, minerals and antioxidants.
What's the difference between organic and conventional maple syrup?
Organic food products are grown naturally using few or no chemicals, pesticides, radiation, or genetic engineering. The key differences between organic or conventional maple syrup are where the maple trees are tapped, how the maple trees are tapped, how the sap is collected and stored. For more detailed information, check out the Acadian Maple.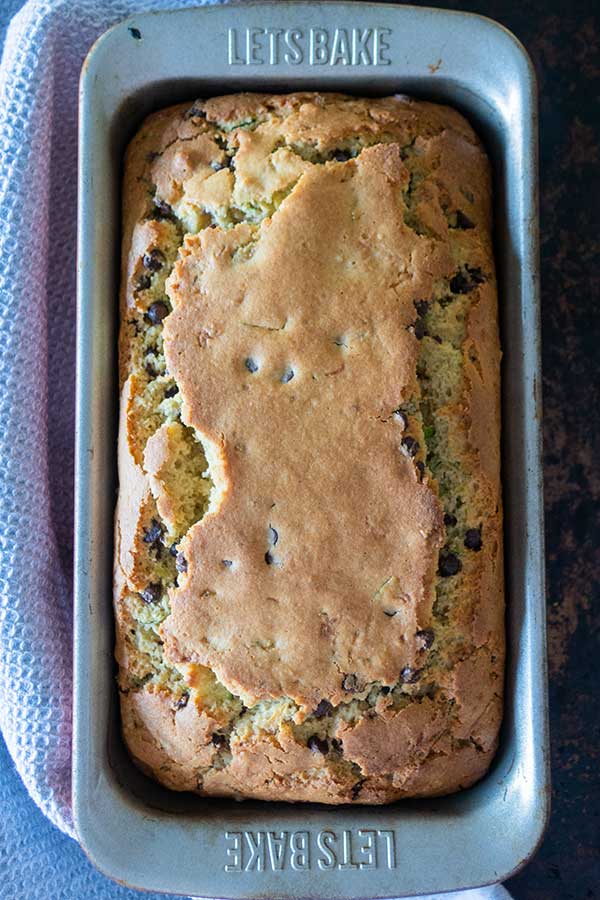 How is this gluten-free olive oil zucchini bread different?
I am sure you are aware that there are hundreds of variations of gluten-free zucchini bread recipes. You may have tried my Gluten-Free Zucchini Bacon and Cheese Muffins, or the Gluten-Free Chai Spiced Cranberry Muffins. However, this zucchini bread is the BEST EVER!
Here is why this olive oil zucchini bread is soo good!
Let me start with the simplicity of this recipe. The zucchini bread batter is made all in one bowl. So…quick, easy and simple clean up.
The zucchini bread is gluten-free, dairy-free and refined sugar-free.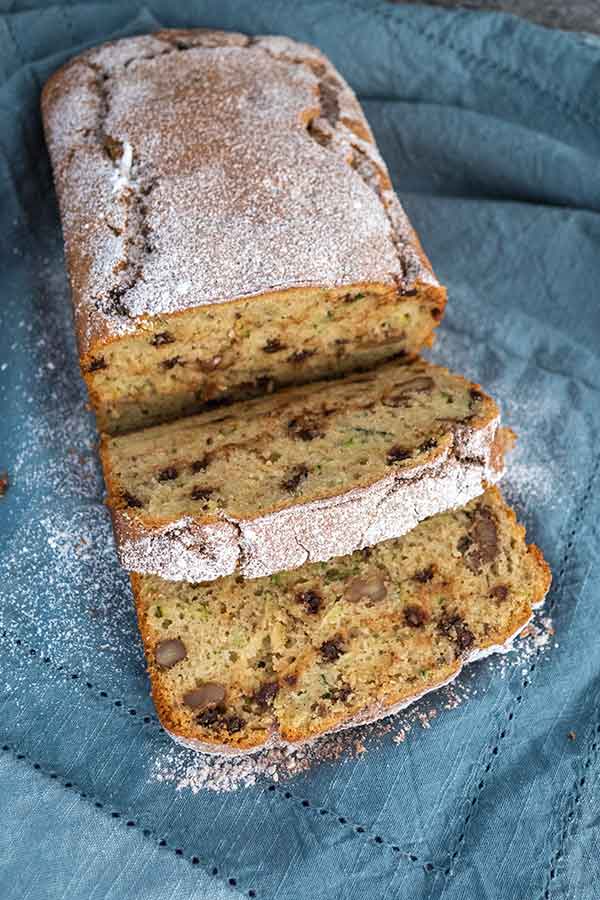 This gluten-free end of summer bread has many health benefits. Heart-healthy olive oil, high protein and high fiber almond flour, low cal zucchini, walnuts…an excellent source of monounsaturated fatty acids. These fatty acids like oleic acid and linoleic acid contribute to heart health. And pure maple syrup that is high in manganese and zinc.
The best part is the flavour. I added just a pinch of cardamom to this zucchini bread, giving the bread a most delightful flavour.
If you are looking for summer zucchini recipes, I highly recommend trying this gluten-free bread recipe. The olive oil zucchini bread is super moist and insanely delicious! Enjoy~
Gluten-Free Olive Oil Zucchini Bread With Chocolate Chips (Dairy-Free)
Published on Aug 30, 2021
by
Kristina Stosek
Instructions
1.

Preheat oven to 375 F and line a standard loaf pan with parchment paper

2.

In the bowl of a stand mixer whisk together eggs, olive oil, maple syrup, milk and vanilla for 1 minute

3.

Using a spatula, stir in the dry ingredients (flour to salt). Once combined, stir in zucchini, chocolate chips and walnuts. Do not over mix

4.

Pour batter into prepared loaf pan and bake for 40 - 45 minutes until golden and the loaf passes the toothpick test

5.

Cool in the pan for 10 minutes before transferring the loaf onto a cooling rack.

6.

Sprinkle with powdered sugar if so desired. Sometimes I mix one tablespoon of powdered sugar with one teaspoon of pure cocoa powder to replace the powdered sugar.