Zucchini And Ham Cheese Casserole – Keto
Prep Time
15 Minutes
Difficulty
Beginner
Cook Time
35 Minutes
Serves
4
Average Rating: 4.5 | Rated By: 5 users
This zucchini and ham cheese casserole is oozing with gooey cheese and smokey ham. This gluten-free casserole is all about fresh zucchini baked with ham, green onions and spiced with chili, cumin and basil.
All this deliciousness baked in a two cheese sauce mixed with sour cream and keto-friendly! Can it get any better?
Why is zucchini great for casseroles?
Zucchini is a very mild tasting squash and is ideal for adding to casseroles because it easily absorbs the flavours. The thing about zucchini, it cooks very quickly, and you don't want the squash to be mushy and soggy.
This is why first, the zucchini is briefly stir-fried with ham, green onions, garlic and spices. Then it is added to the cheese, sour cream and eggs. Since the zucchini was crispy before baking, this healthy squash retained the right texture and did not become mushy.
the ingredients
In this zucchini and ham cheese casserole recipe, the ingredients are kept simple—Squash, ham, garlic, green onions, spices, cheese, sour cream and eggs. By keeping the ingredients simple, the gluten-free casserole tastes of freshness with a hint of saltiness and smokiness from the ham.
The spices such as chili, cumin and basil added an array of flavours, making this keto and gluten-free casserole sooo good!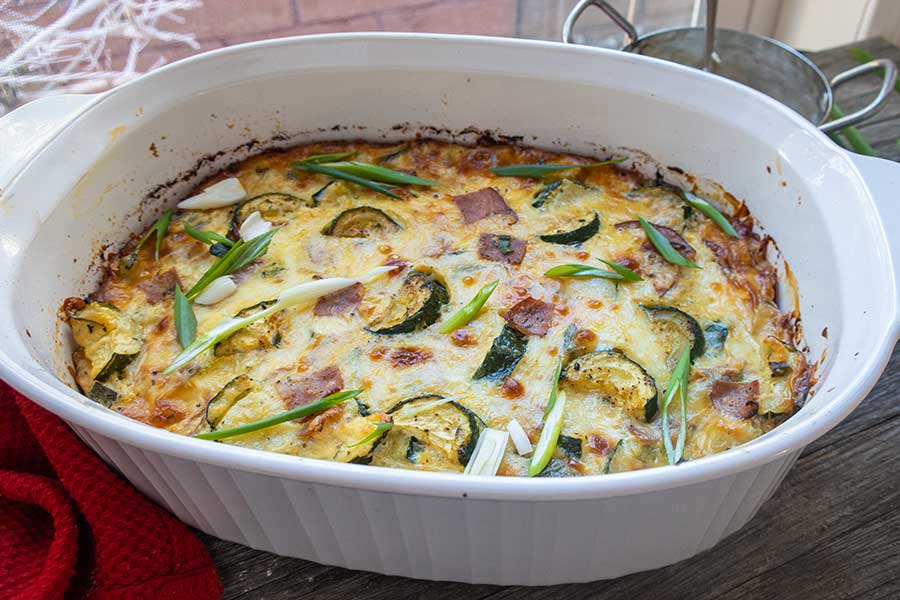 zucchini and ham cheese casserole – the simplicity
You will love how simple this casserole is to make. Especially when making a weeknight meal, and you want to keep everything healthy, maybe low carb and easy. This zucchini and ham cheese casserole recipe calls only for nine ingredients plus spices.
To start, the zucchini, ham, green onions and garlic and briefly stir-fried with the spices in a splash of olive oil. This adds flavour to the mild flavoured zucchini and creates tasty juices, which are then added to the cheese mixture.
For the cheese mixture, I wanted to keep everything creamy. To do this, I combined two kinds of cheese. I used gruyere and parmesan. Gruyere cheese is my personal choice because I love the flavour.
You can use any good melting cheese, depending on your budget or personal preference. To keep the cheese saucy, I added sour cream and eggs. Everything blended together beautifully.
is zucchini a low carb squash?
Zucchini is exceptional in recipes when you are trying to keep the calories and carbs low. This healthy squash is considered a fruit and is super low in calories and carbs, only about 33 calories and 4 net carbs per one medium squash.
Therefore, this recipe is low carb and keto friendly. A perfect dish for any season!
To serve this gluten-free zucchini and ham cheese casserole, if you wish, add a light green salad, extra sour cream, sliced green onions or freshly made salsa. I often serve this casserole for brunch. Serve hot and enjoy!
If you are looking for low-carb zucchini recipes check out these!
Let's Connect!
Be sure to FOLLOW US on FACEBOOK and PINTEREST.
Many thanks!
Kristina xx
Ingredients
2 Tbsp. Extra virgin olive oil
3 garlic cloves, thinly sliced
4 medium zucchini squash, slice lengthwise and slice to about 1/2-thick 
1 bunch green onions, sliced
1 tsp. GF chili powder
1 tsp. GF cumin powder
1 tsp. GF basil
8 oz. thickly sliced ham, roughly chopped
2 cups shredded good melting cheese (fontina, cheddar, gruyere, or gouda)
1/2 cup grated Parmesan cheese
1 cup sour cream
2 large eggs, beaten
Sea salt and GF black pepper to taste
*As an Amazon Associate and member of other affiliate programs, I earn from qualifying purchases. Please check out my sponsorship and disclosure policy page for more details
Instructions
In a large skillet, heat olive oil until shimmering. Add garlic and stir, immediately add squash, onions, spices and ham. Briefly stir-fry until everything is well coated with the spices. About 3 minutes. Remove the skillet from the heat
In a large bowl, combine the two kinds of cheese. Reserve 3/4 cup of cheese mixture
To the same bowl, add sour cream, eggs and season with salt and pepper. Add zucchini and ham mixture and mix to combine. 
Transfer mixture into the prepared casserole dish and sprinkle with reserved cheese. Bake for 30 - 35 minutes until the top is lightly golden and the cheese is bubbly. You don't want to over bake the casserole, or it will become dry. It should have a custard-like consistency, like a quiche. Rest the casserole for 10 minutes before serving
Similar Recipes
Vegan Mushroom Zucchini Tetrazzini – Gluten Free
Hey there! I'm so excited to share this recipe for Mushroom Zucchini Tetrazzini with you. This Italian creamy pasta dish is vegan, gluten-free, hearty and healthy.  This tetrazzini meal is packed with veggies, including mushrooms and zucchini. The dish is also super flavorful because of added garlic, thyme, nutmeg and basil. And, It's a great […] Read More
Prep Time
10 Minutes
Difficulty
Easy
Cook Time
30 Minutes
Serves
4
Zucchini Baked Ziti (Keto, Gluten-Free, Grain-Free)
This Zucchini Baked Ziti is for nights when you are craving Italian, but want something low-carb and healthy. Zucchini ziti baked in a basil tomato sauce, three different kinds of cheese and Italian chicken sausage. This is a flavourful low-carb Italian dish for any night of the week. Besides, who doesn't love a cheesy baked […] Read More
Prep Time
15 Minutes
Cook Time
35 Minutes
Serves
4 - 6