Zucchini Gratin with Bacon and Leeks – Keto
Published on May 13, 2019
by
Kristina Stosek
Prep Time:

10 minutes
Cook Time:

25 minutes
Serves:

4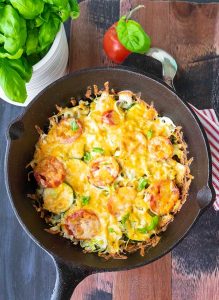 ​This post may contain affiliate links, please see our
privacy policy
for details
Zucchini Gratin with Bacon and Leeks is a layered casserole made with zucchini, caramelized onions, leeks, bacon, tomato and two types of cheese. This cheesy gratin is easy to whip up and will make for an extraordinary brunch dish or an entree for dinner with a light green salad.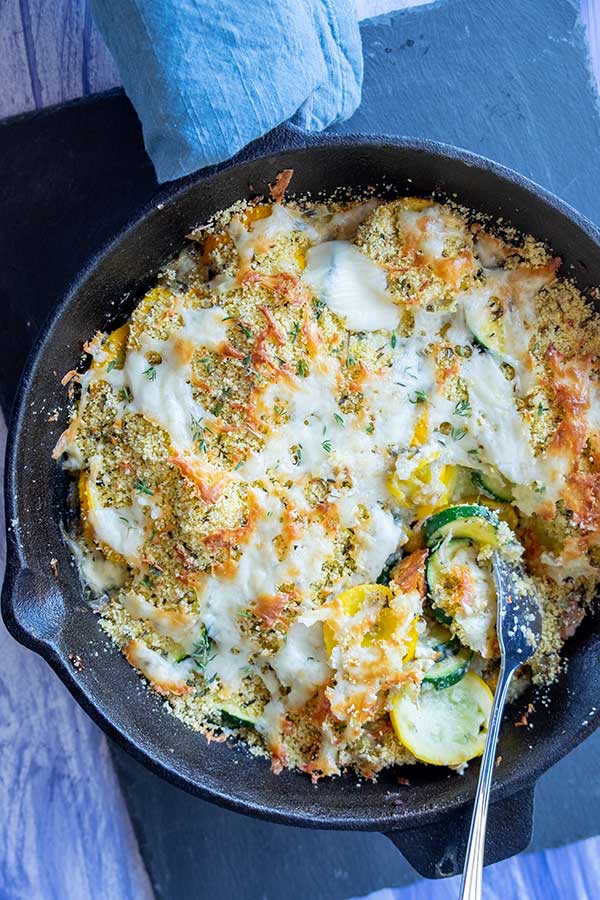 Zucchini is one of the easiest vegetables to use in recipes. The flavour is mild enough to add to sauces, bread, muffins and soups. Zucchini is tender and cooks very quickly.
What is gratin?
Gratin originated in French cuisine and is often prepared in a shallow dish. The gratin can vary using a single layer or multiple layers of vegetables and cheese, and it is always finished with a golden crust topping.
Two types of toppings for zucchini gratin.
You can make the topping from butter and breadcrumbs or with only cheese. In this zucchini, leeks and bacon gratin recipe, I made the topping with two types of cheese.
Once the gratin is baked, the cheese turns into a crispy golden brown topping. So delicious!
I baked the gratin in a cast-iron skillet allowing everything to cook more evenly. The two kinds of cheese I used were mozzarella and cheddar cheese. However, there are many tasty melting kinds of cheese you can substitute for your liking.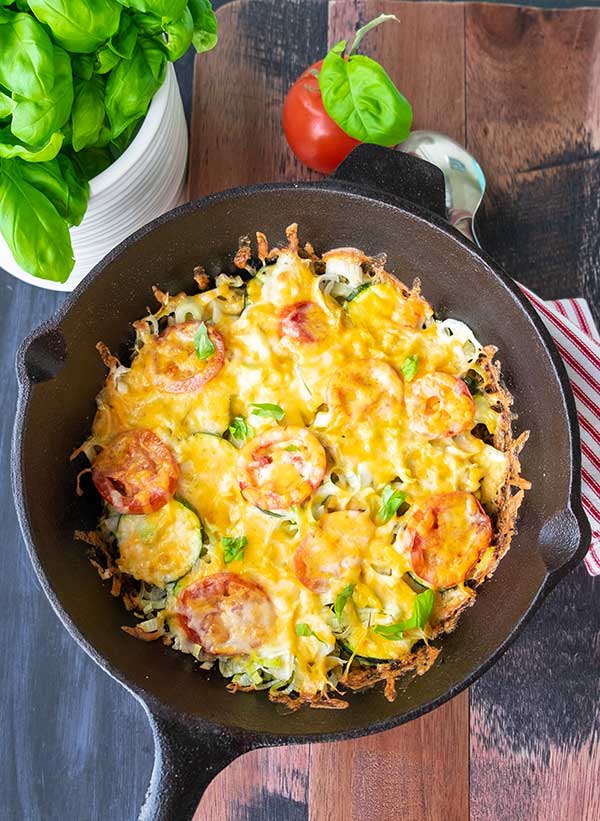 favourite cheese for gratin recipe
We love smoked gouda cheese or gruyere cheese in a gratin dish.
Are you thinking of a brunch dish that will impress your family? Skip the eggs and bacon and try this zucchini gratin. It is always a big hit at our home.
The best part about this gratin recipe is, this dish is Keto-friendly and gluten-free.
Let's Connect!
Be sure to FOLLOW US on FACEBOOK and PINTEREST. And don't forget to sign up for our newsletter, the form is at the bottom of this page. We always have something new and exciting for you!
Many thanks!
Kristina xx
.
Zucchini Gratin with Bacon and Leeks – Keto
Published on May 13, 2019
by
Kristina Stosek
Instructions
1.

2.

Preheat a 9-inch cast iron skillet over medium heat. Add bacon and onions and sauté until onions are lightly caramelized. About 5 minutes

3.

Place a layer of 1/2 the zucchini over the onions and bacon and 1/2 the leeks. Lightly season with salt and pepper.

4.

Add a layer of half the cheeses, then remaining zucchini and leeks and top with tomato slices. Lightly season with salt and pepper. Finish with remaining cheese

5.

Bake for 20 minutes until the cheese has melted. Garnish with fresh basil leaves